Editors' Choice 2002: The Best Backpacking Gear of the Year
After a gnarly hike down California's Lost Coast, these pieces shone.
Heading out the door? Read this article on the new Outside+ app available now on iOS devices for members! Download the app.
Be careful what you wish for, a wise person once warned, because you just might get it. So we learned (yet again) during this year's Editors' Choice hike. Early last fall, while studying maps of California's Lost Coast, we idly mused that the area's notoriously fierce winter storms would present perfect testing conditions. Sure enough, as November turned to December, we found ourselves treading a rock-strewn beach squeezed between crumbling cliffs and storm-driven surf, while a howling headwind whipped rain in our faces. The gear that survived our Lost Coast hike (plus prior months of tough, real-world testing) earned the highest praise we can give: Backpacker's 10th annual Editors' Choice Awards. Two pieces of gear also won Editors' Choice Gold Awards, for equipment that's stood the test of time. The payoff for you is backpacking gear that will perform wherever you hike, in any conditions, no matter what you wish for.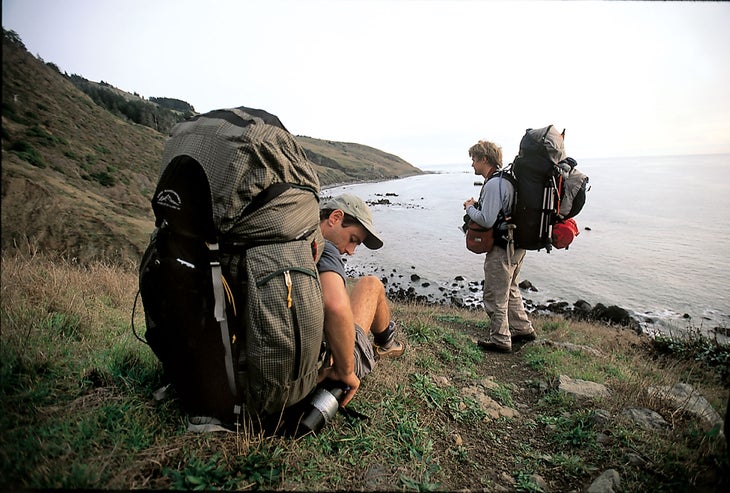 Kelty 50th Anniversary Pack
High-Tech Load Monster
Walk upright and carry a big pack. This lightweight external frame redefines the standards of load-bearing comfort.
Pick up Kelty's 50th Anniversary pack and you'll immediately understand why it won an Editors' Choice Award. The 50th Anniversary shaves not ounces but pounds off the weight of previous external frame packs. And it accomplishes the savings without diminishing the terrific load support you'd expect from an external frame. The result: Top-notch comfort in a pack that's a third lighter than others in its class.
Kelty designers achieved the slimmed-down frame, in part, by using a small diameter, high-strength alloy tubing. The result is an hourglass-shape frame that's free of clevis pins and spacer bars. The lightweight design eliminates the small pieces we used to lose on the trail and also ends the annoying squeak often associated with external frames.
The 50th Anniversary is made for big loads, so we filled it to the top of its spindrift collar. On the Appalachian Trail, Executive Editor Jonathan Dorn toted everything for his family of four, and on our Editors' Choice trip, we hauled a weeks' worth of wet-weather gear and supplies. Since most of us at Backpacker were raised on external frames, we immediately recognized and appreciated the upright walking posture, superior ventilation, and excellent load transfer that a rigid suspension provides. But it was Associate Editor Gina DeMillo, 20-something and weaned on an internal frame, who was particularly amazed to learn that such a light pack could carry so well. After hiking on the Lost Coast, she proclaimed, "I carried more weight than I typically do with my favorite internal frame, but the 50th Anniversary carried the load more comfortably."
Other features of the 50th Anniversary match the souped-up frame. One of my favorites is what Kelty calls Levitators, which are lightweight carbon-fiber "springs" that transfer weight from pack to hipbelt for better support. Optional side pockets and a huge mesh panel pouch (the first time we've seen such accessories on an external) add a whopping 2,000 cubic inches of storage capacity, and a handy map sleeve is easily accessible without removing the pack.
As for complaints, they were minor. Several of us wished the load-lifter straps were fixed higher on the pack for more effective load control. And the torso length adjustment is minimal, though if one of the pack's three sizes fits your back, you'll be celebrating this anniversary for years to come.
Specs are for size regular
$230
Capacity: 5,900 cu. in. (7,900 cu. in. with optional side pockets)
Weight (mfr./BP): 4 lbs. 11 oz./ 4 lbs. 15 oz.
Torso sizes: Women's (141/2″-17″), regular (161/2″-19″), and large (181/2″-21″)
Contact: Kelty, Inc. Reader service #101. —Dennis Lewon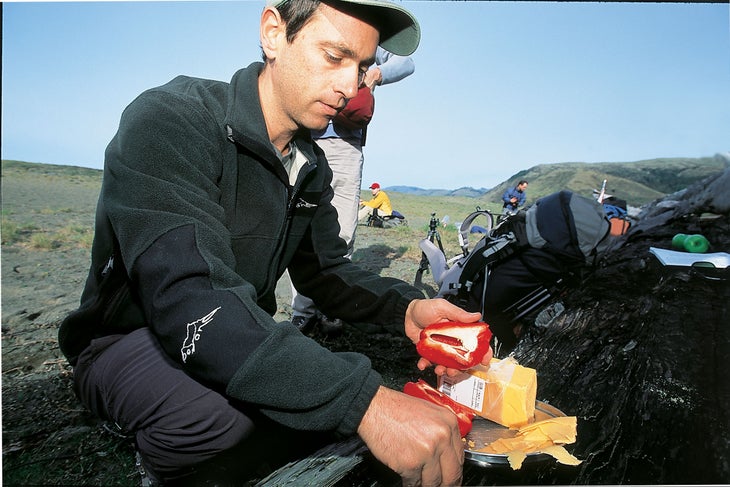 Beyond Fleece
The Best Bargain In Outdoor Apparel
Stay warm with made-to-order technical fleece that won't shrink your bank account.
There have been times when I've signed a credit-card receipt for an expensive fleece jacket and could almost hear my late grandmother clucking in disapproval. "Why, that's ridiculous, sweetie! I could sew you a jacket just like that for pennies. And it might actually fit your long arms and lanky body!" But who, besides my dear departed granny, has the
time to custom-make affordable fleece clothing?
Look no further than Beyond Fleece, a Eugene, Oregon-based company that offers a variety of jackets, vests, and pants custom-made to fit any body size. To place an order, phone toll-free or use the customer-friendly Web site, which allows you to see the garment taking shape. Once you pick an item, give your height, weight, waist, and sleeve or inseam length. Then select colors and extras, such as pit zips or chest pockets.
Several odd-size editors ordered jackets and pants and gave the apparel high marks for both fit and performance. Our favorite garment was the company's hallmark B1 Jacket, made with Polartec's Windbloc fleece. From the rain-battered shoreline of California's Lost Coast to windswept bluffs in the Grand Canyon, the jackets kept us cozy. No cold wrists from sleeves that fell too short, no midsections that hung too loosely or hugged too tightly. With Beyond Fleece, the fit enables the materials to perform to their highest level.
At $119, the B1 costs significantly less than comparable high-end technical jackets. Add $10 for pit zips; custom fitting and shipping are free.
The company offers a no-questions-asked exchange policy—if your Beyond Fleece jacket doesn't fit, just send it back and they'll sew you a new one.
Something tells me that Grandma would approve.
Contact: Beyond Fleece Reader service #102. —Annette McGivney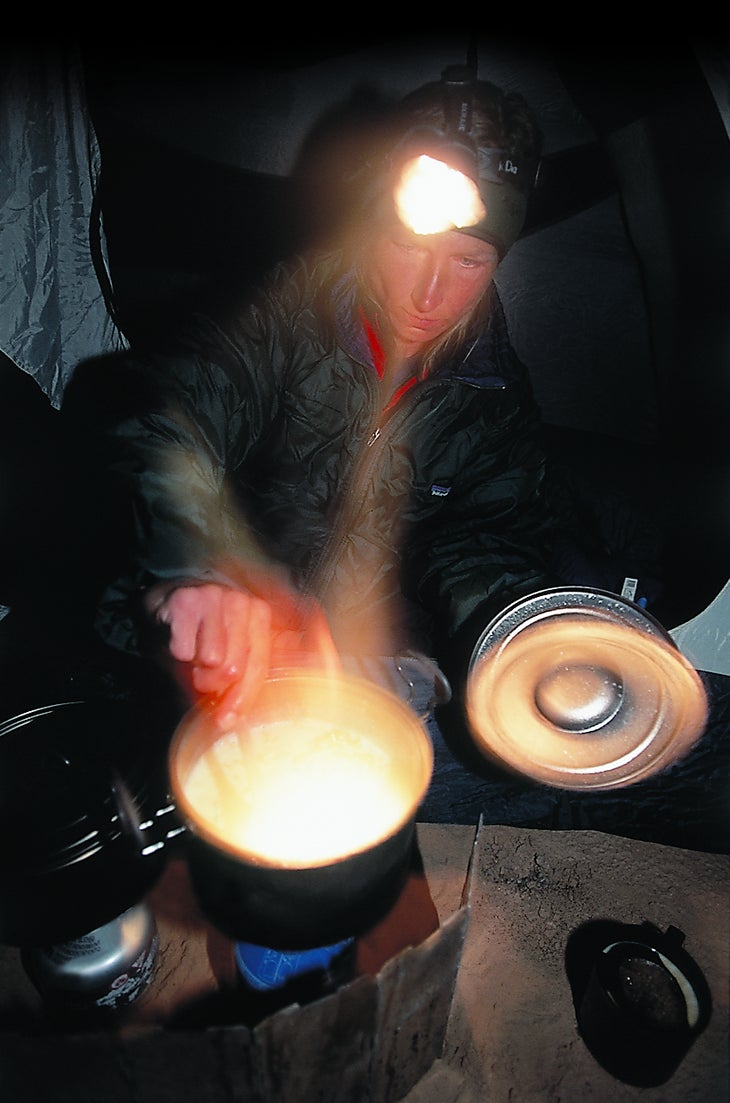 Black Diamond Gemini
The Best Light Yet
This groundbreaking headlamp is the first to offer energy-saving LED and bright halogen bulbs in one lightweight, easy-to-operate package.
We've seen the future of headlamps, and it's looking bright. At the press of a button, you can switch from a bright halogen beam to an energy-saving LED bulb sharing one power source—the first off-the-shelf headlamp to do this. A lightweight, compact unit that doesn't feel like a klieg light on your skull, the Gemini may well burn for years on
three AA batteries—in LED mode, the estimated battery life is an astounding 1,000 hours. We found the LED beam bright enough for reading and most camp chores, while the halogen bulb throws a brighter beam for negotiating rocky trails after dark and figuring out whether that nocturnal rustling at the edge of your campsite is a bear or a raccoon.
The on/off button on the underside of the bulb casing is easily pushed by a thumb, even mitten-clad, yet we never saw the Gemini turn itself on inside a pack. The simple, tough construction looks like it will last years.
$39
Weight (without batteries, mfr./BP): 5 oz./5 oz.
Contact: Black Diamond Equipment Reader service #106. —Michael Lanza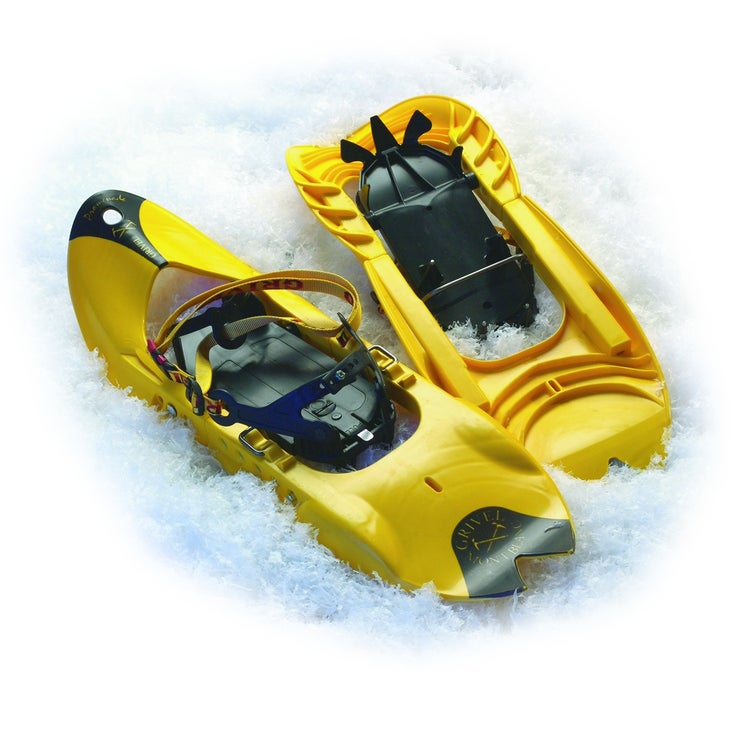 Grivel Promenade
Do-it-all Snowshoes, For Less
These lightweight, value-priced snowshoes handle everything from packed-powder trails to steep, technical terrain.
Let me be blunt. I'm a skier, and although I see some advantages to snowshoes (they're cheaper than skis and maneuver better through tight trees), they've always let me down on the steep, hard-snow hills I frequent in the backcountry. That was before I tested the Promenades. Last winter and spring in Oregon, Jon Dorn and I donned these do-it-all snowshoes and walked across forests full of soft snow, busted through sastrugi (wavelike windblown snow) above timberline, switchbacked up steep crusts with scary 1,000-foot dropoffs below, scrambled out of deep treewells and traversed slushy sidehills. Results: Astounding control everywhere we went.
The Promenades are skinny (8 inches wide), with tapering tails, so they can track across sidehills without one foot tripping over the other. An uplifted nose clears the snow surface whether you're slogging out of deep powder or kicking steps uphill. On moderately firm snow, the hard plastic chassis, which is shaped like an oblong upside-down bowl, packs the snow underfoot for stable stepping. When the snow gets hard, the cleats sink securely every time. Each shoe has six 2-inch points; carbon tips on four of the points (like a trekking pole) bite ice better than other shoes we've tested. For straight-up climbs, three paddle-shaped steel front points slice into snow. The binding system is easy to adjust through a wide range of boot sizes, effortless to slip in and out of, and completely stable.
We encountered the Promenade's only limitation in soft, deep snow, where combined body and pack weights sank us deeper than with wider, longer snowshoes we've tested. But for outings that include three-dimensional terrain, the $139 Promenades are a bargain.
$139
Weight (pair; mfr./BP): 4 lbs. 13.5 oz./4 lbs. 14 oz. 
Contact: Grivel North America. Reader service #104. —John Harlin
REI Half Dome Plus 2
Tent Nirvana For $149
Looking for one good backpacking tent that does nearly everything under the stars and storms? Here's one that's also incredibly affordable.
Honestly, I loved this tent even before I met it. Just reading the spec sheet won me over: double vestibules of nearly 10 square feet each; independent entrances for both occupants; plenty of ceiling height for two people to sit up; peak vents in the rainfly; windows; quick-pitch, freestanding dome construction; less than 5 pounds total weight; factory seam-taping. And all this for only $149. It seemed too good to be true; the perfect all-around, three-and-a-half-season backpacking tent at a discount-store price? Would my passion droop into heartbreak during our first backcountry date?
Only a serious test could distinguish the real thing from puppy love. So I committed 6'6″ Jon Dorn and myself (a dwarfish 5'10" in comparison) to a week of cohabitation along Wyoming's snow-covered Teton Crest Trail in June, a month predictable only for its atmospheric surprises.
Sure enough, a few days into the hike, a 2-day blizzard blasted out of what had been clear-blue skies. Eight inches of snow fell the second windy night, piling onto 2 inches from the night before. How'd we fare? We spent the storm day lounging in the tent, hosted our neighbor who felt cooped up in his private shelter, kept ourselves and all of our gear dry, and emerged better friends than ever. If there's a higher endorsement for a tent, I don't know what it is.
Are there shortcomings to the Half Dome? Sure. After a summer of hard use, the mesh needs patches to keep out mosquitoes. Some rain gets into the canopy when a vestibule is fully unzipped. And you can find lighter tents for fair-weather use. But if we were to recommend a single tent for year-round camping in almost every climate, this would be it.
$149
Weight (tent, fly, poles; mfr./BP): 5 lbs./5 lbs. 1 oz.
Contact: Recreational Equipment, Inc. Reader service #105. —John Harlin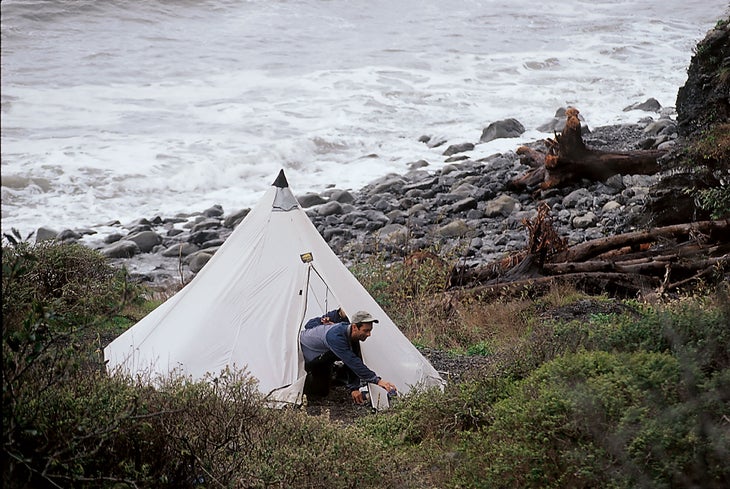 Kifaru 4-Person Ultralight Tipi
The World's First Heated Backpacking Tent
Forget everything you've ever heard about cold-weather camping. This featherweight, fire-heated shelter brings a new level of comfort and camaraderie to winter outings.
There's one big reason cone-shaped tents have been around for thousands of years: They work. Native Americans have known it all along. Now, Kifaru has designed a tipi with a twist. By adding a lightweight, siliconized nylon canopy to this venerable design and incorporating an ingenious folding wood-burning stove, Kifaru's 4-Person Ultralight Tipi is more than just a 9-pound bombshelter for four (or even five) people. It's a backcountry home, complete with central heat.
Carrying this floorless shelter is surprisingly easy. The canopy stuffs smaller than most two-person tents, and the stove and chimney pack down into a laptop-size nylon case. Pitching it takes some practice, but after four or five outings, two of us could erect both tipi and stove in less than 10 minutes. Staked taut with a center pole and 16 pegs, the walls handled serious weather, including 40 mph gusts on California's Lost Coast and 6 inches of snow on the Appalachian Trail.
In fact, once we climbed inside and fired up the stove, the weather outside didn't matter much. Online Editor Kris Wagner's experience was typical: "Despite being pounded by an ice storm that tore branches from the trees, we peeled off our wet outer layers and hung them to dry, shared trail stories, and cooked hot drinks around the stove until 1 a.m. It was a far cry from the normal cold-weather camping routine."
The stove is a small, four-legged sheet-metal box with a matching chimney that pokes out a fireproof hole in the ceiling. When stoked full of dry wood (cut short), the stove produces enough heat to warm the tipi from 0°F to 40°F, boil a quart of water (in about 10 minutes), or bake a batch of cinnamon buns. A clothesline circling the top of the tipi helps with drying socks and gloves. Twin doors provide easy entry and ventilation.
Here are a few tips we learned during 17 months of testing. Bring plenty of stakes for a taut pitch. Carry dry tinder or firestarter for quicker fire-ups in foul weather. Seal all the seams for rain duty, and in steamy conditions, bring a pack towel to wipe condensation off the walls.
$780 (includes stove)
Weight:
tent and pole (mfr./BP): 3 lbs. 7 oz./3 lbs. 11 oz.
wood stove (size medium; mfr./BP): 4 lbs. 6 oz./4 lbs 15 oz.
Contact: Kifaru. Reader service #107. —Steve Howe
CamelBak UnBottle
The Better Bladder
Say good-bye to drips and dribbles. This hydration system cures backcountry drinking problems.
If you want to stay well-hydrated on the trail but are tired of all the drips, dribbles, and accidents that come with bladder control problems, take heart, because Camelbak's UnBottle offers a cure.
This hydration system, which consists of CamelBak's Omega reservoir, on/off HydroLock valve, and insulated UnBottle pouch, offers everything we could want in secure water storage. After thousands of sips during backpacking trips, dayhikes, and adventure races, we are happy to report that this bladder does not leak.
The secret to the UnBottle's watertight security is in the HydroLock valve, a lever just above the mouthpiece that allows you to put the flow in an "off" position with a flick of your thumb. Other dandy features include a superwide mouth (more than 3 inches in diameter) that accommodates ice cubes and heaping scoops of drink mix, and offers easy access for cleaning.
The insulated UnBottle pouch kept our water cool, and it protected the bladder from punctures. The pouch features D rings for lashing to the outside of your pack, but it's removable if you want to slip the reservoir into your pack's hydration sleeve.
$30 (70 oz. reservoir); $33 (100 oz.)
Weight (for 70 oz. size): 7 oz.; reservoir only, 5 oz.
Contact: CamelBak. Reader service #103. —Annette McGivney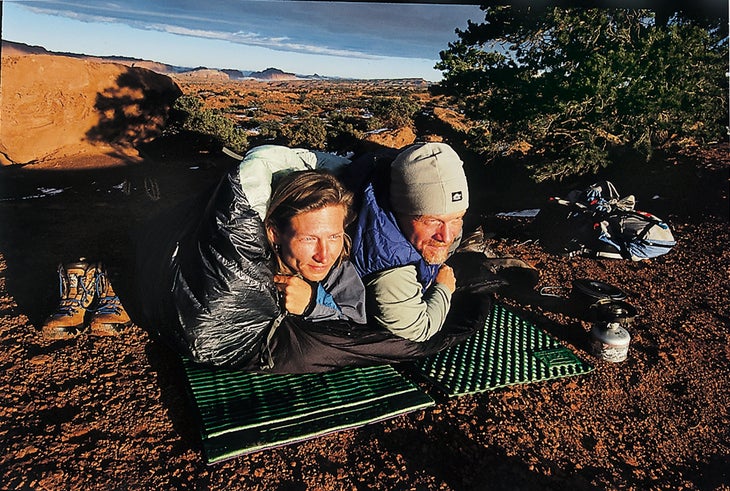 Sweetie Pie Bag Doubler
Save Weight! Share Warmth!
This weight-saving wedge turns one sleeping bag into a cozy nest for two, forever putting to rest the question, "Your footbox or mine?"
Here are all the reasons you shouldn't buy the Sweetie Pie Bag Doubler, an insulated, zip-in wedge that makes one sleeping bag roomy enough for two:
– You don't like to snuggle with your sweetheart on cool mountain nights.
– You're not interested in cutting a pound or 2 of pack weight, plus a few hundred cubic inches of bulk.
– You don't mind the awkward shape of two bags zipped together, or the extra energy spent heating up all that space.
– You already have too much sizzle in your backcountry sex life.
Still reading? Good. That means you're a healthy, well-adjusted hiker. Now I'll tell you why you should buy the Sweetie Pie, which earned rave reviews from five editors and their spouses after 6 months of some of the most energetic testing ever conducted by Backpacker staffers.
Filled with Polarguard 3D insulation, the 58-inch-wide Doubler comes in 10°F and 40°F temperature ratings that proved very conservative. Our only nitpick: We'd like a drawcord to seal out drafts.
It saves enough weight and space, according to one editor, "that you can easily pack a bottle of wine and candles for a romantic wilderness weekend."
It creates a single-footbox mummy that captures heat more efficiently than two bags zipped together, but still offers what another editor called "ample room for comfortable sleeping and acrobatic, um, nonsleeping activities."
Its #8 zippers successfully mated with a dozen different bags during our testing (the zipper is a standard size used by most North American bag manufacturers). You can also zip up the Doubler by itself to create a kid-size bag.
Specs are for 10ºF model
$99
Weight (mfr./BP): 1 lb. 9 oz./1 lb. 12 oz.
Contact: Functional Design. Reader service #109. —Jonathan Dorn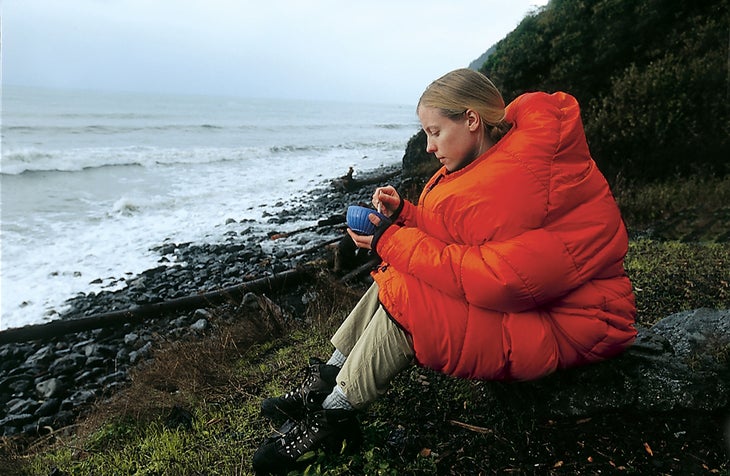 Nunatak Raku Alpine Bag
Wear This Bag To Breakfast!
It's a bag! It's a parka! It's the most comfortable sleeping suit you'll ever wear around camp!
You could call Nunatak's Raku Alpine Bag the world's coziest parka. Or you might say it's the most convenient and livable sleeping bag ever made. Either way, it's like a gift from the mountain gods for campers who hate to crawl out of a warm sack on a cold morning.
In designing the Raku, Nunatak added sleeves and a drawstring-closure ankle hem to a standard mummy sleeping bag. To get in, loosen the drawcord at the bottom and slide the bag over your head; or enter via the main zipper, which runs down your sternum like in a jacket.
The extra-long sleeves keep your arms mobile but always insulated, and the bottom opening enables anyone to be a sleep walker. The benefits are numerous. No more cramped, cross-armed sleeping like the guest of honor at an open-casket funeral. No more twisting up in your sleeping bag every time you roll over. No more freezing your hands and arms when you want to read. No more enduring an uncomfortably full bladder while working up the nerve to answer nature's call on a chilly night.
Once you reach camp, or perhaps that ridgetop lunch spot, pull on the Raku and you're already in bed. For rambles around camp, simply loosen the drawstring and pull the bag to waist level. "The most mobile bag I've ever tested," noted Northwest Editor John Harlin after cooking dinner while wearing the Raku.
The more we tested this bag, the more our eyes lit up with possibilities. Some saw visions of winter comfort, while others dreamed of the ultralight possibilities (why pack a parka?). The very conservative 20°F rating, fluffy 800-fill-power down, and 21/2-pound weight didn't hurt, either
While we'd like to see the stratospheric price come down ($497-$581, depending on size and shell material), we think the Raku's innovations in mobility paint a bright future for sleeping bags.
$497 to $581 (depending on size, shell material, and custom options)
Weight (for size regular; mfr./BP): 2 lbs. 5 oz./2 lbs. 8 oz.
Contact: Nunatak Gear. Reader service #108. —S. Howe
Editors' Choice Gold
When you find a piece of gear that works, you stick with it. You might even buy two, just in case they stop making it. No need to double up in the case of this year's Editors' Choice Gold Award winners. The two tried-and-true products profiled here have been kicking around the backcountry for years, and we think they're so good at what they do that they'll be around for many more.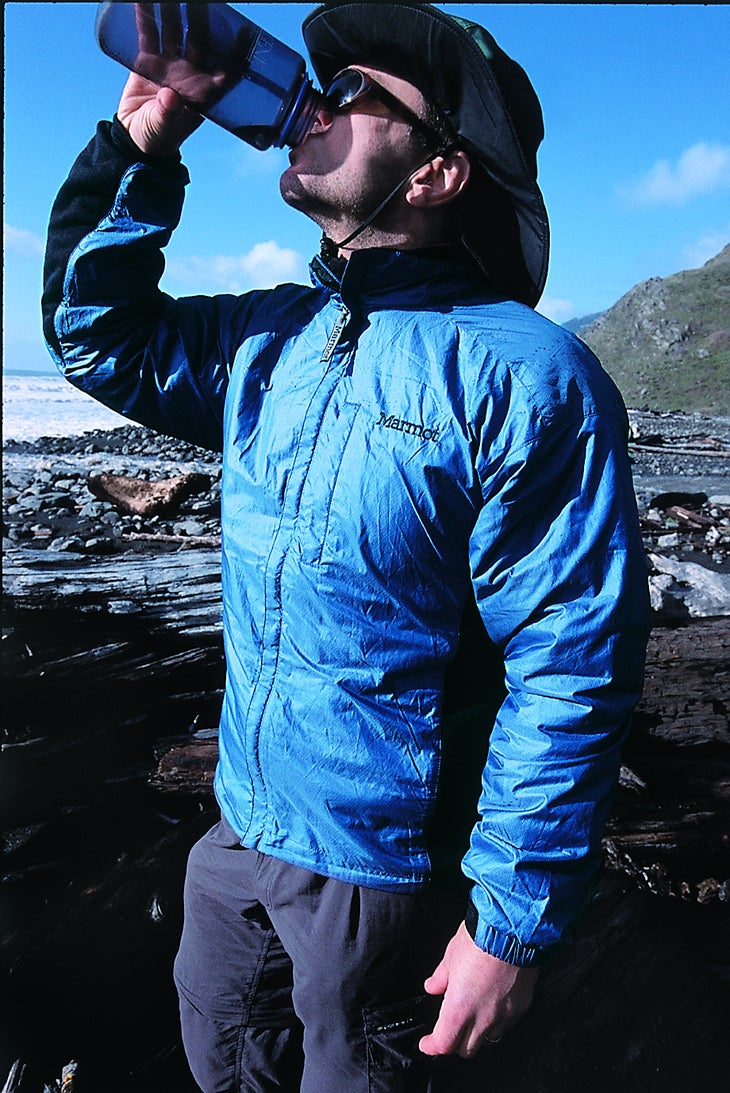 Marmot DriClime Windshirt
A Decade Of Wind-Busting Warmth
Very simply, this base/middle/shell layer may be the most versatile garment you can take into the backcountry.
Call it the Levi's 501 of windshirts. In an era when last year's technical garments are routinely made obsolete by this year's stuff, Marmot's DriClime Windshirt is a veteran still showing the rookies how to play. Ten years old, it ranked tops in nearly every performance category in our recent field test of windproof tops ("Gust Busters," September 2001).
What's so special about it? It seems like there's hardly anything to this 10-ounce jacket—and that's just the first great attribute. A tightly woven nylon taffeta shell lined with wicking DriClime fabric, the Windshirt slashes through the meanest gusts while shedding perspiration, and it compresses to the size of your fist. The design is utilitarian: mesh armpit vents, elasticized cuffs, a single zippered breast pocket, a longer cut in the back to prevent it from riding above a hipbelt, and a wind flap behind the front zipper. In the mountains, where the combination of high exertion levels and cold wind pushes the limits of traditional layers, the DriClime shines, providing more warmth than standard fleece and breathing much better than a waterproof/breathable jacket. All this comes for much less weight and bulk than any combination of garments that could do the same. It'll even shed a light rain, then dry in minutes.
You can wear the DriClime against your skin, as a middle layer, or as a shell. Numerous times, from the northern Rockies to New England, I've pulled the DriClime over a base layer and needed nothing more or less, whether chugging uphill or cooling off going down. When more warmth was desired, I'd yank on a fleece over the DriClime. After all, when the goal is to warm up, why take off the windshirt before putting on the fleece?
Marmot now makes a DriClime hooded jacket, vest, pants, and a new Flex Windshirt ($149) featuring stretch fabric at the sides and forearms. But nothing has replaced the original—nor will you, because this diehard endures years of hard use. The kicker: The DriClime Windshirt costs just $20 more today than when it was introduced.
$119
Weight (mfr./BP): 10 oz./10 oz.
Men's and women's S–XL
Contact: Marmot. Reader service #110. —M. Lanza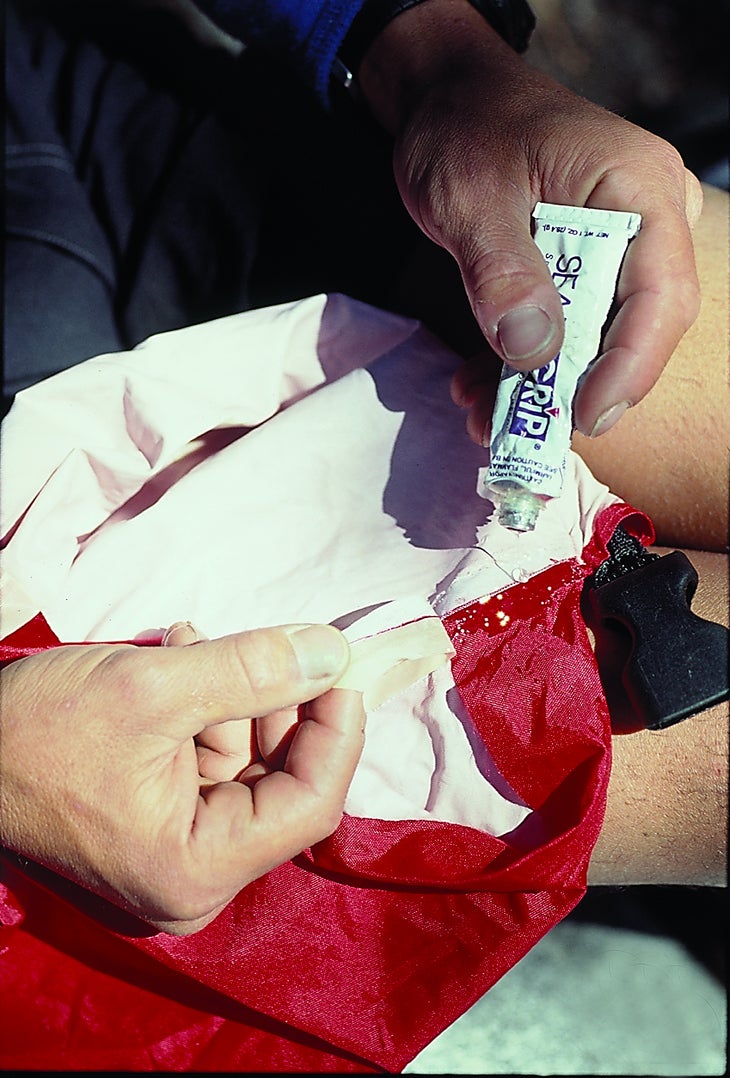 McNett Outdoors Seam Grip
The Glue That Holds The Outdoors Together
Calling this all-purpose glue a seam sealer for tents is like calling Merlin a chemist. For anyone who uses gear outdoors, this goo is magic.
Do you prefer a dry tent? Do you believe that a penny saved is a penny earned? Would you like to keep on hiking rather than turn tail because of broken gear? Do you love McNett's Seam Grip?
These are all rhetorical questions, and if you don't know the answer, you aren't yet among the Disciples of Seam Grip. For years, Backpacker editors have been using Seam Grip to:
– Seal untaped tent seams and repair rips
– Glue delaminating boot soles and create custom rands
– Patch holes in boots, clothing, and inflatable mattresses
– Seal leaky jacket seams
– Repair a torn foam mattress
– Make loose screws stay put
– Fix broken glasses frames
– Add friction to gloves, booties, and mattresses
– Bind unraveling rope ends
– Glue patches onto clothing and packs
– Fix leaky water bottles and bladders, and fuel bottles
Available in several sizes; a 1-ounce tube costs $6.95.
Contact: McNett Outdoors. Reader service #111. —J. Harlin