Editors' Choice 2001: The Best Backpacking Gear of the Year
Lightweight cookware and a revolutionary headlamp are among the highlights of this look back at 2001's best equipment.
Heading out the door? Read this article on the new Outside+ app available now on iOS devices for members! Download the app.
The map was wrong. It showed the trail heading up high for a raven's-eye view of the Colorado River flowing green and cold way down below. And so we walked where other Grand Canyon hikers had previously trod, following a squiggly desert path marked by sandstone cairns. But the route was a siren's call, leading us to a drop-off where the trail literally vanished into thin air.
So we backtracked and wound up scrambling down a series of slot canyons and rock slides to the river and that evening's camp. The day's unexpected 3-mile side trip wasn't a total loss, since it gave us another opportunity to test gear. That was, after all, why we'd sacrificed our quads hiking into the most spectacular hole on Earth: to put this year's Editors' Choice finalists through their last round of testing. Until then, the gear had survived trips to Canada's Yukon Territory, Arizona's Sonoran Desert, the Berkshires of Massachusetts, up and down the flanks of Washington's mighty Mt. Rainier, and hikes along stretches of the Appalachian Trail.
What follows is a rundown of the equipment that came out of the Grand Canyon alive and kicking. This is the best-built, most innovative, most comfortable new backpacking equipment of 2001, all of which you should carry to the nearest hiking hot spot when spring fever sends you crashing through the door to shake off the winter doldrums. 
GSI Outdoors Hard Anodized Extreme Cookware
Lightweight, durable, and easy to clean, this is the best camp cookware we've used.
There isn't a hungry backpacker in the land who won't appreciate the performance of GSI's remarkable new Hard Anodized Extreme cookware. We cooked more than 100 meals using two Extreme cooksets last fall and winter and never mangled an omelette or burned a burrito.
The Extreme pots are made from lightweight aluminum that's been "hard anodized," a process that alters and toughens the cooking surfaces. The result is an almost scratchproof finish; our pans show only a few tiny nicks. Anodization also creates a permanent nonstick surface (there's no coating to wear off) that let us bake fry bread, pancakes, and cookies without using oil. There's so little scorching that dish duty rarely amounts to more than a quick wipe.
Even better, the pots distribute heat more efficiently than other camp cookware we've tried, which translates into faster boiling times, even cooking, and reduced fuel consumption. On one weeklong hike, we marveled at how fast we brewed hot drinks for a party of seven and at how much fuel was left at week's end—despite the addition of two unaccounted-for hikers. We also found that the pans fried evenly rather than browning just a little spot in the center. (Test the heat distribution for yourself: Boil water side by side in this pot and another aluminum one, and note how the circle of bubbles on the bottom of the GSI pot is farther from the center.)
GSI's Hard Anodized Extreme cookware comes in five- and seven-piece sets, mess kits, fry pans, and other styles. It isn't the least expensive on the market, but it may be the best value due to its durability and groundbreaking, no-fuss performance.
Specs are for the five-piece cookset, which includes 1- and 1.5-quart pots, two lids/fry pans, a pot gripper, and a mesh stuff sack
Price: $61
Weight (mfr./BP): 1 lb. 10 oz./2 lbs.
Contact: GSI Out­doors, (800) 704-4474. Reader service #110 —Jonathan Dorn, Managing Editor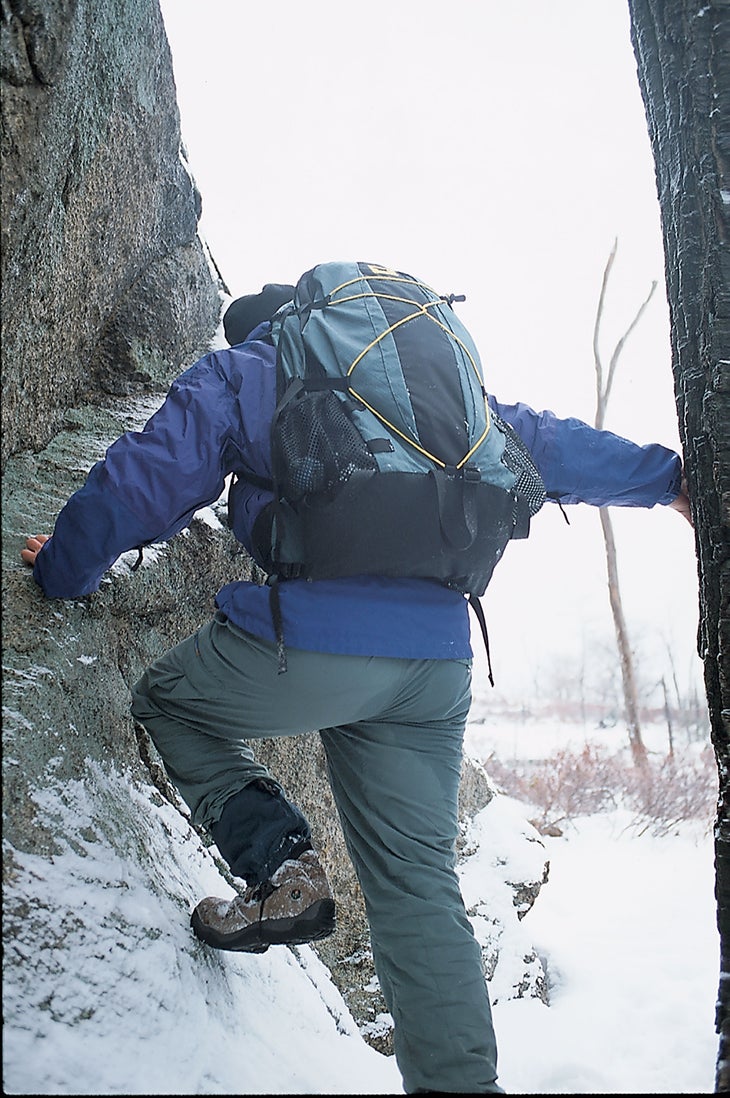 Mountainsmith Mountainlight Packs
These are the most comfortable lightweight load-carriers we've tested.
Miracle diets promising weight loss without suffering never work, right? Wrong. We found an exception: Mountain­smith's Mountainlight pack series. These lightweight backpacks really do allow you to shed pounds without sacrificing load control or comfort.
Five editors and several gear testers carried the four backpacking models in this pack line (Auspex, Chimera, Ghost, and Specter), and every one of us came home happy. For a hike in Arizona's San Francisco Peaks, I loaded up the near-expedition-size Specter with a week's worth of gear and a decadent selection of fresh food. I figured I'd use the 2-plus pounds I was saving in pack weight to brighten my eating options with weighty foods I'd usually leave behind: apples, carrots, cheese, chocolate chip cookies. Because the Specter proved just as comfortable as similar-size packs I'd carried, I almost felt as if I were cheating. Gain with absolutely no pain.
So what gives with Mountainlight packs? Zippers, for one. These heavy, metal things are kept to the bare minimum, along with compartments and external pockets. Nor will you find extension collars or full foam back panels. There isn't even a framesheet on the midsize and weekend models. Instead, the featherweight but supportive suspension system employs two aluminum stays cushioned with vertical strips of foam; there's also generous lumbar padding, and triangular Delta straps on the hipbelt snug the load against the lower back.
Another major weight savings comes from the packbag's nylon Dimension Polyant fabric, which is significantly thinner and lighter than Cordura but just as abrasion-resistant. The packs we tested survived extensive abuse, ranging from getting dragged down Arizona slot canyons to being hauled to the top of talus-strewn Canadian peaks.
Thanks to the Mountainlight's efficiencies in load control, materials, and pack design, you're certain to lose weight with these packs. It's just a matter of picking which diet…er, model is right for you. Read on to review your choices.
Contact: Mountainsmith
Specter
"With a capacity approaching expedition size, the Specter is the model that tests Mountainsmith's lightweight suspension most severely," notes Managing Editor Jonathan Dorn, who carried the pack filled to the brim on a weeklong hike in the Grand Canyon. "If the system were going to fail, it would fail here. But I didn't experience a moment of discomfort. That's pretty remarkable, given that many quality packs in this size range weigh 2 pounds more."
Sporting a long, slender profile, the Specter is a single-compartment, top-loading pack with a large, J-shaped zipper that offers easy on-the-trail access to the bag's innards. Slider adjustments on the shoulder harness (also on the midsize Auspex and Chimera) make modifying the torso length a breeze. Complaints about the pack were few, but centered on its off-trail performance: The tall bag felt a bit unstable while we were scrambling; brush tore the shallow, mesh water-bottle pockets; and the bungee cord atop the lid caught on low-hanging branches.
Price: $299
Capacity: 5,600 cu. in.
Weight (mfr./BP): 5 lbs. 5 oz./5 lbs. 6 oz.
Auspex (men's)/Chimera (women's)
The packbag on these models is a long, slender, single-compartment top-loader. Jon used the Auspex on a series of fall weekends and winter overnights, applauding "the just-enough-but-not-too-much harness and features." I carried the Chimera on a weekend hike with 35 pounds of gear and found it amazingly comfortable. Even though there's no framesheet, the load control and load transfer are superb, keeping the weight on your hips, not your shoulders. We definitely appreciated the weight savings, which equals as much as 3 pounds over comparable-size packs. I also liked the way the shoulder straps and hipbelt contoured to fit a woman's body. An earlier version of this pack (called the Mountainlight 3500) earned top honors in our lightweight pack field test ("Light And Easy Packs," June 2000). After trying out the newest models, we've found that only improvements have been made to an already popular design.
Price: $249
Capacity: 4,200 cu. in.
Weight (Auspex size regular; mfr./BP): 3 lbs. 14 oz./3 lbs. 12 oz.
Ghost
Northwest Editor John Harlin made friends with the Ghost during 100 miles of hiking in California's Sierra and Alaska's Brooks Range. He reported that it "comfortably carried everything I needed for ultralight fair-weather backpacking trips of up to a week." John and Jon, who tested the Ghost along the Appalachian Trail with loads of up to 25 pounds, call it the best pack they've found for ultralight backpacking, noting its ample load control and superior freedom of movement for scrambling and even climbing. A Delrin rod across the top of the packbag gives the Ghost structure and helps channel weight to the wide, flexible hipbelt. The lightly padded hipbelt tapers from the middle of the back panel and keeps the load pleasantly snug against the lower back. Twin water-bottle pockets and a bungee cord round out the primary features.
Price: $179
Capacity: 3,100 cu. in.
Weight (mfr./BP): 2 lbs. 6 oz./2 lbs. 8 oz.
—Annette McGivney, Southwest Editor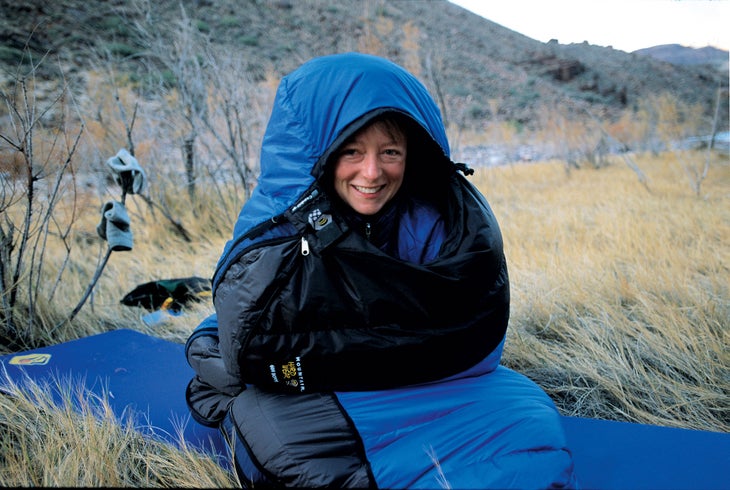 Mountain Hardwear Quantum Bags
A unique draft-tube-cum-expansion-panel adds luxurious room for warm nights,
big bodies, or restless sleepers, all for the tiny weight of an extra full-length zipper.
When I explained the concept behind my as-yet-untested Quantum bag to a seen-it-all gear tester, he laughed first, then scoffed, "What a gimmick!" But after a month's worth of wilderness sleeping, all I can say is that I wish I'd patented this particular "gimmick." I'd be laughing all the way to the bank.
Quantum refers to an entire line of 600-fill-power-down expandable bags from Mountain Hardwear. The innovation is a full-length draft tube that unzips bellows-style to provide 8 inches of extra girth on warm nights. All that space allows air to circulate for dramatic cooling, which I appreciated during several warm Sierra bivies while testing the 0°F-rated Universe SL. On cold nights, I zipped the expander closed for a snug, thermally efficient fit. (We also appreciated that versatility in the 15°F-rated Galaxy SL, which several editors tested extensively last fall and winter.)
The Quantum's extra comfort isn't due just to thermodynamics, but also to wriggle room. We spent hours cross-legged inside our bags during rainy days in Alaska's Arctic National Wildlife Refuge and on cold mornings on the Appalachian Trail in Pennsylvania. One restless editor raved about how he could toss and turn inside the Galaxy SL, while another shared his bag with his 4-year-old daughter.
There's no draft tube when the Quan­tum expander is zipped open, which is just fine because in that mode you're usually trying to cool down. Zipped shut, the expansion panel becomes an oversized draft tube, trapping warmth in and cold out. On cold nights in the Grand Canyon, editors split on the Galaxy SL's ability to handle temperatures in the 20s. The culprit might be the lack of a draft collar; to keep out chilly air, you must seal the hood tightly against your face. (Thankfully, colder-rated Quantum bags have draft collars.) We weren't thrilled with the rapid narrowing of the bag above the shoulders, either, because in order to leave an arm hanging loose, you have to unzip the hood partway.
The Galaxy SL's proprietary Conduit shell provided top-notch water-resistant/breathable protection. The shell breathed well enough that none of us felt clammy inside, and it repelled plenty of dew, frost, and condensation.
The downside of all this versatility? If there is one, it's the weight of an extra full-length zipper—2 ounces.
Specs are for size regular
Price: $305
Weight (mfr./BP): 3 lbs. 1 oz./3 lbs. 3 oz.
Temperature rating: 15°F
Contact: Mountain Hardwear
—John Harlin, Northwest Editor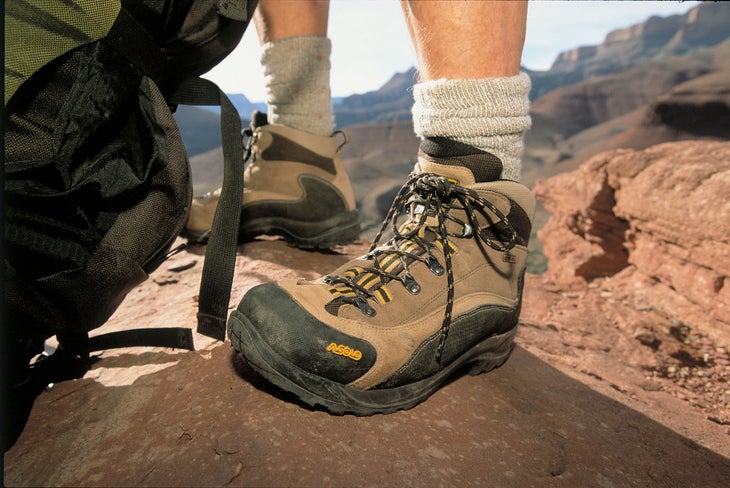 Asolo Fusion 95 GTX
Combining the light weight of an approach shoe with the support of a serious leather backpacking boot, these hikers offer the best of all worlds.
Want to know what I like about these boots? They make my feet happy, that's what. This sense of bliss sprung straight out of the box when the fit, well, fit. The boots felt like they had been built around my feet, complete with arch support. Then came the first steps down a trail near home, where my feet wanted to dance because I couldn't believe how light and unencumbered they felt. The pleasant introduction continued as I edged up a steep off-trail sidehill and felt total control as the boots bit into the dirt without a hint of rollover. Some 75 miles later, including 6 days on and off trails in the Grand Canyon, I knew beyond doubt that—for me at least—the Fusion 95 is the ideal all-around backpacking boot. And the price? I still can't believe my eyes.
All six models in the Fusion line are intended to blend the support of a backpacking boot with the light weight of dayhikers. The model we tested, the Fusion 95 GTX, is the sturdiest of this group, featuring a suede and Cordura upper lined with Gore-Tex. Mind you, Asolo doesn't bill the Fusion 95 as a hardcore backpacking boot, but as a mere weekender. I disagree. After testing a number of heavy boots last year and then scrambling with the Fusion 95 on cliffs, scree fields, and firm sidehills, I'd rate the torsional stiffness and ankle support of the Fusion right where it needs to be for full-on backpacking. No, the Fusion won't hold the edge or buttress the ankle quite like a mountaineering boot, but for everything shy of the most crushing loads on the most brutal terrain, it's all the boot this backpacker needs.
How does Fusion technology work? The sole provides full-length support via an injection-molded shank, which combines polyurethane and rubber for a softer forefoot flex than in Asolo's heavier boots. The shank's distinct curve, or rocker, complements smooth, fast striding. To lighten things up and provide more cushioning, Asolo uses an injection-molded midsole that mixes polyurethane with injected air. Asolo claims this combination provides a faster and more powerful stride. Our legs are neither speedy nor powerful, but the trail miles did slide by easily in the Fusion 95.
Our Northeast editor put the Gore-Tex lining to its best test during wet and muddy miles on Vermont's Long Trail, including trips up eight Green Mountains peaks. She reported no leakage, nor did I discover any while standing around in Oregon streams.
The lugs aren't especially deep on the Vibram sole, but they nevertheless provided excellent traction on rock, dirt, and mud. A hard rubber bumper protects the toe box against stony stumbles. —J. Harlin
Specs are for men's size 81⁄2
Price: $150
Weight: 2 lbs. 12 oz./3 lbs.
Contact: Asolo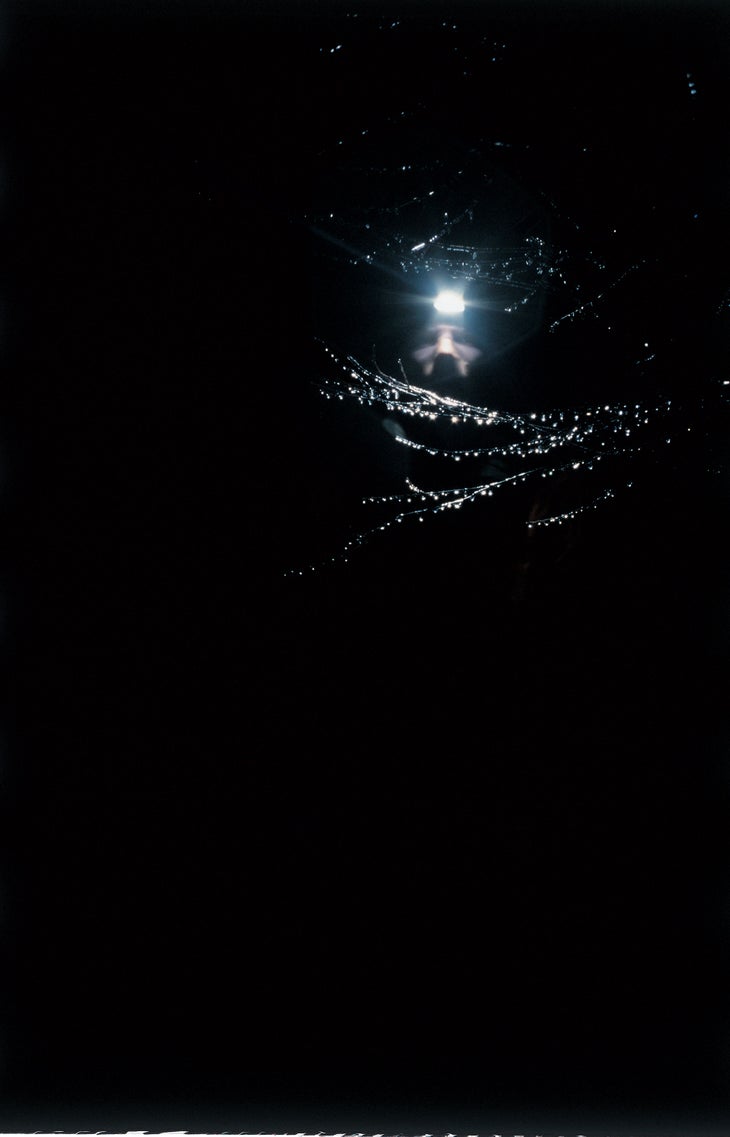 Petzl Tikka
This featherweight headlamp keeps going and going and going…
If your headlamp priorities include light weight, long battery life, and convenience, look no further than the Petzl Tikka. This minimalist light has everything we want in a headlamp and nothing we don't. The Tikka's three LED (light-emitting diode) bulbs pack enough oomph to illuminate a book, a pot of goulash, and just about anything else around camp. We've used it for short night hikes, both planned (navigating a spooky, old-growth trail in Oregon) and unplanned (searching a cactus-choked mesa for a campsite in Arizona). The solitary head strap holds the lamp just fine on any size noggin, and the rugged plastic housing withstands the occasional hard knock.
But the best thing about the Tikka is how long it runs on three AAA batteries. Petzl claims it will go for 150 hours. My Tikka has seen about 70 hours of use without any noticeable dropoff in brightness. Imagine: No more lugging spare batteries.
The Tikka's stationary beam doesn't adjust up and down, or change from pinpoint to wide-angle, but do you really need such features? Not for most kinds of camping. The only thing that bothered us was the battery compartment, which is difficult to open…even more so with cold hands. Fortunately, the batteries last so long that you'll rarely have to change them.
Price: $35
Weight (mfr./BP): 2.5 oz./3 oz.
Contact: Petzl, (877) 807-3805. Reader service #109
—Kristin Hostetter, Contributing Editor
A Few Of Our Favorite Things
When you spend 50 to 75 days a year in the backcountry, as Backpacker editors do, you soon discover that the wrong type of cocoa, lip balm, or toilet paper can wipe that smile right off your face. Here's a short list of the gadgets, goodies, and gastronomic necessities we won't leave home without. (All are available at grocery or drugstores, unless otherwise indicated.)
Freezer bags Ziploc gallon-size: The perfect no-spill food container, plus there's a write-on label.
Lighter Bic: Nonchildproof models flick faster!
Cold drink mix Gatorade Lemon-Lime Instant Mix: Soothes thirst and boosts tired muscles.
Hot drink mix Jell-O gelatin: A winter elixir to warm shivering bodies (mix with boiling water and drink).
Tea Good Earth: No bitter aftertaste, and one bag makes several hot cups or a quart of yummy iced tea.
Cocoa mix Ghiradelli Vanilla Mocha: A taste of heaven in every sip (best with powdered milk).
Coffee Folger's Classic Roast Crystals: Readily available, affordable, "mountain-grown," and, oh yeah, caffeine!
Coffee filter MSR MugMate: A featherweight filter for brewing your own (see Outfitting, May 1998). $12.95. Contact: Mountain Safety Research
Dessert Jell-O No Bake Cherry Cheesecake: A deluxe dessert that works best on cold nights
Cookies Fig Newtons: Dense, packed with energy, better than prunes.
Lip balm Dermatone Sun Protection Stick: Special formula protects lips, nose, and cheeks from sun, wind, and frostbite. $4.95. Contact: Dermatone, (866) 225-7546. Reader service #114.
Potty trowel U-Dig-It: Folding handle for convenience, metal for digging fast in hard ground (see Outfitting, May 1998). $20. Contact: U-Dig-It Enterprises
Toilet paper Scott Tissue: The best wipe-to-weight ratio this side of snow.
—J. Dorn
Editors' Choice GOLD
What could be better than great new gear? Gear that was great a decade ago, and still kicks rump. This year, we induct two longtime favorites into our camping equipment "hall of fame." Both set a new standard for excellence when they appeared on the market, both still perform better than the competition. After hundreds of testing days and nights, we can say beyond a shadow of a doubt: These oldies truly are golden.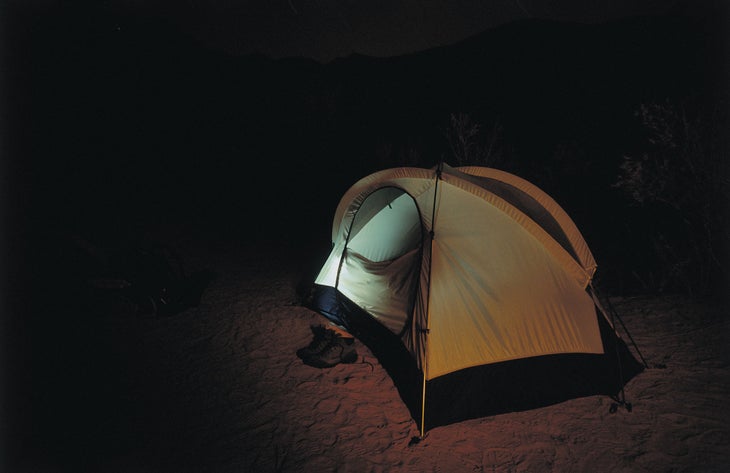 Sierra Designs Meteor Light CD
Quite possibly the ideal backpacking tent
Palatial interior space. A giant vestibule. Two side doors. Great ventilation and stargazing opportunity. Uncompromising weather protection. Easy setup. Respectable weight. A less-than-$300 price. Pick any three or four of these features and you'd have a super tent. But the two-person, three-season Sierra Designs Meteor Light CD manages to roll all of these qualities and more into a shelter that perennially tops our ratings charts and just may be the ideal tent for three-season backpacking.
In the 13 years Sierra Designs has been building the Meteor Light, the shelter has seen a few upgrades and improvements, but the general shape and floor plan remain the same. The footprint is a 40-square-foot rectangle, which provides ample living and gear-storage space for two. The near vertical side walls and 43-inch-high ceiling ensure that you won't feel claustrophobic, even when stormbound with a smelly hiking partner.
The current Meteor Light includes two circular doors so you won't have to crawl over that odoriferous cohort to take a midnight stroll, plus one spacious and windowed vestibule suitable for nasty-weather cooking. A wide swath of mesh graces the ceiling, a feature we've always loved, but never more so than on a recent trip into the Grand Canyon, where the magnificent star show threatened to keep us gazing all night long. For even more versatility, the Meteor Light can now travel in "fastpacker mode," in which a nylon footprint is substituted for the tent body, resulting in a 21⁄2 pound weight savings.
Other nice features abound, but the one that ultimately makes this tent a classic is its weight-to-living-space-to-weatherproofness ratio. Over the years, various versions of the Meteor Lite have kept us dry and comfy on trips all around the country—from Georgia's Chatahoochee National Forest ("Tents For The Frugal," August 1995) to Oregon's Mt. Hood National Forest. Says one tester, "It's hard to imagine a better three-season, two-person tent."
Price: $279
Weight (tent, fly, poles, sack; mfr./BP): 6 lbs. 12 oz./7 lbs. 8 oz.
Contact: Sierra Designs, (800) 635-0461. Reader service #111
—K. Hostetter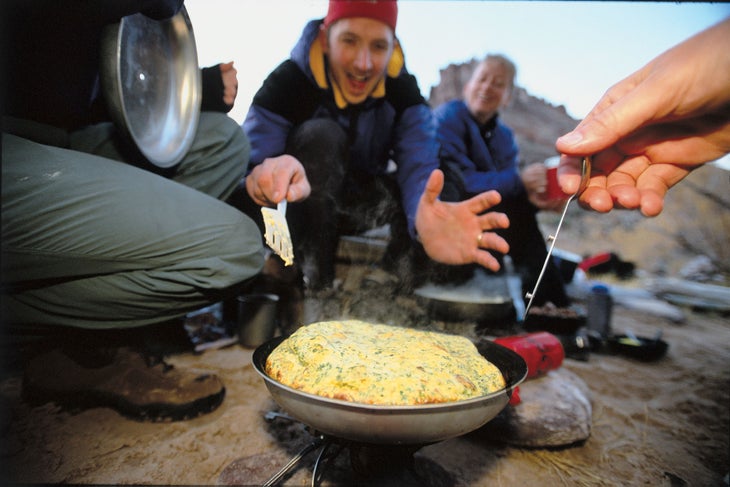 Backpacker's Pantry Outback Oven
Look no further if you want trail-baked goodies that taste just like home-cooked.
We've seen it happen time and time again. A posse of sweaty, cranky gear testers stumbles into camp after a ridiculously long hike with absurdly heavy packs. Setting up camp is a quiet, tired process, punctuated only by the sounds of growling stomachs.
Then, for an appetizer, our designated cook unfurls a freshly baked pesto pizza, with a hot, crunchy crust and thick, spicy sauce. Suddenly all is well again, thanks to the Outback Oven, which we've used to bake countless backcountry delicacies. The system consists of a simple nonstick-coated frying pan and lid, plus a heat diffuser that raises the pan from the stove burner to prevent scorching and an aluminized fiberglass dome that fits over the oven to trap and circulate heat. A thermometer built into the lid handle helps you keep the brownies from burning. The Outback Oven comes in three sizes.
It takes a tiny bit of attention to master the art of Outback Oven baking (watch those fingers! keep the flame in check!), but even the clumsiest of cooks can serve up fresh scones, mushroom quiche, cinnamon rolls, and even lasagna without much effort. You can use baking mixes sold by Backpacker's Pantry, concoct your own recipes, or bring store-bought mixes (look for the add-water-only variety for easy preparation). Our editors have also been known to whip up scrambled eggs, quesadillas, and sautéed veggies in the frying pan.
The Outback Oven does add weight to your pack, and you still need to carry regular cook pots, so we mostly take it on short trips or group outings of four or more people. But if you want your backwoods fare to taste like home cooking, the Outback Oven is your answer. —K. Hostetter
Specs are for Outback Oven 10, which serves 2 to 4 people
Price: $54.90
Weight (mfr./BP): 1 lb. 7 oz./1 lb. 8 oz.
Contact: Backpacker's Pantry, (303) 581-0518. Reader service #112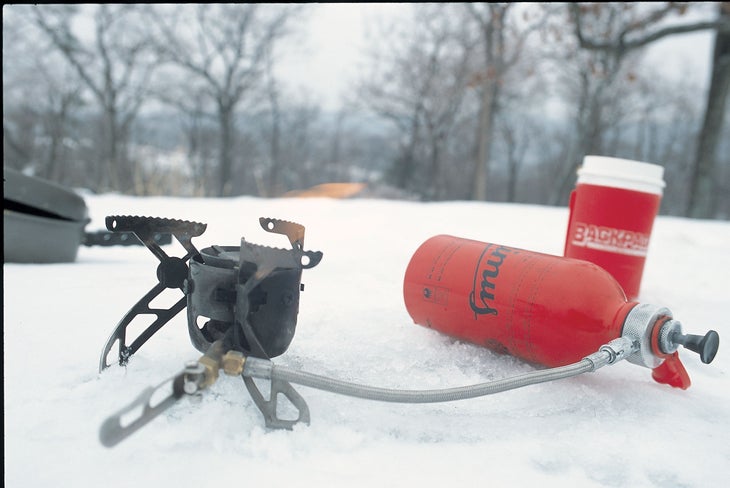 Optimus Nova
Versatile, highly efficient, and nearly indestructible, this multifuel stove primes fast, cranks out the heat, and (gasp!) even simmers.
If you need a four-season stove that can travel anywhere in the world and provide blowtorchlike heat almost instantly, but also simmer delicate sauces, the Optimus Nova stove is your ticket. During our Grand Canyon trip and other hikes, the Nova impressed us with its quick firing up and near instantaneous relighting, even after long dormancies. The flame adjusted easily via a long, mitten-friendly handle, going from a surprisingly quiet high setting to a low, steady flame that baked (not burned!) many quiches and cakes for our gastronomically pampered crew.
Thanks to the Nova's unique burner construction, fuel consumption was impressively low. Despite lots of time-intensive frying and baking, six of us used only 2 liters of white gas in 6 days of moderate winter weather. Later, a crew of seven used even less kerosene on a weeklong pack-testing foray.
The Nova employs a unique cleaning system that allows you to remove soot from the fuel nipple while the stove is running. Simply wave a separate, magnetic "wand" under the burner and like-polarity forces the cleaning needle up through the fuel port. (We're still waiting for one of our two clean-burning testing samples to clog.) Although the wand adds a bit of weight, it doubles as a wrench for maintenance and field repair. Locking legs and serrated pot supports provide excellent stability and nonslip pot gripping.
The Nova started readily in near-zero-degree conditions, and worked surprisingly well with kerosene. Though priming was a bit sootier with kero, the Nova kept cooking when another popular multifuel stove sputtered to a stop. That performance, plus its tough, bend-resistant construction, makes us confident that the Nova is one of the most durable stoves on the backpacking market.
Price: $139.95
Weight (without fuel bottle; mfr./BP): 15 oz./16 oz.
Contact: Optimus USA
—Steve Howe, Rocky Mountain Editor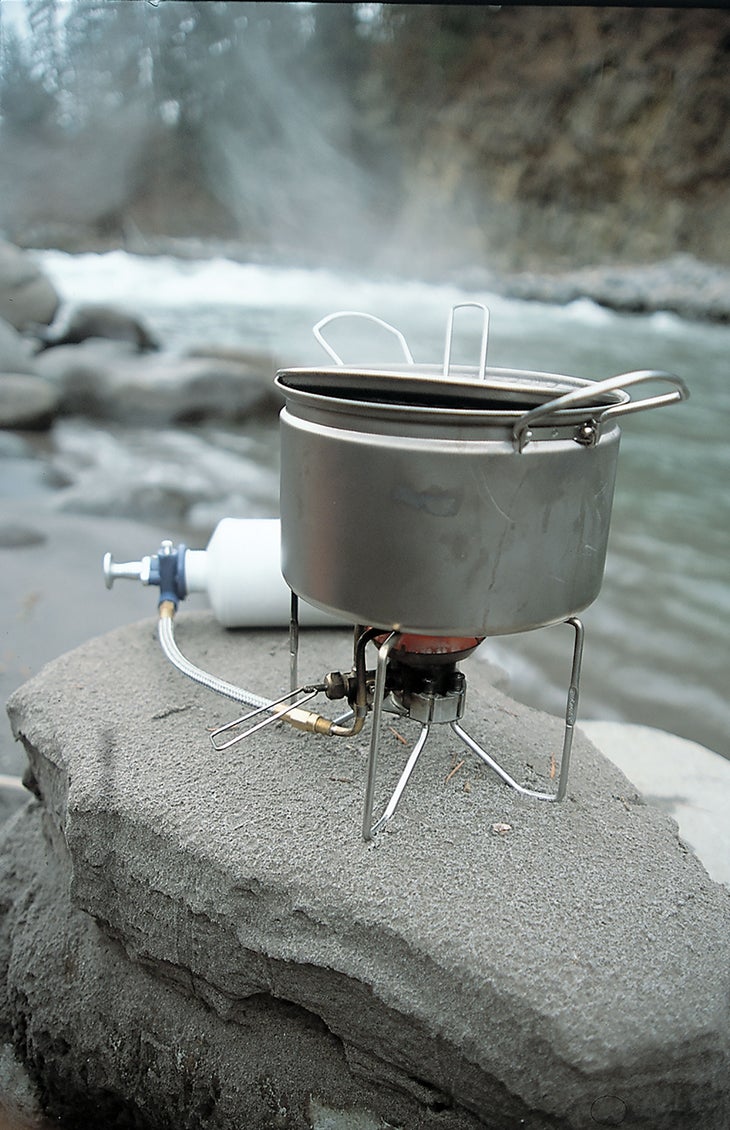 Snow Peak GS-010 GigaPower White Gasoline Stove
Faster meals! No messy priming! Meet the white gas stove that virtually lights itself.
Do you like the blazing hot performance of white gas stoves but not the delays, misfires, and flare-ups that can occur with priming? Say good-bye to leaping
yellow flames, because Snow Peak's self-priming GS-010 stove changes the laws of camping pyrotechnics.
This wonder burner lights without priming, something unheard of in the world of liquid gas stoves. Just pump the fuel bottle and flip a lever, and it lights to a full roar with a flick of your Bic. We're not quite sure how this magic works, but while testing the GS-010 in cool fall and windy winter conditions, we ate sooner than expected, saved fuel, singed fewer eyelashes, and worried less while cooking inside a vestibule.
At full blast, the GS-010 boils with white gas's famous speed, but the noise doesn't drown out conversation. A twist of the throttle produces a delicate flame that let us fry perfect flapjacks. The shielded burner is almost impervious to wind; we huffed and puffed trying to
extinguish the flame, but only the strongest blast put it out.
The GS-010's wire legs flip out and lock securely to provide a wide, stable platform for the biggest pots and fry pans. We found the stove a little unforgiving on cold-weather lighting and wet-burner relighting, but paying strict attention to the sequence of pumping and lever-flipping seems to take care of the former, and thoroughly blowing dry the burner assembly cures the latter problem.
Note: As we went to press, we learned that delivery of the GS-010 will be delayed until summer. Look for it in stores beginning in July, or contact Snow Peak through its Web site. —J. Dorn
Price: $149
Weight (mfr./BP): 17.25 oz/15.5 oz.
Contact: Snow Peak USA