Editors' Choice 1999: The Best Backpacking Gear of the Year
Nine innovative new products to improve life on the trail, plus a few classics worth their weight in gold.
Heading out the door? Read this article on the new Outside+ app available now on iOS devices for members! Download the app.
Tough place, heaven was. Temperatures dropping faster than a sack of bricks, wind blowing so hard the rain didn't touch dirt until the next day, and peanut butter on noodles for dinner. 
We'd hiked up the Pacific Crest Trail into Washington's Indian Heaven Wilderness Area to test gear for our annual Editors' Choice awards. Along the way, we found camping purgatory. Even the trout in the lakes were shivering. But such extreme situations are perfect gear proving grounds, and on this trip, three candidates for our new-and-best awards soared to greatness, while a less-fortunate item fell from grace. Other trips preceded and followed our blessedly brief stint in heaven, all with the same goal in mind: To see how this season's newest and brightest (at least on the surface) outdoor gear fared in the backcountry. Marketing hype is one thing; barn-flattening wind and soul-soaking rain are quite another. 
What follows are the survivors from our once-long list. You'll also find something new: the Gold Awards, which highlight a few tried-and-true war horses that over the years have continually blown away the competition in the field. Gold Award winners, like the Editors' Choice finalists, are all exceptional performers, all built to stand the test of time, all designed to enhance your comfort and enjoyment of the Great Outdoors. —The Editors
SmartWool Next-To-SkinWear
Smooth-as-silk wool long johns
Think of wool long underwear and two adjectives pop to mind: warm and scratchy. Unless, that is, you're wearing SmartWool's Next-To-SkinWear, in which case only "warm" holds true. That's because these long johns are made from 100 percent merino wool that's so soft and smooth you'd swear there wasn't a sheep within 50 miles of the manufacturing process. The secret: SmartWool uses extra-fine wool fibers treated with a special coating that enhances silkiness.
Some of our testers were skeptical about a wool undergarment's ability to wick sweat and breathe well, especially during heavy exertion. But their concerns, like their perspiration, quickly evaporated. Whether scrambling uphill with a heavy pack or standing damp and sweaty in chilly wind, our testers found that the versatile SmartWools offered excellent next-to-skin dryness and temperature control. The long johns even ranked well in a sweat-related but somewhat delicate category: "I couldn't get them to smell half as bad as synthetic longies I've worn," says Equipment Editor Jonathan Dorn.
We did notice a few wrinkles that need ironing out. For instance, while the fabric doesn't shrink, some pilling did occur in high-wear areas. Everyone liked the relaxed fit of the top, but the women's bottoms were loose and baggy.
The consensus: All-around comfort in lots of conditions
Price: $69 crewneck, $82 zip-T, $79 bottoms
Sizes: Men's S to XL, women's S to L
Contact: SmartWool, P.O. Box 771143, Steamboat Springs, CO 80477; (970) 879-2913. Reader service #107.
—Kristin Hostetter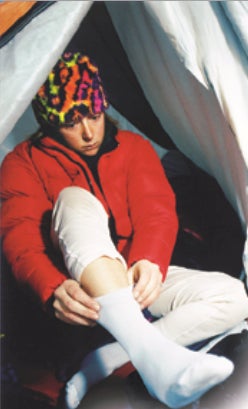 Fox River X-Static Sock Liners
A silver lining for stinky feet
Two days after returning from a soggy hike in Oregon's Cascades, I finally got around to unpacking, and I found an old-fashioned stink fest going on in my duffel. My long underwear and wool socks were industrial strength nose-wrinklers. Then I got to the X-Static liner socks I wore four straight days on the trail. They were odorless.
What could be confused for divine intervention was actually the result of silver, a natural antimicrobial, built into the fabric. Doctors for decades have used silver to prevent infection in burn victims, so it makes sense that the silver-coated nylon thread in the X-Static socks would work on foot bacteria and fungi. Fox River says that besides controlling foot odor, X-Static socks can also wipe out cootie communities that lead to conditions like athlete's foot. Claiming a fabric is "antimicrobial" is controversial and hard to prove in the field, so we won't touch that one. But we can vouch for the claim that these socks can be worn for days without raising a stink. Our noses don't lie.
We also discovered that X-Static liners wick perspiration and reduce friction at the heels and toes as effectively as standard polypropylene liners. The result is fewer blisters, in other words.
The consensus: No matter how bad we stunk, the X-Static liners still smelled swell.
Price: $9
Sizes: Unisex M and L
Contact: Fox River, 227 Poplar St., Osage, IA 50461; (800) 247-1815. Reader service #109. —Annette McGivney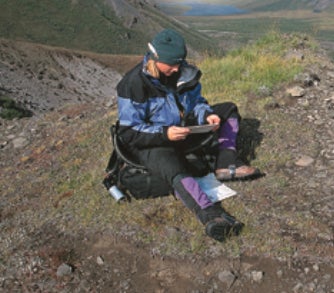 Outdoor Research Crocodiles
Take a bite out of stream crossings
While testing a batch of gaiters last fall, I realized how spoiled I'd become. Some leaked, some of the closures peeled open midstep, and some instep straps ripped, frayed, or came unfastened.
In more than five years on the trail, my Outdoor Research Crocodiles have yet to fall prey to any of the above-mentioned maladies. The Gore-Tex Crocs have never let in a drop; the wide, full-length hook-and-loop patches stay securely closed; the nylon/rubber straps and buckles always hold tight. That's why Crocs have been the gaiters of choice for many a Backpacker editor for the past decade or so. We've worn them over all types of outdoor footwear, through sand, scree, snow, and water, and simply to keep out trail debris. The 1000-denier Cordura and pack cloth bottom section and three-layer taslan Gore-Tex up top make for a stiff, rugged gaiter that has yet to let our testers down.
But perhaps the best thing about the Crocs is their leg-hugging fit: flared at the bottom for a tight seal around boots, tall and straight up the leg with no excess fabric or elastic to get in the way.
Price: $52
Contact: Outdoor Research, 2203 1st Ave. S, Seattle, WA 98134; (800) 421-2421.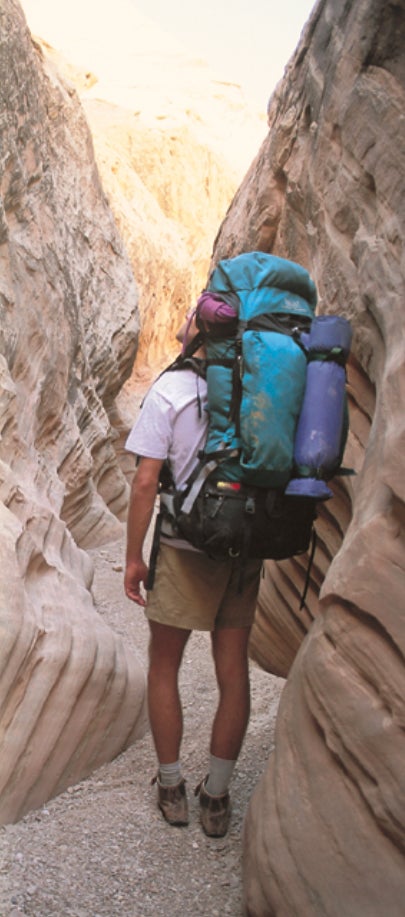 Dana Design Terraplane
A pack of Plenty
We were standing at the trailhead, staring at the group-gear pile, trying to decide who had extra room in their pack. No one made eye contact for fear of being found out. Then the nervous adjusting of pack straps started, as did the fidgeting with already-tied boot laces. I finally let out a huge sigh, stowed the extra water filter and bag of gorp in the car, then crammed the remaining essentials into my already overburdened Dana Design Terraplane. It was the heaviest load I'd ever carried—close to 60 pounds, almost half my body weight.
Many Backpacker staffers and field testers have had similar experiences with the Terraplane, a 6,300-cubic-inch pack (extended) that swallows incredibly large amounts of gear and somehow lets you carry it in comfort. The key to the 24-year-old Terraplane's success is its simplicity. The packbag, a large top-loading sack with a detachable sleeping bag divider, doesn't have superfluous doo-dads like many other packs in this price range. Two vertical panel pockets offer ample space for water bottles, snacks, and first-aid kit; the sleeping pad straps and a daisy chain offer lashing possibilities; and a large top lid converts to a fanny pack for day trips. That's it. Everything you need and nothing you don't.
The suspension system is also elegantly simple. Tapered, contoured shoulder straps and a firm but cushy hipbelt set the standard for backpacking comfort. The components are fixed, so there's no swaying or swinging, and the Terraplane comes in five different sizes (XS to XL), with five hipbelt sizes and six shoulder harness sizes. The result: In all our years of using this pack, we've yet to find a person who couldn't get a perfectly comfortable fit.
As for durability, our test models have withstood years of backcountry abuse—from the Adirondacks to Alaska—without so much as a split seam.
Price: $435
Contact: Dana Design, 19215 Vashon Highway SW, Vashon, WA 98070; (888) 357-3262. Reader service #117.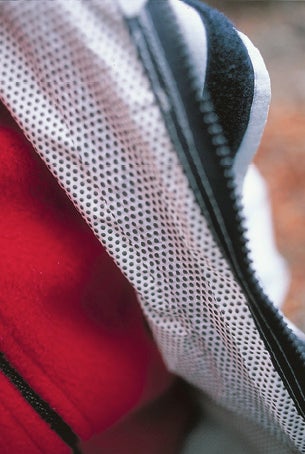 W.L. Gore Gore-Tex PacLite Fabric
The ultimate in lightweight raingear
In the quest for ideal lightweight raingear, many outdoor apparel companies have long relied on Gore-Tex because, quite simply, it works; the waterproof/breathable fabric keeps rain out while letting your own moisture (sweat) move away from your body. Then along comes the ultralight movement shouting "Lighter!" and "Less bulk!" and those same companies are faced with two choices: Eliminate things like pockets and pit zips, or ask W.L. Gore to create an even lighter fabric.
Enter Gore-Tex PacLite. Gone is the interior liner fabric that usually protects the all-important Gore-Tex membrane. Instead, there are countless abrasion-resistant dots on the inner face of the membrane. The result is rainwear that's less bulky and 15 percent lighter than traditional three-layer Gore-Tex outfits.
Another gigantic boon is increased breathability. With one less layer of fabric to push through, sweat vapor escapes noticeably quicker, something we enjoyed immediately during the first uphill climb on test day #1. Northwest Editor John Harlin: "Racing to catch up with my hiking partners, I huffed and puffed up a steep switchback—perfect conditions for a sweaty back. But the PacLite jacket, even without pit zips, managed to push out every drop of sweat, leaving me dry and cozy."
The fabric is thin and almost papery, so durability is an obvious concern. We've yet to notice any problems, but we'll keep on testing and let you know if anything turns up.
You'll find raingear made with PacLite under the following labels: Berghaus, Mammut, Marmot, Mountain Hardwear, Schoffel, and The North Face.
The consensus: Though expensive, PacLite is the lightest, least bulky, most breathable membrane around. Oh yeah, and it's waterproof, too.
Price: Jackets start at $370, pants start at $270.
Contact: W.L. Gore and Associates, 301 Airport Rd., Elkton, MD 21922; (800) 431-4673. Reader service #108. —Kristin Hostetter
Mountain Hardwear Pack Pants
Relief for sore hips
Take a look at your average trail pants and you'll see some nasty things: way too many seams, zippers, belt loops, rivets, elastic, and buttons—mostly in the waist area. Add a pack hipbelt to the equation and you have a recipe for rubbing, chafing, and teeth-gnashing discomfort.
Avoid the problem and slide your legs into a pair of Mountain Hardwear Pack Pants, which feel like they were designed by someone who actually hauls a pack. There's nothing to bind or chafe at your midsection, just a comfortable chamois fabric lining that Equipment Editor Kristin Hostetter likens to "my favorite fuzzy pajamas."
The waist and hip area are also conically shaped to fit the curves of your hips closely, which means fewer wrinkles and gaps that can irritate under a hipbelt.
Other pleasing technical features: zip-off scree guards that hook to the laces of your boots and act like removable mini-gaiters; long side zippers that let you slip the pants over big boots or ventilate your calves; plenty of pockets; and a forgiving cut that lets you scramble over logs and boulders. Equipment Editor Jonathan Dorn, who "lived in these pants for 12 days during a trip to Africa," best sums it up: "They're lightweight but tough, highly wind-resistant, comfortable, and the hidden wallet pocket is a stroke of genius."
The consensus: The Pack Pants' value dawns on you slowly: at mile 10 you notice a difference, at mile 12 you're smiling, by mile 16 you may notice some soreness, but it won't be in your hips.
Price: $110
Sizes: Men's S to XL, women's 6 to 14
Contact: Mountain Hardwear, 950-A Gilman St., Berkeley, CA 94710; (800) 579-9093. Reader service #112.
—Jeff Rennicke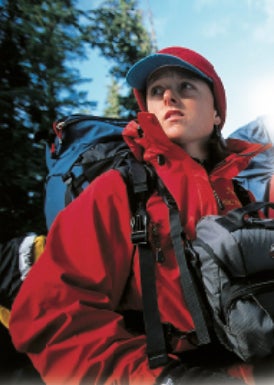 Arc'Teryx Theta LT Jacket
A new way to keep rain at bay
We tested the Arc'Teryx Theta LT in full-on storm conditions from coast to coast, and testers continually commented that they'd never seen such attention to detail, from the sleek fit, to the incredibly tight stitching, to the ingenious fold-away hood. Said Midwest Editor Jeff Rennicke: "The Theta LT is like the shell of a turtle…a shelter that'll keep you snug in the worst conditions." Northwest Editor John Harlin agrees: "Hands down the best rain jacket I've worn." Testers were also pleased that they could open and close the pit-zips with one hand, even under a big pack. (See Outfitting, September 1998, for more details).
Grand features, all, but what helped make the jacket an Editors' Choice was the innovative approach to the humble zipper. "We thought zippers with flaps were a low-tech way of keeping water out. They're heavy, stiff, and hard to grab," says Jayson Faulkner, Arc'Teryx's vice president for sales and marketing. So the company developed a flapless zipper that's watertight due to a melted-on urethane laminate extending just past the zipper tape. With the zipper closed and the zipper head tucked into its watertight "parking garage"—a little cave of fabric—you're safe from anything short of a blast from a pressurized hose.
Arc'Teryx says YKK, the zipper manufacturer, opened and closed a sample 35,000 times without any durability or performance problems. After months of our own wear-testing, we have no reason to doubt the claim.
The consensus: A finely crafted, extremely lightweight jacket featuring breakthrough zipper innovation
Price: $410
BP weight (men's medium): 1 lb. 9 oz.
Sizes: Men's S to XL, women's S to L
Contact: Arc'Teryx, 170 Harbour Ave., North Vancouver, BC, Canada V7J 2E6; (800) 985-6681. Reader service #111. —Michele J. Morris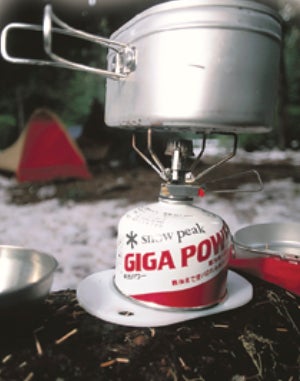 Snow Peak Solo Combo Cookset, Giga Power Stove
The complete kitchen
Stove with a push-button ignition: 3.6 ounces; cup: 1.5 ounces; plastic cutting board: 2.8 ounces; pot and lid/plate: 12 ounces. Entire ensemble: 1 pound 4 ounces—what's not to love?
The Solo Combo cooking and kitchen package combines a stove, pot, plate, fuel canister, Sierra cup, and cutting board in a single oblong package that's 7.5 inches long, 4.5 inches wide, and 4 inches deep. Not only does everything nest into a protective hard-body shell, but it stuffs into a pack better than standard round designs. The aluminum pot holds 1.5 quarts and the lid/plate holds a pint. Both feature sturdy built-in handles.
The tiny Giga Power stove is a 3.1 ounce, 10,000-BTU unit that folds down and packs into an unbelievable 1.5-by-1.5-by-3.5-inch plastic case. Screw on Giga Power canisters come in two sizes and nest in the Solo Combo cookset. (Note: We also used Primus and Peak 1 canisters without a problem. Snow Peak advises against doing so, however, claiming that the seal will be imperfect.)
The stove features an optional "One-Touch" ignition system. Our prototype lit with the click of a button, but when we wrapped an aluminum windscreen around the stove, the reflected heat melted the plastic mechanism. A Snow Peak spokesman says newer models resist heat better, but we haven't tested them yet. In any case, the stove we tested worked A-OK without an auto-ignitor.
For an even lighter stove, you can opt for the titanium version, which costs about $40 more.
The consensus: Argue with this, if you dare: 1 pound 4 ounces for the whole camp kitchen—a lightweight fanatic's dream come true.
Price: Solo Combo complete kit including cooking container and lid, titanium cup, cutting board, and titanium knife, fork, and spoon: $115 ($75.95 without the cutlery). Giga Power stove: $64.95 ($89.95 with auto-ignition). Fuel: $4.95 for 220-gram cartridge.
Contact: Snow Peak, 4754 Avery Ln., Lake Oswego, OR 97035; (503) 697-3330; snowpeak@internetcds.com. Solo Combo cookset: Reader service #113. Giga Power stove: Reader service #114.
—John Harlin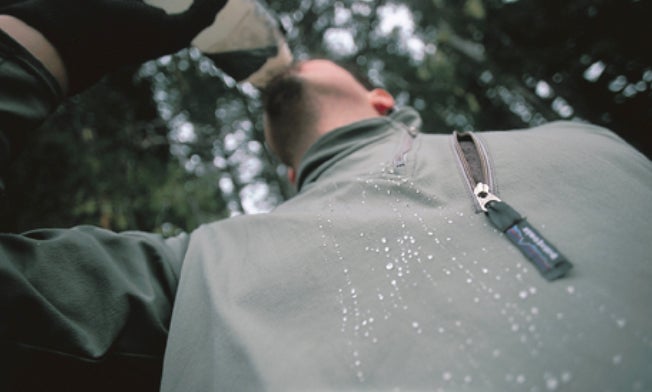 Schoeller Textil Dryskin
Close to a miracle fabric
Ten Backpacker staffers tested outdoor garments made from Dryskin and Dryskin Extreme. All agreed they'd never worn anything that could handle so many differing weather conditions and activities.
A family of highly breathable, fast-drying fabrics, Dryskin is lightweight, water-resistant, virtually windproof, almost immune to abrasion, and wicks perspiration as fast as your glands can produce it. This adds up to incredible all-around backwoods performance; our testers stayed cool during hard climbs, warm on windswept ridges, dry in deep snow, and not the least bit confined when stretching or striding.
"Dryskin seems to be self-cleaning, too," Senior Editor Jim Gorman notes. "Mud, dust, even stove soot disappeared almost overnight. Savvy parents should outfit their kids in it and never do laundry again."
While Dryskin isn't new, several major outdoors companies have just started using it, which means it's showing up in stores. The garments aren't cheap (Dryskin pants typically cost $100 or more), but think of it this way: You may be buying for life. "I've trashed other trail pants in less time than it took to see the first snag in my Dryskins," Equipment Editor Kristin Hostetter says. "After more than 30 days of intense testing, they still looked brand new."
For the record, we tested pants from Cloudveil, Helly Hansen, L.L. Bean, Mammut, Moonstone, Jagged Edge, and Patagonia; jackets and vests from Cloudveil (see Outfitting, December 1998); shorts by Moonstone; and shirts by Patagonia (pictured).
The consensus: Like good stocks, Dryskin requires a hefty initial investment that will be justified by years of steady performance.
Contact: Schoeller Textil, 2400 Westlake Ave. N, Unit 4, Seattle, WA 98109; (206) 283-6991. Reader service #110. —Jonathan Dorn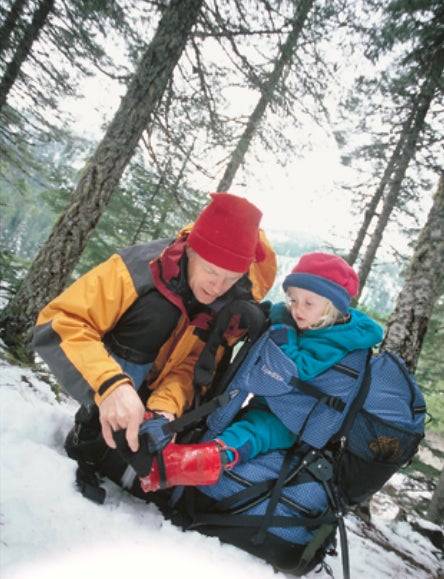 Kelty K.I.D.S. Expedition
A multiday kid carrier
The Expedition is the first child carrier we've used that's suited for extended backcountry trips. With its 3,675-cubic-inch cargo capacity and the same suspension features (sternum straps, load-lifter straps, adjustable torso length, and a substantial, padded hipbelt with lumbar straps) found on top-of-the-line backpacks, you can hit the trail without sacrificing hips and shoulders. Three editors, each with two-year-olds, tested the carrier on weekend to week-long trips, and all deemed it a vast improvement in comfort and capacity over others they've used.
The Expedition features a large compartment under the seat that holds a sleeping bag, food sack, and clothes. Compression straps and daisy chain loops let you attach a sleeping pad and/or tent. A smaller pouch above the main compartment holds water bottles, cookware, and a filter, plus it detaches and becomes a "playpack" with kid-size shoulder straps.
To hold your squirming toddler in place, there are plush, fleece-lined shoulder straps and an adjustable, secure harness system. Toy loops keep favorites at hand, and a sun/rain/wind hood with tuck-away side panels guards against low branches, ultraviolet rays, and unpleasant weather.
Two things to watch for, though. The lightweight zipper attaching the playpack to the carrier started unzipping when the playpack was heavily loaded—not so much that the pack disengaged, but enough to create a bit of a jiggle. Also, the foot stirrups are a nice comfort feature for the child, but aren't big enough for hiking or snow boots.
The consensus: Now you can take a toddler on serious backpacking trips without pawning gear off on other people or rigging your child carrier to look like a prop from a traveling carnival.
Price: $250
BP weight: 7 lbs. 10 oz.
Contact: Kelty, 6235 Lookout Rd., Boulder, CO; (800) 423-2320. Reader service #116.—Annette McGivney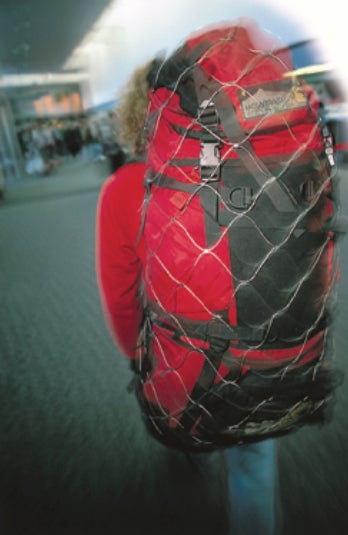 Outpac Designs Pacsafe
An armored car for your pack
As I approached the ticket counter for my flight to Montana, the agent gave me the same skeptical look my mother used to when I'd ask for an advance on my allowance. After poking at the steel mesh encircling my backpack, the ticket lady said, "You'll have to put your pack in a plastic bag so that thing doesn't damage our conveyor belts."
Such sweet irony—a pack that might damage the airlines' property instead of the other way around. My pack was safely ensconced in the Pacsafe, a protective cover that thwarts not only airport goblins but also knife-wielding thieves. The Pacsafe has traveled with me across three continents, delivering my gear unscathed to a dozen distant trailheads. Using the security cable and padlock, I've chained my load to trees and lampposts and ducked into stores for supplies. I've even used it to bear-bag my food.
The Pacsafe fits like a standard rain cover and either wraps around your pack's hipbelt and harness so they don't catch on conveyor belts or lets them hang free so you can shoulder the pack. It cinches closed with a tug on a steel cable and locks with a small brass padlock. When not in use, the Pacsafe folds into a grapefruit-size pouch. But best of all, it's nearly indestructible. Despite my best efforts with hammer and hacksaw, I couldn't dent the stainless steel mesh or plastic components.
The consensus: The Pacsafe is a bit heavy, but it's a wise pound of prevention.
Price: $50
BP weight: 1 lb. 3 oz.
Sizes: One size fits most packs up to 6,000 cubic inches
Contact: Outpac Designs Limited, Ste. 218, 2701 California Ave. SW, Seattle, WA 98116; (800) 873-9415. Reader service #115. —Jonathan Dorn
Testing Conditions:
Oven-hot afternoons, sub-freezing nights, never-ending rain, wind-driven slush and snow—you name it. In the end, more abuse than most gear gets in a decade of use.
Testing Locations:
Lake Clark and Wrangell-St. Elias National Parks, Alaska; San Francisco Peaks, Arizona; Glacier National Park, Montana; Harriman State Park, New York; Bull of the Woods and Columbia Gorge Wilderness Areas, Oregon; Wyoming State Forest, Pennsylvania; Badlands and Wind Cave National Parks, South Dakota; High Uintas Wilderness, Utah; Indian Heaven Wilderness, Washington; Rainbow Lake Wilderness, Wisconsin; Yellowstone National Park, Wyoming; Baffin Island (Nunavut Territory), Canada; Kilimanjaro National Park, Tanzania, Africa.