Editors' Choice 1998: The Best Backpacking Gear of the Year
Socks with frying pan technology, a pack built like a taco, boots that would make Darth Vadar smile. Innovation abounds in this year's "Best New Gear" Awards.
Heading out the door? Read this article on the new Outside+ app available now on iOS devices for members! Download the app.
All praise to El Nino, the bane of TV forecasters, instigator of dastardly weather, and a gear tester's best friend. 
Regardless of where we went to field test candidates for our annual Editors' Choice Awards, we found weather most foul. Granted, there were a few blue-sky days (drat!), but usually it was delightfully wicked-a freak late-summer blizzard on the south rim of Arizona's Grand Canyon; three days of fish-drowning rain in New York's Harriman Bear Mountain State Park; wet, tent-crushing snow on the flanks of Oregon's Mt. Hood; sole-melting heat in the Arizona desert. When we had winnowed the list to the final few, we ventured to Washington's Olympic Coast for the last make-or-break round of field trials, whereupon we encountered shin-deep mud, storm-tossed old­ growth debris thick enough to hide a Buick, and the Pacific occasionally up to our waists.
Ah, the joy of it all. We-or more importantly, you-couldn't ask for better conditions for separating this year's distinctly new and innovative gear from the also-rans. Thanks to El Nino and some apparently testy weather gods, we can declare with confidence that 1998's eight Editors' Choice recipients are, indeed, up for whatever nature can throw down.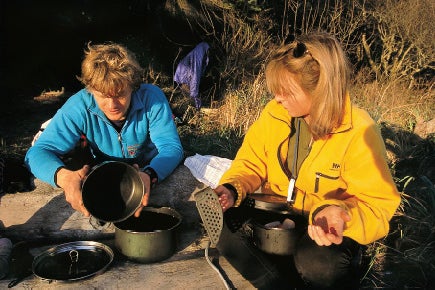 Mountain Safety Research Alpine Kitchen
I don't care what anyone says. Ramen noodles taste like salted Styrofoam and look like a knot of wrinkled worms. Sure they're lightweight, inexpensive, and a snap to prepare, but after a hard day of hiking I want a tasty, belly-filling meal.
Worm stew just doesn't cut it. To pre­pare epicurean delights you need prop­er ingredients (you're on your own there) and the right kitchen tools. For the latter, opt for Mountain Safety Research's new Alpine Kitchen. The set has every kitchen widget and gadget you'll ever need (and then some), plus it comes in a unique plastic container that nests neatly inside your cookware.
The mini cutting board is great for chopping garlic and the like. The assorted plastic bottles are ideal for my personalized spice rack. Two squeeze bottles hold olive oil, Tabasco, whatev­er. There's also a salt and pepper shak­er, a folding spatula for sauteing or flipping flapjacks, a folding serving spoon-cum-measuring cup, and my favorite, a folding pasta strainer-all made of lightweight plastic. Finally, there's a scrubby sponge, several zipper-lock bags, and a circular zip­pered pouch that nests into the lid of the container.
For trips with only one or two people, the entire Alpine Kitchen is probably overkill. So pick out the items you need, zip them into the circular pouch, and you're good to go. If, on the other hand, you're designated chef for six to eight hungry people as I was in the Grand Canyon and on the Olympic Peninsula, you'll stay organized, efficient, and cook some dam good meals with the help of the Alpine Kitchen.
BOTTOM LINE: If Martha Stewart were a backpacker, she'd carry the Alpine Kitchen. For the rest of us, this just may be the first step to kicking the Ramen noodle habit. The Alpine Kitchen costs $32.95 and weighs 15 ounces. The parts are also sold separately.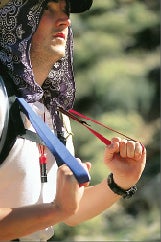 Liston Concepts STRAPits
A lash strap is a lash strap. And bungee cords are great for jumping off a bridge without going splat. So what happens when you merge the best of both? You get a unique new backcoun­try tool called STRAPits.
Whereas most lash straps are made of standard nylon webbing that has no elastici­ty, STRAPits use a flexible, bungee-like material. You may not need stretchiness if all you're doing is tightly cinching something to your pack, but in some cases it's a godsend. I attached my camera chest pouch to my pack by using four hook­ and loop STRAPits. This gave me a comfortable sus­pension system for the heavy load, plus the ability to pop it on and off to nestle my tripod into a perfectly sized spot on my pack. I watched other testers use them to bundle gear in their packs, keep their kitchen kits closed, and as load-relief handles attached to their pack straps. In short, a slew of interesting uses for STRAPits.
STRAPits come in a vari­ety of lengths and colors, and with two different clo­sure types: hook-and-loop for convenience and tri-glide buckles for security.
BOTTOM LINE: A hand­ful of STRAPits should be in everyone's gear closet. Mix and match colors, closures, and lengths, throw in a few standard nonelastic lash and you'll never be without the right strap again. Price: $3.99 each.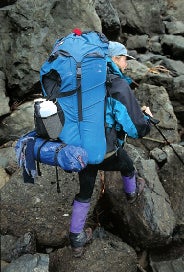 Osprey Advent Pack
"From deep within our secret soul do demons dwell and take their toll." Choice words that probably came from someone erudite and noteworthy, although my source will forever remain Opus, penguin philosopher, per­sonal hero, and one of the principal characters in the defunct Bloom County comic strip.
The sentiment strikes home because of an episode that occurred years back, one involving what should have been a simple scamper up a fairly steep embankment. The full details are unimportant but the short of it is that while I pressed face to rock, my ill-fitting pack was heeding the call of gravity. I briefly took flight and soon deftly executed the perfect back­ plant. My two compatriots, watching from above, described the seconds immediately following the landing as something akin to a squirming turtle on a highway. Damage report: stove, cook kit, ego.
So recently in Olympic National Park, while staring at three massive Sitka spruce obliterating what was once the South Coast Trail, and realizing that the only way to rejoin the trail was a steep scramble, poignant memories of that fateful trip surfaced; supportive, heartfelt urgings like, "You doing OK there, Turtle Boy?" came to mind.
The almost-vertical slope was more spruce needles, cones, and duff than solid earth, but I reached high ground safely.
This time my pack moved with me, clinging to my back like a frightened monkey, keeping the load balanced, and giving me plenty of freedom of motion to reach overhead for good hand­ holds.
Lots of plain-al'-trail hiking, plenty of scrambling across slick shoreline boulders, and more than a dozen days of test­ing in other locales reinforced for me and my fellow editors the fact that the Osprey Advent is a phenomenal pack.   
Various tester comments heard along the way: "Once you get used to the taco-style loading you won't want to go back to a regular top-loader." "With my 6'3″ height and broad shoul­ders, it's rare to find a pack that adjusts so easily and is so comfortable on my big frame almost from the first step. The simple, almost seamless exterior shed water with aplomb, in both light and heavy rain."
The accolades are all attributable to what Osprey calls its "StraightJacket" design, although some of the field crew coined their own pithy descriptions: "burrito," "clam shell," and even "taco" were labels attached to the unique configuration. Backwoods adjectives aside, the principle is the same. Peel away the exterior and you'll see what resembles an empty taco shell, which you simply stuff-through the front or top-with the fillings of choice and close it up.
The sides are Cordura covered, closed-cell foam, so unlike other inter­nal frame pack bags that hang lifelessly until loaded, this one stands with mouth wide open, making packing a cinch. (Imagine a big hole you simply drop stuff into.) A heavy-duty front-panel zipper makes access to the single com­partment's innards disgustingly easy.
The innovative closed-cell sides are only part of the suspen­sion system, though. There's also a high-density polyethylene framesheet and single 3/ 4-length aluminum stay (it can be bent to match the curve of your back) that keep the back panel from buckling under heavy loads. Besides providing vertical sup­port, the framesheet also protects your back from pointy pack contents.
The third leg to the stool is an inverted-U-shaped plastic hoop that arcs up and around the framesheet, with its two ends fastened to the well-padded hipbelt. It's a time-tested design that's been used on other Osprey packs for a while. Simply yank on the hip compressors and load-lifter straps and you draw the hoop, and thus the load, closer to your back and onto your hips, where it rests evenly and securely.
Other nice features:
■ A large mesh pocket stretches across the front for stowing water bottles, a small sleeping pad, wind breaker, or all of it.
■ If the pack is less than full, two com­pression straps can be pulled across the right side of the pack and clipped in near the frame, so you can compress your packload evenly.
■ A zippered compartment in the top pocket, which converts into a fanny pack when used with the hipbelt, holds a hydration bag with hose.
■ A women's harness is available on the small and medium models. As for the downside, lash-on points are few and external pocket fiends will be disappointed, although you can strap on a couple if you're creative. But all in all, minor points when you consider a benefit the Osprey folks forgot to men­tion in their catalog: The Advent is a cure for the common case of deep-seated reptilian angst.
BOTTOM LINE: No bells, no whistles, no excessive straps dangling like Medusa's locks. Just a streamlined, almost-minimalist pack that thanks to its Mexican-food­ inspired configuration, loads and adjusts oh-so-easily, and wraps around your back like a warm, comforting hug. The Advent comes in three sizes with interchangeable hipbelts. Medium: Price, $269. Capacity, 4,400 cubic inches. Weight, 5 pounds, 2 ounces.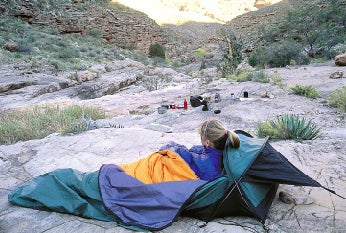 The North Face Soloist Bivy
It's January in the Grand Canyon and not a windshield tourist in sight. Reason being, the trails are icy and the nights are bitter. I'm snug and dry, how­ever, even though its raining and sleeting. The pitter-patter on my shelter tempts me to sleep as I try to read a book by the waning light of my headlamp.
The scene is typical enough except for the fact that I'm in a bivy sack.
Reading? Pitter-patter? How can such things take place in a type of backcoun­try shelter that typically resembles and feels like a body bag?
The North Face Soloist is a different kind of bivy. With two crisscrossing poles over­ head, doo-dad pockets, and no-see-um mesh windows, this minimalist shelter feels more like a one-person tent than the traditional, claustro­phobic solo sack. Besides the extra headroom afforded by the awning design, the tent­ like construction allows excellent ventilation without sacrificing waterproofness. There's a mesh window above your face that can be zipped shut to keep out wet stuff, and a second, flap-protected window behind your head that can be staked out. No matter how hard the rain is coming down, you can always get plenty of ventilation without letting any moisture in.
Thanks to that little behind-the-head window, condensation is almost nonexistent. After one snowy, single-digit night I awoke warm and dry the next morning, with only a patch of condensation near where my mouth had been. Meanwhile, my partner, who was sleeping in a two­ person tent, had his own weather system going inside his soggy shelter.
Two other editors who took the Soloist to the Grand Canyon in the fall, when temperatures were warmer, also became enam­ored with this decadent bivy. "Most nights the tem­perature was perfect," said one, "but on one especially warm night I simply unzipped my sleeping bag inside the bivy and cooled down easily without open­ing the bivy and granting entry to lurking snakes and scorpions." The other, who stands a towering 6′ 11″ ,applauded the bivy's length, which left him enough room to stow camera gear and boots at the foot end.
This bivy is big on water­proofness, too. After that night of nonstop pitter-pat­ter in the canyon, I awoke to find myself lying in pud­dles. Still, not a drop of moisture got inside. I rolled up the window above my face and watched a spectac­ular sunrise from the com­fort of my bag.
Made head-to-toe of nylon ripstop Gore-Tex, the Soloist is breathable, water­ tight, and sheds wind with hardly a rustle. The three­ ply fabric is sturdy and lightweight. Compared to other bivies, the Soloist is a tad heavy at 2 pounds, 2 ounces, but side-by-side against most single-person tents, it's a feather.
BOTTOM LINE: The Soloist is the lightest, most storm-worthy one-person shelter we've found. If you can't decide between a bivy and a tent, check out this sack. Price: $295.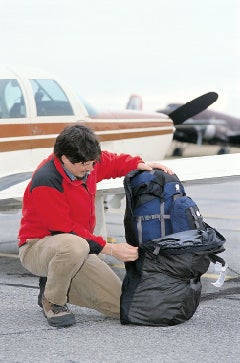 Madden Mountaineering Hemisphere   
"Bud, looks like that gorilla from those Samsonite commercials gave your new pack a good whupping!" So said a smart-aleck friend as my suddenly-well-worn backpack circled the baggage carousel in Anchorage. To travel light I'd forsaken the duffel usually protects my pack, and the result was nasty scuff marks, gouges and grease all over.
If flying the friendly skies has taken its toll on your pack, Madden Mountaineering's Hemisphere may be the answer. This rugged new internal frame pack handles backcountry hazards galore and the goblins that live in the recesses of planes, trains, and Third World buses. After using it on a variety of trips, I've found the Hemisphere to be multifunctional luggage that doesn't sacrifice carrying comfort for travel convenience or vice versa.
At heart, the Hemisphere is a roomy top-loader with a simple, streamlined design. The packbag readily accepts a week's worth of gear, and the top-lid pocket swallowed my raingear and first aid kit. Inside a zip-away panel divides the main compartment from a sleeping bag pouch spacious enough for my bulky 0 degree F bag. Outside, six side compression straps and one over the top let me cinch the packbag down tight over smaller loads or lash on tent poles and a tripod.
The Hemisphere borrows its frame and suspension system from Madden's expedition packs. The former consists of a framesheet, two full-length aluminum stays, and a Delrin hoop that arches across the middle of your back. This combination provided excellent load control and weight transfer, even with loads approaching 60 pounds. Though the suspension system did not offer the most intimate, body-hugging fit, it adjusted easily to match my torso and the good padding and contouring provided decent overall comfort.
As for materials and construction, the built-to-last Hemisphere is made from 1000-denier Cordura nylon and fitted with super-sized YKK zippers.
What makes the Hemisphere more versatile than you average load-hauler, though, are two multipurpose components: a pop-off daypack and a duffel bag-cum-rain cover. The daypack clips to the front, providing handy storage for your lunch and fleece jacket, and it serves double- and triple-duty as a summit pack or carry-on. Instead of toting an extra knapsack to safeguard my camera and lenses, then having to stash the empty knapsack in the can woods at the trailhead I could fill the daypack with my breakables and valuables and carry it on the plane.
Made from Spectra cloth, the duffel is tough enough to frustrate gorillas and baggage handlers, but lighter than the average monster duffel. It also packs smaller, thanks to a cut-to-size design that fits snugly around the pack, and it stows neatly in its own compartment in the pack's lid pocket.
En route, the duffel serves several purposes. At the airport, it protects and camouflages the pack, discouraging dirt and theft. Between airport and car, its back panel zips down to expose the hipbelt and shoulder straps, freeing your hands and putting the load where it belongs. On the trail, it functions as a rain cover.
Who might use the Hemisphere? Adventurous folks who travel hard and want to get there unencumbered. Backpackers who go straight from the airport to the backcountry. Any 9-to-5 wage slave who occasionally combines business trips with weekends in the mountains.
Bottom Line: Whether you're headed for the Appalachian Trail or the Annapurna Circuit, the Hemisphere will see your gear safely from tarmac to trailhead. Available in three sizes with hipbelts and shoulder straps for men and women. Medium: Capacity 5,100 cubic inches. Weight 6 pounds, 5 ounces.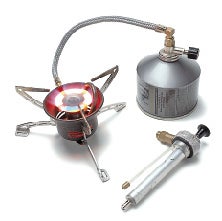 Primus Multi Fuel System   
Apparently NATO troops don't like hassling with stoves as much as American backpackers do. On weekend military exercises, they enjoy the convenience of canisters. On longer missions they prefer the effi­ciency of white gas. In a pinch they need to be diesel, kerosene, whatev­er they can scrounge. But they don't want to inventory­ let alone lug around different stove types. Put it all together and you see why for the past year they've been testing pro­totypes of Primus' new won­der stove, the Multi Fuel System.
This stove comes closer than anything yet invented to being a "one-size-burns-all" model for backpackers on the fly. And we do mean fly. With airlines disinclined to trans­port potential bombs in their cargo holds, jetting about with loaded fuel bottles is a no-no. Plus finding an outfitter between the airport and trail­head can be a serious nui­sance, especially if you've  arrived during off hours or if you're more inclined to hike than shop. A true multifuel stove that gives you plenty of options is a backpacker's dream come true.
Or maybe, like our pan­ Atlantic treaty defenders, you prefer the convenience of a screw-on canister for short trips. Then, when you're headed out for a week or more, you want the efficiency of a standard pump-action white­ gas unit. Sounds like you? Then here's the stove that does it all.
From a gentle simmer to a full-bodied roar (and we're talking rogue-tiger bellow here), our test Primus gently heated cheese fondue in the Olympic rainforest and quick­ly melted bucket-loads of snow for tea on Mt. Hood. In white-gas mode it brought a quart of c-c-c-cold water to a boil in 5:08 minutes, 30 sec­onds faster than a classic MSR WhisperLite in a side-by-side burnoff. In canister mode, the stove cooked even faster, boiling a quart of water in a scorching 3:15 minutes using a full Primus canister. (You can also use standard screw-on canisters from other manufacturers.) On Olympic beaches during our nightly cooking competitions, we switched easily between canisters and white gas bottles.
Some other nice features include the grippiest pot-hold­ing surface I've ever seen. Tilt the stove way, way over and the pot still doesn't slide off. This came in handy when I was cooking in the vestibule while snowcamping. During midbrew my dog decided to lunge through the door. Her tail knocked the pot and I braced for the inevitable hot water deluge. Instead the lid flew across the vestibule and the pot stayed put. Another plus: The stove's legs don't heat up. You could easily set this burning stove on your tent floor without fear of toasting the nylon. In practical terms, this means you can pick up the stove and move it despite its clunkiness.
It is a tad cumbersome, what with the fuel bottle (a standard white gas tank with a screw-in pump) and a 15-inch hose that connects to the burner assembly. WhisperLite and XGK aficionados are used to this combination, except that the Primus hose is longer. There's also an awkward need to bleed the line before pack­ing the stove, which means you have to flip the bottle on its opposite side and let the stove burn for about 2 minutes until the gas is out of the long tube. This isn't necessary while utilizing a canister. In fact, with canisters the long tube and its swiveling head provide the great conve­nience of letting you prop the canister upside down while extracting the last drop of fuel. The main downside of this stove is its weight. The pump, a beefy aluminum affair, is 5 ounces; the WhisperLite's plastic version weighs 2. The tube and burner together weigh 14 ounces; a Whisper­ Lite weighs 5. You get the sense that these components will stand the test of time. Indeed, I've melted and cracked plastic pumps and I'd gladly add a couple ounces for dependability. But the burner assembly gives pause to the weight conscious. You be the judge.
BOTTOM LINE: Back­packers on the go will covet the Multi Fuel System as today's ultimate drinks-it-all miracle. So will you if you sometimes want the conve­nience of canisters and other times the efficiency of gas. In such a diverse, multifuel world, it's nice to know that wherever you go, you'll be fed. Price: $130. Weight: 1 pound, 3 ounces.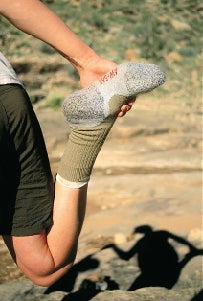 Fox River Wick Dry VVS Socks
Midafternoon. South Kaibab Trail. Blazing sun. Shimmering, hard-packed switchbacks. Stiff leather boots. Sweaty feet. Heavy pack. A 6-mile, 5,000-foot climb from the Colorado River up to the South Rim. This hike has "blister" written all over it.
Dusk. Parking lot. Dust from head to foot. Cold beer. Snickers bar. Empty boots lying about. A hot spot or two, but not a bubble in sight.
Call it the miracle of Teflon. That's right, the same stuff that coats nonstick cookware helped keep blisters at bay through one of the hottest, hardest hikes of my life. Fox River's new VVS socks use Teflon fibers to reduce fric­tion at key pressure points: where the balls of your feet press into boot soles, where your toes rub against the toe boxes, and where your heels slide against the boot backstays. While I can't promise that they'll save your dogs from the agony of blisters, a slew of BACKPACKER editors remained blissfully blis­ter-free for more than 50 total days and hundreds of collec­tive trail miles-even when our feet felt like eggs on a griddle.
Friction reduction is only part of the VVS story, though.
Because they're made from a blend of 40 percent CoolMax polyester and 32 percent merino wool (the other 28 percent is Teflon, nylon, and Lycra), these socks move moisture effectively enough that I didn't miss the wicking polypropy­lene liners that I usually wear with wool hiking socks. In fact, all liners do is make the VVS socks migrate down into your boots.
The most notable feature, though, is the namesake Variable Volume System, which lets you find socks perfectly suit­ed to the thickness, or volume, of your feet. Folks with meaty feet who typical­ly feel snugness across the top of the forefoot and toes should use the low­ volume version, which has relatively little padding so there's wiggle room inside your boots. If you have thinner, lower-profile feet-the kind that swim around in boots unless you wear two pairs of thick woollies-choose the medium- or high-volume versions that have extra padding in the heel, under the arch, and around the forefoot.
The key to the VVS System is that there's extra padding only where skinny feet need it, which means no annoying bulk over the top of your foot or around your ankle.
BOTTOM LINE: Fox River's VVS socks may make blis­ters obsolete. They blend the concept of custom-fitting with a bit of frying-pan technology to protect your feet and, in some cases, to increase your boot-fitting options. Also avail­able in a cotton blend for athletic activities, VVS socks cost $13 to $15.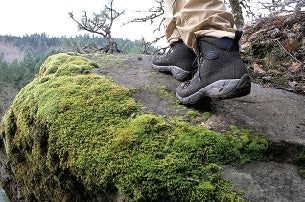 Tecnica Voyager
"Funky boots," the airport inspector said after I tripped the alarm on the X-ray securi­ty scanner. All eyes in the line behind me were on my jet-black moon boots. "It's the metal on your shoes," he concluded, waving his metal-detector around me like Luke Sky­ walker with his light saber. '"Go on." Darth Hiker headed to the plane.
The toe-to-top shiny nickel lacing hooks are just one of the unique fea­tures that make the Voy­agers unlike any backpacking boot on the market in terms of appearance, perfor­mance, and especially durability. The fabric uppers are Kepro­tec, a material originally designed for protective motorcycle clothing. The textured Crosta leather is coated with polyurethane to make it abrasion resistant. A colleague described the overall effect as "lightweight moon shoes for crater running"; another said they were his "mid-1960s ski boots all over again."
When I took them out of the box I fully expected these new­ fangled boots to give me painful pause on the trail. How could footwear this stiff not result in hamburger toes and screaming heels when you're breaking them in? En route to the Olympic trailhead fellow Voyager wearers shared similar misgivings, and wondered aloud about the inevitable blisters on the horizon. (Note: We DO NOT recommend trial-by-fire break-in. Take your time getting to know your boots before hitting the trail.)
When we hit the beach and the first wave washed over the Voyagers, the tide of opinion quickly shifted. With a little help from the sea, the fabric-and-leather uppers softened and molded to my feet. Break-in was surprisingly easy and coupled with the good fit, I not only emerged from the Olympic Peninsula blister­ free, I didn't notice a single hot spot. Two editors who've worn the Voyagers exclusively on dry land reported a slightly slower, but still relatively painless, break-in period.
The other pleasant surprise was the waterproof leather and water-resistant fabric, which when paired with decent gaiters, kept feet comfortably dry. "Considering how stiff they were out of the box I was amazed at how fast my feet got used to them," said one happy-footed tester. "And I was floored at their water­proofness. The Pacific was trying, but the boots kept the water at bay." For extra insurance in even wetter conditions, Tecnica rec­ommends the Voyager TCYs, a version of this boot with a water­proof/breathable lining.
The Voyagers offer the support of a serious backpacking boot in a lightweight package, which is the result of Tecnica's innova­tive use of materials. The midsole, made of compression-molded EVA and a polyurethane-coated exterior, is extra stiff but weighs little. A high carbon rubber outsole offers additional support and traction. The boots are cut plenty high with lots of padding up top to keep the ankle snug. Although long-term durability is a question mark, the lightweight Keprotec fabric seems as rugged as leather. And if the stuff is tough enough to protect a motorcy­cle racer skidding across pavement, it's got to be trailworthy.
I was especially glad to be wearing the Voyagers when we were leaping across slippery logs and scrambling over pointed, slime-covered boulders. After successfully dancing across a rocky, sea-sprayed headland, one tester proclaimed, "These are great beach-whacking boots!" Summed up my feelings com­pletely. On subsequent trips in Arizona's mountains and desert, the Voyagers proved to be just as good on snow and while dry­ rock scrambling. They still look brand new, too.
The downside is that in warm locales they're not as breath­able as other fabric and leather boots I've worn and can result in clammy feet. We also noticed that the lace rings rusted shortly after their brief, initial exposure to briny water.
BOTTOM LINE: Innovative and lightweight materials, com­bined with excellent fit and comfort, make the Voyager a giant leap for bootkind. Just plan on getting to the airport early if you're wearing them on the plane. Available in men's 7-12, 13; women's 5-10. Weight (men's 9): 3 pounds, 1 ounce. Price, $180. The TCY waterproof/breathable version is available for the same price.