Editors' Choice 1996: The Best Backpacking Gear of the Year
After 18 days near the Arctic Circle, these boots, socks, packs, canoes, and more came out on top.
Heading out the door? Read this article on the new Outside+ app available now on iOS devices for members! Download the app.
Each spring when we present the Editors' Choice Awards (this is our fourth time), we invariably get asked, "Say, how do you choose the winners anyway?" To answer that question, consider what one of this year's entrants , a pack, went through. One editor, who was headed out for an 18-day trip just south of the Arctic Circle "through the mid­dle of nowhere ," loaded the thing with 75 pounds of gear, then proceeded to tromp more than 180 miles with it on his back. He bush­ whacked, he scrambled, and he swam rivers. All the while, the pack endured and, in his words, "never even popped a stitch."
Now granted, we can't subject all Editors' Choice winners to such extensive and brutal treatment, but we do field test each item. Why?
Because each spring, the outdoor gear manufac­turers offer up a ton of new equipment to the buying public. With all the advertising hoop la, catalogs in your mail box , and word-of-mouth recommendations flying about, making the prop­er buying decision can be a daunting task. These awards were created to help you. The gear we've singled out is worth your consideration for one of several reasons: It's innovative in its design and/or materials; it has been dramatically improved since it first came out; or it offers high quality at an exceptionally low price. And, of course, it holds up in the outdoors.
When we started our research many months ago, there were dozens of potential candidates on our long list. After the field trials, 12 made this year's final cut. Watch for more detailed comparative field testing of many of these new products in upcoming issues of Backpacker.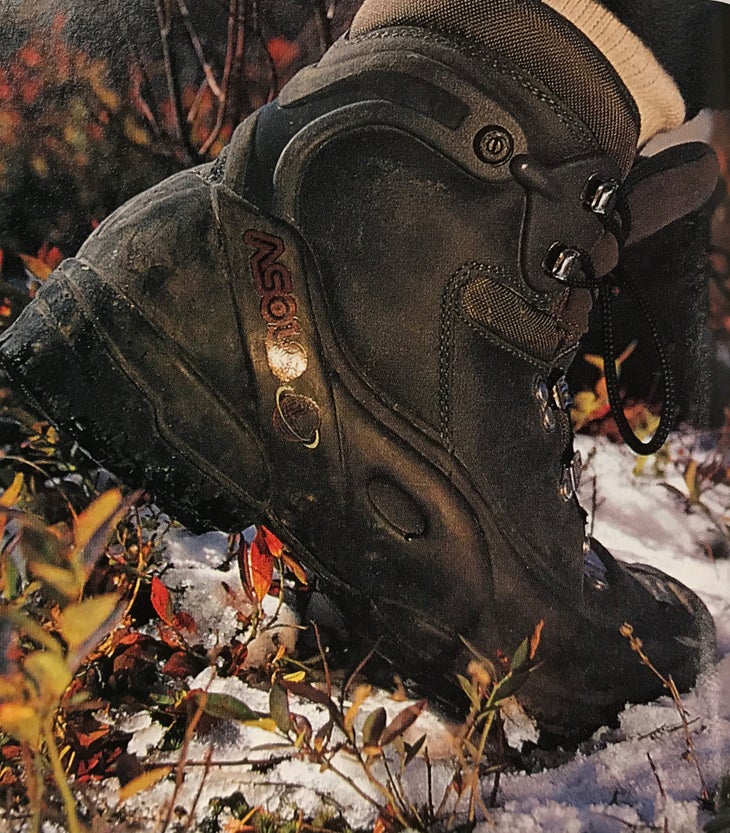 Asolo Globaline Boots
At first glance, these wild new trail trompers may elicit comments like "funky " or "weird-looking" or "neat moon boots!" And skeptics might dismiss the wraparound molded soles and curvy plastic ankle collars as mere styling gimmicks. But after considerable trailI mileage, we came away convinced that Asolo's Globaline hikers take boot technology to new levels in two ways: top-notch construction and innovative sizing for a better fit.
These midweight hikers feature a one-piece sole that wraps over the uppers and extends into a supportive nylon Y-collar around the ankle. (Tester opinions split on the comfort of the Y­ shaped ankle collar. If it fits, great; if not, forget it.) Up top, the wraparound sole helps protect the leather uppers against the nastiest roots and rocks; underfoot it offers a rare combination of sensitivity and cushioning.   
In a step toward more sensible and accurate sizing, Asolo has abandoned traditional width designations. Don't expect to walk into your outfitter and find a pair of 10 EEs, in other words. Professional boot fitters know that your foot 's overall volume (the amount of space it takes up inside the boot) mat­ters more than simple width. With that in mind, Asolo has created a sizing system based on foot length and overall volume, as well as general body type. Our test boots (men's size 8½) were the lower-volume Longi­tudes ($170), which suited our lean gear editor quite nicely. The Meridians ($180) fit regular­ size folks with mid-volume feet. The stout Lati­tudes ($190) are made to handle larger hikers' high-volume feet while also offering greater support.
Break-in required little more than lacing up the chrome-and-brass pulley eyelets and head­ing for the hills. Our test pair went from New York's mucky Adirondacks straight to the rocky west Texas desert, with happy feet reported in both locales.
The Clincher: These lightweight, heavy duty boots fit all sorts of folks, break in fast, and are built to last. Long trail thru hikers, are you listening?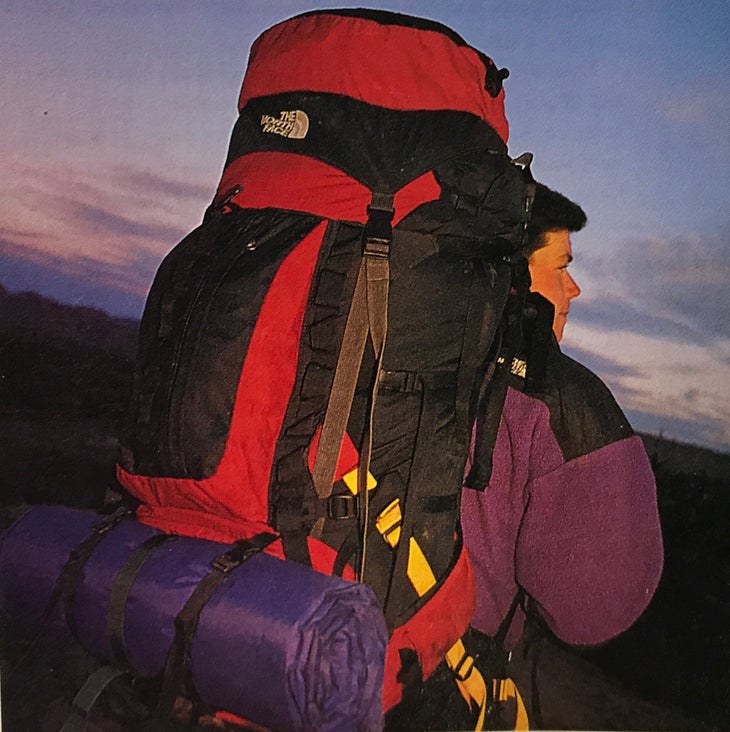 The North Face Alpha Series Backpacks
Tents and sleeping bags from The North Face consistently garner rave reviews from our editors, but TNF backpacks are another matter. Sure, they're functional and well-built, but the harness sys­tems and comfort levels often haven't measured up.
Enter the Alpha Series packs. After a quick examination of the 6,200-cubic -inch, top-loading Aurora ($475), our Southwest editor promptly commandeered one. Initial field tests suggest these packs should launch TNF into the headiest heights of pack excellence.
The internal frame Aurora sports a molded-foam harness, two heavy duty side struts that transfer weight to the reinforced hipbelt, and materials that tread a judicious line between long-term durability and reasonable weight. In fairness, we should note that most of these features have already appeared on other packs. But TNF has nicely integrated them all into a highly functional whole.
Our staff guinea pig crammed his test Aurora with 75-plus pounds of gear and disappeared into the Canadian bush. After three weeks of hauling loads that typically demand external frame support, he came out with a "thumbs-up" evaluation: The torso length adjusts easily via Velcro; the packbag has a wide top opening and handy features like quick-release buckles on the compression straps and hideaway water bottle pockets; and the new strut suspension is very effective at transferring weight.
Was it actually comfortable? No pack is when handling such back­ bending loads, but it was quite bearable . Features like headroom cutouts and the easy-access top pocket made trail life more efficient. The shovel/gear flap kept oft-needed items handy and stream-soaked clothes and camp shoes separate from other gear.
The Aurora comes in five frame s izes (including two for women). Shoulder harnesses and hipbelts each come in five sizes, too. If you can' t manage a great fit from this selection, a custom pack is your only hope.
The Clincher: TNF finally delivers a pack that's greater than the sum of its parts.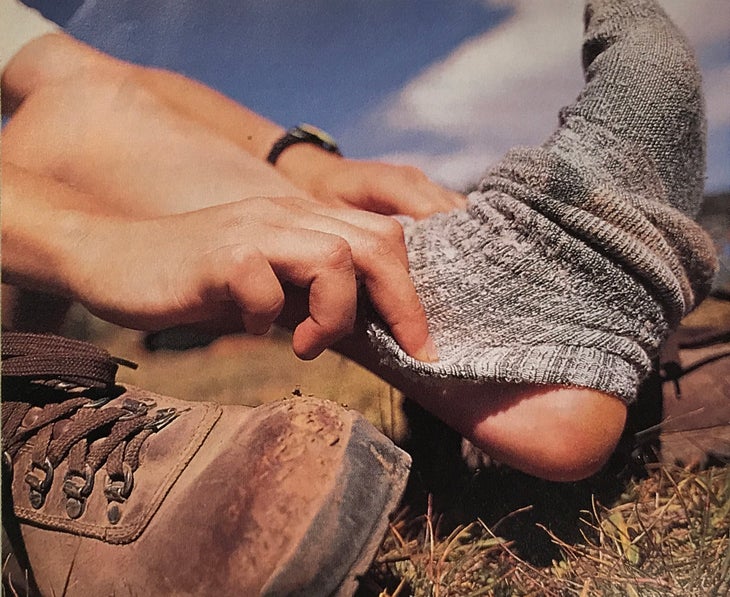 SmartWool Socks
If you're one of those hikers who thinks a sock is a sock, we suggest you consider a pair from SmartWool. Three editors have been putting the new footwear through the paces for months now, and despite the nastiest discomforts we endured (mammoth packs, stiff new boots, treacherous footing, and continually wet trails) all raved about the socks' fit, durability, and comfort . We particularly liked the midweight Hiking version ($14 .50) and the heavier-weight Expedition Trekking socks ($16).
SmartWool socks are made of a blend of cushy Merino wool and 20 percent nylon that helps hold the shape and resist abrasion. Since wool can absorb a third of its weight in mois­ture, your feet and more important, the insides of your boots stay drier than with all-synthetic socks. Granted, SmartWools won't dry as fast as synthetics, but you can carry a spare pair and alternate.
There's terry-loop padding underfoot and around the toes for cushioning, and even more at the instep and shins to prevent lace pressure. Snug Lycra ribs above the ankle prohibit the sagging that fosters heel blisters, while the flat-knit side panels expand when feet grow wider during a hard, pounding hike. After repeated trail miles, the SmartWools still held their loft, and quickly regained their soft feel; they needed nothing more than a good swack against a boulder.
SmartWool socks come in 21 different styles, from thin liners to thick winter ski socks.
The Clincher: These soft-feeling, hard-wearing socks help keep your feet happier and your boots drier. What's not to like?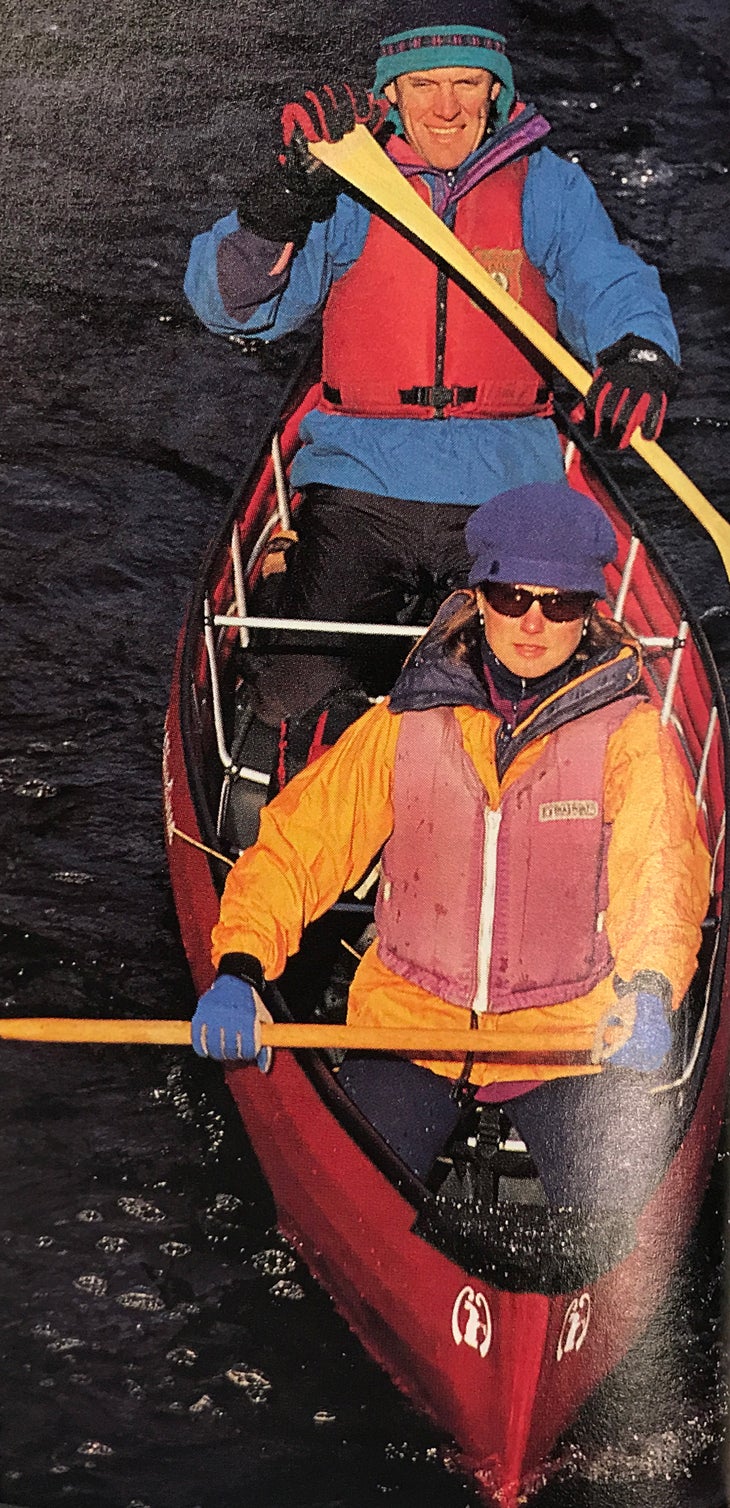 Mad River Folding Canoes
Imagine a boat that folds up and slips into a backpack, can easily be carried to any lake or river in the world, then stores in a closet at trip's end. The scenario makes so much sense that folding kayaks have been around for nearly a cen­tury. But what if your paddling tastes lean more toward canoes?
Mad River's new Escape folding canoes combine the company's time-tested, shallow-V hull shape with proven frame construction derived from Norwegian-made Ally Pakboats. The new canoes (four inches to 16 feet, 6 inches and $1,195 to $1,549) feature a slick PVC fabric skin over an interlock­ing frame made of sturdy aluminum tubing. Inflatable side tubes stiffen the structure and add emergency flotation. The hull bottom is thicker PVC laminated to foam padding to minimize pressure points from the frame.
We tested the Escape 16, a tan­dem boat that's 16 feet, 6 inches long, 36 inches wide, and a com­modious 14 inches deep at the center. Initial assembly took about an hour, though subsequent times were cut in half. Once together, the Escape seems flimsy because it's so light (47 pounds) and flexible lengthwise. Out on the river, how­ever, the pressure of the water stiffens the hull quite noticeably.
We found that the Escape paddles like other decent Mad River tripping canoes. It's reasonably fast, tracks well, and maneuvers more nimbly than its straight keel line would suggest. The hull undu­lates over waves some­ what, which is discon­certing at first but typi­cal of foldable boats. We were able to adjust the boat's rocker in a crude sort of way by shifting the weight in the boat.
Moving seats and gear toward the ends straight­ens the keel line for better tracking on flat­ water, while weight in the middle bends the boat a bit for better turning in whitewater.
The Clincher: Mad River's "go-anywhere" folding canoes now make taking your boat on airlines and pack-in river trips much easier.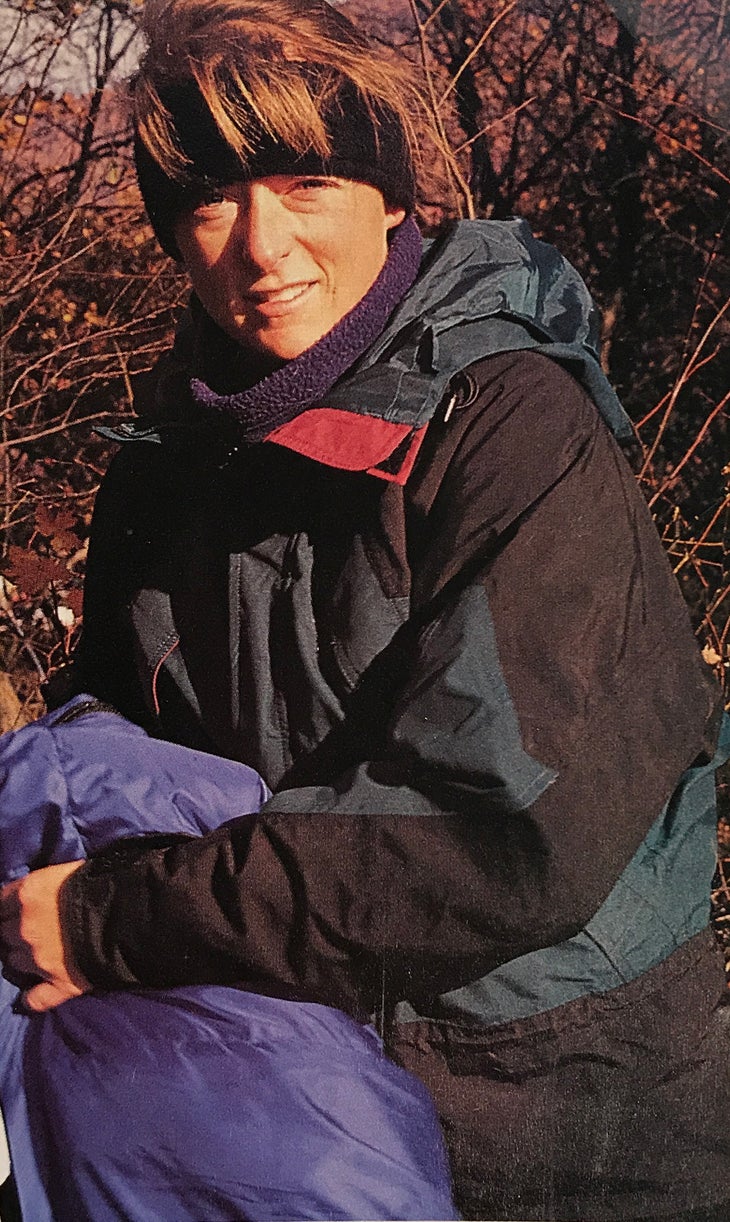 Marmot MemBrain Raingear
The folks at Marmot logged a busy year at the draw­ing board. Besides a fresh line of noteworthy tents, they've also come up with a waterproof/ breathable fabric that rivals any other we've tried. MemBrain's breathability adjusts to match your activity level. The theory goes more or less like this: When you're marching up a mountain in the pouring rain, strands of temperature-sensitive molecules in the Mem­Brain fabric open up to let sweat vapor escape. Later, when you break for lunch and start to cool down, the pores tighten up to trap body heat and prevent you from getting chilled. All the while, Marmot says, the laminate remains waterproof.
We tested the MemBrain Denali Jacket in a variety of nasty Northeast condi­tions (high humidity, cold, rain, wind), and can attest to the jacket's versatility, waterproofness, and comfort range. It withstood repeated October downpours along Pennsylvania's Appalachian Trail, a particularly soggy, salty day sea kayaking near Massachusetts' Cape Cod, and a dozen days of cross-country and telemark skiing during a massive East Coast blizzard.
The Denali is a classic-style mountain parka complete with all the carefully thought out details you'll need to stay comfortable in the wilds. There's a nicely sculpted hood, stormproofed pit zips, a snug powder skirt, and ample pockets that are set so they don't conflict with a pack harness. The elbows are well articulated so the fabric matches the bend of your elbows. The material feels lusciously soft, drapes well, and doesn't turn crinkly-crackly in the cold. Watch these pages later this year for more details on how well MemBrain withstands the test of time.
The Clincher: Outstanding protection at an impressive price. The $289 Denali Jacket seems every bit as weatherproof and breathable as a compara­ble Marmot Gore-Tex jacket that costs $150 more.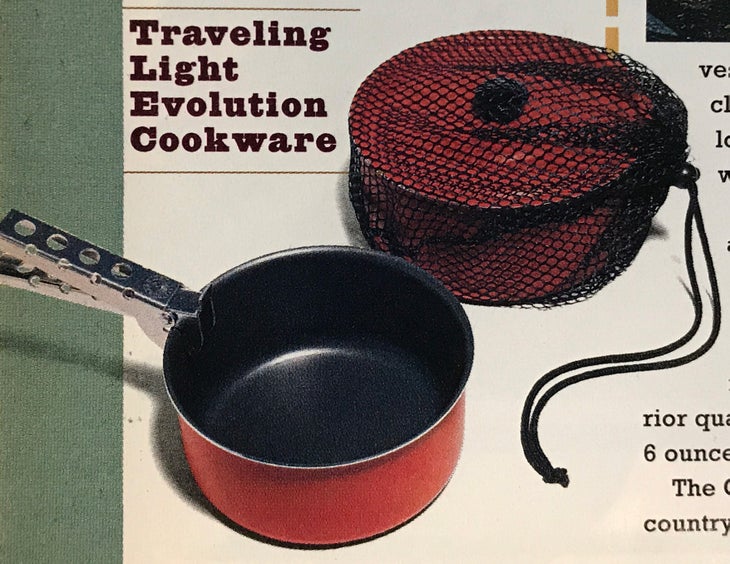 Traveling Light Evolution Cookware
When it came time to try out Traveling Light's new Evolution Cook­ware, we went straight for the heavy­ weights, like oatmeal, chili, Spanish rice, mac 'n' cheese, and anything else we could think of that creates a sticky, almost-impossible-to-clean mess. Dur­ing repeated pig-out sessions, the Evolution non-stick pots cleaned up with just a swipe of a cloth, no matter what was scorched to the bottom.
The aluminum pots weigh less than stainless steel and are strong enough to withstand mistreatment by even the clumsiest cooks. The thick, grooved bottoms distribute heat for even cook­ing, and help keep them from slipping off tippy stoves. Evolution Cookware comes in environmentally correct pack­ aging (a mesh stuff sack, perfect for trail use), and includes a pot gripper and a spongy pack towel for cleanup.
The Evolution 1 consists of 1- and 1.5- liter pots, weighs 1.2 pounds, and costs $29.95. The Evolution 2 includes 1.5-and 2-liter pots, weighs 1.8 pounds, and costs $35.95.
This cookware delivers one enticing extra to set it apart from run-of-the­ camp nonstick stuff: Thanks to the thick bottoms and tight top, you can even bake with these pots, although you'll need to get a heat-diffuser plate and temperature-monitoring knob from Traveling Light. Fresh brownies in a high Sierra meadow, personal pan pizza on the Continental Divide, hot corn­ bread in the Boundary Waters, are you drooling yet?
The Clincher: Having a ready source of fresh-baked goodies gives you con­trol of your crew. And easy cleanup doesn't hurt.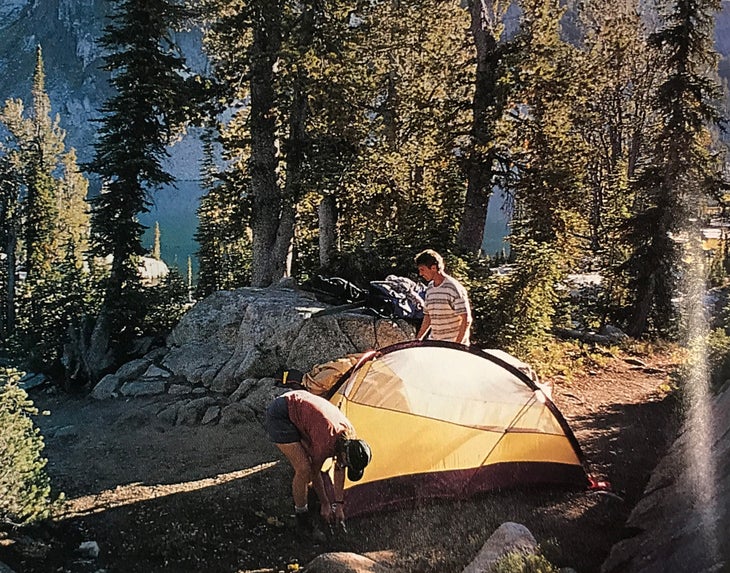 Marmot Tents
After a 10-year hiatus from tent making, Marmot is offering six new mod­als. The line includes four double-wall and two single-wall designs, all impeccably made, all bristling with innovative details, all able to pack up light 'n' tight. One of our equipment editors spent five days in the two per­son, double-wall Nutshell while backpacking through Oregon's Eagle Cap Wilderness Area.
The first detail of note appears the instant you pull out the stuff sack. If you've ever struggled to squeeze a tent into a woefully small bag, you'll appreciate Marmot's new "burrito stuff sack" that opens along the side, so you stuff the length of the sack, rather than through a tiny top opening.
The Nutshell offers virtually 100 percent usable living space, thanks to the rectangular floor plan, near-vertical walls, and three-pole structure that allows sitting headroom at either end. While the vestibule isn't enormous, the walls are vertical enough to maximize efficiency. Nice details crop up all over, such as fabric reinforcements at stress points, extra-long stakeout loops that accept skis or big sticks as anchors, and thick aluminum stakes instead of pretzel-prone skinny ones. Fabric pull-tabs make the door and vestibule zippers jingle free, and the door and window tie back with clever toggles. Plus, the pole tips lock securely into the stakeout loops. Tape-sealed floor seam; and a low-impact color scheme (beige with dark purple) round out an appealing package.
During the crisp, gusty Oregon nights, the Nutshell was a pleasur­able residence. On clear evenings we peeled back the fly for some stargazing through the mesh ceiling panels. On rainy nights, we stayed perfectly dry and comfortable. The Nutshell isn't the best choice for people who require lots of elbow room because there's not much excess floor space (30.3 square feet). But if you want supe­rior quality and function in a package that won't break your back (5 pounds, 6 ounces) or your bank ($289), check out the Nutshell.
The Clincher: Marmot goes from no tent status to state-of-the-art back­country shelter builder in one fell swoop.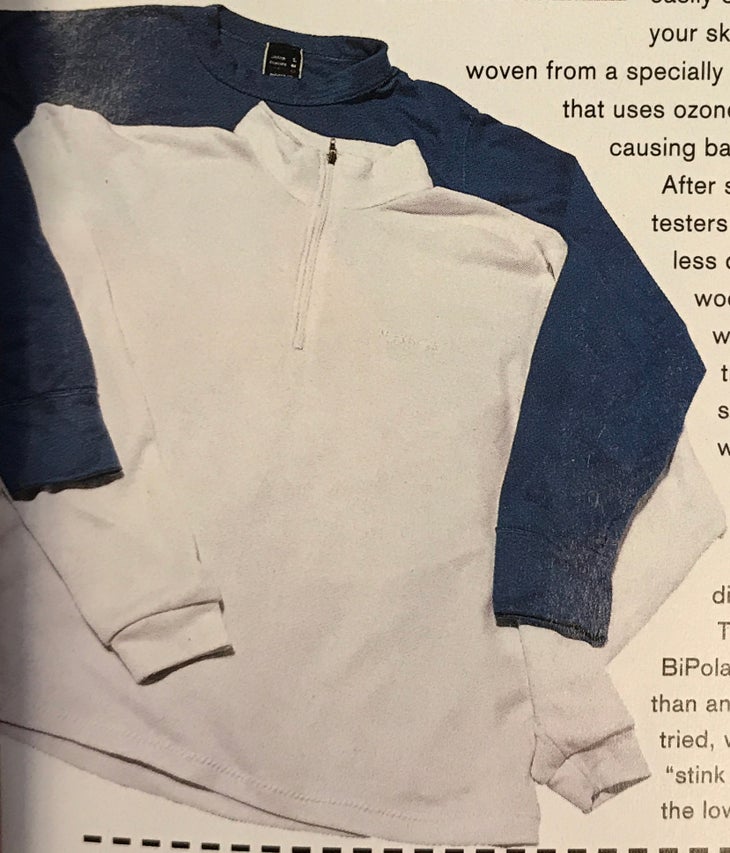 The North Face Tekware
We're not big fans of cotton clothes for backcoun­try duty. Once wet, cotton takes forever to dry, and in the pro­cess it sucks away precious body warmth. Hypothermia is a real concern when you wear jeans or a cotton T-shirt in the wilderness, and that's why some wise woods person coined the phrase, "cotton kills." Naturally, when The North Face touted its new Tekware clothing line as "100% Not Cotton," it grabbed our attention.
During our field tests we found that when nasty weather or hard hiking soaks you, these non-absorbent, synthetic shirts and pants keep you warm while your body heat quickly dries the fabric. We especially like Tek­ware's new Big Wall Pants ($155), designed with layering in mind. They're cut loose, but not too loose, so you can wear extra layers underneath or on top. Calf-length zippers make for easy clothing changes. Cleverly curved knees allow unrestricted motion. In the men's version, the fly opens from the bottom so you can answer nature's call without unbuckling your pack belt or climbing harness. The fabric features tightly woven nylon on the outside for abrasion resistance, and a skin-friendly acrylic inner face with a little Lycra for stretch. One snowy Adirondack day, an editor simply pulled rain­ pants over the Big Walls, which doubled as terrific long johns. Another wore hers for a week straight on an Oregon hike. Dirt brushed right off the hard-finish fabric and they looked newly washed the whole time. 
We also field tested the women's VaporWick Crewneck ($32), a T-shirt with polyester pointelle fabric that proved warm, wickable, and fast-drying in the high alpine heat of Oregon's Wallowa moun­tains, yet cool and attractive enough for moseying into a cowboy bar post-trip. One editor wore the men's Ventilation Shirt ($55) to fight the stupefying desert sun of Big Bend, Texas. Multiple vents in the light nylon fabric made the hot days bearable, and the shirt still felt toasty when worn under other layers at night.
The Clincher: These sensible synthetic clothes are built for the backcountry but won't make you look or feel like a trail bum when you hit town.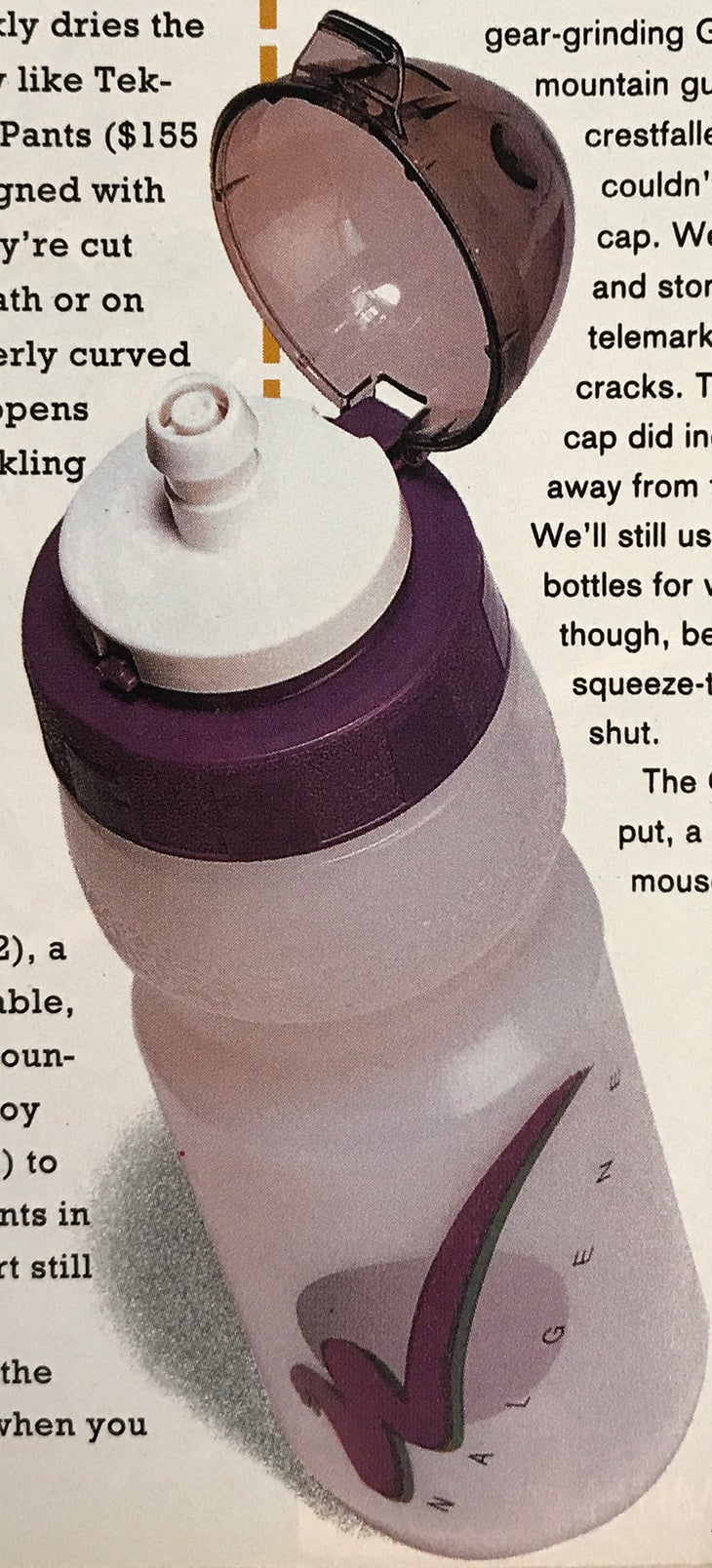 Nalgene All Terrain Bottle
The ideal backcountry water bottle would be totally leakproof, quick­ sipping, and easy to stow in a pack pock. Sounds simple, but most bottles miss a few of these vital features. Typical widemouth types are secure and simple, but tend to slop water up your nose if you swig too greedily. Regular bike bottles work well while you're moving, but inevitably leak all over your last pair of dry socks when stowed inside the pack.   
Nalgene's new All-Terrain bottle ($7.95) holds almost as much as a regular wide­ mouth model, yet the slimmer bike-bottle profile slips into narrow side pockets or hipbelt holsters. The convenient screw-on squeeze-top lets you slurp away without dribbling. A flip-up plastic cap protects the business end from grunge and snaps the mouthpiece securely closed. Sum total of our leakage complaints: 0.
Naturally, we felt compelled to see how this super-bottle would withstand extended use and abuse, so we sent one to a gear-grinding Grand Teton mountain guide. He was crestfallen when he couldn't crack the Lexan cap. We even froze one and stomped on it with telemark boots. No cracks. Through it all, the cap did indeed keep crud away from the mouthpiece. We'll still use wide-mouthed bottles for winter trips, though, because the squeeze-top cap freezes shut.
The Clincher: Simply put, a much better mousetrap.
Polartec BiPolar 100 Series and MontBell DriOn Performance Underwear
The against-the-skin garments in a layering system heavily influence your comfort, whether you're sweating under a heavy pack or shivering in camp waiting for the sweat to evaporate. Since we spend lots of time doing both, we came away from field trials excited about two new fabrics: Polartec's BiPolar 100 Series and MontBell's DriOn underwear.
BiPolar, made by Malden Mills, employs new knitting technology that allows the inside and outside of a garment to be constructed and treated differently. The result looks like two fabrics layered together, but is actually a single piece with two distinct faces. The napped inner surface is a cot­tony-feeling polyester fabric that dries fast and speeds moisture away from your skin. The highly textured, perforated outer side provides lots of sur­face area that encourages evaporative drying.
BiPolar 100 Series fabric (found in Moonstone, which we tested, as well as Lowe Alpine and Kenyon underwear) is the softest, driest skin-level layer we've found. Best of all, the quick-wicking performance is an inherent function of the fabric's construction, so there are no coatings that may wash off. Moonstone's crewneck goes for $39, as do the tights. 
MontBell's DriOn fabric (crewneck $34, tights $34) is electrostatically charged, so water droplets are supposed to break into individual H20 molecules that are easily carried away from your skin. DriOn is also woven from a specially treated thread that uses ozone to kill odor­ causing bacteria.
After some of our testers spent 18 bath­less days in the back­ woods, their report went straight to the point: "We stank, the under­wear didn't. Once we hung it up, any whiffs of odor quickly disappeared."    
The Clinchers: BiPolar stays drier than any undies we've tried, while DriOn's "stink factor" rates as the lowest yet.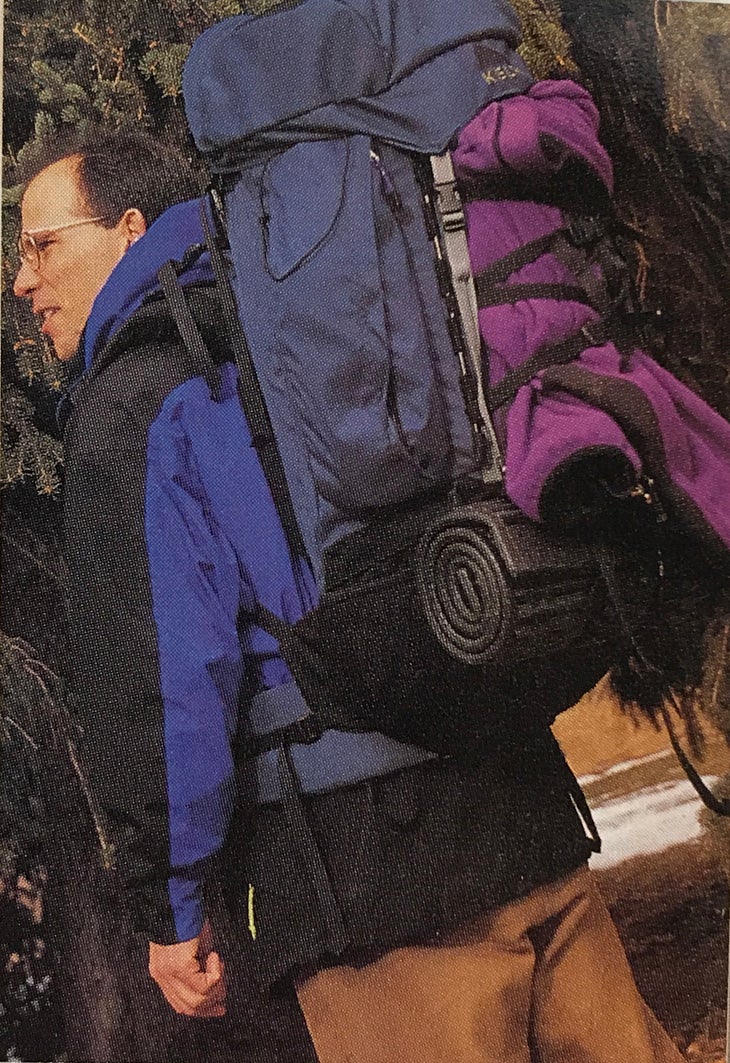 Kelty Lock Down Packs
Say you're the frugal type who makes do with a budget backpack, but longs for the cushy comfort and fancy features of expensive models. One of Kelty's new internal frame Lock­ Down packs may be the deal you've been waiting for all these years.
We've tried the load-monster La Sal (5,700 to 6,500 cubic inches, $225) and the women's Zuni (4,660 to 5,450 cubic inches, $200) and found them to be well-built, comfortable enough to handle heavy loads, and incredibly simple to adjust. The Lock Down suspension system con­sists of a stiff plastic panel that anchors the shoulder harness and load-lifter straps, and adjusts via wide Velcro flaps that wrap around the sides of the pack. Both of our samples had to be reshaped to fit different testers' backs, but adjustment was easy. The result was a sta­ble ride with minimal sway.
The LockDown packs have many features that are now standard on high end, internal frame packs, like top pockets that convert to fanny packs and dual mesh water bottle holders. They also have some unique new features, such as horseshoe-shaped zippers on the top pockets (and the side pockets of the La Sal) that make access easier; a "SlabPocket" on the inside of the packbag that lets you pack heavy, dense objects close to your spine for a more balanced load; and a compression system that uses verti­cal bars to flatten loads evenly.
The Clincher: Heavy-load comfort and a price tag half that of many similar packs with fewer features.