Editors' Choice 1995: The Best Backpacking Gear of the Year
Clean out your gear closet! Here's our rundown of new, gotta-have products.
Heading out the door? Read this article on the new Outside+ app available now on iOS devices for members! Download the app.
We backpackers are a varied breed. There are, among us, hedonists who lug along all manner of accoutrements so wild places will be more comfortably civilized, and there are bare-bones-only puritans who divest themselves of earthly possessions to be closer to nature. There are those who favor Army-issue camouflage, and those who prefer neon hues. There are low-impact fiends who drink their dishwater to protect the environment. There are even those who hike barefoot. Yet they all share one basic attitude when it comes to their gear: it better be good. To that end, we present our third annual Editors' Choice Awards, which pay tribute to products that are innovation in design, materials, or performance.
To qualify a product had to be new or significantly modified for 1995. We compiled our list of candidates, hauled everything into the field for testing, then watched as some items fell from grace. What survived is here: good and exciting stuff. More detailed field-test reports on Editors' Choice recipients will appear in upcoming issues of Backpacker, so stay tuned.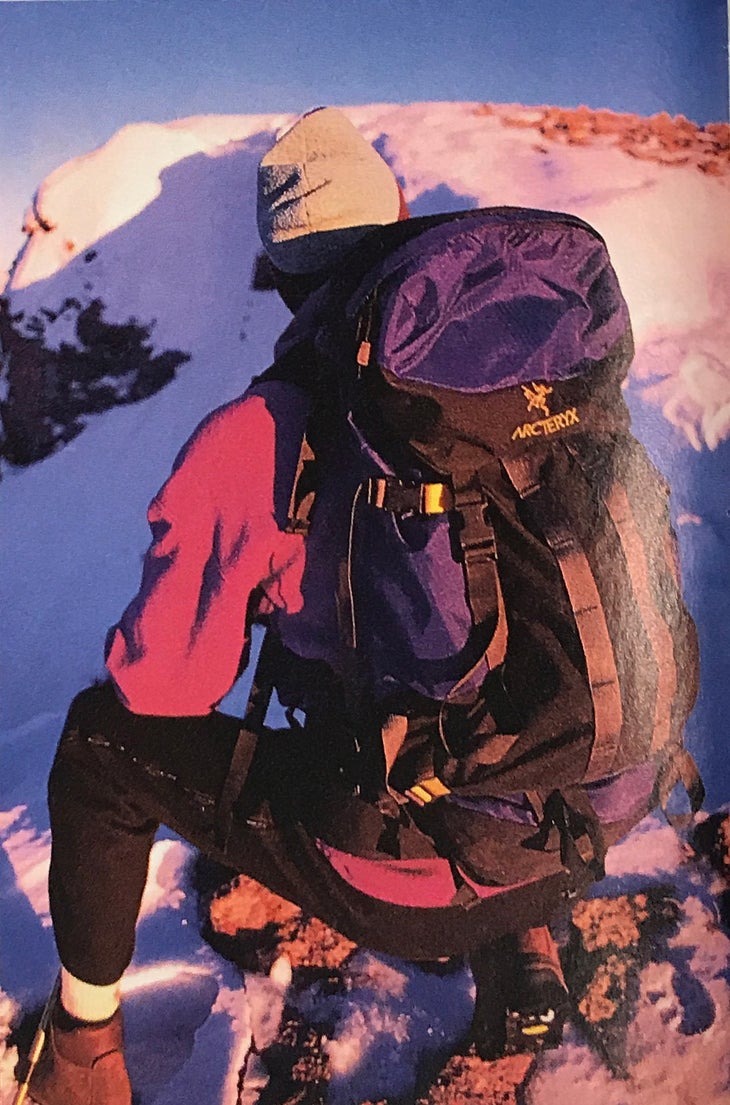 Arc'Teryx Backpacks
Until recently, Canadian manufacturer Arc'Teryx concentrated its efforts on the climbing market, stirring up the vertical world with a line of ultra-lightweight harnesses. Its seven­ model 1995 pack line signals a strong expansion into the backpacking world. The foam-molding expertise Arc'Teryx developed for its climbing harnesses has translated into some of the nicest pack suspensions around.
The most intriguing packs for overnight use in this lineup are the Khamsin 50 (3,050 cu. in., $199), the Bora 60 (3,660 cu. in., $225), and the Bora 70 (4,270 cu. in., $258). Each of these simple, light, well-finished packs can haul compact-to-moderate loads in style and comfort for active sports like off-trail scrambling, backcountry skiing, and mountaineering.
We took the Khamsin to the talus slopes high in Utah's Wasatch Range, and found its cleanly designed, effective suspension yielded great comfort. V-shaped dual aluminum stays reinforce the polyetlylene framesheet, cushioned by artfully formed back and lumbar pads of closed-cell foam cushion. The well-shaped shoulder harness and hip belt pivot against the bottom of the frame stays for super freedom of movement, yet can be cinched down by the hipbelt stabi­lizers when you want more direct weight transfer to your hips.
Arc'Teryx loads its packs full of trail-savvy details, such as cut-outs at the top of the backpad for unrestricted upward head movement, and elasticized wand pockets to hold water bottles, skis, or tent poles. You'll find easy access to the main bag via side zippers, a shovel/rope pocket, a zippered com­ partment that holds daily necessities, and convenient top-lid zippers.
Contact: Arc'Teryx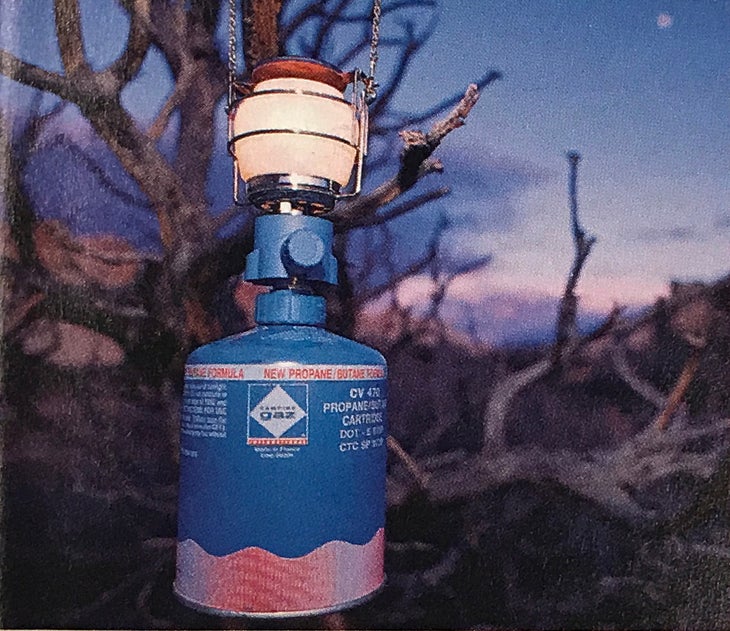 Camping Gaz System 270
The "big blue" pack-stove company from France designed its neat new System 270 butane/propane appliances specifically for weight- and bulk-conscious campers. The Micro Bleuet 270 Stove, Bivouac Lantern, and matching Lightweight Cookset can feed and illuminate your camp-all for less than 3 pounds, including two cans of fuel!
The new Gaz system runs on the recently introduced compact CV270 (12-ounce) car­tridges with a screw-off valve that allows you to conveniently transfer the fuel can from stove to lantern and back again. Each cartridge burns for as long as 12 hours, depending on the attachment, since the lantern consumes far less fuel than the stove. The CV270 easily slips into a pack sidepocket, unlike its big brother, the CV470.
The Micro Bleuet stove ($26.95) packs into the tiniest crevice of your pack and weighs a mere 7 ounces. But don't let the Micra's diminutive size fool you: We cooked up a tasty pot of Spanish rice for five in no time flat. (Hint: The Micro doesn't come with a windscreen. Rig one-it will speed your cooking considerably.)
The Camp!ng Gaz 2-piece Lightweight Cookset (8 ounces, $19.95) is a slick solo kitchen-on-the-go that has a ribbed bottom for even heat distribution and nonstick surface for no-scrape cleanups. A word to the wise, though, this modestly sized cookset best suits less-than-ravenous eaters.
After dinner, we popped the cartridge off the stove and attached it to the Bivouac Lantern PZ (7.4 ounces, $39.95). This feisty little night­ fighter features an adjustable light output of ten to 100 watts (electrical equivalent), push­ button Piezo ignition, and a protective cage around the globe. The frosted globe emits a bright white light with less glare than many lanterns we've tried. Thanks to the standard­ equipment plastic travel case, the mantle may even last through several trips before it needs replacing.
Contact: Camping Gaz/Suunto USA, 2151 Las Palmas Dr., Suite G, Carlsbad, CA 92009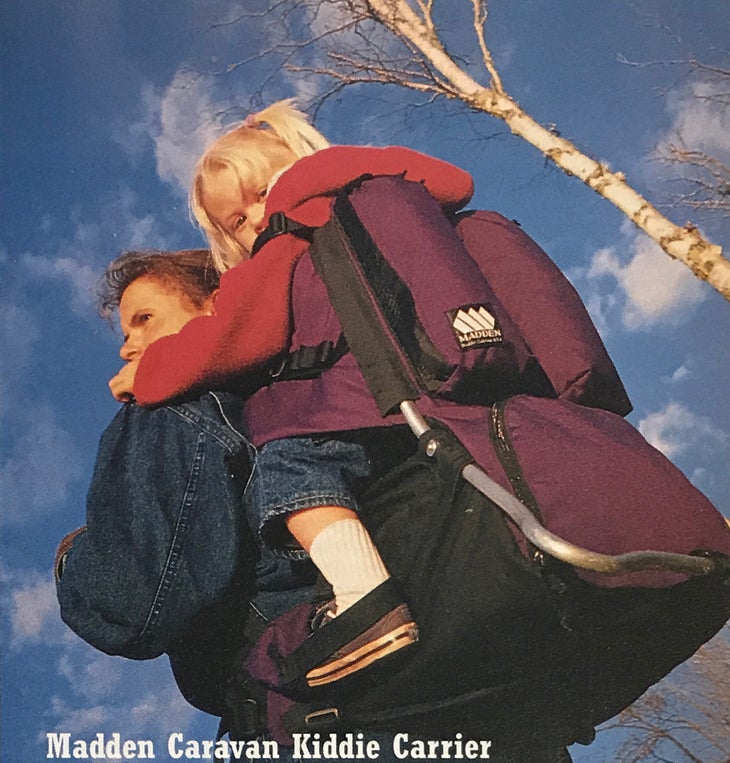 Madden Caravan Kiddie Carrier
Northern lights, a nest of swallows, a field of lupine in bloom. You don't want your child to miss out on these things, nor do you want to forgo them because you can't find a babysitter. Parents' desire to introduce youngsters to the outdoors has spawned a whole new line of packs: backcountry child carriers.
Granted, kid carriers aren't exactly a new category, but all too many can barely handle anything more demanding than a quick trip to the grocery store for diapers and formula. Madden's new Caravan ($225) is different-a real, honest, backcountry pack with 1,900 cubic inches of storage plus a special place for you-know-who. The Caravan wears the same suspension as Madden's 3,000-cubic-inch ski touring/weekend packs, with a strong internal frame and tough 1000-denier Cordura construction.
The Caravan's large bottom compartment opens easily with a handy wide-mouth zipper and is big and strong enough to handle actual backpacking gear, not just a few favorite toys. Two vertical upper com­partments swallow loads of baby bottles, diapers, and water bottles.
The child-seat part of the Caravan seems a bit complicated. "I'd have a hard time getting Alexandra in and out six times running errands," one tester worried. But once the child is strapped in, both passenger and parent feel secure and comfortable. Elastic toy loops let you attach kid-sized entertainment, and the multi-looped daisy chain works great for lashing on extras like a roll-up changing pad.
Madden does not offer a weight-bearing recommendation for the Caravan, an omission which might make some nervous parents even more so, but our biggest little tester (27-pound, 2-year-old Hannah) seemed happy and comfortable. Given Madden's typical burly con­ struction, it's likely your child will be clomping around in hiking boots of their own long before the Caravan is ready for retirement.
For the Caravan driver, the shoulder straps and hipbelt are well­ padded and comfortable. Weight transfers right to your hips and the secure shoulder harness means that wiggling from the backseat won't throw you off balance. Then you can concentrate on other, more important things out on the trail, like northern lights, swallow nests, and wildflowers.
Contact: Madden, 2400 Central Avenue, Boulder, CO 80301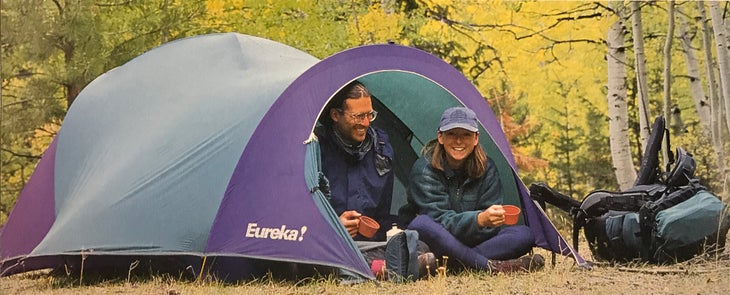 Eureka Four-Season Tents
Eureka drops a well-aimed bomb into the battle to produce top quality gear at bargain­ basement prices with a line of decently engi­neered, remarkably low-cost four-season tents. We nabbed an early production sample of the two-person Summit modified dome for our staff kayaking trip to Maine, then employed it as a "mobile office" for a pack test in Utah's high desert.
Right off the bat, the Summit impressed us with its simple, elegant design and unprece­dented price tag: just $269. Eureka has suc­ceeded in producing a credible four-season tent for less than many competitors' three­ season entries.
In some pretty nasty New England weath­er, the Summit scored points for its spacious hooped vestibule, which amply sheltered two peoples' piles of wet, grimy gear. The tent's low, boulder-like shape shed wind and mini­mized fly-flapping. The Summit also proved a cinch to set up; on a sponge of an island, beneath relentless rain and whipping wind, it went from stuffsack to snug shelter in just a few minutes.
Eureka makes a gallant effort at ventila­tion, a common shortcoming of four-season domiciles. The Summit's zippered net roof vent, screened door panel, and huge rear window all make warm-weather camping a cool proposition. In an attempt to facilitate venting, however, the rainfly leaves the rear window largely exposed, offering wind­ driven rain a chance to dribble in. In our opinion, a true weather warrior should have a full-coverage fly. Call it a minor chink in otherwise impressive armor.
All in all, Eureka's new four-season tents might be just what it takes to get you outside this winter. Other cost-effective new four­ season models include the Alpenlite 2 and 3 modified A-frames and the K-2 expedition geodesic, all reasonably priced and just as promising.
Contact: Eureka/Johnson Camping, P.O. Box 966, Binghamton, NY 13902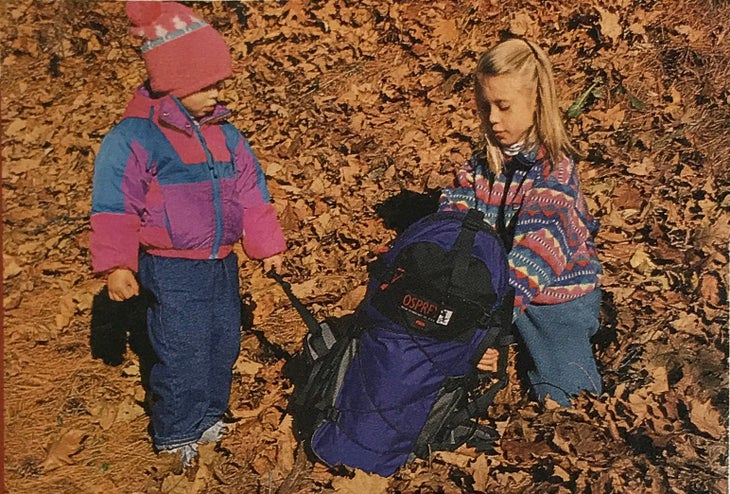 Osprey Pika IUd's Pack
Camp is still miles away over the hill. Your child sheds yet another layer or wants to collect her umpteenth pretty pine cone. What do you do with it? Let her carry it, of course.
Children above age five can carry small loads such as an extra jacket, granola bar, a dozen pine cones, a water bottle, mittens and hat, but not in some cheapo Barney backpack or Bert 'n' Ernie shopping bag with shoulder straps. For real backpacking a child deserves real gear. This is it. The Osprey Pika is a child-size 1,200-cubic-inch pack set on a real internal frame and top-notch suspension, just like Osprey's excellent adult packs.
The Pika ($95) is cut from tough Cordura nylon and loads through smooth-running oversize coil zippers that won't break the second time your child yanks them shut. The deep main compartment can be a bit frustrating for kids to dig through in search of their second mitten or last granola bar, but its tall, narrow shape has shock-cord laces to compress the load and minimize floppiness. The laces also provide a handy place to stow soft items like a jacket or sleeping pad.
And let's face facts; if a pack isn't comfortable, no child's going to wear it. The Pika boasts smooth diecut foam padding on the hipbelt and shoulder harness, and accommodatingly adjusts as your child sprouts. Our designated field-tester, six-year-old Katelyn, hiked right along with a medium-size load in her Pika. The "heavy" load (extra water bottle, Dad's binoculars, a couple of jackets, and a bird book) drew some complaints, but that had more to do with the tired camper than the pack itself.
It was then that another handy feature proved its value: the Pika attaches easily to any other adult-size Osprey pack so you can carry the load while your child runs off to collect more pine cones, sud­denly not quite as tired as she thought.
Contact: Osprey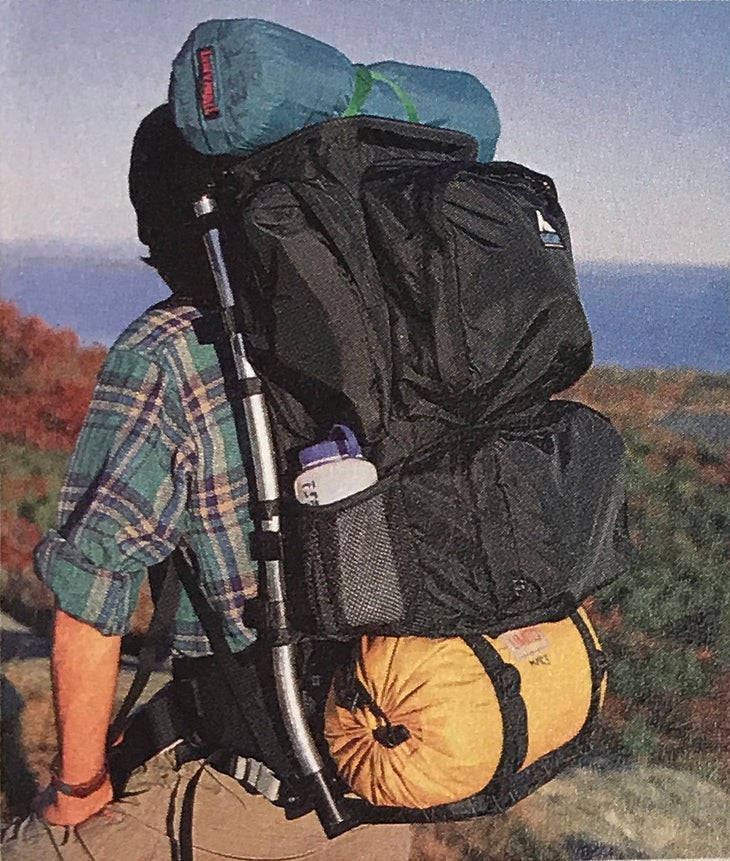 Gregory Evolution External-Frame Pack
Wayne Gregory, that long-time booster of fine internal frame packs, has started building exter­nals. Skeptics (ourselves included) initially pooh­ poohed the idea as sort of heretical, like IBM making Macs or Chevy cranking out Toyotas.
But after piling on the miles beneath Grego­ry's new Evolution (4,000 cu. in., $200), we'd amend that assessment to "heretical, perhaps, but definitely not dumb." Gregory has unveiled a pack that blends the weight-bearing advantages of an external frame with the load control and mobility of an internal.
The Evolution's key design element involves flexible nylon frame crossmembers that allow various body parts to move more or less normally while stiIl transferring serious weight to the wearer's hips and legs. Gone is that claustrophobic old external-pack sense of having a ladder lashed to your back; you can bend over without the hipbelt trying to slice you in half, or look up without whacking your noggin on the crossbar.
The Evolution's suspension rates right up there with any we've tried. Our test sample came equipped with Gregory's Flo-Form molded foam shoulder straps and hipbelt, which earned their own Editors' Choice award two years ago. The Flo-Form rides firm and solid, so firmly in fact, that persons with less well-padded hips may prefer the softer sewn, foam suspension on the Evolution Standard ($180). Frames come in four sizes, with interchangeable harness and hipbelt parts, so even odd-shaped folks can finagle a fit.
A couple of BACKPACKER staffers weren't crazy about the two smallish panel-loading main com­partments, but nobody complained about the plethora of pockets and ingenious gear-stashing spaces. If you can't be organized while living out of an Evolution, you're hopeless.
Contact: Gregory Mountain Products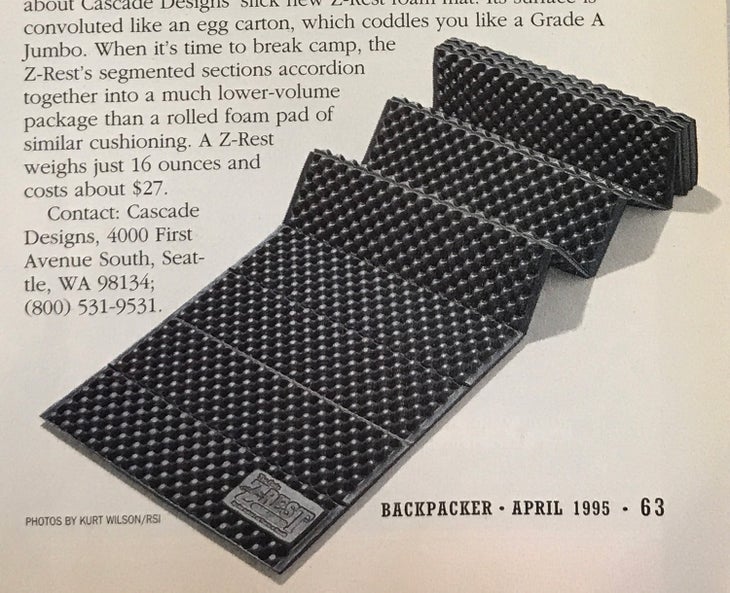 Cascade Designs Quantum Sleeping Bag and Z-Rest Foam Pad
A typical premium-brand mummy bag wraps thick layers of insu­lation over a sleeper's top and sides, and saves weight by putting thinner layers underneath. This sort of "one-sided" bag design assumes you'll have the insulation of a good sleeping pad under­neath, and that you'll be sleeping mostly on your back. That's all fine and dandy, except that if you roll over and snooze with the thin side up, you'll soon be shivering.
The new Quantum bags from Cascade Designs anticipate noc­turnal tossing and turning, so that no matter which way you thrash you're surrounded with full-thickness insulation. The zipper and side seams are near the top of the bag, rather than down at drafty ground level. And you can roll over a full 270 degrees without squashing the draft tube, lying on a side-seam cold spot, or park­ing your unconscious forehead on top of a lumpy zipper slider.
"Awww, that'll never work," chorused the naysayers, "it just moves the cold spots up high instead of on the bottom." That's what we suspected, too, until several chilly bivouacs in a 0-degree Quantum mummy convinced us otherwise. The draft tube is sewn so it presses tightly against the zipper no matter what fetal posi­tion you assume, and since the side seams aren't sewn through, no cold spots developed that we could detect.
The Quantum comes in three temperature ranges (20°F, 0°F, and -20°F) in three sizes each; prices range from $130 to $250. The small sizes suit women and adolescents nicely. Polarguard HV insulates the 20°F Quaptum, while the two cold-weather bags utilize Thinsulate Lite Loft fill; all compress acceptably well for synthetic fill bags. Their polyester taffeta shells exhibit twice the friction of typical nylon bags, so there's less skating around on top of your sleeping pad.
Speaking of sleeping pads, we'd be remiss not to rave briefly about Cascade Designs' slick new Z-Rest foam mat. Its surface is convoluted like an egg carton, which coddles you like a Grade A Jumbo. When it's time to break camp, the Z-Rest's segmented sections accordion together into a much lower-volume package than a rolled foam pad of similar cushioning. A Z-Rest weighs just 16 ounces and costs about $27.
Contact: Cascade Designs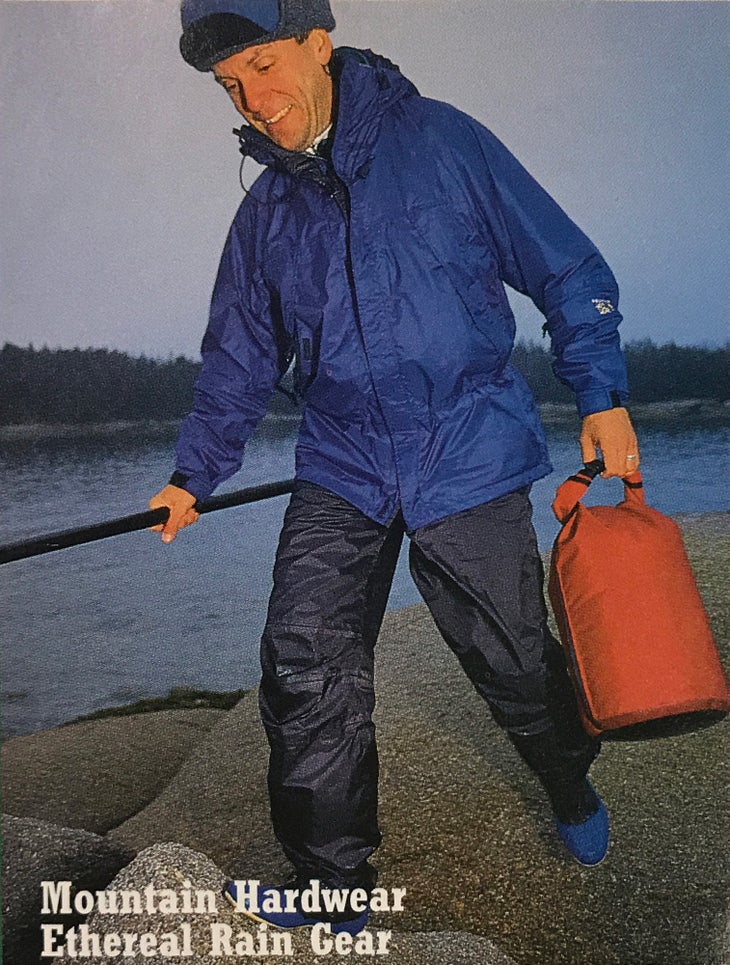 Mountain Hardwear Ethereal Rain Gear
We discovered versatility and more in the Ethereal Gore­Tex® jacket and pants from Mountain Hardwear. Moun­tain who, you ask? Maybe you haven't heard much about this new company, but great gear like this rainsuit makes us eager to tell you all about it. Mountain Hardwear's first-year lineup includes some of the best clothing, tents, and sleeping bags available. From nowhere to state of the art in a year-now that's progress.
We singled out the Ethereal suit ($325 jacket, $199 pants) because it weighs well under two pounds­ impressively light for such tough, all-season storm gear. If our first field experience with it was any wetter, we'd have needed a life preserver. Record rains wracked our staff kayak trip, but barely dampened the Ethereal's outer fabric. The rest of our group was well-equipped with quality raingear, but many of their suits gradually damp­ened during the course of four days' ceaseless storming.
When the skies finally dried out (the day we headed home, of course), the Ethereal gear air-dried faster than any in our gang, because its three-layer construction doesn't include a separate lining to retain a lot of excess moisture.
The Ethereal suit's simple exterior belies a wealth of sophisticated detailing underneath. Articulated arms and knees allow exceptional freedom of movement. An adjustable strap tunes the hood shape to fit over any headgear. Ample storm flaps cover the jacket's main zip, and the zipper itself is seam-sealed, an industry first.
Double storm flaps over the pit zips work wonders to weatherproof a notoriously leaky feature. Pit zips are extra-long, so it's easy to stick arms through when you're really overheated. Calf-length zippers let you actually pull the Ethereal pull-on pants over bulky trail boots.
The polyester outer fabric holds water-repellent treat­ment longer than most GoreTex® suits. This one was still beading water like new after weeks of hard use.
Contact: Mountain Hardwear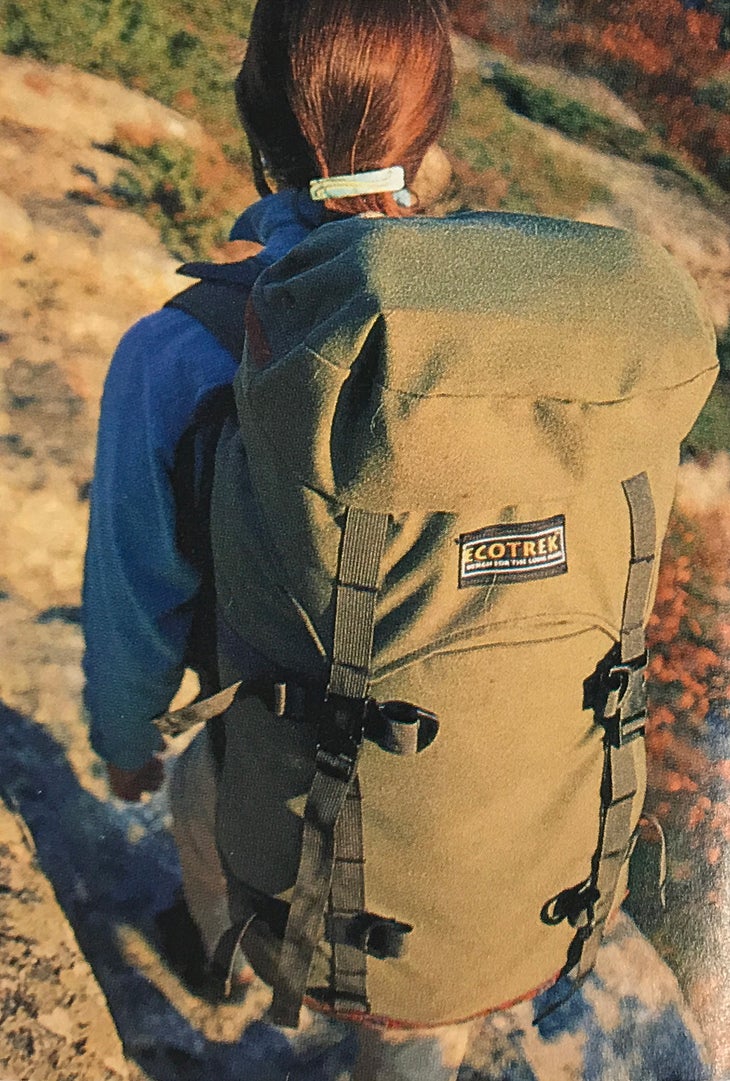 Ecotrek Backpacks
"Green" outdoor gear grows more ubiquitous every year. Last season, Patagonia's pioneering PCR recycled­ pop-bottle fleece garnered an Editors' Choice Award; now virtually every outerwear maker is busily stitching up eco-fleece garments. Trail boots built with recycled materials can be found wherever Merrell, Nike, or Reebok, to name only a few, are sold.
But the only green-gear backpacks we could find in '94 amounted to little more than glorified book bags. Ecotrek, a small company from the Boston area, aims to change all that. We've logged some hard hauling with Ecotrek's new Alpine Evolution top-loading internal (4,000 cu. in., $185), and are tickled to report that final­ly, a no-excuses green-gear pack has hit the market.
Ecotrek doesn't just tack a few recycled doo-dads onto an otherwise virgin-plastic pack and label the whole thing "green." The main body fabric comes from old soda bottles, and all webbing is 100 percent post­ consumer recycled soda bottles or polypropylene.
Padding comes from shredded old tires, recycled wool felt, and reground polyurethane foam. The plastic framesheet begins life as discarded milk jugs; even the frame stay contains cast-off aluminum cans.
But all this "greenery" doesn't mean much if the pack's no good. While the Alpine Evolution's ride doesn't quite match some current top-line brands, it's still a credible load-lugger that carries, looks, and feels like a classic 1980s British rucksack. Ecotrek propels Eurosack design into the '90s by adding a broad mesh hipbelt that looks flimsy but is so well-anchored it basi­cally turns the shoulder straps into stabilizers instead of major weight-bearers. Our testers report that the Ecotrek pack rides pretty darn well on the hipbelt alone, as long as it isn't crammed full of heavy climbing hardware.
Contact: Ecotrek, P.O. Box 9638, Amherst, MA 01059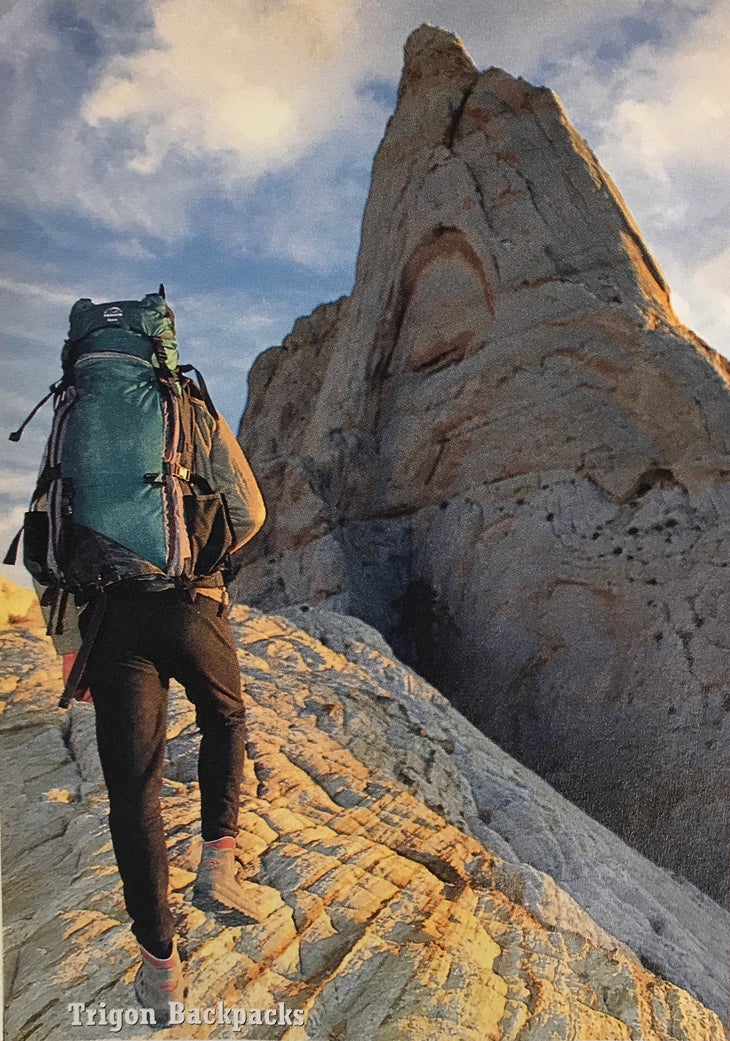 Trigon Backpacks
It's not often you see a complete spectrum of top-quality equipment appear out of thin air, but that's pretty much what happened when Trigon released its line of seven internal-frame packs. The Trigon brand debuted in 1994 via an exclusive arrangement with REI, but now its packs are available through other outlets. That's good news, because these top-quality haulers, which reflect company president Paul Larson's 20-plus years of experience in designing packs for other manufacturers, deserve wide circulation.
Each pack model comes in two or three sizes, with six sizes of shoulder harnesses and six sizes of hipbelts (three for men and three for women) to help achieve a nearly perfect fit.
We threw two models, the Alpine (3,800 cu. in.) and the Deva (5,250 cu. in.), into the ring with all of the big players in two recent field tests. Among midsize packs, the Alpine scored high on comfort and convenience, with its panel-loading access and indestructible zipper. The men raved about the comfortable harness, hipbelt, and lumbar pad. Women testers complained that the shoulder harness is too wide, however.
Our overall verdict: Upstart Trigon offers something that many established companies can't —a complete line of well-designed backpacks at reasonable prices ($235-$380). If Trigon takes the women's harness and hipbelt back to the drawing board it should reach near-perfection next year.
Contact: Trigon, 306 Westlake Ave. N. #313, Seattle, WA 98109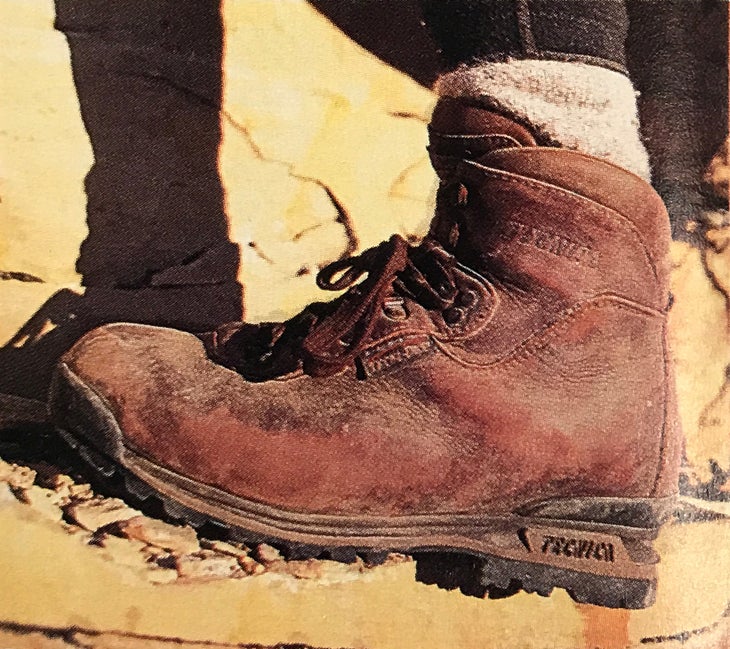 Tecnica Boots
Though Tecnica has long enjoyed a solid reputation for making top-quality ski boots, its hiking boots have languished in mediocrity. That's bound to change now that the company has unveiled a slew of totally revamped hiking boots, all constructed with tighter heel pockets and more forefoot room than Tecnicas of yore. Of the bunch, the new Patagonia Dry midweight is a standout.
The Patagonia Dry ($179) is a supple but supportive, high-shafted backpack­ing boot in the classic "seamless" style. The inherent water resistance of its 2.4- 2.Bmm full-grain leather uppers is aug­mented by new TechniDry waterproof/ breathable liners. This combination made for exceptionally happy feet as our tester slogged the wet slot canyons of Zion National Park in Utah during a week-long "Trailside" PBS-TV film shoot.
After Zion, the Patagonia Drys stomped through 20 miles of desert, racked up more mileage during an upcoming pack test, then went on to score impressively in comfort and water­ proofing during field testing for an upcoming boot test.
There is no shortage of fine boots on the market today, but Tecnica deserves an Editors' Choice for significant upgrades to the fit and performance of its entire hiking-boot collection. Aggressive backpackers who need heavier off-trail support should check out Tecnica's new Everest 3 Dry ($220) and the crampon­ compatible, full-leather-lined Sciliar mountain boot ($250). The Patagonia Dry comes in men's sizes 7-13, and women's 5-10. The Everest 3 and Sciliar are avail­ able in men's sizes only.
Contact: Tecnica USA, 19 Technolo­ gy Dr., West Lebanon, NH 03784