Editors' Choice 1994: The Best Backpacking Gear of the Year
From burly leather boots to a useful multitool, these are our favorite pieces of gear this season.
Heading out the door? Read this article on the new Outside+ app available now on iOS devices for members! Download the app.
Backpackers, on the whole, are not a trendy lot. You know that to have a good time in the backcountry, you don't need hiking boots with graphite midsoles and little lights on the back that flash with every step. To save weight you'd trim the edges off your maps and cut the belt loops off your faded denim shorts before you'd pay big bucks for the latest featherweight titanium-frame pack.
In our quest to bring you the latest on hot gear you can really use, we plunged into the spring avalanche of new equipment and ferreted out the most notable items. After that, we took the stuff out to get rained and snowed on, sun baked, muddied, and generally abused so we could tell you what worked. More detailed reports on many of these items will appear in upcoming field tests. But for now, here's our lineup of favorite new gear for 1994.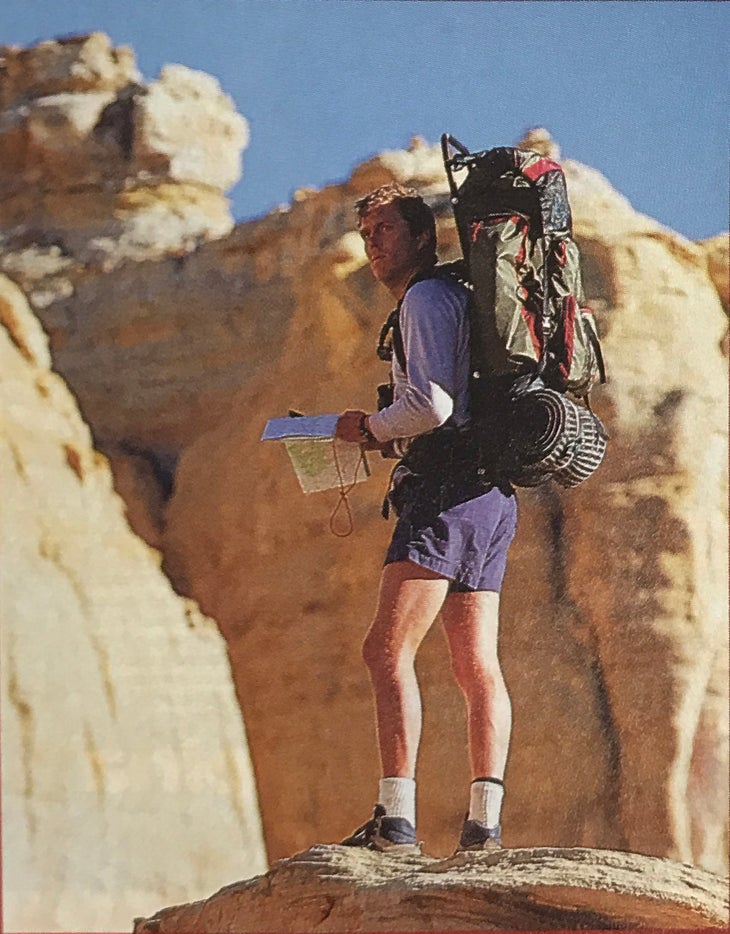 Wilderness TL Pack
Camp Trails
Some external-frame packmakers are thwarting inflation by offering more technically advanced packs for less money. Consider Camp Trails, for instance. We toted the company's new external-frame Wilderness TL (top-loader) during a well-burdened week in Colorado's San Juan Mountains. The TL felt every bit as comfortable hauling a hefty load as any pack we've carried, at half the price ($162.00) of typical top-of-the-line internals.
What makes or breaks an external's design (or your back, for that matter) is the frame, and the Wilderness frame qualifies as a full-on load monster. It has a soft-yet-stiff waistbelt, a chevron-padded mesh backhand, shoulder-strap stabilizers, and a harness that adjusts to accommodate your torso height and neck width. The upper end of the shoulder straps attach to the frame with grommets set in doubled nylon web, backed up by extra grommets in case of field failure.
The elaborate pack bag, with its multiple pockets, flaps, and lash straps keeps organized campers even more so. There's an insulated over-the-shoulder bottle holster and a flip-down organizer pouch. The full-size frame fits most people 5 feet, 6 inches or taller, and a medium frame is also available. The Wilderness PL (panel-loader) holds 4,200 cubic inches and comes only on the larger frame.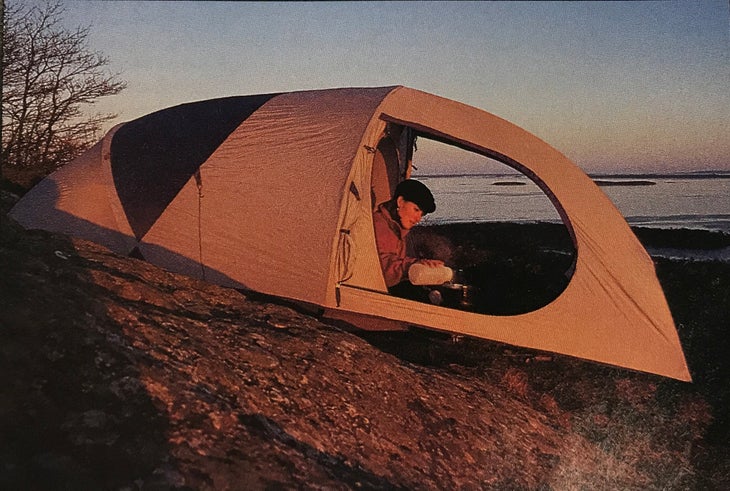 Preying Mantis 4S Tent
Quest
Tent vestibules have a tough job. Many are designed in such a way that your gear winds up blocking the door, or they're so skimpy that when you dive into the tent during a storm, along comes the nasty weather. Some vestibules let you store gear out of the way, some cover the main door, but few do both.
The new Quest Preying Mantis 4S raises the lowly vestibule to an art form. As we discovered during a howling New England coastal gale, this shelter's cavernous dual-door anteroom can swallow a pile of packs and muddy boots, yet leave a clear traffic lane. We could duck out of a storm, shut the outer door, shuck soggy rain gear, and retire to an uncluttered inner sanc­tum. We were able to open whichever vestibule door was downwind, and rustle up dinner in a sheltered yet safely venti­lated kitchen.
The new tent is a bigger (9 pounds, 2 ounces), beefed-up cousin of the original Preying Mantis we tested last May (Outfitting). The 4S footprint stretches to a full 12 feet long, with NBA-size layabout length (7 feet, 6 inches) in the main cabin. The 4S wears the familial Mantis frame-continuous ridge­ pole with side arches attached by nylon hubs and adds two hoops to boost wind and snow resistance. During our stormy encounter, the gale conveniently shifted direction so we could stress-test the broad sidewalls, which rocked and rolled but held.
The Mantis ($325) also breezes through bad weather of a less violent sort. On a sultry, sticky night, you can just peel back the main tent's fly sheet, zip open the side vents, and enjoy a cool crossflow while your gear stays dew-free in the vestibule.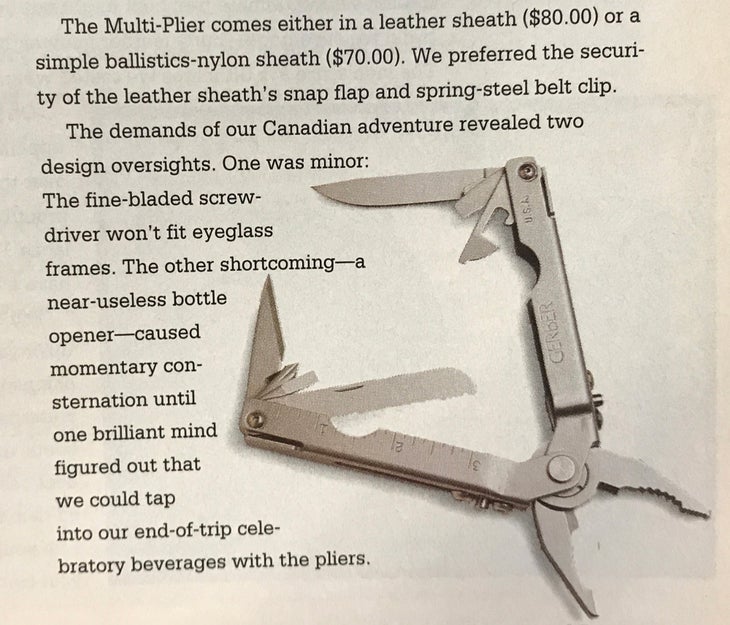 Multi-Plier Tool
The new Gerber Multi-Plier gives you a pocketful of tools in one implement the size of a big Swiss Army knife. The all-stainless Gerber marks a major advance over similar multitools such as the original Leatherman. The Multi-Plier's rounded grips won't bite when you put the two-handed pinch on a stubborn nut or bolt, and its tools can withstand some serious torque. The pliers deploy single-handedly, a factor much appreciated by one editor who was trying to extract a lure from the toothy jaws of a thrashing 15-pound pike.
Our test Multi-Plier saw daily use as the group tool kit on a two-week Canadian wilderness river trip. It tightened portage­ yoke bolts, reattached dangling stove legs, yanked stuck zippers, filed a dull hatchet, helped rebuild a water-filter pump, opened countless cans, and whittled dry shavings to start campfires in the rain.
The Multi-Plier comes either in a leather sheath ($80.00) or a simple ballistics-nylon sheath ($70.00). We preferred the securi­ty of the leather sheath's snap flap and spring-steel belt clip.
The demands of our Canadian adventure revealed two design oversights. One was minor: The fine-bladed screw­ driver won't fit eyeglass frames.
The other shortcoming – a near-useless bottle opener-caused momentary con­sternation until one brilliant mind figured out that we could tap into our end-of-trip celebratory beverages with the pliers.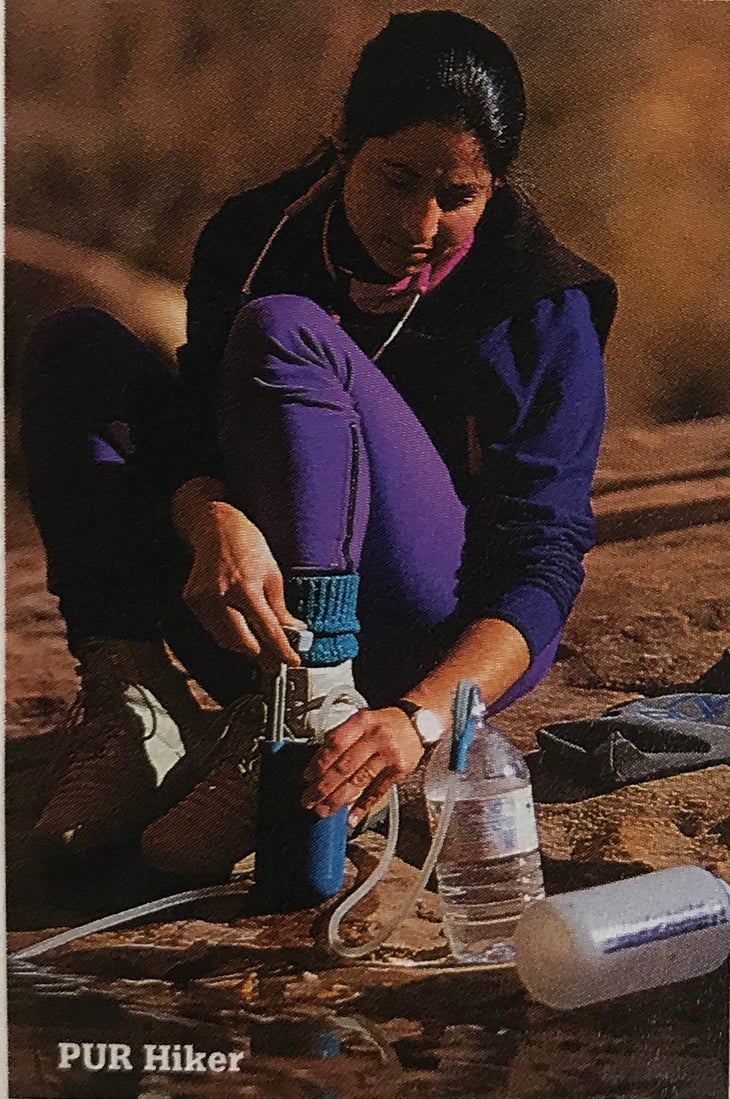 Sweetwater Pur
Guardian and Hiker Filters
We receive more reader questions about water filters than almost any other equipment topic. Which one is easiest to use? Most packable? Simplest to maintain in the bush? Two recent arrivals­ the Guardian purifier by SweetWater, and PUR's new Hiker fil­ter satisfy all these concerns, plus they do it for less money than many of their competitors.
The single biggest problem with water filters is clogging in muddy streams, so we tested the Guardian and Hiker in the siltiest, nastiest water we know: the desert creeks of Utah's San Rafael Swell. We fil­tered water from chocolate-milk-thick potholes to sulphur­ tainted seeps with an oily sheen on top. In these conditions it's not unusual to kill a filter after 2 or 3 gal­lons. We couldn't clog either one during a long weekend, and that is historic. We must admit, however, that neither filter rendered the sulphurous soup drinkable.
SweetWater may be a new company, but its filter was obviously designed by those who have spent lots of time crouched creekside. The Guardian ($49.95) has a lever-action pump, a weighted intake hose, and an output-hose bottle adapter that makes operation a breeze, even on steep slippery stream banks. The optional 4-micron SiltStopper prefilter ($7.95) is a dead ringer for an auto fuel-line filter, but it protects the main element from the worst dirt. As crud built up and pumping resistance increased, we'd open the pump and swab the main filter with a brush ($2.95 for brush) about every 5 quarts. By our estimates, the SweetWater's lifespan in dirty desert water should be about 30 gallons. In clearer creeks, expect far more mileage.
The Guardian is more compact than any other purifier we've found. Replacement cartridges are available ($19.95).
The compact new Hiker ($45.00) from PUR looks and pumps like the company's larger, more expensive units. But because its convoluted glass-fiber element offers a larger surface area, it digests more dirt than standard depth filters. PUR is so certain of the HDR (High Dirt Retention) technology that the Hiker comes with a one-year no-clog guarantee. Plug it and PUR will send you a new cartridge.
The Hiker we tested was a preproduction sample with a few glitches that PUR has promised will be fixed by spring, so we'll postpone final judgment pending a later field test. Still, the Hiker is a massive improvement in silty-water filtration. It required no cleaning during our weekend siltfest. PUR rates the Hiker's car­tridge capacity at 200 gallons in reasonably clear water, and we'd say it's probably a quarter of that in muddy streams.
Each manufacturer offers a recycling program for used filter cartridges. Consequently, the filter market has new rules.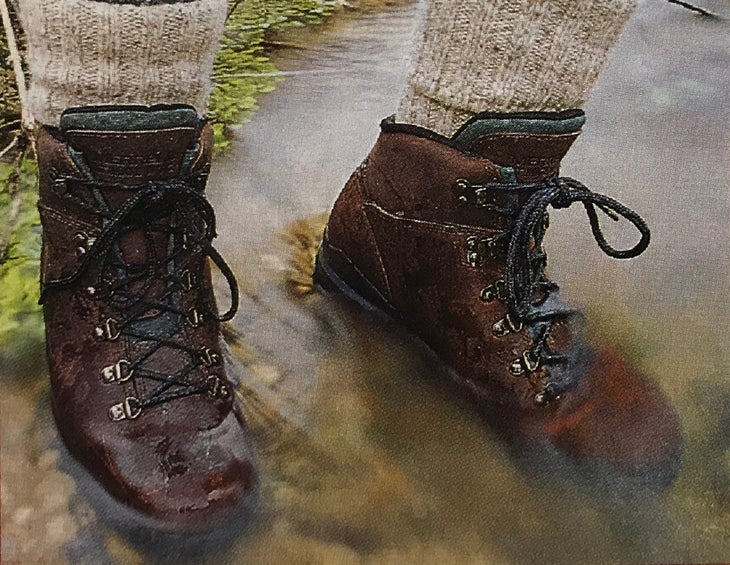 Merrell
Ultimate Boot
Merrell's new Ultimate trail boot might not be all its pretentious name implies, but it does epitomize a design trend we encourage—burly leather midweights that offer heavy-duty protection at a lightweight price ($140). The men's size 9.5 Ultimate we tested weigh just a bit more than 3 pounds.
On paper, the boots' detailing bespeaks a long, dry service life. The uppers are Prime Weathertuff waterproofed leather with no seams over the front and sides to leak. The boots have a seam-sealed waterproof/breathable liner, coated-Cordura tongue gusset, and nonwicking laces. Full rubber rands protect the vulnerable sole/upper junction and have a larger bonding surface to hold the two together.
You'll need to put in some moderate break-in time to soften these up or you may suffer the same consequences our overeager, red-shinned editor did. But once on the trail, the Ultimates proved as waterproof as rubber Wellies, as light as many throwaway fabric boots, and as tough as wicked old 5-pound wafflestompers. The blocky heel, resilient polyurethane midsoles, and aggressive treads amount to on-demand all-wheel drive.
If you're a hardcore mudder or incurable bushwhacker, you owe your feet Ultimate protection.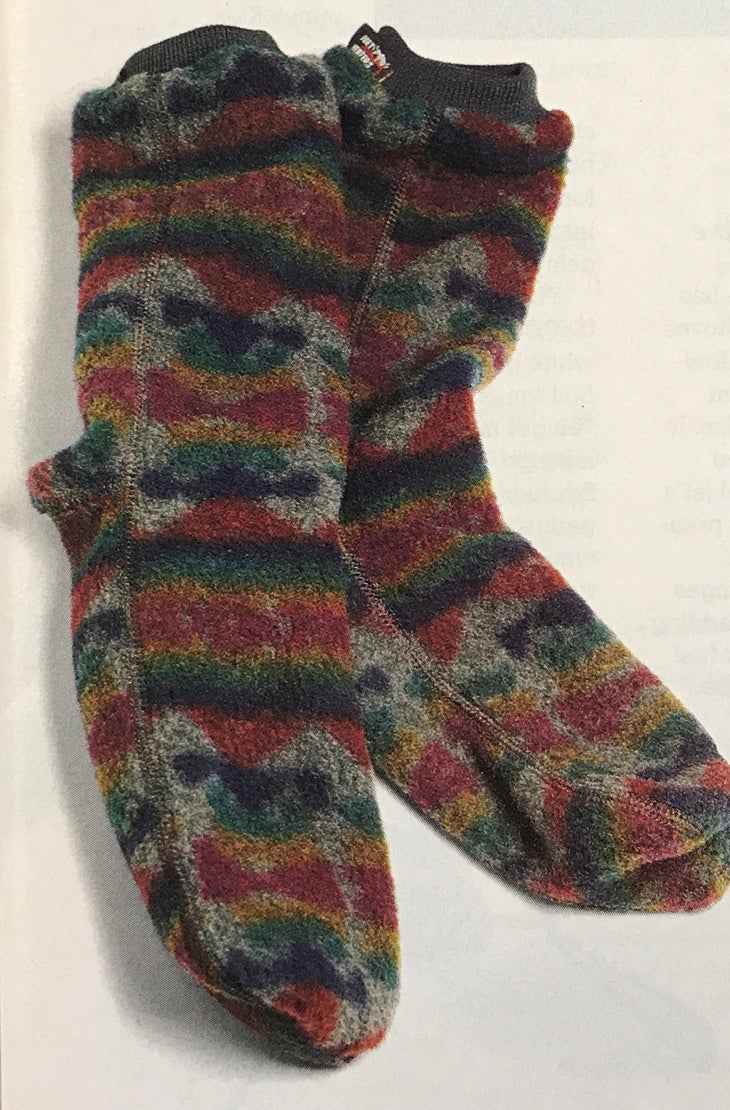 Wyoming Wear
Fleece Heaters Fleece Socks
Sometimes innovation isn't glamorous, but that doesn't make it less appreciated. Take wool socks, for instance. They inevitably end up wet and smelly, with feet to match. If you've ever tried to air-dry sodden socks, you know wool ones take about two days.
Wyoming Wear's Feet Heaters fleece socks have invaded one of wool's last bastions in outdoor wear. By sewing up snug-fitting fleece socks with flat seams instead of lumpy ones, Wyoming Wear turned sandal novelties into serious trail footwear. Feet Heaters come in three heights: low (about $11), midcut ($12), and high ($15), each with a ribbed knit top.
Take your pick from solid conservative colors or psycho prints.
These cushy, comfortable fleece socks have already helped one editor suppress blisters on his defective feet. Another found them the ideal prophylactic against prune-foot when his feet spent extended periods inside clammy rubber boots on a two-week paddle trip. Feet Heaters sound the death knell for wet wool socks. Now please, make them even thicker!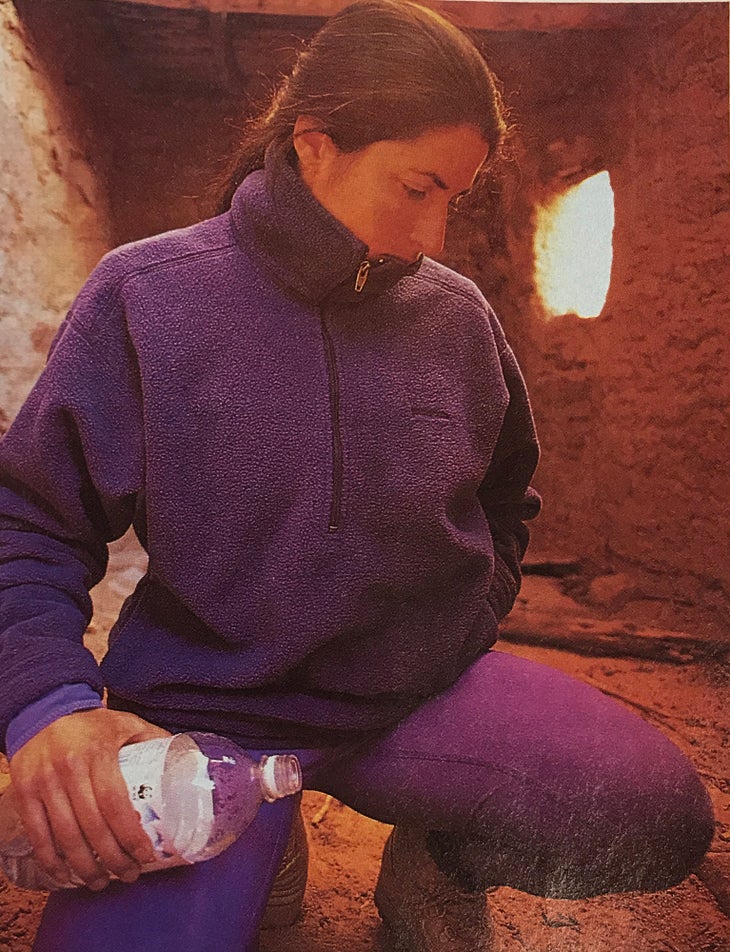 Patagonia
PCR Synchilla Sweater
Imagine hiking around the countryside clad in plastic soda pop bottles. Put on Patagonia's new PCR Synchilla Sweater and that's what you're wearing. PCR stands for Post Consumer Recycled, and in this case it applies to the fuzzy fleece that's made from old pop bottles-two dozen of the two-liter size, to be precise. The PCR fabric blends 80 percent recycled and 20 percent virgin polyester, purportedly reducing environmental impact at almost every manufacturing step. The result is a credible counterfeit of Patagonia's highly popular Synchilla fabric.
The fabric in our test PCR Sweater ($85) seems slightly stiffer than regular Synchilla, but it stood up to repeated wash/dry cycles with no pilling. When put through its paces, the pop-bottle fabric feels functionally identical to fleeces we've worn for years-light, stretchy, warm, and fast-drying. Otherwise, the PCR Sweater is a typically well thought out Patagonia pullover, with hand­ warmer front pockets, deep neck zipper, and stand-up chin-coddling collar.
Skeptics might counter that PCR fleece is still plastic that'll eventually end up in a landfill. Maybe so, but at least it builds a demand for recycled bottles. We predict that eco-fleece will dominate the market within a year or two.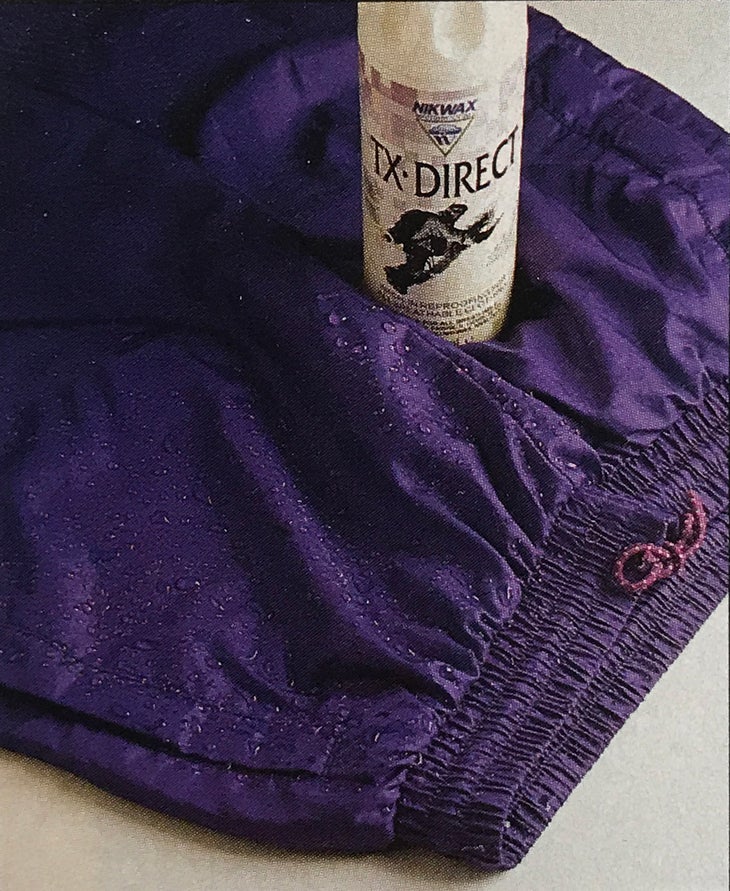 Nixwax
TX Direct Wash-in Rain Repellent
The year's big raingear innovation has nothing to do with miracle fabric. You pour it out of a bottle to make raingear you already own work better. It's a remarkable water-repellant treatment called TX Direct that's made by Nixwax, a well-established English company entering the U.S. market.
If you've ever hiked the rain-swept moors of England or Scotland, you understand why the Brits know weatherproofing. Whatever stormgear you wear, when the outer fabric's water repellency wears off, rain soaks the surface and you'll feel wet and miserable even if the fabric isn't actually leaking. Spray-on repellants help restore this crucial repellency but generally don't last long. TX Direct is a wash-in reprellant treatment that coats a garment evenly, remains effective after several washings, and doesn't affect the breathability of waterproof/breathable fabrics.
We tried it on old favorite stormwear sorely in need of repellant revival. We tossed two rainsuits into the washer, dumped in one bottle ($8.95) of TX Direct, then ran through a warm dryer. Afterward, rain beaded up and rain off like on a newly waxed car and was still beading up several trips and four wash 'n' dry cycles later. Using a nondetergent soap like Woolite or Ivory Flakes helps the repellant last longer.
Nixwax offers a similar treatment called Polar Proof for fleece or wool garments. While it didn't quite turn fleece sweaters into Gore-Tex jackets, the garments did stay drier longer and air-dried faster.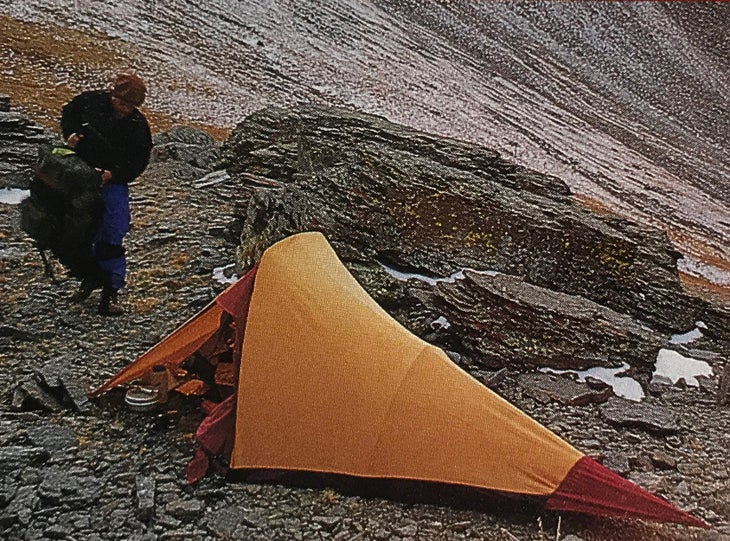 Garuda
Atman Tent
Seattle-based Garuda Mountaineering is bringing about a resurgence in single-wall tents. The Atman ($399) is a wedgy, two-arch hoop tent designed for serious four-season soloists. Ventilation, wind-resistance, and interior space are all superior, offering prone and sit-up room for 6-footers in a 4-pound bundle. A fitted nylon ground cloth comes standard but adds another half pound.
Garuda's three-layer canopy fabric is strong, waterproof, and stretch-resistant. Rip­ stop nylon backed with a monolithic, hydrophilic coating won't let precipitation in but lets the occupant's vaporous emissions out. A textured interior lining protects the coat­ ing and distributes condensation.
Like the rest of Garuda's designs, the Atman is light, compact, easily pitched, and tough features we get excited about while getting pound­ ed on windy, 13,000- foot passes. Garuda offers six models of one- and two-person tents. The company is just branching into larger designs. For a two-person shelter, try the 5-pound, 3- ounce Kaja.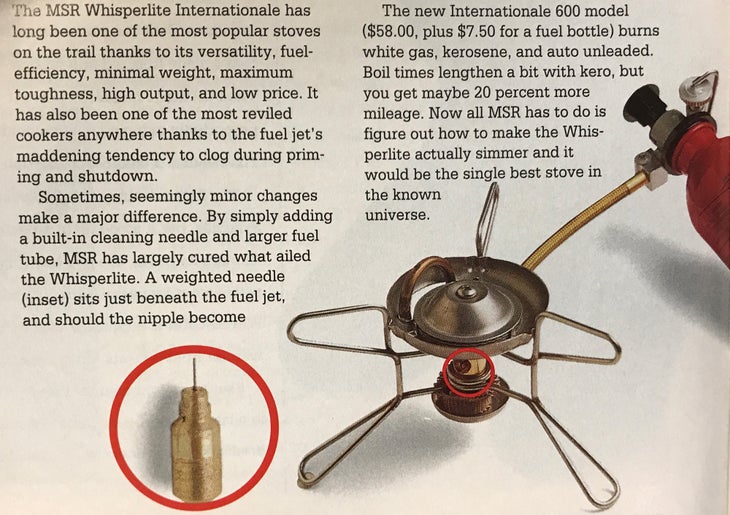 Whisperlite Stove
Self cleaning
The MSR Whisperlite Internationale has long been one of the most popular stoves on the trail thanks to its versatility, fuel­ efficiency, minimal weight, maximum toughness, high output, and low price. It has also been one of the most reviled, cookers anywhere thanks to the fuel jet's maddening tendency to clog during prim­ing and shutdown. Sometimes, seemingly minor changes make a major difference. By simply adding a built-in cleaning needle and larger fuel tube, MSR has largely cured what ailed the Whisperlite. A weighted needle (inset) sits just beneath the fuel jet, and should the nipple become clogged all you need to do is flip the burner upside down and and shake it. This forces carbon out of the stove, not back into it so you can quickly return without delay to your meal. 
The new Internationale 600 model ($58.00, plus $7.50 for a fuel bottle) burns white gas, kerosene, and auto unleaded. Boil times lengthen a bit with kero, but you get maybe 20 percent more mileage. Now all MSR has to do is figure out how to make the Whis­perlite actually simmer and it would be the single best stove in the known universe.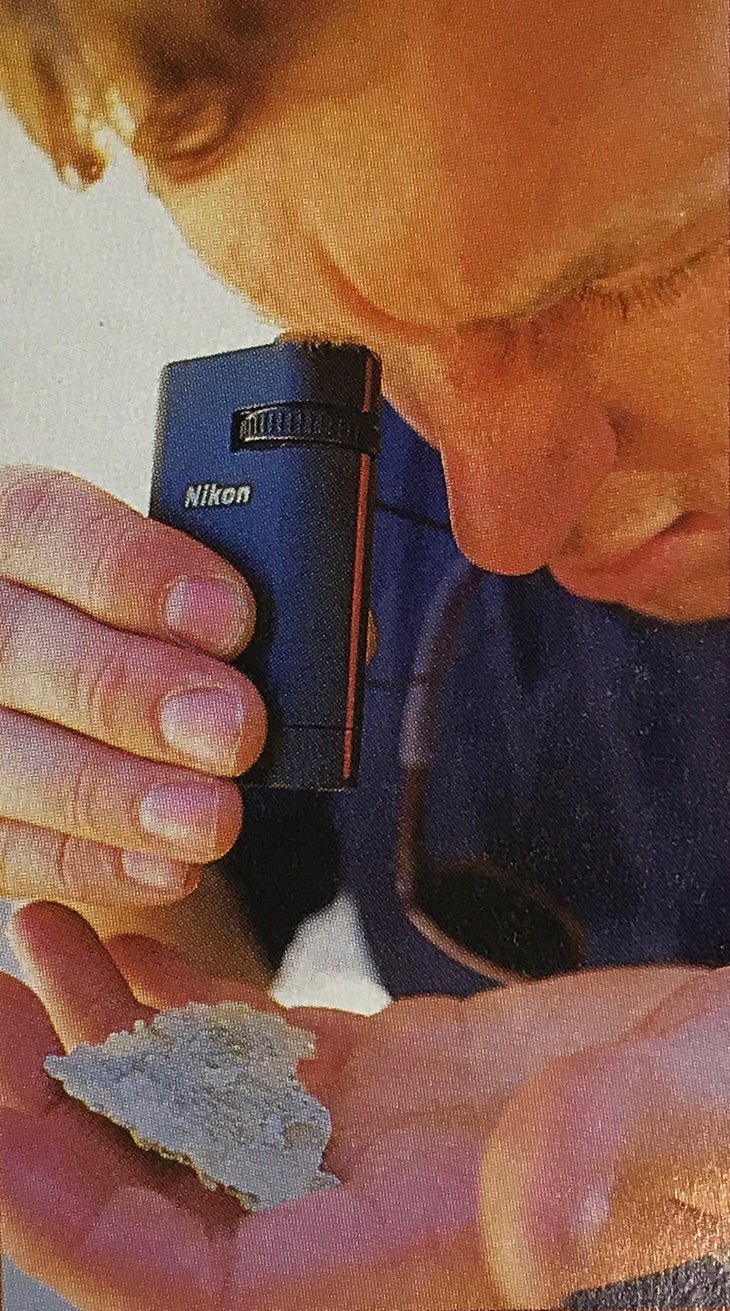 Nikon 
6 x 15 Monocular
Nikon's #7884 6×15 Monocular weighs less than 2 ounces, yet packs a 6X mini telescope and a 9X magnifier into a cigarette-lighter­ size package. It's just the ticket when you can't justify the extra weight of a pair of binoculars.
The Monocular's telescopic power is a little on the short side (most binocu­lars run from 7X to lOX), but its mini­ mum focusing distance of 6 feet also lets you look into beehives without getting stung. By flipping the auxiliary objective lens around, we could peer down anthills and examine mouse tracks from 8 inches away.
With the monocular in your pocket, every hike promises to become a continuous learning experience. Whether it was squirrel toothmarks oµ a pinecone, elk grazing in a distant valley, or patterns on a fuzzy cater­ pillar, this unobtrusive little gadget drew it all in. "Perfect for hiking with kids!" pro­ claimed every parent who saw it.
Considering its small objective lens, the Nikon monocular delivers excellent contrast and reasonable sharpness. Unfortunately, nice optics mean high price (about $147).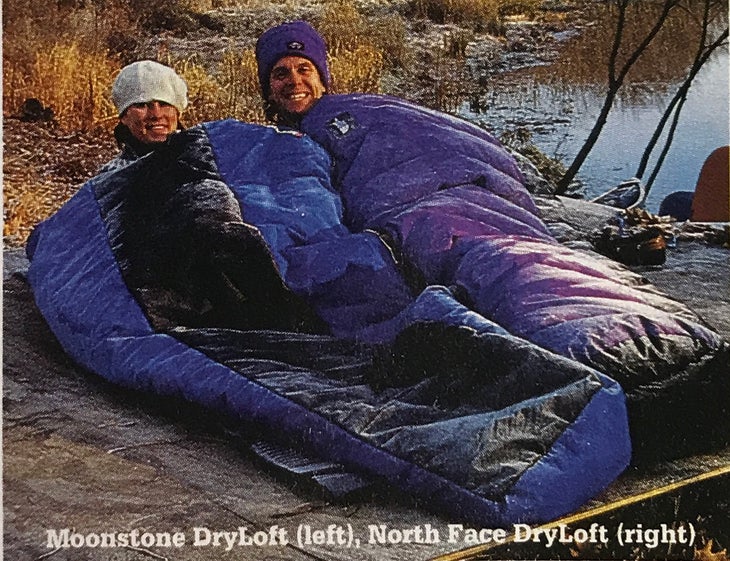 The North Face Moonstone
DryLoft-Shelled Bags
Ask anyone who owns a Gore-Tex sleeping bag and you'll find out how the weather­ proof shell fabric helps keep insulation dry in a cold, wet world. But Gore-Tex breathability sometimes comes up short in cold conditions, where insulation can get wetter from condensation (perspiration and wet clothing) than from precipitation.
W.L. Gore's new DryLoft shell fabric is roughly twice as breathable as Gore-Tex, allowing more water vapor to escape for less condensation inside the bag. Although the DryLoft fabric isn't quite as waterproof as Gore-Tex, it doesn't matter in sleeping bags since their seams can't be ealed anyway.
Though most makers of Gore-Tex bags are switching to the new materi­ al, we'd like to single out two especially attractive DryLoft sleepers.
The North Face's DryLoft/down bags share a distinctive wraparound side baffle that lets the hood loft fully, they have a terrific zipper draft flap, and contain 700-fill fluff in an area usually prone to cold spots. Our test bag, a 5°F-rated Foxfire DL, isn't cheap ($450), but its overall quality stacks up against competitors that cost considerably more. After an open bivouac at about 10°F, one tester awoke toasty despite thick frost coating the Frostfire.
Gore-Tex/synthetic bags have a reputation for providing all-weather security but are often too stuffy for comfort. That's not a problem with Moonstone's DryLoft/Lite Loft synthetic sleepers. After logging a bunch of nights in the new DryLoft Optima ($290), we're pleased to report that the 10°F rating seems accurate and that it's quite comfortable in warmer -places, such as a cabin or crowded hut. The Optima shell is sewn with so few seams it's almost as weather-worthy as some bivouac sacks.