Editors' Choice 1993: The Best Backpacking Gear of the Year
To find out where marketing hype ends and true excellence begins, we trolled the aisles at trade shows last fall (where new gear debuts) and drew up a list of likely candidates. Then we took samples into the woods and beat the heck out of them. When the dust settled, the survivors made it onto this year's best-of-the-breed list.
Heading out the door? Read this article on the new Outside+ app available now on iOS devices for members! Download the app.
There are three things you can count on as the seasons change: the leaves will turn, the wildflowers will bloom, and outdoor manufacturers will unfold new lines of equipment. But too often the "all new" gear is basically the same old stuff with a splash of color and re-fiddled fiddly bits, which doesn't begin to satisfy the insatiable appetites of our staff gear heads. We wanted to ferret out the genuinely new and different equipment, the kind that breaks the existing rules of the marketplace and offers real people-that's you-better performance in the backcountry.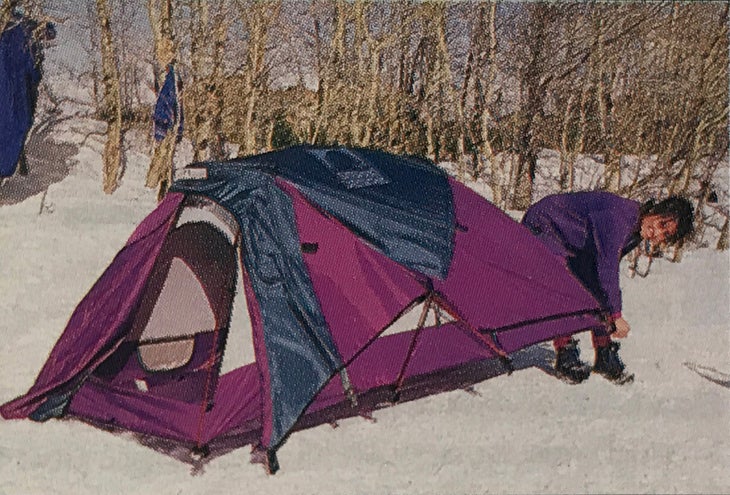 Sierra Designs Tiros Tents
The trouble with even the most storm-worthy tents is that they're even­tually laid low by sunny days. After as few as two months' use at high alti­tude, UV radiation tends to make tent flies brittle. Sierra Designs takes a long­ overdue step forward with its Pro Series tents, employing silicon elastomer-coated flies for what the compa­ny claims is a 60 percent increase in UV resistance. Unfortunately, the fab­ric's fire-retardancy isn't up to some state regulations, which keeps the tents out of California, New York, Mas­sachusetts and New Jersey.
When SD brought out the standard Tiros I ($375) last year, we promptly bundled one down to Bolivia for six weeks of abuse in the Andes, the Ama­zon, and places in between. Our head gear head concluded the Tiros I was the best little mountain tent he'd ever used, but apparently it wasn't good enough for Sierra Designs.
Enter the Tiros Pro ($550), a tent designed to be lived in, literally, month after month. Although only a few ounces heavier than the Tiros I, the Pro boasts outstanding improvements to the fly and poles. In addition to its anti­ UV coating, the Pro fly is armed for hazardous duty with nylon-web rein­forcements sewn along the seams and perimeter. The poles are Easton E9 alloy tubes, .380″ and .433″ in diameter versus the .34011 standard on most four­ season tents. Mountain winds have no chance of snapping these poles.
Polartec 200M
Ever notice how often the weather is too nippy for polypro alone, but too warm for full-fledged fleece? The folks at Malden Mills have the answer. It's called Polartec 200M, a snuggly-soft fabric that's best described as technical chamois cloth. The warmth-to-weight ratio of 200M has to be worn to be believed. Lowe Alpine recently debuted the first 200M garments available. One editor tried Lowe's 200M MicroFleece Zip Neck and Pants ($75 and $65), then growled at other staffers who wanted to sample them.
Lowe's MicroFleece pieces are tough, tightly woven, and as soft as soft gets. When they get wet, just wring 'em out and put 'em back on because your body heat will soon finish the job. There's nothing fancy about these gar­ments, and we'd rather be wearing them in the backcountry than almost anything else.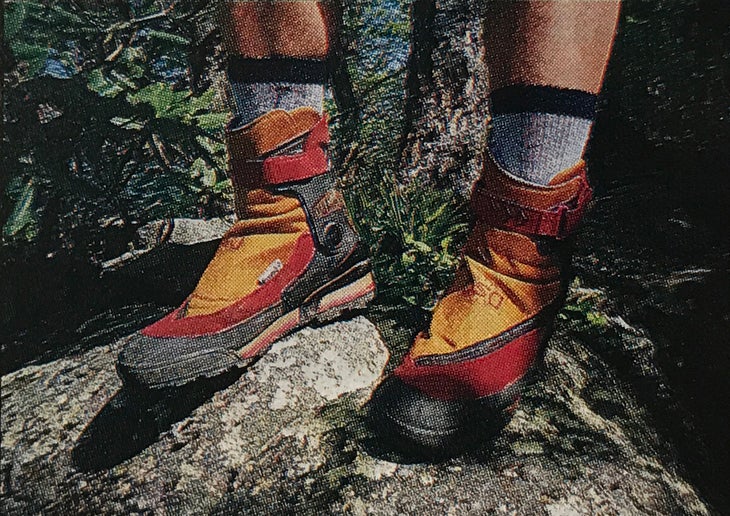 Salomon Adventure 9 Trek
We've had a hard time getting a few testers to return their Salomon Adven­ture 9 Trek boots; always an encour­aging sign. The A9s' feathery weight and super-supportive external ankle cuffs are perfect for steadying ankles. Granted, the Salomons look like some­ thing straight out of the punk skateboarder scene, but our motto is func­tion over fashion. This $199 boot deliv­ers on both accounts.
Making extensive use of plastic embues, the A9 Trek has many of the best qualities of heavy leather hikers at roughly half the weight. (The A9 also comes in a Mountain version with a stiffer, crampon-compatible sole.) The most obvious plastrickery appears in the hinged exoskeletal ankle cuff, but closer inspection reveals a stout plastic heel counter and a stiff plastic midsole underfoot. The only place you'll find more lateral stability is in a plaster cast.
Our only functional complaint con­cerns the A9's zippered front flap, which leaked persistently on our early­ production test samples. Current ver­sions address the problem with sealed inside seams. That said, the Salomons are built for abuse. These aren't your casual trail slippers; they're talus-jump­ing, glacier-glissading, ridge-running, volcano-clambering, dirt kickin', go­ anywhere boots for mountain-climbing space cowboys.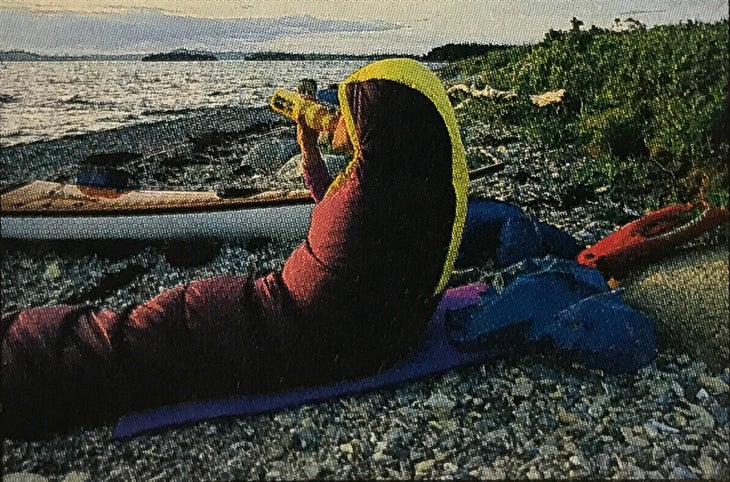 Polarguard HY
The makers of the synthetic fill found in sleeping bags are closing in on the elusive performance of prime goose down. After a season of back­country nights with a half-dozen Lite Loft and Primaloft bags, and somewhat less experience with Polarguard HY, we can say that the new synfills signifi­cantly narrow the weight- and space­ efficiency gaps, but aren't much closer to down's longevity. Then again, humans have only been working on this insulation thing for a few years, while Mother Nature took a bit longer to perfect her product.
After editors subjected themselves to several sopping-wet bivouacs and six weeks cycling across sodden northern Europe, we found that Primaloft wins as the best wet-weather insulator. Three Lite Loft bags came along on BACKPACKER'S rain-plagued Appalachian Trail staff trip. All worked fine when soaked, although they were slower to dry than Primaloft bags. Both fills, how­ever, seem to lose loft about as fast as older synthetics. After two or three hard seasons, expect to lose some warmth.
Our initial impression of Polarguard HY is that it's warm and considerably less bulky than original Polarguard. We're also optimistic about HV's life­ span because of its continuous fiber structure; Primaloft and Lite Loft are made up of short fibers that can break down sooner. As for Microloft, it's so new we've barely had a chance to try it, much less draw conclusions.
Manufacturers have had varying degrees of difficulty adapting to these new fills, but they're gradually ironing out the problems. Three of the best executed new-wave synthetic sleepers we've found are: the Caribou Winter (Primaloft, rated to -5F, about $250), the Moonstone Optima (Lite Loft, rated to 15F, $210-$220), and The North Face Cat's Meow HY (Polarguard HY, rated to +20F, $149-$159).
Gregory Minaret
Gregory's new Summit Series packs swaddle you with baby-bottom-smooth molded foam that eliminates the prob­lem of fabric bunching up beneath weightbearing surfaces. The sleek sus­pension parts look outwardly simple, but each component involves complex, costly mold making.
We tested the Minaret (about $189), which comes in three 3,000-cubic-inch sizes. The sack itself is your basic carefully detailed single-compartment top­ loader. But its molded-foam suspension leaves the competition way behind. Sensuously curved shoulder straps swoop around your neck with nary a hint of wrinkles. The segmented waist­ belt cradles hip bones like a cus­tomized orthopedic device. The back panel's broad contact area offers ster­ling load control, while chevron-shaped molded channels encourage ample air circulation. When you're on the move in rough terrain, a sense of solidity and security underlies the cushy ride. It's the backcountry equivalent of cruising a twisty two-lane in a Mercedes.
Marmot Microclimate
Two of our editors have long trea­sured their shelled-polypropylene wind pants originally made for cycling. The versatile but simple combination of wicking fabric and wind-shedding shell consistently bumped higher-tech gar­ments out of their packs. And this was in spite of the pants being somewhat stuffy due to a lack of venting.
Marmot's new Microclimate layering gear effectively turns underwear into outerwear by applying shell technology to each component, while allowing ventilation through coordinated vents in every layer. A light, breathable shell gives each of the layers more versatility on its own, and the vents let you blow off steam even when you're wearing all of them. Marmot maintains that shelled layers let you fine-tune your clothes to prevailing conditions better than the conventional system of separate wick­ing, insulating, and shell components.
Based on long experience with our beloved cycling wind pants and brief field trials of Microclimate gear, it appears that Marmot is onto something here. Their DriClime Windshirt and Windpants ($99 each) transport perspi­ration outward virtually unimpeded by the light microfiber shell. We found the DriClime gear warm and weatherproof enough to wear alone in chilly-misty drizzle. When that wasn't enough, we pulled on the Alpinist Lite Loft Sweater ($169), with vents that line up precisely with those in the DriClime layers. This zip-front serves nicely as a windproof outer jacket or as a useful middle layer that's lighter and less bulky than fleece of equal warmth.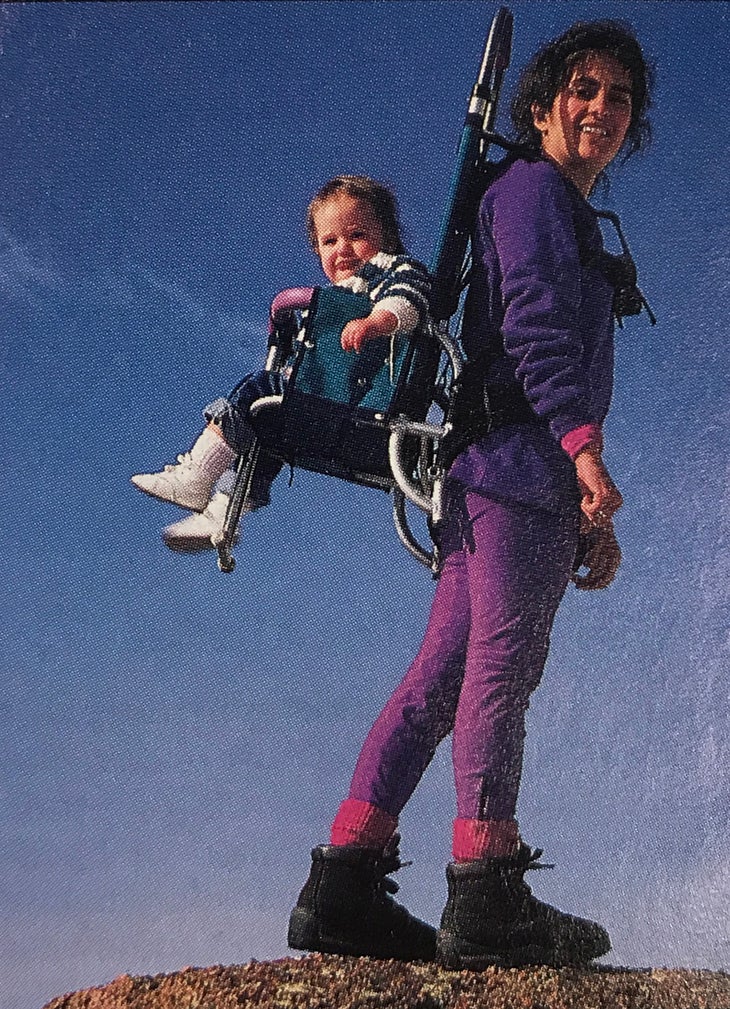 Stroller-Pack Expedition
If you want to take a young child backpacking, you're going to have to carry him (or her). You can find plenty of kid carriers, but what are you supposed to do with your pack? We found a pack that carries a child and adult gear: the Stroller-Pack Expedition. Th price isn't exactly cheap ($375), but it's a good investment since it extends fami­ly life into the backcountry.
The Expedition resembles a beefy, high-tech frame-pack with a highchair (minus legs) welded to the back. The acrylic canvas seat hangs from a U­ shaped bend of tubing, with a padded rollbar to hold the child in place. An aluminum leg extends down from the highchair. Yet another U-shaped bar fastens above the child's head to hold a sun-shade or detachable rainfly.
Because this transportation innova­tion embodies a sturdy frame-pack, you can lash on all your gear (plus dispos­able diapers and baby powder and chewable plastic toys) both above and below Baby. The Expedition's vertically adjustable, well-stabilized suspension is designed to carry up to 100 pounds. Don't laugh because when you finally finish lashing all of the kid gear, your gear, plus Baby onto this pack, you'd better have a strong back and legs.
The saving grace is that the Stroller­ Pack comes with wheels. They plug on to the frame's bottom crossmember while the top bar telescopes into a han­dle. If the trail isn't too rough, you can just stroll along.
Wonderful Widgets
• Our equipment editor swears by his Cascade Designs Therm-A-Rest Deluxe Limited Edition pad. The air­ channel-foam inflatable mat is admitted­ly weighty (2 ½ pounds) and expensive (about $100 for the full length), but those are small prices to pay for cushy nights on lumpy sites. And, wonder of wonders, the LE's grippy brushed­ polyester fabric doesn't let your sleep­ing bag slither off.
• Sometimes a truly significant prod­uct doesn't look so impressive at first glance, Take seam-sealer, for instance. It's smelly, messy, and sticks to every­thing but your rainfly, right? Not if it's Seam-Grip, a new super-flexible ure­thane concoction from McNett Corpora­tion that clings tenaciously to virtually everything, especially rainflies. It also repairs chipmunk chew-holes in packs, plugs pinholes in sleeping pads, and stops weepy seams on hiking boots.
• Moss extended its line of artful tarps with the ljeptawing, a seven­ pointed, two-poled arch that makes your basic flat tarp look downright primitive. Shelter minimalists will love lounging under its 4 ½ feet of head­ room and 65 square feet of shade. For $149, the Hepta effectively doubles the sheltered footprint of any tent with a curved end arch or vestibule.