Does Camp Stove Fuel Go Bad, and What Do I Do With My Old Gas?
While rummaging around my basement I found a old can of stove fuel. Does this stuff spoil?
Heading out the door? Read this article on the new Outside+ app available now on iOS devices for members! Download the app.
No one knows gear like Backpacker. We're sharing this story for free; get more expert advice on buying, using, and maintaining your equipment by signing up for Outside+. Members get access to our full archive of stories, skills, trips, and gear reviews. You also get access to all of our other titles, like Ski, Climbing, Yoga Journal, Triathlete, and more. Sign up for Outside+ today!
While rummaging around my basement I found a can of stove fuel. Does this stuff go bad like regular gasoline? —Don Turcotte, Dayville, CT
If you're talking about sealed butane-mix canisters, no, they won't go bad. But if you're talking about a jug of white gas, that's another story. Once opened, white gas should generally be used within a few months.
To understand why, we have to talk about chemistry. (Don't worry, we'll keep it simple.) Like the gasoline you put in your car, white gas is largely a mixture of different hydrocarbons—compounds that are formed from the elements carbon and hydrogen. These hydrocarbons are highly flammable, making them ideal for powering your stove. Unfortunately, when they're exposed to air, many of them react readily with oxygen, leaving behind stale, thickened fuel that can clog up your stove's lines and burners. So while you can store an unopened can of fuel for years, once you crack the seal, its shelf life drops dramatically.
I confess that I've used the very old dregs of rusty cans left in my garage on more than one occasion. It works, but it gunks up your stove much faster, requiring more frequent cleaning and on-the-ball maintenance. Bottom line: if you value your stove and your time (cause it takes time to dissect and clean your stove), ditch the old stuff and spring for a new bottle (you can get a gallon for about 5 bucks at discount chains).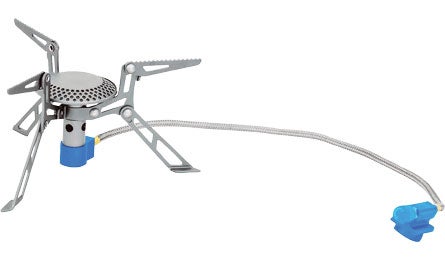 But it begs the question: what to do with the old stuff? It's highly flammable, toxic, and not the type of stuff you want to dump down your pipes, into your bed of pansies, or the Grand Canyon. I know plenty of folks who simply drain it into their car's fuel tanks. As long as there's plenty of gas already in the tank to mix it with, it probably won't create any problems. (I'm not suggesting you do this, so don't blame me if your motor starts crapping out). Your best bet is to bring it to either a gas station or your department of public works, both of whom should have tanks that you can drain your can into.
If your problem is that you have a bunch of old, almost-empty canisters—the green Coleman ones or the lightweight ones made for us on backpacking trips—getting rid of them is even easier Just recycle them: Most fuel canisters are steel and can be recycled along with your Dr. Pepper cans. Burn off any residual fuel (this is a great chance to practice that complicated camp recipe you've been wanting to try) and puncture the empty canisters before recycling. (We crush spent canisters with a large rock.) In Boulder, Burlington, and other eco-conscious towns, you can just toss empty, punctured canisters into your recycle bin. Call your local Public Works Department and ask about rules in your area.