How to Care for Quality Raingear
In the field, stuff happens, and knowing how to cope can be the difference between a great trip and a miserable one.
Heading out the door? Read this article on the new Outside+ app available now on iOS devices for members! Download the app.
Your rainwear should last many years, but only if you know how to keep it working properly. Follow these tips, from Kristin Hostetter's "Complete Guide to Outdoor Gear Maintenance and Repair: Step-by-Step Techniques to Maximize Performance and Save Money," to keep your rainwear finely tuned, properly stored, and operating at its best.
Nylon. Polyester. Wool. Where would the outdoor adventurer be without these (and so many other) wonder fabrics? We'd be cold, wet, and miserable, that's where. Trouble is, these fabrics aren't invincible. Rips happen, and so do holes, seam failures, and leaks. Plus, dirt, sweat, campfire smoke, sunscreen, bug repellent, single malt scotch, and beef stroganoff can inevitably build up on our rainwear and reduce its effectiveness. Keep all your apparel in tiptop shape by knowing when and how to wash.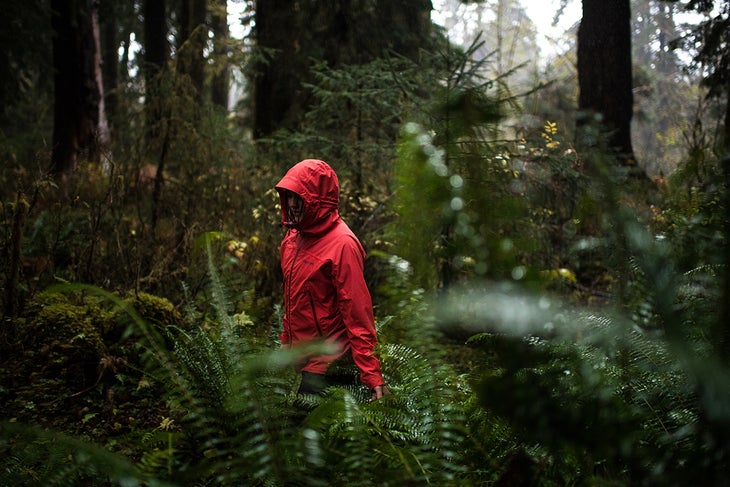 Prevent & Maintain
Store it dry. Mold is a mortal enemy of waterproof coatings and fabrics. Allow your shell to fully dry before packing into a pack, storage bin, or closet with minimal air circulation.
Don't dry in the sun. UV radiation is as lethal as mold in terms of fabric degradation. Avoid hanging your shell in direct sunlight whenever possible. 
Wash it once per season. Using a gentle powder detergent or, better yet, specially formulated soap such as Nikwax Tech Wash. It won't leave behind residue the same way your normal household detergent will. Wash on the delicate cycle. 
Refresh the DWR. Use Nikwax TX.Direct Wash-In after a big (read: dirty) trip, or when water stops beading. Some jackets, like Marmot's EVODry, never need the DWR reapplied. 
Don't skip the dryer. A spin on low heat will revive the DWR on the face fabric and result in better beading.
Avoid the urge to slap on duct tape out in the field. Yes, it will work, and it will last a while. But duct tape will leave a residue that's hard to get off when you want to workshop the piece at home for a more permanent fix. 
Keep waterproof zippers well lubed. Zip Care is a liquid lubricant and cleaner in one, and will help your zipper slide more easily. 
Fix:
Repair small holes. NoSo Puffy Patches are perfect for insulators. They come in a bounty of shapes and colors that add a little more personality than duct tape. 
Learn to sew. Your best bet at long-term fixes to softshells and non-waterproof fabrics is to sew them up, carefully. Learn a few basic stitches like the whip stitch for all-purpose fixes, a running stitch for seams that won't be tensioned, and a back stitch for patches that will see quite a bit of stress. 
Spot treat key spots. Shoulders, front zippers, and cuffs tend to wet out faster than others. Apply ReviveX Air Dry Water Repellent Spray to problem areas before tossing it in the dryer.
Patch holes. Clean a hole with rubbing alcohol and then hold a piece of tape in place under it. "Paint" over the hole with Seam Grip, and let it cure for 8 hours before removing your makeshift backing.
Tape tears. For rips and tears, snip excess threads, clean the area with rubbing alcohol, and apply Tenacious Tape Repair Tape or Tear-Aid Fabric Repair patch on the inside of the garment extending at least ¼ inch beyond each side of the tear. Paint over the rip with Seam Grip on the outside of the jacket, ¼ inch beyond each end of the tear. If the jacket has a liner, line up the fabric edges as closely as possible before applying pressure. 
Stay dry in the wettest conditions with Marmot's EVODry – rainwear reinvented at the molecular level. www.rei.com