Camp Chef Outdoor Camp Oven 2 Burner Range and Stove
Sidewalk campouts will never be the same.
Heading out the door? Read this article on the new Outside+ app available now on iOS devices for members! Download the app.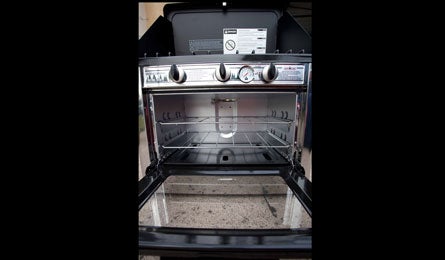 Behold a full-on stainless steel portable oven, complete with two racks for 9×13 baking pans, two matchless burners, and it's all powered by a simple screw-in propane canister. Brilliant.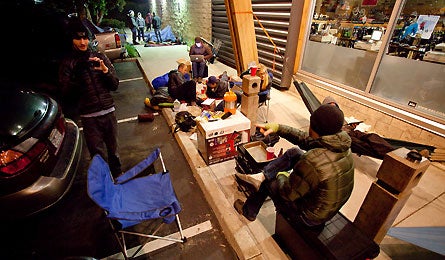 Tailgating for gear wonks! Most people at the REI sale think they've seen it all, but the Camp Chef oven attracted a steady stream of "ooooh's, "ahhhh's," and "are you serious?!?!"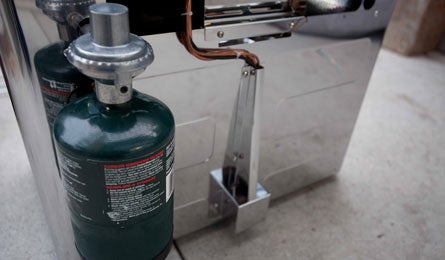 Fueling is easy and familiar. Uncork the propane bottle, screw it into the back of the oven, and you're good to go. There is an adapter for a bulk tank, but the 1 lb bottle had plenty of gas for dinner and breakfast.
Internal temp was more difficult to manage than an at-home oven, but as long as you watched the gauge closely, you could crack the oven door to keep it from getting too hot. BONUS: Whoever watched the door got first dibs on the cookies.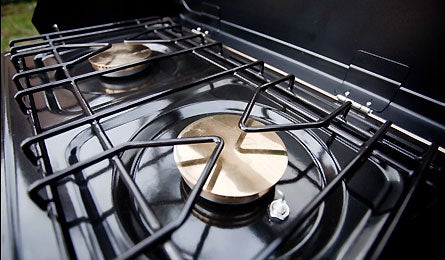 The burners were as dependable as you could ask. Even the auto-igniters worked on the first go, which was more of a luxury than I expected. When boiling water for a batch of mac & cheese, it got the H2O up to cooking temp just as fast as at home.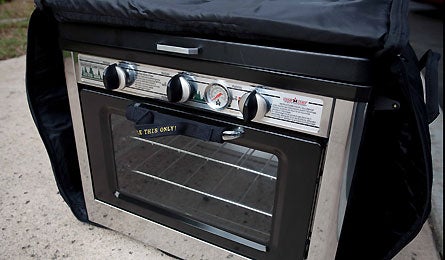 It all folds up into a (relatively) small 35 lb package, which is a pretty impressive feat considering what you get. You can purchase a carrying/protective case (pictured) to make transport a bit easier.
Bottom Line: We had nothing but happy customers!
The Specs:
$278 (although you can find it for cheaper on the internet)
35 lbs
One size
campchef.com
Testing Brilliance! To put Camp Chef's admittedly hefty Outdoor Camp Oven 2 Burner Range and Stove through its paces, our tester and his partners in crime set up camp outside an REI store in anticipation of the quarterly "Used Gear Sale" and provided a sampling of baked goods for the other dedicated gear nuts. Photos and text by Will Rochfort.