Bugs getting into your tent? And other common questions.
Keep up with your buddies on the trail, backpack on the cheap, keep pesky bugs out of your tent, and stay on track with your weight loss goals without bonking mid-trip.
Heading out the door? Read this article on the new Outside+ app available now on iOS devices for members! Download the app.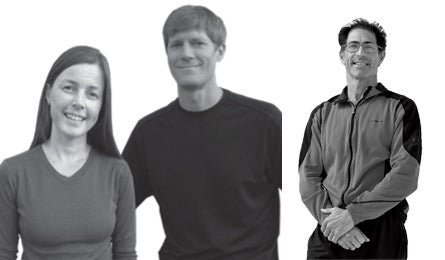 Sheri & Randy Propster, David Clair (Photo Courtesy of REI and Peter Wayne)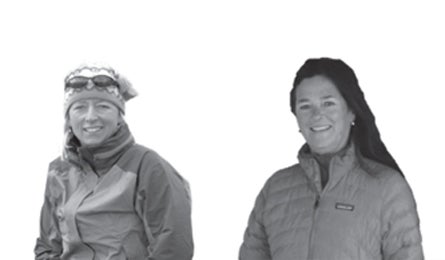 Kristin Hostetter and Claudia Pearson (Photo by Ben Fullerton and Peter Wayne)
Fitness

David Clair

Founder, Fitness For Living
Problem

Lagging behind my buddies on the trail
"Cardiovascular endurance is often the weak point for slower hikers. Improve by adding these stamina-building exercises to your routine.

» Endurance running Start with a 30-minute jog three times a week, adding five to 10 minutes at a time as it gets easier. For extra strength training, add a set of push-ups or a section of bounding strides every five minutes.

» Interval training Do the exercises below for four minutes each, following this cycle: 20 seconds of high-intensity work, 10 seconds of rest. Start with two days a week and add another as you progress. Squat jumps Repeatedly jump as high as you can, landing into a squat. Advanced: Add an overhead press with a medicine ball to each leap. Wall jump taps Stand facing a wall. Jump quickly and repeatedly, touching a spot 6 to 18 inches above your outstretched hands."

Planning

Sheri & Randy Propster

BACKPACKER Get Out More team
Problem

Hiking a lot (good), but spending too much on trips (bad)
"One of the simplest ways to save: Partner up with other backpackers. As a group, you'll be able to purchase food and fuel in bulk and share costs like car travel and park fees. The night before your departure, skip the hotel and sleep near the trailhead—some national parks (like Yosemite) even maintain dirt-cheap backpacker camps. Resist the temptation to overspend at bars and restaurants, and avoid unfamiliar (and potentially pricey) grocery stores by shopping at home for the best deals. Finally, turn off all nonessential power to your house before departure, including your water heater, air conditioner, computers, lights, and clocks. If you're gone for a week or more, the savings in your monthly utilities bill will help offset the total cost of your backcountry trip."



Gear Repair

Kristin Hostetter

BACKPACKER Gear Editor
Problem

Bugs getting into my tent
"The most common cause is simply leaving your tent a bit unzipped—check your doors. If that's not the issue, look for tears in the walls. For nylon, place a Tear-Aid Type A patch ($10; tear-aid.com) on the inside of the tent wall (A); use SilNet (for siliconized nylon; $7; mcnett.com) or Seam Grip (for polyurethane-coated nylon; $7; mcnett.com) to reinforce the outside (B). For mesh, place a mesh patch from MSR's Fabric Repair Kit ($20; cascadedesigns.com) on either side of the wall, adhesive to adhesive, then seal the perimeter with Seam Grip for extra security."





Nutrition

Claudia Pearson

NOLS Rations Manager
Problem

Trying to lose weight, but don't want to bonk on the trail
"Backcountry travel requires physical stamina and high-stakes decision-making, both of which are tough on a restrictive diet. Even if you eat normally (usually between 2,000 and 2,500 calories a day without exercising, depending on your gender and metabolism), the extra activity means you'll likely lose weight if you're hiking four or more hours daily. So instead of counting calories, focus on eating as much nutritious food (minimally processed, low-fat, low-sugar) as you need to maintain your activity level. A carb- and protein-rich breakfast like oatmeal with nuts will give you a boost and stave off cravings. Keep your energy levels high by eating six small meals throughout the day. Snack if you notice signs of dropping blood sugar like dizziness, fatigue, or irritability."