The Best Ultralight Packs of 2018
Cut weight, not comfort, with the year's best new lightweight packs.
Heading out the door? Read this article on the new Outside+ app available now on iOS devices for members! Download the app.
Gossamer Gear Murmur 36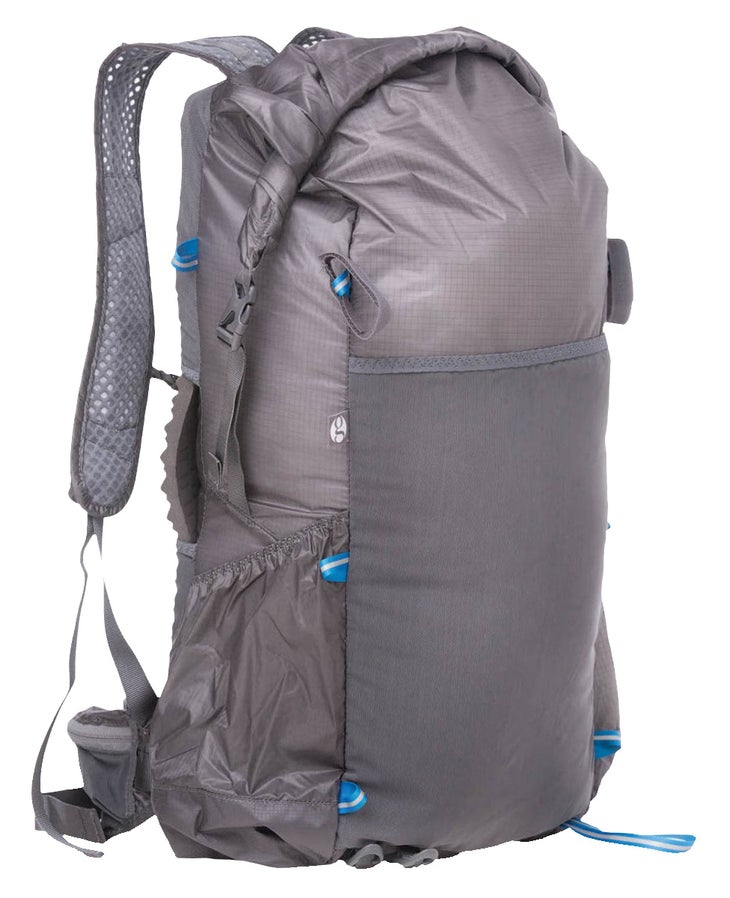 Our take If your weight-saving efforts only start with cutting your toothbrush in half, this 8-ounce pack is for you. "I've carved my backpacking kit down to just the essentials, and that's why I love the Murmur: It has done the same," one tester says. The pack easily fit her stove, pad, sleeping bag, food, and bivy on a four-day trek near Lake Louise, Alberta. Although there's no framesheet (the Murmur has just a foam backpanel and is susceptible to barreling), it carries relatively well: Our tester comfortably toted 20 pounds up 11,230-foot Mt. Lefroy .
The details Like the 2018 Editors' Choice Award-winning Mariposa 60, the Murmur promotes accessibility on the move. Two mesh side pockets each stash 32-ounce bottles, and 11 webbing rings hold quick-access items like gloves and sunglasses. (A stretchy front pocket fits a tarp and rain gear.) Although it weighs less than a can of soup, the Murmur is tough: Its 30-denier ripstop nylon body held up over 40 outings, including a trek through Washington's Enchantment Lakes. "I plowed through riots of blackberry vines, but the pack never ripped," one tester says. Bummer: No compression straps, so the packbag flops around when it's not full.
Trail cred "I lined the inside of the packbag with my foam sleeping pad for extra structure and support, which made carrying my load easier," said one tester after a three-day hike in Arizona's Red Rock Secret Canyon.
$160; 8.2 oz.; one size; 36 liters; Buy Gossamer Gear Murmur 36
Gregory Optic 48/Octal 45 (women's)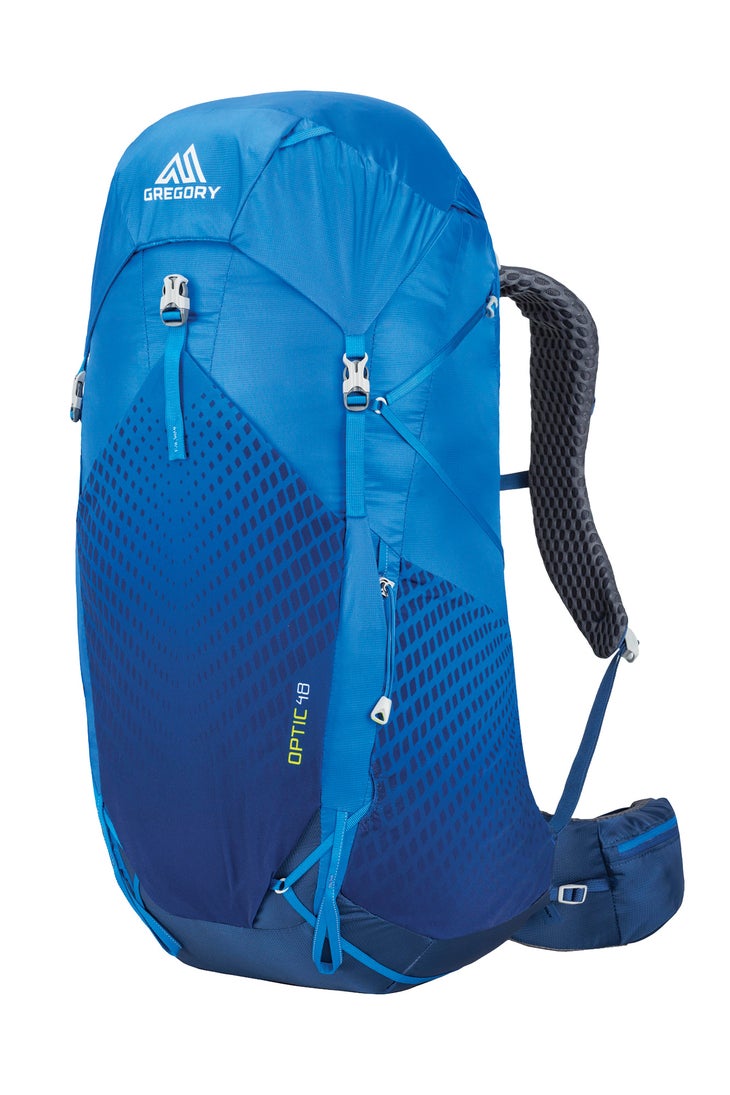 Our take Many ultralight packs skimp on the suspension to cut weight, but the Optic bucks that trend. "Even when I was carrying 40 pounds up narrow switchbacks, this pack offered great support and never felt overmatched," one tester said after a season of guiding treks in Nepal's Mahalangur region. Credit the full-perimeter frame, working in tandem with an aluminum stay that adds strength and reduces the barrelling (in which the pack bulges against your spine) that plagues some ultralight models. The result is a well-balanced pack that transfers multiday loads directly to the hipbelt. "During three days on Idaho's Long Canyon Trail, the Optic kept my 30-pound load where it needed to be, which warded off fatigue," one tester says.
The details While the Optic carries like a full-featured pack, it's dialed back in other areas. Gregory cuts weight with thin, /-inch compression straps that still lock cargo down tight. The shoulder straps have more foam over the shoulder and collar bone, to cushion pressure points, and less along the chest, where you don't want or need bulk. Shedding the toplid and raincover saves 3.4 ounces.
Trail cred "Nice touch: The V-shaped compression straps on the bottom of the pack can be routed over or under the mesh side pockets, so they don't interfere with my water bottle," one tester says.
$190; 2 lbs. 8 oz. (m's M); m's S-L, w's XS-M; 48 liters/45 liters; Buy Gregory Optic 48/Octal 45 
Granite Gear Crown2 38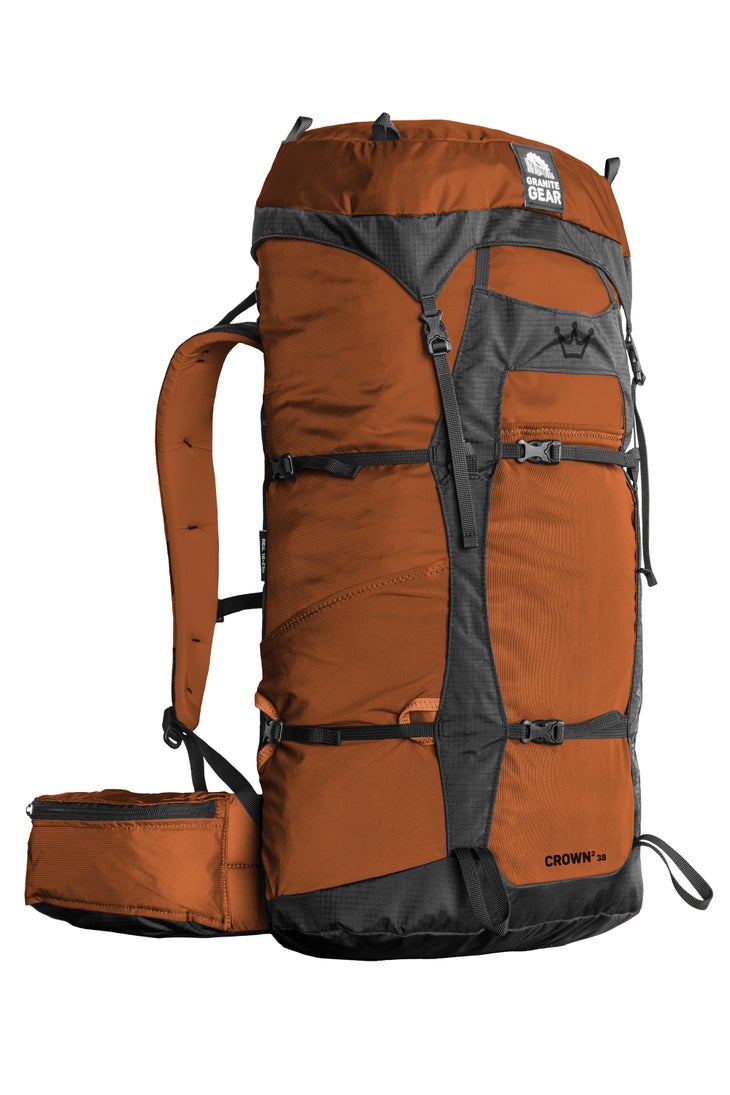 Our take Most multiday packs—even ultralight models—feel cumbersome or floppy on day missions. Not the Crown2, which transforms into an 8-liter daypack with just a few adjustments and has nine compression straps for versatile packing. One tester lived out of the pack for a week in rural Guatemala, and then battened everything down for a fast-and-light hike up the 8,426-foot Pacaya volcano. "I'm a notorious overpacker," she says, "and I especially appreciated the 15 liters or so of extra space—beyond the pack's stated 38—granted by the Crown2's roll-top closure and floating lid."
The details The Crown2's plastic frame­sheet extends to the bottom of the foam hipbelt for comfort with loads up to 35 pounds. Its foam backpanel sits flat against the lumbar, keeping the weight close to your back. "Stability sets this pack apart," says one tester who humped 30 pounds through Wyoming's Wind River Range. "No matter the terrain or how fast I was moving, it stayed snug to my body." Ding: Although there are airflow channels in the Crown2's backpanel, they were too shallow to help cool our backs much.
Trail cred "I appreciated the Crown2's flat bottom, which allowed the pack to remain upright without falling into the mud while I dug for an extra layer on the hike up to Ice Lake, Oregon," one tester reports.
$185; 2 lbs. 5 oz.; one size; 38 liters; Buy Granite Gear Crown2 38
The North Face Phantom 38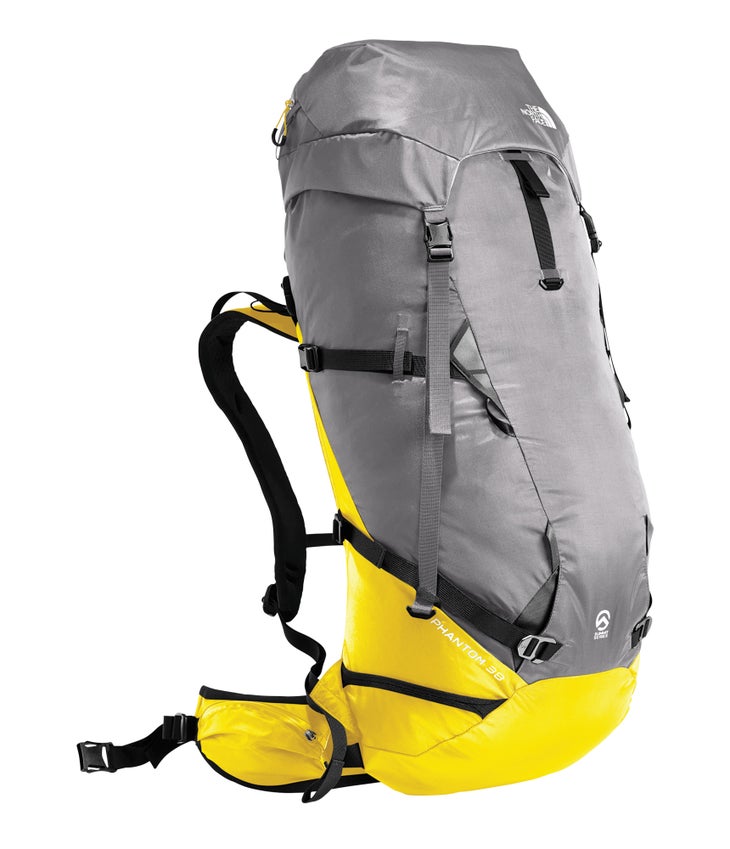 Our take Alpinists want it all: low weight, durable materials, and tool-friendly features. This pack delivers. Glove-friendly buckles on both sides of the Phantom's toplid allow easy access, which let a tester grab snacks on a narrow belay ledge on France's Les Droites. Ice axe holders and reinforced tool loops kept his gear organized and handy. The pack has A-frame ski carry; there's no dedicated snowboard carry, but four front attachment points let you strap on anything from a board to a crampon pouch. Bummer: The Phantom lacks a dedicated avalanche tool pocket.
The details After a week of climbing in the French Alps, our tester proclaimed the Phantom—which is made of 210-denier nylon, and has patches of 840-denier fabric at the tool attachment points—indestructible. "It held up to abrasive rock and carelessly stashed ice screws," he says, adding that the bomber quality extends to the smaller details: "My axe got wedged on a chunk of ice when I was skirting a crevasse, but the aluminum buckle securing it didn't budge when I lurched in the opposite direction." The rope strap/lid closure buckle is made of the same aluminum, providing security in terrain where failure is not an option. Our testers were comfortable with loads up to 25 pounds, thanks to a plastic framesheet stiffened with steel wire. Remove the hipbelt and toplid to save 8 ounces.
Trail cred "The Phantom's streamlined shape is a major plus," said one climber after a trip to Alyeska, Alaska. "It doesn't have any excess bulk, and it never interfered with mobility."
$170; 2 lbs. 3 oz. (S/M); S/M, L/XL; 38 liters; The North Face Phantom 38
Osprey Levity 45/Lumina 45 (women's)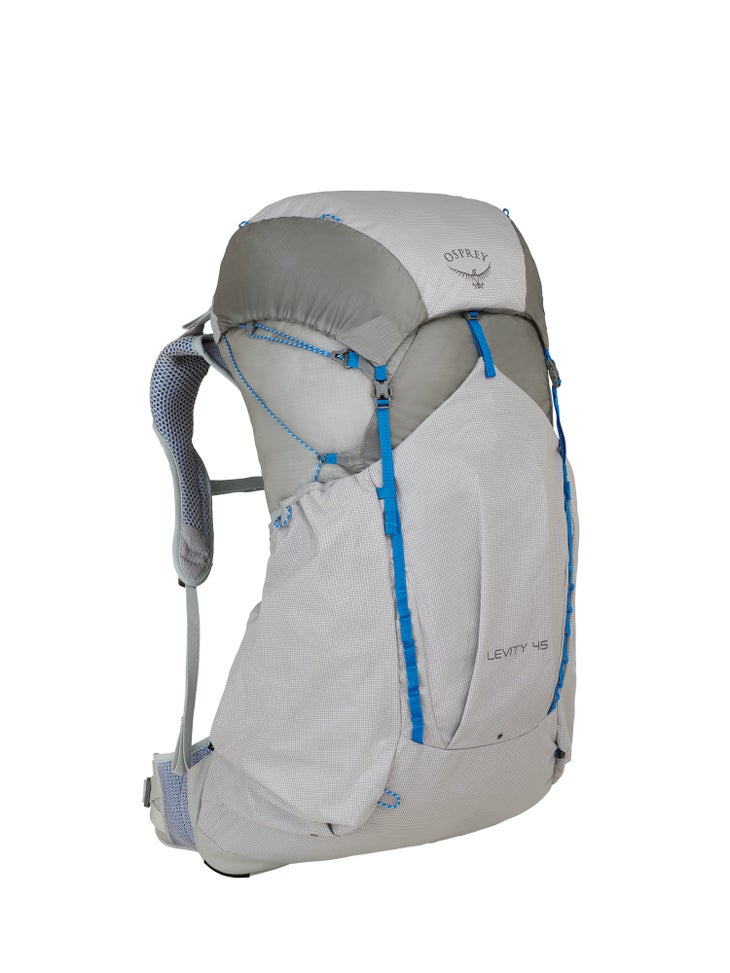 Our take On days when the weather and terrain were conspiring against us, we appreciated the Levity's airy feel. A trampoline-style backpanel keeps the packbag a full 2 inches off the back, granting best-in-test breathability without too much pack sway. "I wore the pack in 100°F temps on California's Trans-Catalina Trail and didn't suffer the usual amount of sweat on my back, or experience pack sway," one tester says.
The details The lightest frame pack we tested delighted our most dedicated gram-counters. "It carries as well as packs with twice the padding and structure," a veteran of the PCT reported after a 9-mile hike on the Baby Jesus Trail outside Tucson, Arizona. The key feature? A convex, aluminum perimeter stay runs through the bottom of the pack, where it cradles the hips and effectively contacts the upper lumbar zone (an area that most packs neglect). The design was comfy with loads up to 35 pounds. In lieu of compression straps, a length of adjustable cordage zigzags up each side to save weight (some testers found it difficult to dial in, though).
Trail cred "The tram­poline suspension can store an extra liter of water between the framesheet and mesh panel without affecting the carry," our Arizona tester says. "It's great for long-haul desert hiking."
$250; 1 lb. 14 oz. (m's M); m's S-L, w's XS-M; 45 liters; Buy Osprey Levity 45/Lumina 45
Mountainsmith Scream 55/Scream 50 WSD (women's)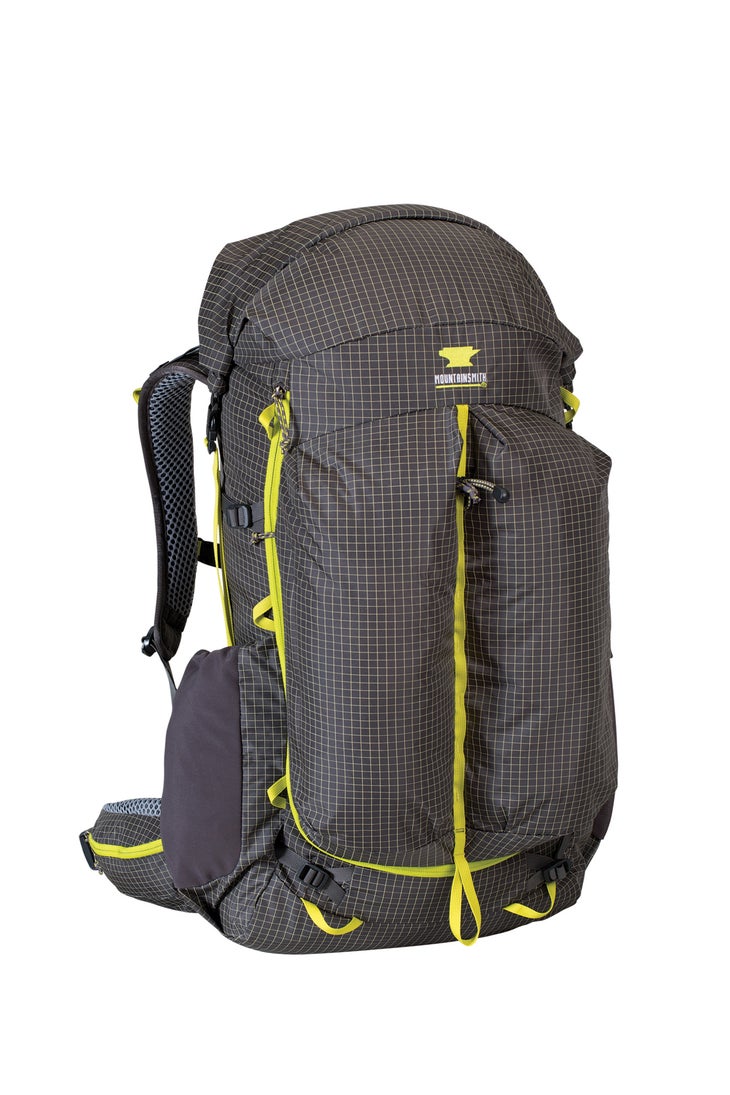 Our take For liters-to-dollar ratio, the Scream is best in test. "The two front torpedo pockets hold as much gear as my daypack," says one tester, who took the Scream on a multiday trek through British Columbia's Mt. Assiniboine Provincial Park. "I stuffed all my clothes for the week in them, leaving the packbag free for gear and a bear canister." Peeling back the front panel grants easy access to the main compartment, and roomy hipbelt pockets fit a smartphone and snacks. The Scream skimps in other areas—it has a roll-top instead of a toplid, and the hipbelt's adjustment range is below average—but those design decisions keep weight down.
The details A plush hipbelt, along with a flexible EVA framesheet and single aluminum central stay, made the Scream comfortable with loads up to 40 pounds. And don't be fooled by the price: This pack is built to last, with PU-coated, 210-denier nylon and ballistic-grade ripstop cross threads (which increase strength without adding bulk). "I used it as a haul bag on 11,033-foot Mt. Edith Cavell in Alberta," a tester says. "I was sure we'd trash the fabric on the sharp quartzite, but the pack emerged unscathed."
Trail cred "While fighting through deadfall in California's Yuki Wilderness, the backpanel's Y-shaped air channels ventilated well enough that I never felt too sodden," one tester says.
$160; 2 lbs. 13 oz. (m's); one size; 55 liters/50 liters; Buy Mountainsmith Scream 55/Scream 50 WSD