The 7 Best Sleeping Bags of 2018
Bed down better in the backcountry by picking one of these comfy bags.
Heading out the door? Read this article on the new Outside+ app available now on iOS devices for members! Download the app.
What makes these 7 models the best sleeping bags of the year. It's not just their light weight, or their warmth, or smart features like draft tubes and pad sleeves. It's the way they combine all of those to ensure you a good night's sleep on the trail—because the backcountry looks a lot better on a solid eight hours.
Exped Hyperquilt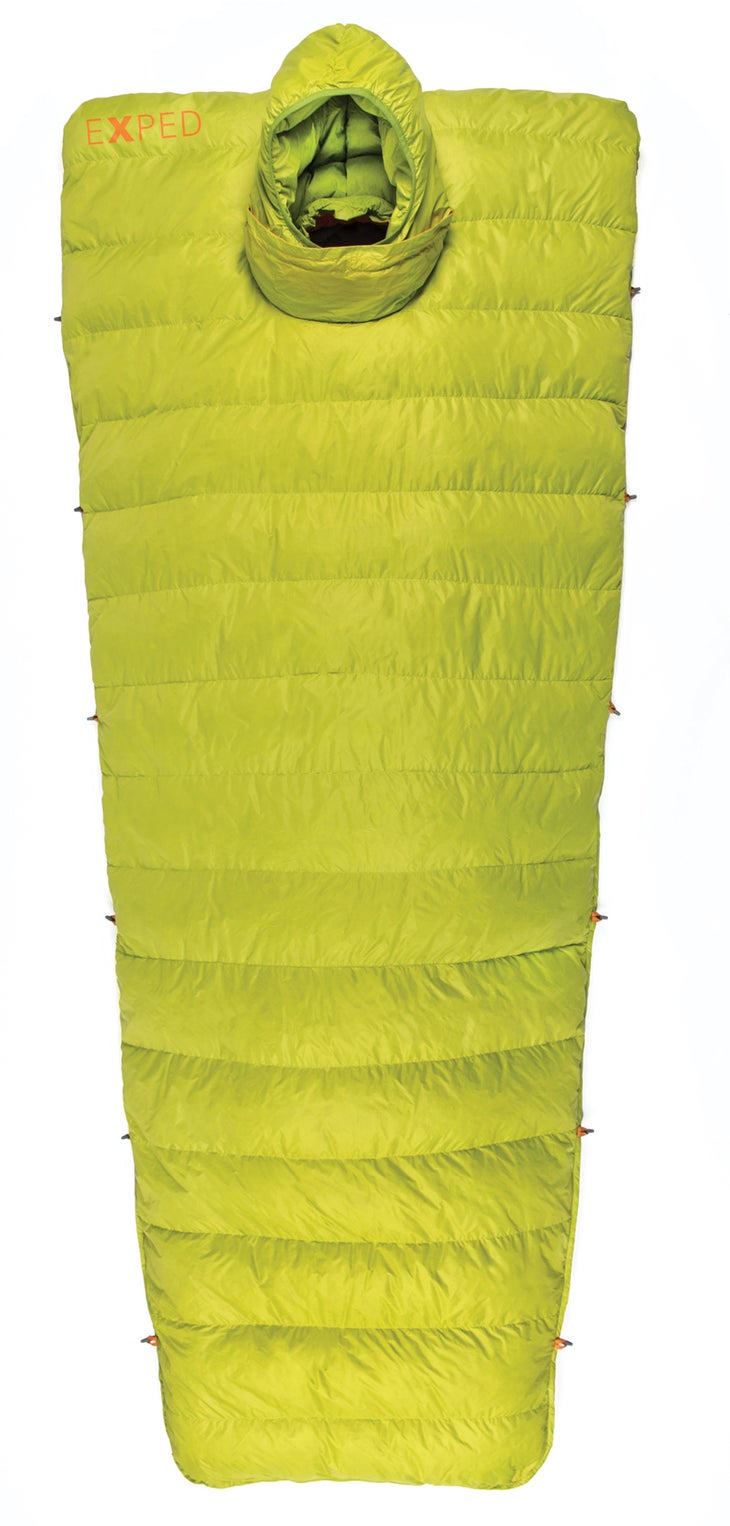 Our take Quilts are great—until your head gets cold. But where many designers have fallen short, Exped's team got it right with the poncho-style Hyperquilt. A hooded head opening sits 9 inches from the top of the quilt and has six baffles stuffed with 800-fill down to keep it warm. This isn't the first poncho-style quilt we've tested, but its hood has the best position, allowing the blanket to drape over your shoulders and tuck underneath. But does it work? On cold nights, using the hood actually holds the quilt in place; our tester slept comfortably in the 30s in the Grand Canyon without needing to add a beanie. On warmer nights, cinch the head hole shut and pull the Hyperquilt up to your chin like normal. Caveat: Side sleepers couldn't get a good wrap when using the hood.
The details Going full quilt-style too radical? Fourteen toggles connect the Hyperquilt to a poly/Tencel sheet ($29; 3.4 oz.) that wraps around your pad, trapping heat for a more bag-like performance. However, purist testers maintain this eliminates the simplicity and weight savings of using a quilt in the first place, while others said the thing was simply too tight when toggled. Without the sheet, the Hyperquilt compresses to the size of a 1-liter bottle. There's also a two-person version, the Hyperquilt Duo.
Trail cred "I wore it like a poncho around the campfire," said one tester after a weekend trip near Oregon's Owyhee River. "When it was time to go to bed, it was already warmed up."
$199; 1 lb. 6 oz.; 32°F/41°F*

Big Agnes Picket SL 30
Our take Stretch makes just about everything better. In sleeping bags, stretch offers superior comfort and efficiency, as it allows even a mummy to feel spacious. Big Agnes does one better by bringing stretch to the insulation itself by using PrimaLoft Gold Active. Paired with stretchy side panels, that makes for a bag that looks like an ultralight mummy but sleeps like a rectangular comfort sack—and packs down to 5 by 6 inches. "I'm not ashamed to say I fetal up at night," one tester confesses. "But even when I pulled my knees to my chest, pushing them up against the side of the bag, they didn't feel any bit of cold." The tighter geometry also makes the bag faster to heat up. Nitpick: Cheaper, static PrimaLoft Silver in the core areas felt clumpy compared to the Gold.
The details The face opening has a sharp curve at the top, which made for warmer faces without a cinch. Even claustrophobes were content with the tradeoff. Testers also like the zipper, which comes across the top of the bag and makes for easy escape. "We were camped at the base of Mt. Shavano, Colorado, and we had to spring out of the tent to chase off a pair of cows at 2 a.m.," says one tester. It also comes in a 20°F version (the Bolten SL) for 10 ounces and $30 more.
Trail cred "At a lean 5'11", I sometimes have trouble warming up standard mummy bags and use my puffy to fill in dead space around my torso. This one kept me warm in freezing temps with just my baselayers," said our tester after a late fall trip to Moab, Utah.
$260; 2 lbs. 1 oz.; 30°F (not EN rated)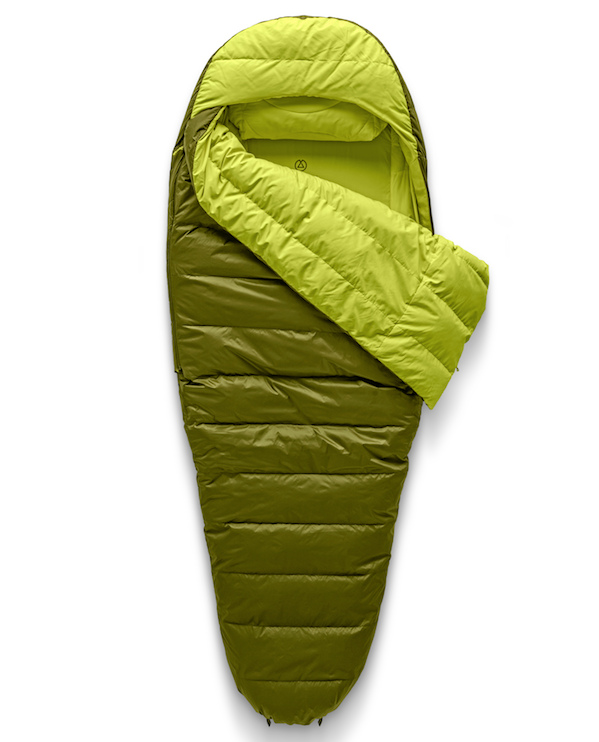 Zenbivy Bed
Our take Quilts are for comfort; mummies are for warmth. The Zenbivy Bed is for both, taking the best from each design and dispensing with the liabilities. A tough 50-denier polyester pad sleeve serves as the anchor point for a trapezoid top quilt that's insulated with 700-fill down. On warm nights, wrap yourself up in it "just like a comforter at home," as one tester put it after a trip in North Carolina's Linville Gorge, or spread it wide (54 inches) and use it as a camp blanket. On colder nights, use the 26-inch zippers on each side to seal it up around the shoulder area and trap more warmth inside.
The details Setup is multistep but quick and easy. Slide the sleeve and hood over your pad and lay (or zipper) the quilt on top. To keep toes warm, the bottom end cinches shut with a drawstring, and a 28-inch-long zipper on the bottom encloses a makeshift footbox. But know this: The Zenbivy puts comfort first. The hood lacks a drawstring and testers found it challenging to keep their faces warm down at the temp rating. Still, all this comfort and quality of sleep pack down to the size of a volleyball. The 20R fits most women; the 20L, which is a few inches wider at the shoulder, hip, and foot, fits most men and costs $270. The Zenbivy Bed also comes in a 25L ($280) version to accommodate 25-inch-wide sleeping pads.
Trail cred "If you want to shave weight, the top quilt easily functions on its own," our tester says. "I'd happily take this on the Appalachian Trail if I thru-hike it again."
$260; 2 lbs. 5 oz.; 23°F/34°F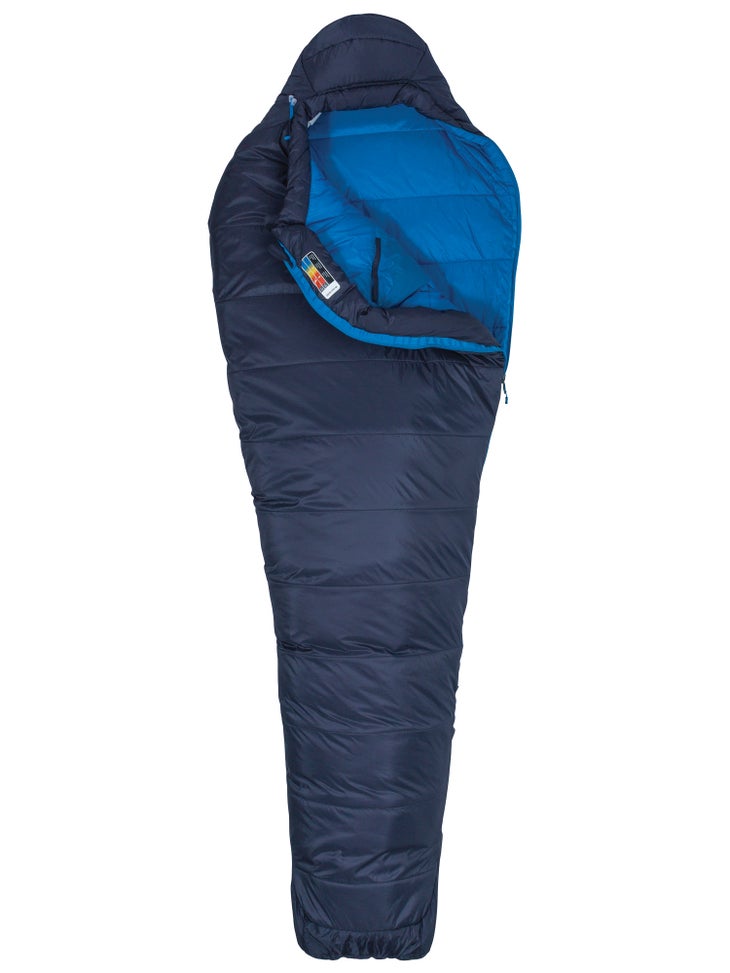 Marmot Ultra Elite 20
Our take It's hard to beat down for warmth-to-weight, which is why so many of the bags in this issue are filled with feathers. But this synthetic takes aim at down performance, combining compressibility with the hallmarks of synthetic insulation: affordability and superior performance in wet conditions. "You can still tell the difference between this and down, but it does feel softer than most synthetics," says one tester. "And when wind and rain came heavy in New Zealand, water splashed onto my bag from the tent wall, but my comfort never wavered." The new insulation, called ElixR Micro, uses a mix of three fibers to balance softness and durability, and the bag stuffs down to the size of a rugby ball before cranking on the included compression sack.
The details From sculpted hood to a 3-inch draft tube, the Marmot Ultra Elite delivers comfort features we appreciated, and a 60-inch girth at the shoulders provides adequate space (the legs are tight, however). "When we were sharing a cramped three-person tent in New Zealand, I was glad I didn't have to fight my bag to get comfortable," says our tester. The full-length, two-way zipper makes it easy to vent in mild weather. Bonus: PFC-free construction. The Ultra Elite is also available in 30°F and women's 20°F versions.
Trail cred "I'm a cold sleeper and was worried I wouldn't be warm in this bag when rain and wind made 40°F feel like 20°F on Mt. Taranaki," says a tester. "But if I woke up during the night, it was because of my snoring tentmates, not this bag."
$199; 2 lbs.; 22.5°F/32.9°F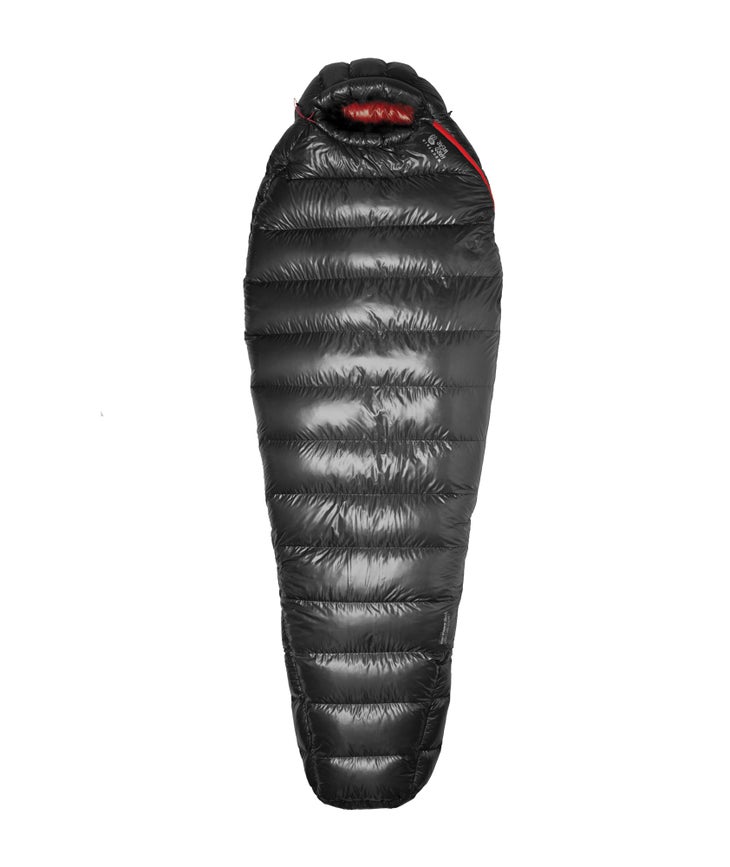 Mountain Hardwear Ghost Whisperer 20
Our take When you get well below 2 pounds for a 20°F bag, you can expect two things: a high price and a tight fit. The Ghost Whisperer delivers on the cost (ouch!), but deviates from the norm with a surprisingly comfortable cut. The 59-inch shoulder circumference is on the roomier side for the class, but the real magic happens below that. "I could separate my legs," said one tester after a few subfreezing nights on Vermont's Long Trail. "That sounds like a small deal until you can't do it, and in most ultralight bags, you can't." The Ghost Whisperer makes up for the dimensions by dropping weight elsewhere. Most notably, it organizes 900-fill goose down into the minimum number of baffles designers could get away with to reduce cold spot-causing shifting and hit the EN rating. It packs down to the size of a football.
The details To set the bag apart in a rarified field, Mountain Hardwear's designers focused on the details, including a six-panel hood and a 2- to 2.25-inch-wide draft tube that backs the full-length zipper. Reality check: Other bags deliver similar performance for less cash, but this one is worth it if you need the space. It comes in regular and long plus a 40°F version.
Trail cred "Ultralight zips are notorious for constantly jamming, but thanks to a stiff fabric behind the zipper, this is one of the smoothest, most snag-free experiences I've ever had," says one of our longtime testers.
$600; 1 lb. 12 oz.; 20°F/32°F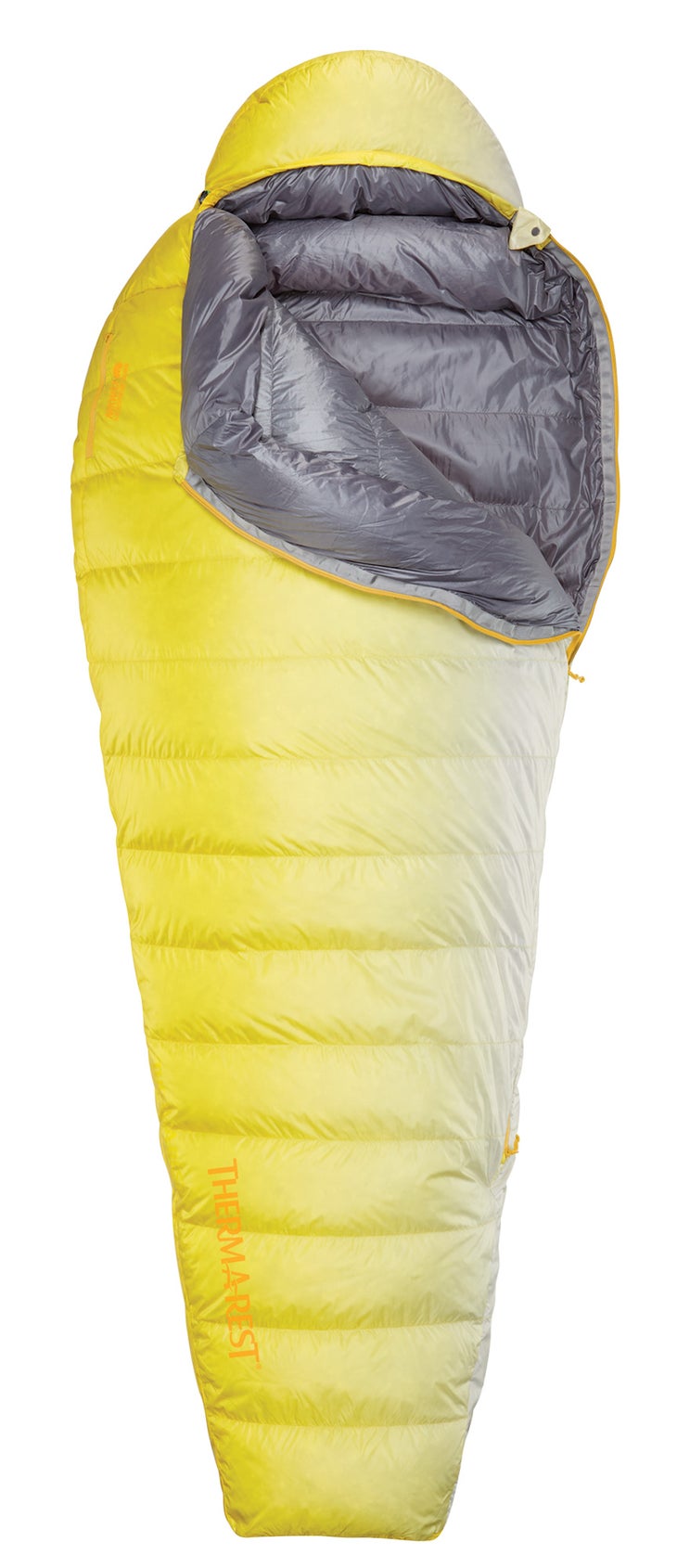 Therm-A-Rest Parsec 20
Our take For backpackers who want one bag that's warm enough for shoulder season and light enough for summer, the Parsec delivers—and does it with features and comforts we appreciated from the Rockies to New Zealand. First, it's extra roomy for a sub 2-pounder. At 62 inches, the shoulder girth is well above average, and let testers roll around in the bag without feeling constricted. Second, the design includes warmth-boosting innovations like the 4.5-inch-tall draft collar, a foot-warmer pocket, and reflective finish on the liner. "Those features let me push it down to its temp rating one night, while a full-length zipper let me stay comfortable when temperatures inched up to 45°F," says a tester. It stuffs down to about the size of a rugby ball.
The details Cold feet be gone: Testers universally praised the roomy footbox, which has an extra baffle to keep tootsies warm on cold nights. "It's large enough for me to orient my size 12 feet vertically," says one tester. "That's rare indeed." A small zippered pocket on the outside keeps earplugs and electronics close at hand. It comes in short, regular, and long versions.
Trail cred "The oversized draft tube and collar kept me warm without having to scrunch the blowhole down to an uncomfortable size, even in 25°F temps," said our tester after a trip in New Mexico's Carson National Forest.
$400; 1 lb. 15 oz.; 20°F/30°F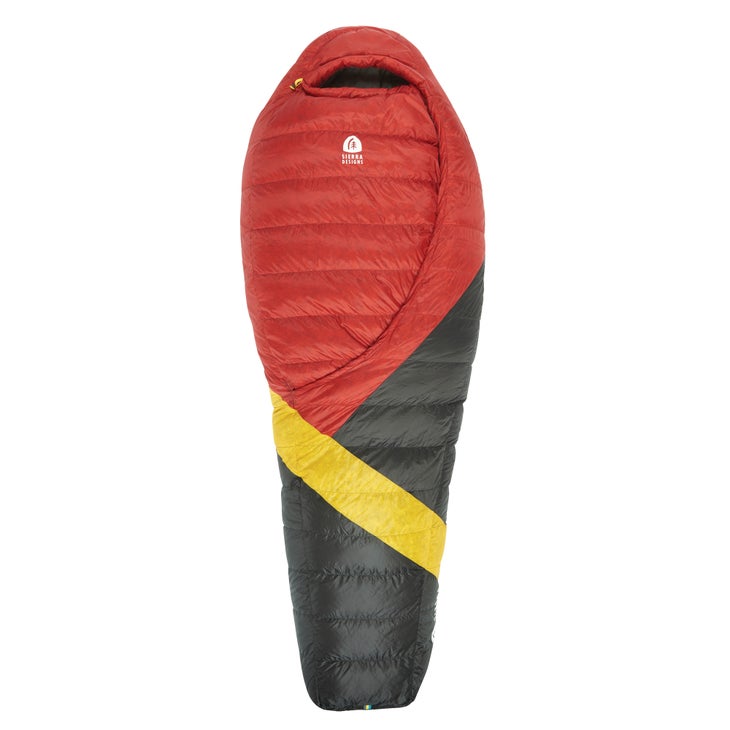 Sierra Designs Cloud 800 / 20 degree
Our take The Cloud provided one of the best sleeping experiences of any bag we tested this season—which makes sense, considering we gave its predecessor an Editors' Choice Award in 2014. That iteration—the Backcountry Bed—had a zipperless opening and a down comforter you could tuck around yourself. This version is even better: It's lighter, more packable, and less expensive, while still providing the feeling of nestling down in bed. Since the oversized blanket extends 8.5 inches beyond the opening, you can burrito yourself inside. "I was skeptical at first, as I thought there was no way the warmth would seal in without a zip. But once I pulled the comforter up and wrapped it over my shoulder, I heated up like a Hot Pocket," said one of our testers after a fall trip outside of Moab, Utah, in 40°F temps. Reality check: This one is more about comfort than warmth. Several testers reported dislodging the blanket and waking up cold.
The details The Cloud squeezes under 2 pounds through its lightweight materials (800-fill down, 15-denier nylon shell) and clever construction. Aside from ditching the zipper, designers omitted insulation under the upper back, where the fill is usually crushed under body weight. On summer nights in southern Utah, we loved kicking our feet out of the 16.5-inch horizontal opening on the bottom. It's available in regular, long, and women's, plus a 35°F version.
Trail cred "I often stuck an arm on top of the blanket like I do at home," our tester says. "It's one of the best night's sleep I've ever gotten in a three-season bag during summer."
$300; 1 lb. 13 oz.; 15°F/26°F
*Unless otherwise noted, listed temperatures are standardized EN ratings and are intended to create an apples-to-apples comparison between bags. The two numbers represent the comfort range for campers using a sleeping pad and wearing baselayers, beanies, and socks. On one end of the spectrum, warm sleepers (and the average man) can push bags into colder temperatures, while the other end of the range is for cold sleepers (and the average woman) who should be more conservative. Lots of factors affect bag warmth; use these ratings as guideline not gospel.