The Best Hiking Socks for Backpackers
Treat your feet right with a high-quality pair of socks from this list.
Heading out the door? Read this article on the new Outside+ app available now on iOS devices for members! Download the app.
We don't give our socks nearly enough credit. A good pair of socks not only helps you stay warm (or cool enough), it stops blisters from forming, keeps your feet dry, and provides a little extra cushioning for long days on the trail. Ditch your no-name socks for one of these perfect pairs instead.
Darn Tough Hiker Boot Sock Cushion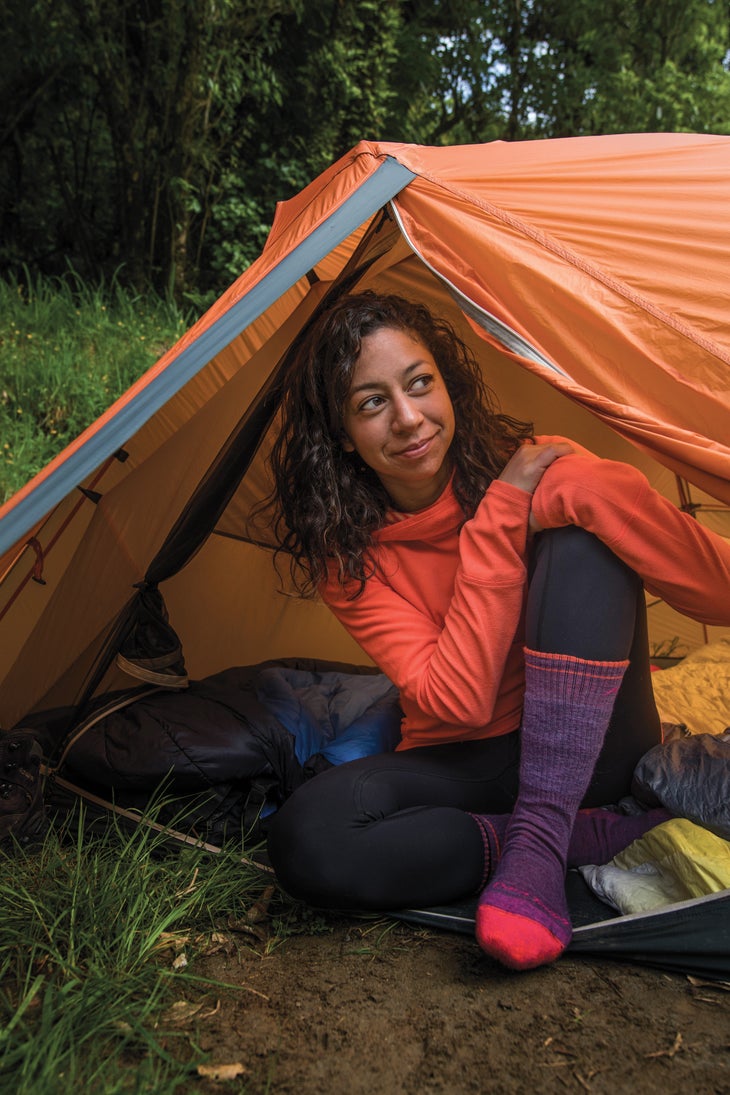 We've taken socks to the corners of the world and the extremes of heat and cold. We've gotten them wet and muddy, dried them in our sleeping bags overnight, and worn them the next day. And the day after. And here's what we've learned: Most socks are good for a year or two. Some make it three. But for five years and hundreds upon hundreds of miles, the Darn Toughs have always returned to our sock drawer to bear witness as lesser socks lose their shape, lose their elasticity, and lose their yarn, leaving behind a sad nylon skeleton.
One dedicated editor put the Darn Tough Hiker head-to-head with every other major and minor brand of sock and it won every bout. Most recently? Five days in a row in Colorado's Eagles Nest Wilderness, no washes, in a lined shoe frequently overtopped by mud and slop. Still, the Darn Tough persisted—and it was four years old by that point.
Why so durable? Credit the construction: Darn Tough's engineers analyze wear patterns and come up with specific yarn configurations to meet the abuse, varying combinations of merino, nylon, and elastane across the foot. Need more convincing? Darn Tough backs up the durability promise with a lifetime guarantee. Not that we'll ever need it.
$24; 4.4 oz. (m's L); m's M-XL, w's S-L; Buy Darn Tough Hiker Boot Sock Cushion Now
Smartwool PHD Outdoor Approach Crew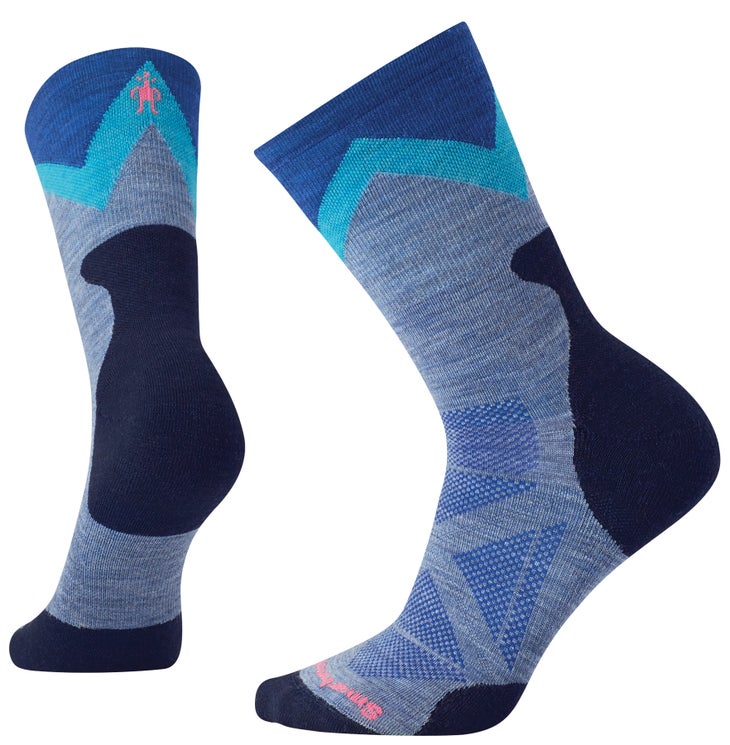 These are the socks that get used first every laundry cycle. From an ascent of 10,541-foot Glacier Peak in Washington to a thru-hike of the Continental Divide Trail, the Approach kept our feet dry, cushioned, and blister-free. To achieve that, Smartwool uses a thin 54 percent merino/43 percent nylon/3 percent elastane blend in the majority of the sock; along with a thinner weave on the top of the foot, this minimized sweat in the heat of Colorado's high desert. A thicker terry-loop knit provides cushion in high-wear areas like the ball of the foot, around the toes, and at the heel (where it extends up and around the ankle). Those spots also have stronger, multi-ply merino yarn—the rest of the sock is single-ply—and nylon reinforcement to prevent holes.
"I wore these socks every day during our climb of Glacier Peak," said our tester after his 34-mile trek. "Despite getting wet from stream crossings and drying out (in about three hours) multiple times, the Approach didn't bag out at all."
$25; 2 oz.; m's M-XL, w's S-L Buy Smartwool PhD Outdoor Approach Crew Socks Now
Kora Upside Down Sock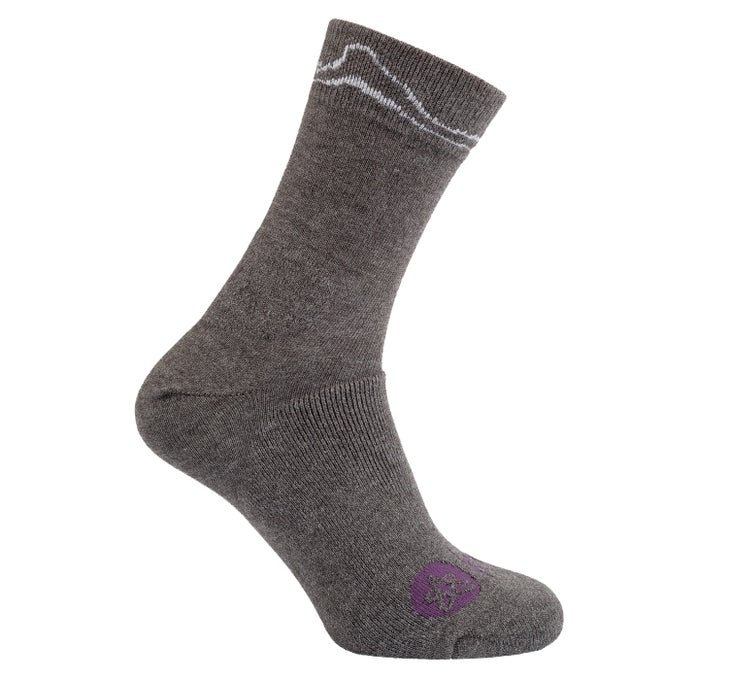 Merino gets all the attention, but it's not the only wool around. Kora uses yak wool as well, which is plusher than the sheep-grown variety, to create the comfiest sock we tested. The upside-down construction bolstered fit and feel by minimizing cushioning in the sole in favor of thicker pile on top. This places warmth where you need it most, since your winter boots likely have plenty of midsole insulation. This design kept us cozy on frigid outings and reduced slippage in technical boots during winter ascents. (The blend is 27 percent yak wool, 25 percent merino, and the rest a mix of poly/nylon/elastane.) Tradeoff: A toe seam on the ball of the foot took some getting used to, but no testers reported getting any hot spots or blisters because of it.
"The Upside Downs kept my feet from freezing when a snowshoe overnight went a little longer than planned," said a tester after a trip in Olympic National Park.
$22; 2 oz. (M); XS-XL; Buy Kora Upside Down Sock Now
Swiftwick PURSUIT seven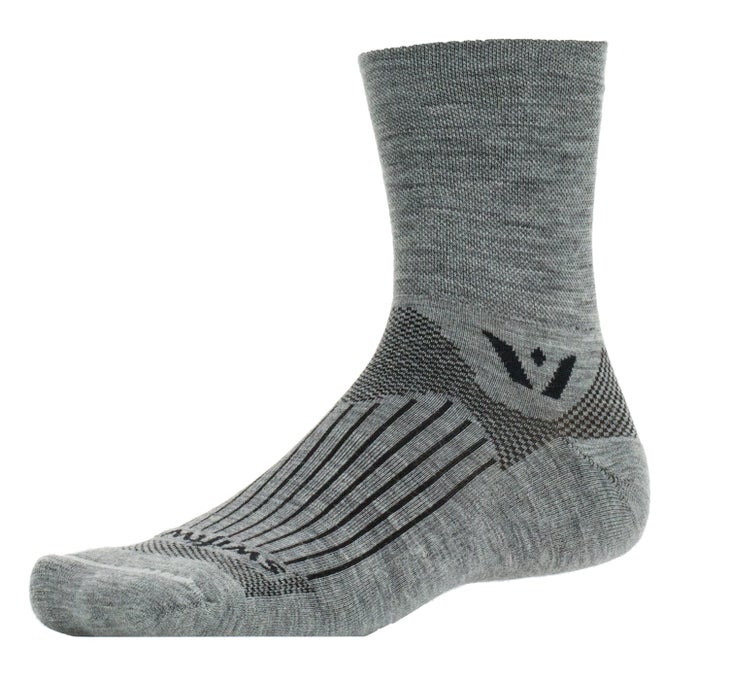 The Pursuit Seven was a hit with hikers who faced mild winters in soggier climes. Whenever the rain let up, testers could feel the socks moving moisture. Thin strands of 64-percent merino blend are woven densely to increase surface area, and the tightly-packed fibers make for a speedy wicking process; on alpine climbs in the Pacific Northwest, we stayed dry in uninsulated shoes despite working hard. Moderate compression all around the foot kept swelling down during one tester's rainy, 12-mile backpack on loose scree and talus fields at Ancient Lakes in eastern Washington. Downside: After a season of heavy use, our tester's pair was starting to wear out at the heel.
"These socks are great at holding their shape," one tester says. "I wore them on a morning run, to the office, then out again on a post-work hike, and still reached for them the next morning."
$22; 2.1 oz. (M); S-XL; Buy Swiftwick PURSUIT seven Now
CEP Dynamic+ Mid-Cut Outdoor Merino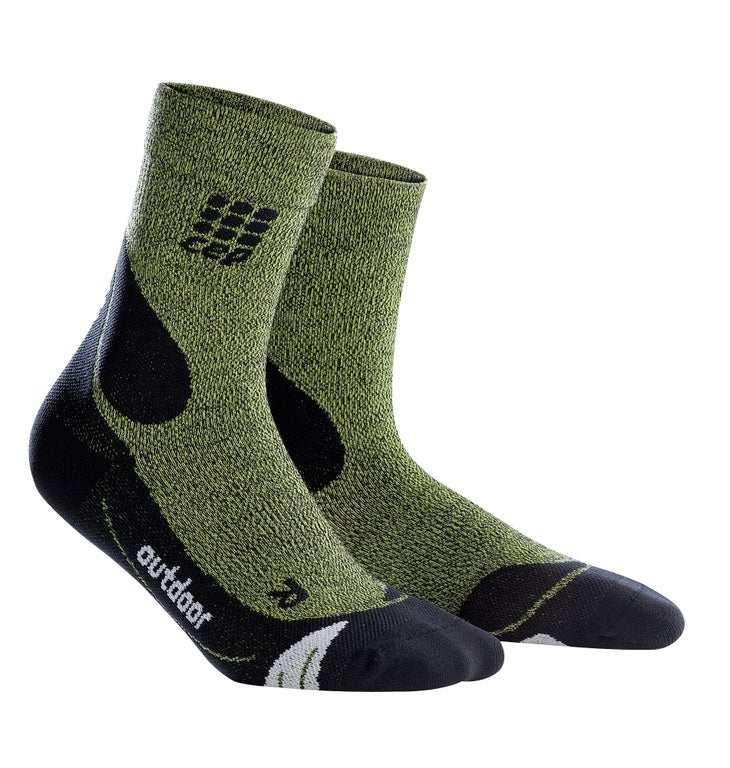 We've tested a lot of compression socks, but not all of them are built for serious outdoor use. That's not the case with the Dynamic+, which blends durability with the benefits of compression so well that one of our testers lived in them while hiking Montana's notoriously rugged portion of the Continental Divide Trail. Thicker-than-average, 160-needle-gauge thread held up to the rigors of the 800-mile section, and extra padding at the ball of the foot, heel, and on top of the big toe made following the many ups and downs of the northern Rockies all the more tolerable. And as for the primary benefit? Moderate compression around the lower ankle ensured the Dynamic+ never slipped, and kept swelling down as our tester knocked off one 30-mile day after another.
"Even though it's tough, the Dynamic+ is one of the softest, most comfortable socks I've ever worn, which my beat-up feet appreciated near the end of the CDT," says our tester, who credits the sock's silk fibers (8 percent) for the luxurious ride.
$25; 3.4 oz.; m's S-L, w's S-L Buy CEP Dynamic+ Mid-Cut Outdoor Merino Now
Injinji Hiker + Liner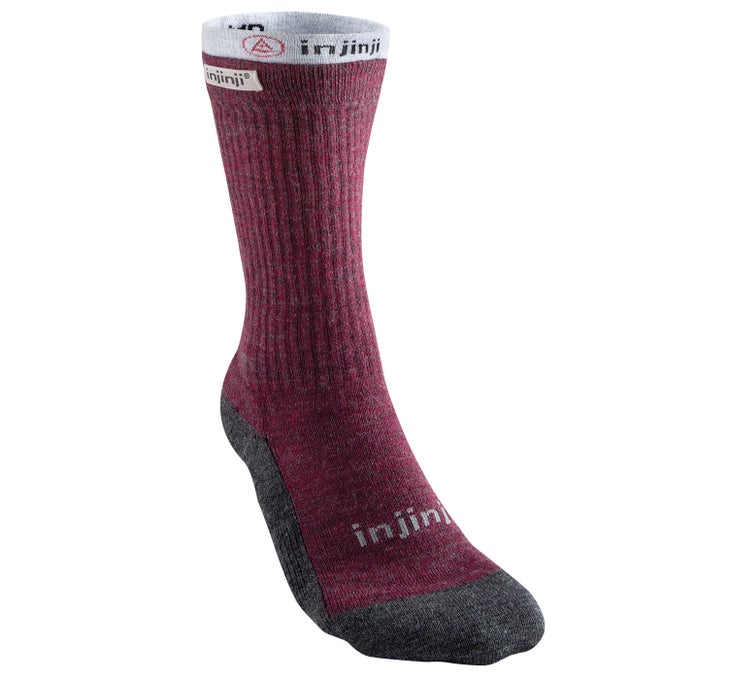 If you're prone to blisters, you've probably tried sock liners to reduce hot spot-inducing friction. Injinji takes that stategy to the next level with individual toe compartments in its liner. Paired with the separate (but sold together) merino/acrylic Hiker, which is slightly more spacious than average, the Liner kept even tender-footed testers blister-free. The midweight Hiker kept our feet warm on hikes in the teens, and the polyester Liner, made with grooved threads meant to speed wicking, meant dry feet during warmer excursions. The combo never bunched up or created rubbing points, but it might be a bit too bulky for narrow boots.
"When we hit a stretch of snow-free trail on a late-spring backpack around Mt. St. Helens, I took off the Hiker and wore just the surprisingly durable Liner as a warm-weather sock," our tester says.
$27; 4.3 oz. (m's M); m's XS-L, w's S-XL; Buy Injinji Hiker + Liner Now
FITS Ultra Light Runner No Show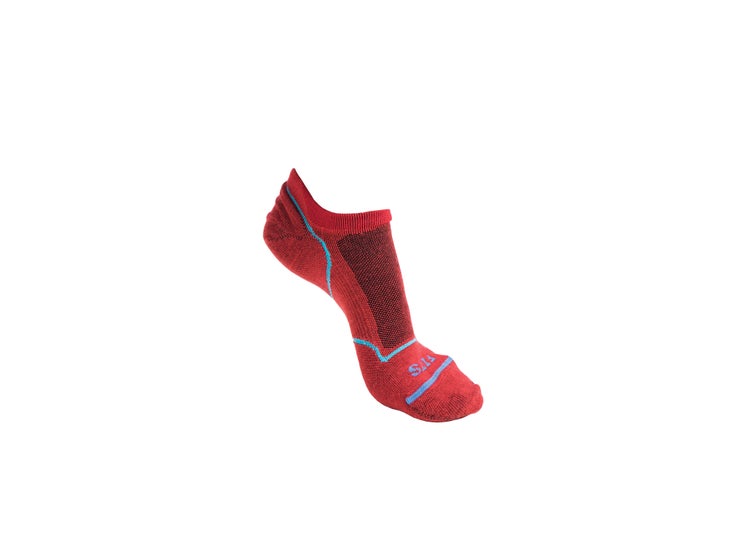 When a pair of socks is this light, we're skeptical about durability. Yet, this offering from FITS held up over a season of constant use. "I ran around the Cascade foothills all summer and into the fall in them, and never noticed any signs of wear that pop up seemingly overnight with other zero-padding socks I've used," our Washington tester says. To achieve the extra staying power, FITS blends nylon (27 percent) and merino (66 percent) in a gridded pattern that incorporates more durable 23.5-micron wool at the heel and toe, and a softer 18.5-micron merino on the instep. Unsurprisingly, these super-thin socks dried fast after puddle missteps. Note: Our testers appreciated the minimal stitching around the toe box, which prevented bunching, but the ultra-low profile meant looser-fitting shoes had to be tied extra tight to prevent the socks from slipping .
"The extra groundfeel these thin socks provide is actually helpful on slippery surfaces," noted one tester following a month of trail running around Washington's Issaquah Alps.
$16; 1.1 oz.; m's 3.5-15.5, w's 5-16.5 Buy FITS Ultra Light Runner No Show Now
Ellsworth Hike/Pack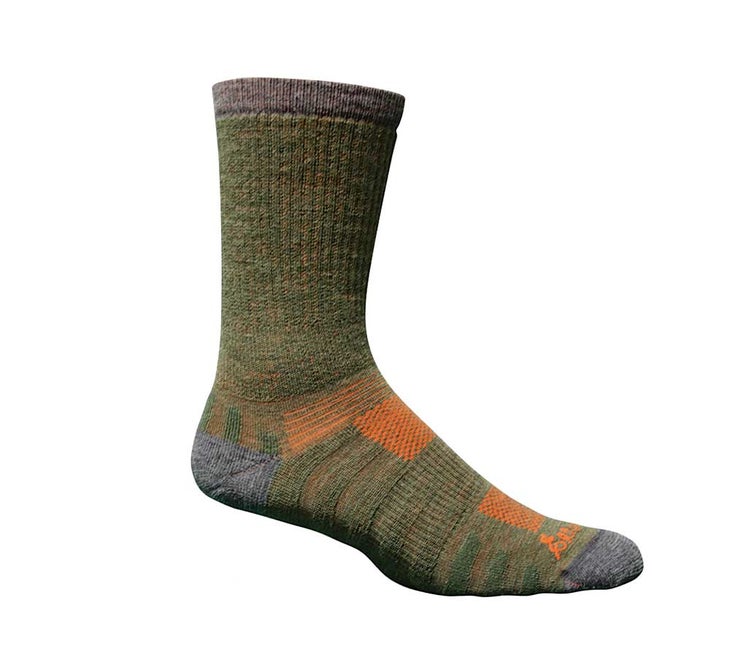 The cushiest sock in our test became a favorite among our Type-A campers who designate a "sleep sock," and it's since served us well on shoulder-season and winter pursuits. The thick merino (11mm) of Ellsworth is best for mild and cold adventures in bigger boots, but even when we sweated in it, the unique construction—the fibers are gridded in little V's—gives moisture a natural path to escape. .
"I appreciated the extra cushioning on the heel and ball of the foot when bagging peaks and downclimbing," says a Colorado-based tester.
$22; 4 oz.; Buy Ellsworth Hike/Pack Now
Hilly TwinSkin Anklet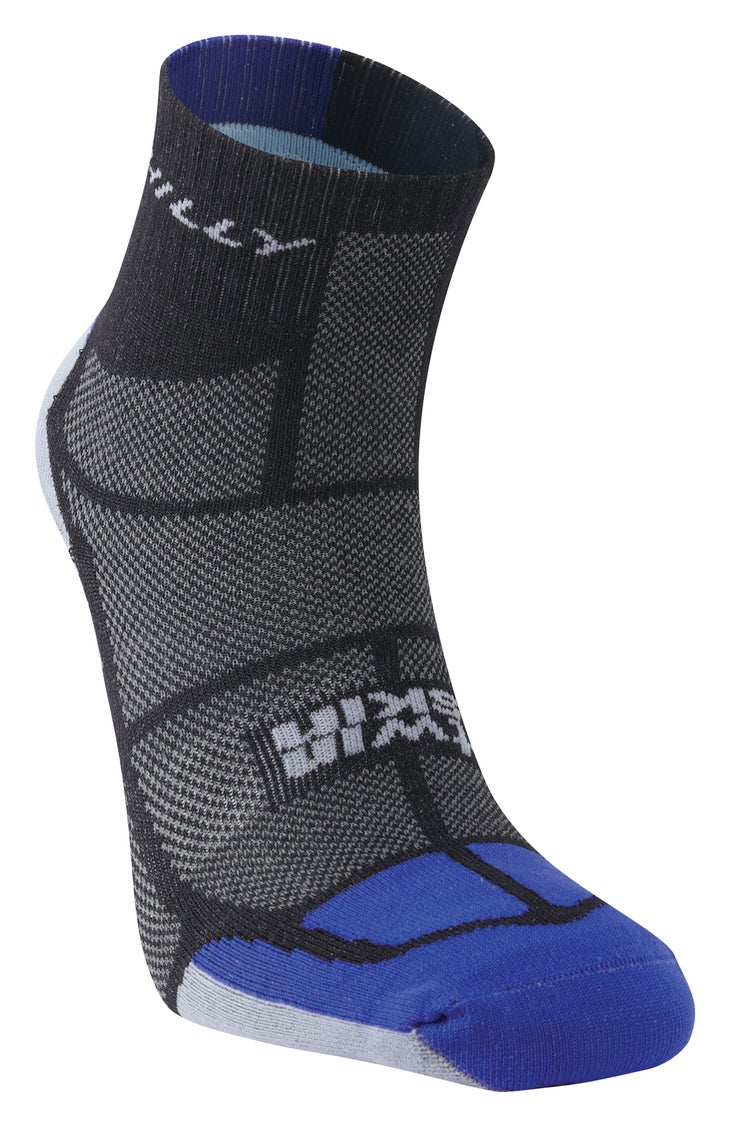 Wet feet are a one-ingredient recipe for disaster, which is why the TwinSkin has become our testers' go-to socks in the soggy Pacific Northwest. To combat moisture, Hilly takes a two-layer approach: Highly absorbent polyamide fibers on the inside suck up sweat, while a second, outer layer made of mixed 85 percent polyester and 15 percent cotton pulls the moisture up from the first layer and wicks it away. (The layers are joined near the toe and around the ankle.) Thin, gridded sections at the ankle and on top of the foot aid sweat management. "Hiking on the Olympic Coast in muggy weather after a rainstorm usually swamps my feet, but I ticked off 5 miles with no discomfort," our tester says. It can take an extra second to line up the layers at the toebox, but our testers experienced no friction. Drawback: Our feet overheated in the TwinSkin while wearing heavy hiking boots in summer."I was worried the layers would bunch up in my trail runners, but the TwinSkin feels just like a single-layer sock, only a bit cushier," our tester says.
$13; 2.4 oz.; m's M-XL, w's S-M Buy Hilly TwinSkin Anklet Now