The Best Hiking Gear for Your Dog
Keep your four-legged friend safe and happy on the trail with these products.
Heading out the door? Read this article on the new Outside+ app available now on iOS devices for members! Download the app.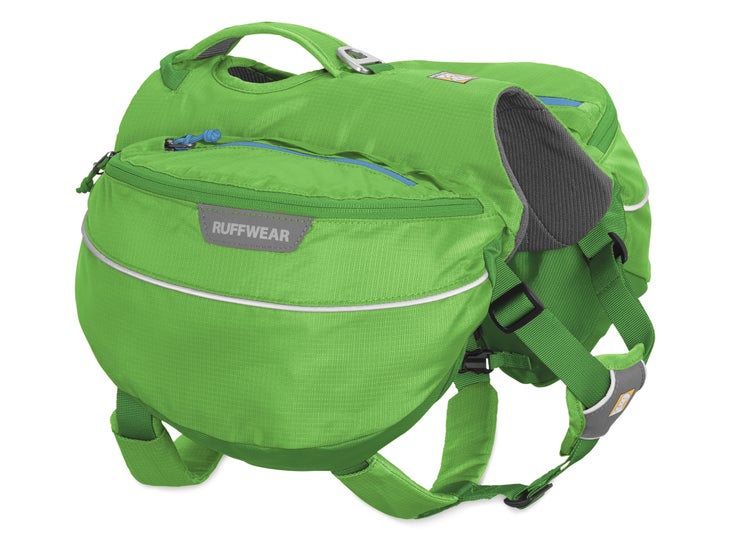 Just because your pup is always ready to hit the trail at a moment's notice doesn't mean you shouldn't prepare for the hike ahead. Choosing the right gear is an essential part of that process, so why wouldn't we treat our pooches to the same quality of products that we use? Here are some of the best pieces of doggie gear to help keep them safe and happy wherever the trail may take you. 
Wilderdog Sleeping Bag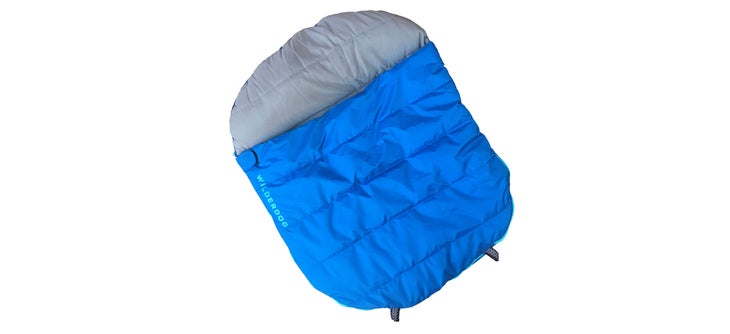 Not every dog is a tent dog. For vestibule-sleepers, or in colder weather, your pooch will appreciate the extra comfort and warmth provided by Wilderdog's sleeping bag. It's made from durable polyester that resists scrapes from paws and ground debris, and is stuffed with a lightweight synthetic insulation (no temp rating). "In the past I've been concerned if my medium-size Australian Shepherd is warm enough during shoulder-season and winter camping," one Colorado tester says. "Not anymore. She loves this bag, and immediately curls up inside when I lay it out." He also noted the bag's versatility: It zips open to function like a large sleeping mat for warmer nights. Although our tester used the bag during August, he was looking forward to taking it out on canine-assisted ski tours in winter. The bag, which comes with a stuff sack, packs down to 16 inches by 10 inches, and two loops at the bottom allow you to hang it for drying.
$49; 1 lb. 13 oz.; 36" x 28"   
Mas Korima Animo'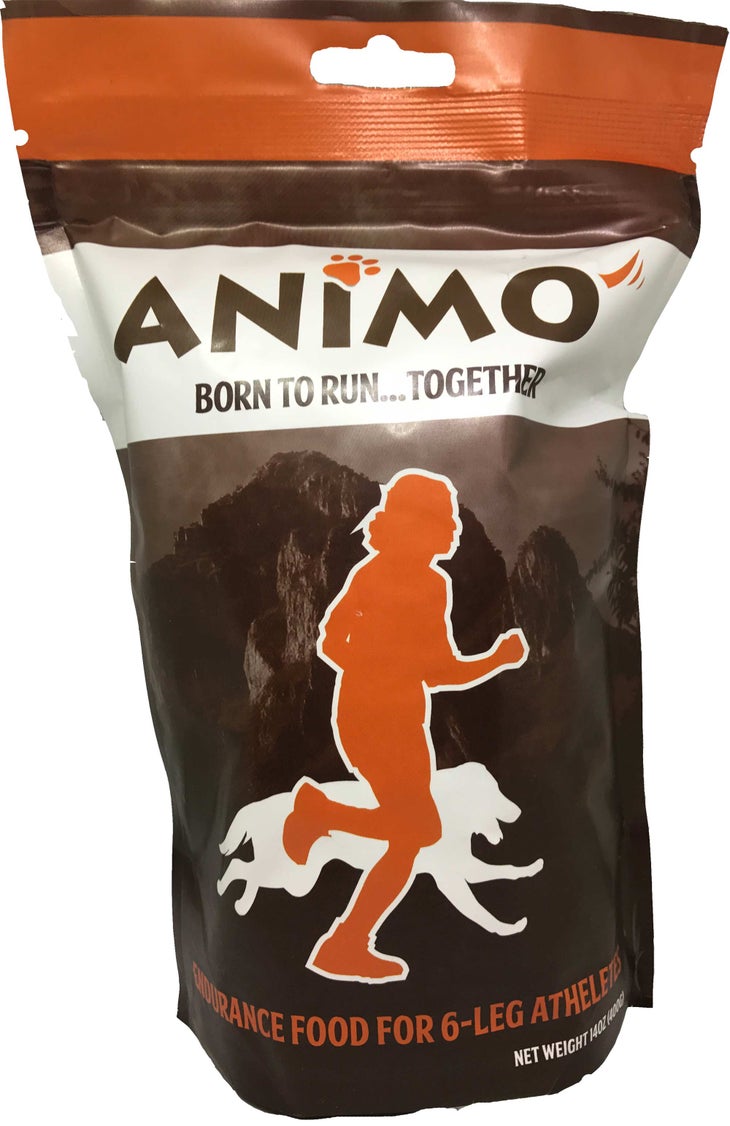 The texture and look of these quarter-sized pup snacks resembles mini peanut butter cookies for dogs. But they're much healthier: Each bite is packed with pinole (a high-nutrient grain), amaranth (which has more iron, calcium and protein than wheat or rice), chia (which provides energy and antioxidants), and a drop of molasses (for texture). "Our 2-year-old Australian Shepherd isn't a beggar, but will do anything for them," one tester says, and we found Animo' to be the perfect size for snacking during short hiking breaks or teaching a puppy new tricks on the trail. Bonus: humans can eat 'em, too. (We tried. They're not bad at all.)
$14.50 for a 14 oz. bag
Ruffwear Grip Trex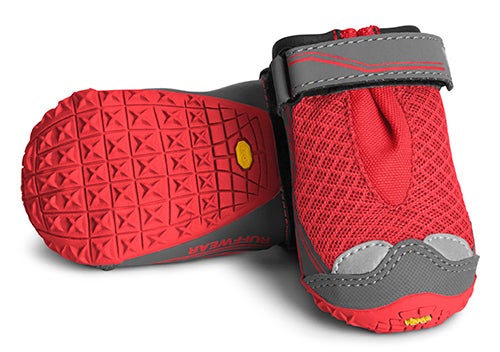 Dogs' paws are tough, but in harsh, rocky terrain, even they need extra protection. Luckily for us (and our pooches), Ruffwear's ubertough booties provided almost the same grip, safety, and comfort of a human hiking boot. "The sticky Vibram rubber and X-shaped lugs on the bottom of the Grip Trex grant great traction, and allow my dog to clamber over boulders along the trail with no problem," one Boulder, Colorado tester says. The booties, which come in a range of sizes, are made of a breathable mesh that keeps paws from overheating in warm conditions (they're great for hot days on asphalt or sand), and are thin enough to promote a natural gait without being cumbersome. A hook-and-loop strap makes entry and exit easy; "Every time we reach a field of sharp rocks, we can just slip them on with no issue," our tester says. Bonus: The Grip Trex pack down to the size of a quart sandwich bag.
$75; 4.4 oz. (full set of 2″ booties); 1.5"-3.25" 
Kurgo Collaps A Bowl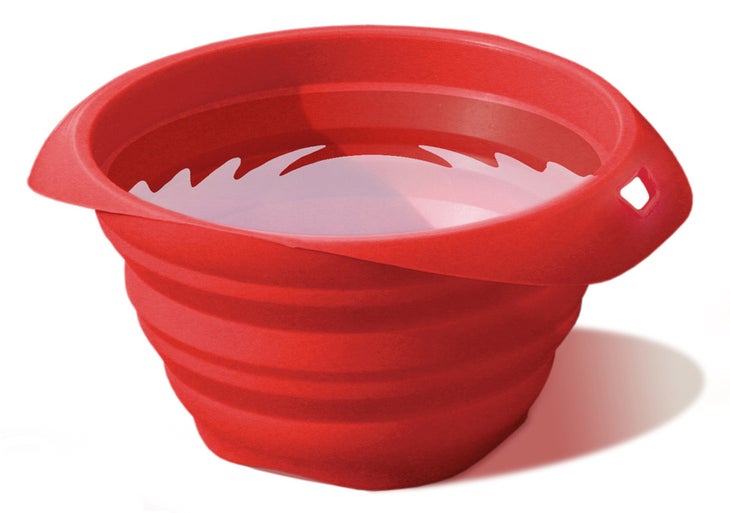 At barely an inch high, this 24-ounce bowl is thinner than a fluffy pancake when it's flattened out, and easily fits in your pack or your dog's pack. Made from food-grade silicone, it's BPA-free and dishwasher safe, so it's easy to keep clean and odor-free. "A lot of fabric bowls cave in on themselves and make it hard for my dog to get to her food, because she doesn't like sticking her nose too far into spaces," one tester says. "This design is tiered (it looks like an upside down pyramid when it's extended) so it's really easy for her to get everything inside."
$10; 5.4 oz; .9" x 6" collapsed, 3.5" x 6" extended
Ruffwear Approach Pack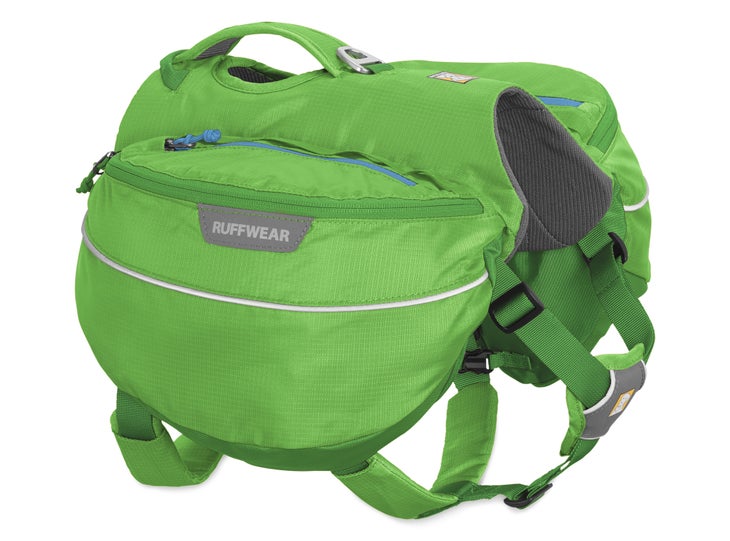 For extended excursions, making your canine companion carry their own load will lighten yours. The Approach allows dogs to carry water, food, and more in comfort with a long, saddle-like design that features padding along the spine and shoulders. Two saddlebags hang on either side of the pup's torso, and both have a second exterior pocket and daisy chain loops. "This pack has more than enough room to carry everything our dog needs for a long hike," one tester said after a daylong journey on trails above Golden, Colorado. "It fit two liters of water, a collapsible bowl, almost two pounds of snacks, her hiking booties, and a stuffed toy." The 420-denier nylon brushed off encounters with rocks and bushes with ease, and the padding kept his pooch comfortable for the entire hike. A metal v-ring and webbing loop sit directly on top of the dog's back for a leash to clip into, and the pack is adjustable via five padded straps that lay across the dog's chest, sholders, and ribs. Tip: Balance the weight equally between the saddle bags, or your dog's load will be lopsided.
$80; 1 lb. (S); 12.5 liters; XS-XL
Chaco Dog Leash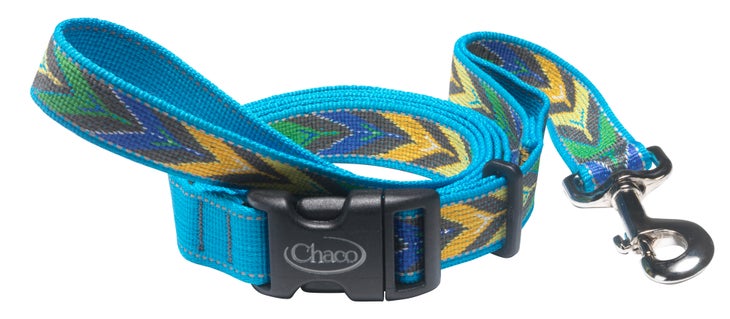 This 6-foot-long leash features a plastic buckle that allows dog owners to fasten it around their waist, lasso-style, for hands-free walks and trail runs. The leash is made of a durable polyester jacquard webbing that's a comfortable texture for human hands, and the buckle is intuitive and easy to use, our tester reports. Pluses: It has reflective thread woven throughout the entire length for nighttime visibility, and is machine-washable.
$20; 5 oz. (1″); .75"or 1" widths
TurboPup Complete K9 Meal Bar on the Go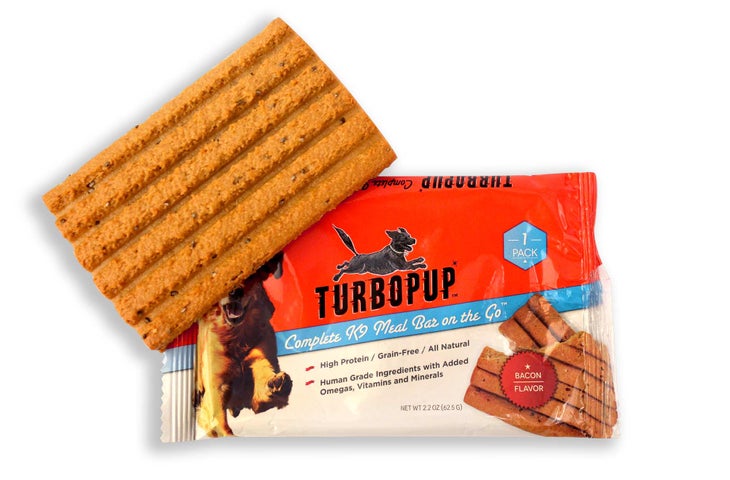 Unlike dehydrated backpacker's meals, full spreads for your pup can take up a lot of pack room. That's why our testers loved TurboPUP's compact bars, which provide a full helping of fuel in a trek-friendly package. "My dog loved the bacon and peanut butter during hikes around the plateaus above Golden, Colorado—she even chose them over her typical dog food," one tester says. "I can pack a bar (or multiple bars) for each meal, depending on how hard the hike is, rather than throwing kibble in a plastic bag and guessing if it's enough." The bars are high-calorie (210 kcal per bar), and pack a load of vitamins and minerals along with whey protein isolate and peanut butter. Tradeoff: The wrappers create more waste, so be sure to leave no trace.
$30 for 1 box of 12 bacon bars; 2.2 oz. per bar
MountainSmith K9 Cube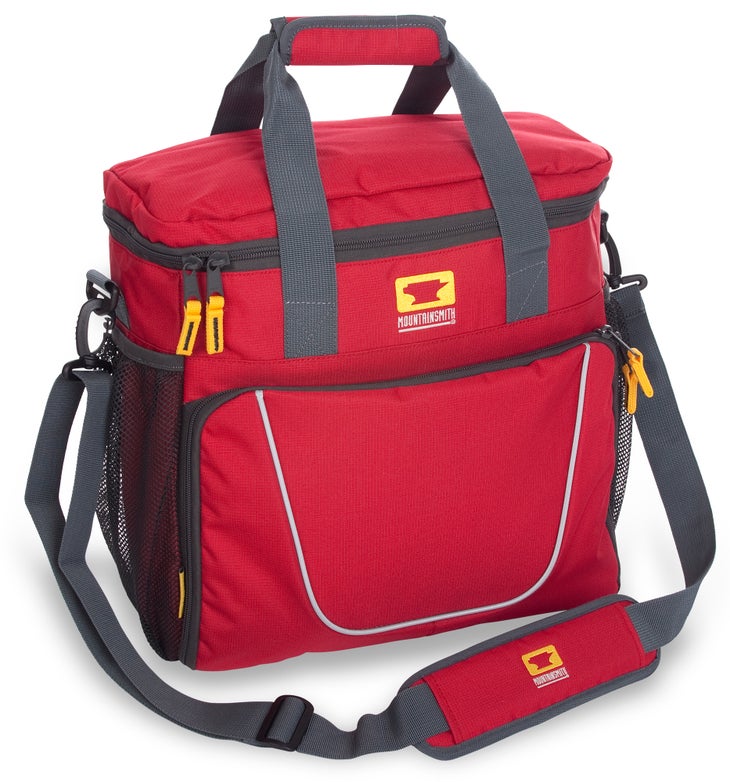 From front porch to trailhead, this tote makes organizing a post-work jaunt or weekend road trip with your favorite furry friend that much easier. "This is our designated doggie diaper bag! You can pack everything you need: food, water, toys, poop bags, leash, collar, dog brush, and booties," one tester says. The K9 Cube is large enough that you can even fit a doggie backpack in the case, and the bevy of storage pockets makes finding contents a breeze. It also features a padded shoulder carry strap and a removable, lunch box-like lined food container.
$65; 2 lbs. 11 oz.; 26.2-liters; 15" x 15" x 7.5"