Backcountry Birthdays!
Toasting to the day of your birth in the backcountry isn't complete without a proper dessert. Or three.
Heading out the door? Read this article on the new Outside+ app available now on iOS devices for members! Download the app.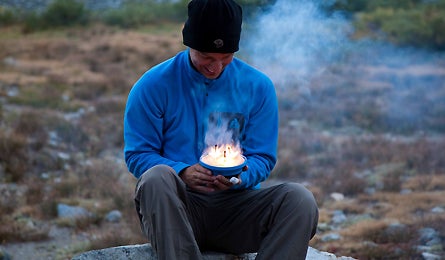 Celebrating birthdays with an epic backcountry excursion is fun, but having a sophisticated dessert really is the icing on the cake. Click on for three candle-worthy après-dinner treats. NOTE: Stormproof matches can double nicely as ad hoc candles.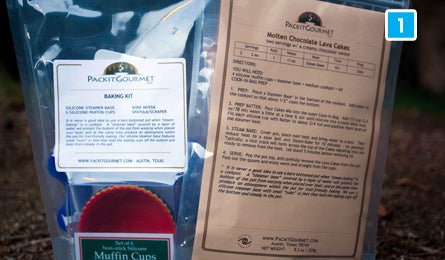 Packit Gourmet Molten Lava Chocolate Cake: If you're looking for an authentic, mouth-watering cake experience, look no further. Preparation is more complex than most, but it's worth it.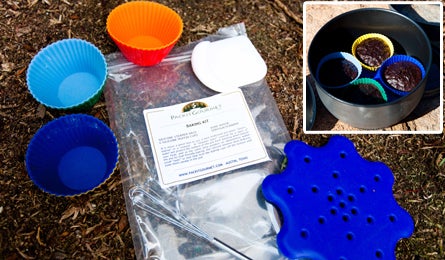 You'll want this baking kit which includes a whisk, scraper, reusable food-grade silicone cupcake holders, & a steaming tray which lifts the cakes off the bottom of the pot to prevent scorching. The package makes 4 cakes which fit neatly into my 1.6L pot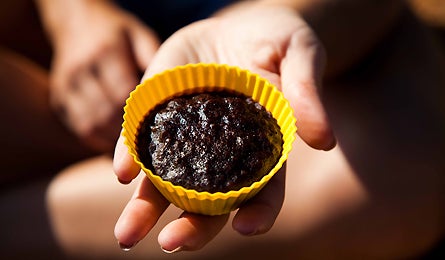 The hardest part is keeping the lid on the pot for 10 minutes to lock in the steam, but the final product will prompt your friends to say: "Oh good Lord that is amazing…Can I please lick the bag?"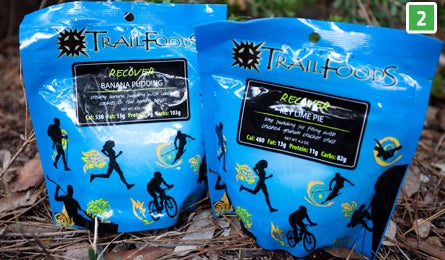 Enertia Trail Foods Recovery Dessert, Banana Pudding: If you're the sort who schedules a thirty-mile hike with 30K of elevation change to celebrate your 30th (as I am), this is your dessert of choice.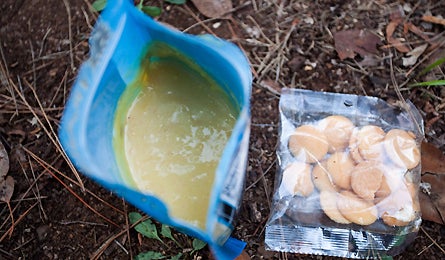 Prep could not be easier, add cold water and stir. The ingredients are designed to taste good and refuel you, but this dessert's slimy consistency really divided my compatriots. Those who were used to eating Goo loved the flavor, but others balked.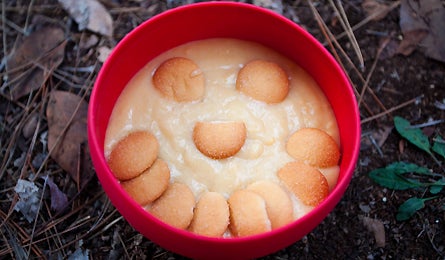 Even if you're in a hurry, take some time to have fun with this one (although you'll need a girthy candle to get it to stand up in the pudding).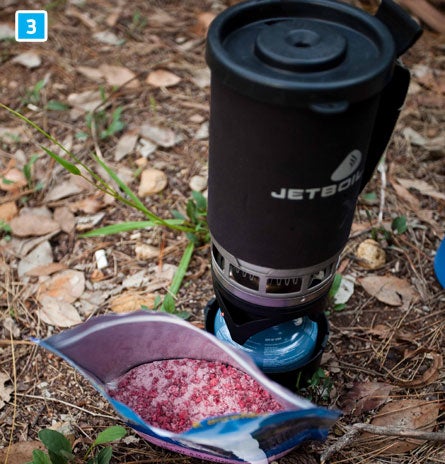 Mountain House Raspberry Crumble: This is my favorite for winter hikes. Prep is easy (key when your hands are cold): Just boil water, dump it in the bag, wait a few minutes, and dig in. The result? A piping hot bowl of tangy deliciousness.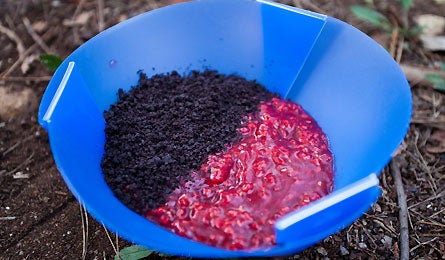 If you're celebrating properly, bring a serving dish for a touch of class. I like origami-style bowls like this one from Orikaso ($5, orikaso.com); they fold flat and weigh practically nothing, but they still have enough volume for community sharing.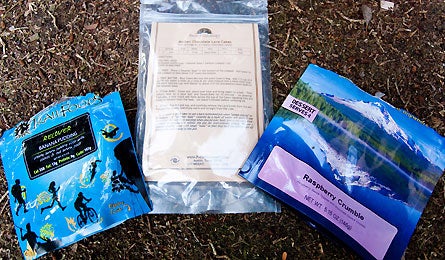 The Specs:
Packit Gourmet Molten Lava Chocolate Cakes, $5.50, 8 oz.
Enertia Trail Food Banana Pudding, $4.75, 5 oz.
Mountain House Raspberry Crumble, $6.50, 8 oz.
Photos and text by birthday boy Will Rochfort