Appalachian Trail Gear List
Our contributor compiles gear for a thru-hike of the Appalachian Trail.
Heading out the door? Read this article on the new Outside+ app available now on iOS devices for members! Download the app.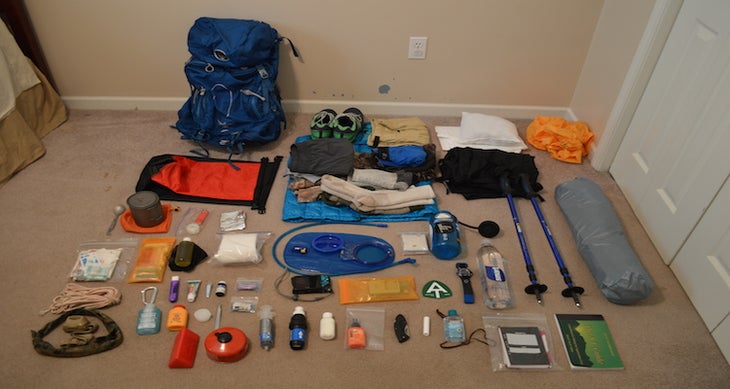 My possessions for the next 6 months. [photo by Jonathan Olivier]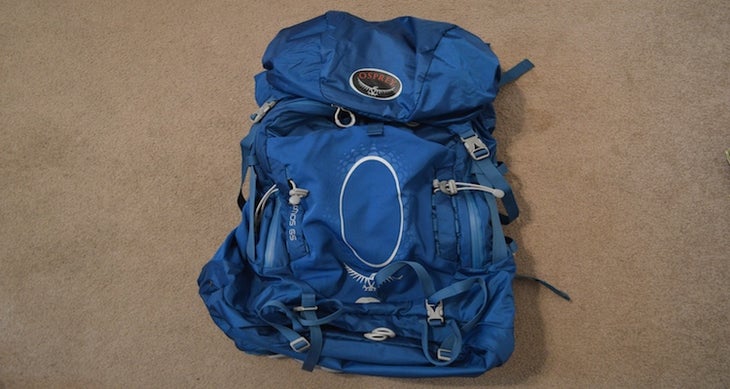 I picked up an older model of the Osprey Atmos 65, and so far I'm pleased. It weighs just over 3 pounds and has plenty of room for my gear. It's a comfortable fit, too. [photo by Jonathan Olivier]
I've heard good things about trail runners from AT thru-hikers, so I broke down and got a pair after much research. I hung up my Merrell Moabs and picked up the New Balance 1210v2 trail runner. So far, excellent toe box, comfortable fit and good traction. [photo by Jonathan Olivier]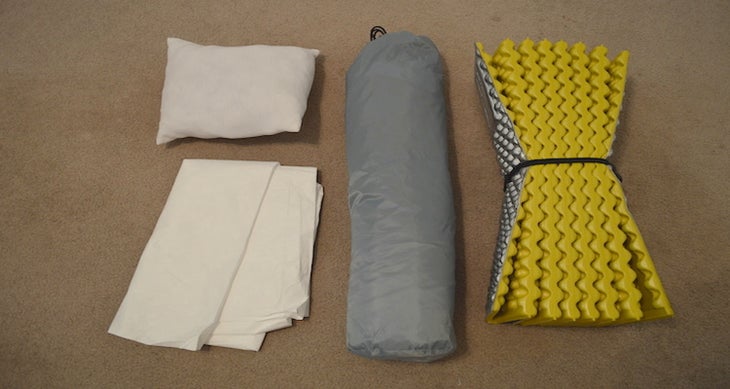 I got a Eureka Spitfire tent at a bargain price, and at just a tad over 3 pounds, it's a good tent so far. A Tyvek sheet will act as a footprint and a Therm-A-Rest Z-lite will keep me warm. I can't be without a pillow, so I made one out of an old T-shirt that only weighs around 3 ounces. Not pictured: Big Agnes Mystic UL sleeping bag. [photo by Jonathan Olivier]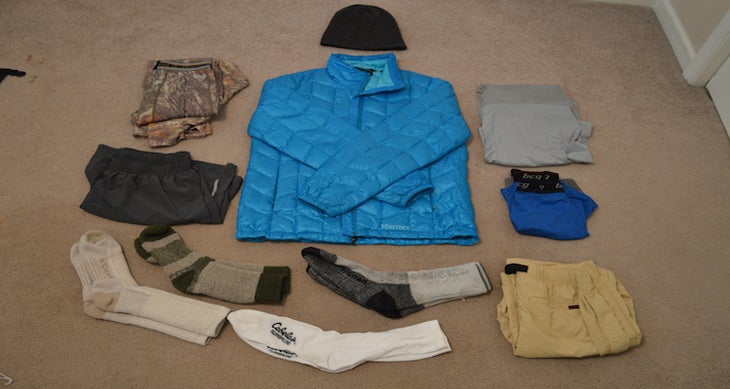 Baselayer: Under Armour cold gear, Wigwam socks, wool socks and Cablea's sock liner. Mid-layer: Gramicci rocket dry pants, Marmot 800-fill down jacket, (2) Nike shirts, running shorts, and beanie. [photo by Jonathan Olivier]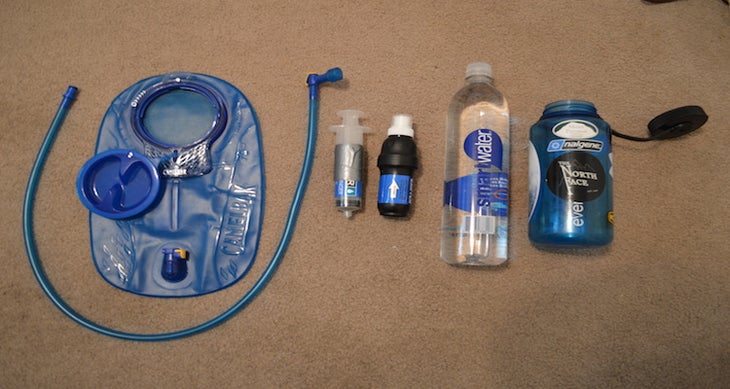 The lightweight Sawyer filter quickly and effectively makes backcountry water safe to drink. Though the Camelbak and Nalgene are a bit on the heavy side (13 ounces combined), I couldn't imagine a hike without them. A 1 liter Smart Water bottle will work to scoop up unfiltered water and attach to the Sawyer. [photo by Jonathan Olivier]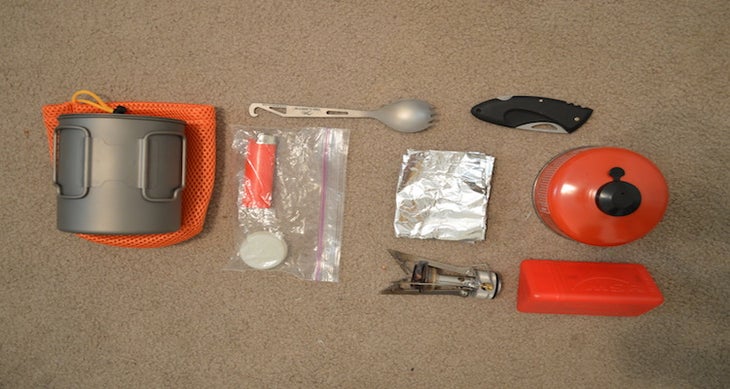 Titanium 750ml cookware and spork coupled with a reliable MSR Pocket Rocket is a hard combo to beat. [photo by Jonathan Olivier]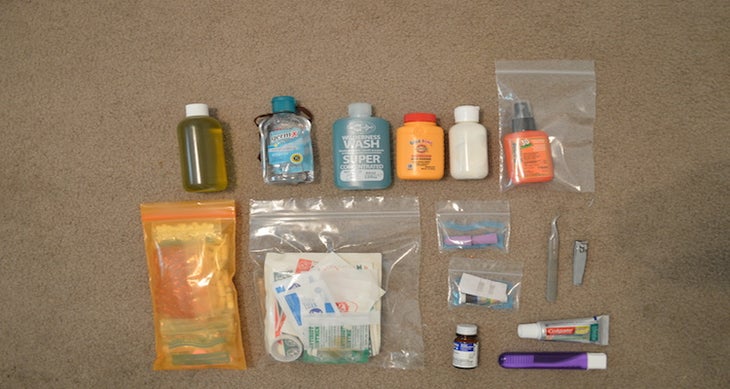 I've got more medicine packed than a pharmacy. I have fish oil to help with inflammation (joints), probiotics to regulate digestion, anti-histhemine tablets, and of course ibuprofen. I made sure to include Gold Bond, and, from what I've heard, it's a life saver. [photo by Jonathan Olivier]
I've never been much of an ounce-counter when planning backpacking trips. Sure, I took measures to ensure I wasn't carrying a 50-pound load, but my gear always suited me well on weekend excursions or short overnights without stressing over a bit of extra weight. I was always able to push through sore legs and feet for a few extra comforts on the trail.
Planning for a thru-hike, though, has completely thrown me a curveball. A few weeks ago I laid out all of my gear for the Appalachian Trail and knew right away if I wanted to even make it through the first week I was going to have to overhaul my equipment and trim the fat on everything I intended to keep.
Do I really need this?
I've asked myself that question over and again, until I convinced myself if I wasn't going to use it on a weekly basis, it didn't need to come. Flint and steel? Not necessary. Extra rope? Can get that easily in town if I need it. Entire first aid kit? A few bandages and gauze pads will do the trick.
After hours of sitting next to a gram scale and removing or modifying everything I could, I got my pack weight to 21 pounds. Not ultralight by any means, but I'm satisfied. With four days of food and one liter of water, I should be around 29 pounds, give or take, which is manageable—especially when my weight before my gear-buying spree would've been more than 40 pounds.
Now if only getting into shape was half as easy (and fun) as buying new gear.