A Taste Of Home In The Backcountry
Morning routines are sacred, and being miles from a proper kitchen shouldn't change that.
Heading out the door? Read this article on the new Outside+ app available now on iOS devices for members! Download the app.
It was the sound that woke me. Not the loud, piercing chime of my work alarm back home, but the gentle whisper of an early-morning breeze as it swept through camp. The needles of the blue spruce towering above my tent rustled in the morning air, and a pair of Jays called lazily to each other from across the valley. I lay for a moment, waking up slowly, peacefully. Deep inside my down bag I was warm against the autumn chill, but the small ice crystals formed on my tent wall spoke to the climate outside. The draw of snuggling deeper and falling back asleep was strong. But as the first rays of sun kissed the top of my tent, and more birds joined the morning chorus, I smiled and began my favorite morning routine.
Sleeping bag unzipped and wool cap donned, I reached around for all the essentials I had neatly stowed in my cozy-quarters the night before. Light gloves, GPS watch, fresh socks, all in their place. I've long enjoyed the simplicity of backpacking, being able to spend days in the wilderness with only what I can carry. Packing wisely requires consistency and routine, knowing just what I need and where it is for any situation, making each item that I trek into the wilderness indispensable.
Dressed and climbing out of my tent, another noise passed through camp, this time the rumbling of my stomach. I let out a bellowing yawn to greet the morning, and took a few long strides through dew-covered grass towards my rock-floored backcountry kitchen. After multiple mornings on the trail, I had fully settled into my beloved morning rituals, and wasted no time diving back into them. With cold fingers I clicked open my bear canister and pulled my cookware and breakfast bag from its depths. I spun the fuel bottle onto my stove and depressed the starter once, twice, three times, and the small blue flame roared to life. Waiting for the water to boil, I stretched through a few yoga poses, gently flexing my tired muscle and sore shoulders, preparing them for the day ahead. Now limber, but still yawning, I reached back into my bag for another essential item, my Nanopresso. Feeling its weight in my hand, a smile broadened across my face as I anticipated the heavenly beverage only this device could produce.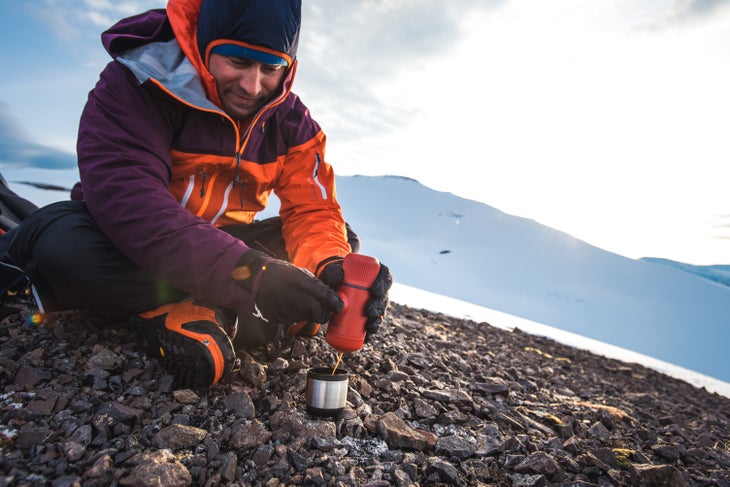 With the precision and fluidity of a seasoned Italian barista, I spun the canister open, packed it with dark, finely ground coffee, and poured in the now boiling water from the stove. Another smooth spin of the wrist and everything was closed and ready. Slowly and repeatedly I depressed the plunger, building pressure inside the device until finally, a rich stream of espresso poured into my cup. No grounds, no compromising, just perfectly rich, bold espresso. The intoxicating smell of the fresh pour mixed with the fresh alpine air created an aroma that candle companies can only dream of capturing.
Whole-grain bagel in one hand, perfect espresso in the other, I leaned my back onto a boulder and enjoyed my morning meal slowly. Too often is my morning routine rushed, interrupted by emails, phone calls, dogs barking to be let out. But in the backcountry I cherish the morning routine, and admire everything that surrounds it.
I polish off breakfast and a final sip of java and repeat my earlier routine in reverse. Everything that came out of the bear canister for breakfast is cleaned and put back. With the direction and efficiency of having done the same things for days in a row, I stuffed my sleeping, bag, neatly folded my tent, laced my boots, and pulled out my map for a gauge at the trail ahead. Steep, and long. No matter, with a full stomach and the rich smell of espresso still hanging in the air, I couldn't be more prepared for the day ahead, nor more excited to do the same thing again tomorrow morning.