Elevate Your Backpacking Game With These 9 Gear Picks
Cairn's subscription boxes regularly deliver the latest gear right to your doorstep.
Heading out the door? Read this article on the new Outside+ app available now on iOS devices for members! Download the app.
I never used to be a pillow kind of backpacker. I was the kind of person who brought the bare minimum on trips not just because it was easier to carry, but because I didn't think all the extras were worth the hype or the cash.
Enter the Klymit X inflatable pillow. Actual pocket-sized (and I'm working with women's pockets here, which can only hold one Sacagawea coin and a Kleenex), inflates with two good breaths and worth its weight in platinum.
I never would have bought it on my own, but it came in my second Cairn box and it revolutionized the way I sleep outdoors. The Cairn box ($27.45/month) includes up to six outdoor products and comes once a month right to your doorstep—the upgraded Obsidian box ($249.95/quarter), with products like sleeping bags and packs, comes once a quarter—full of useful surprises that can easily make their way into your permanent camp kit.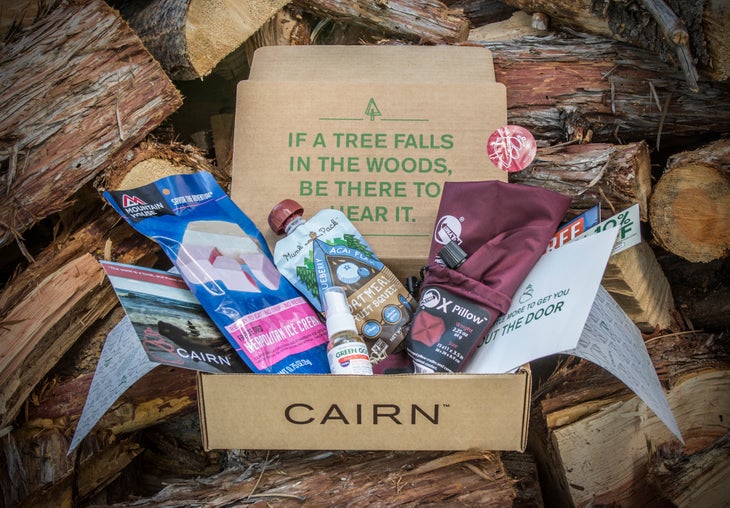 Here are 9 gear essentials you didn't realize you needed, all from previous Cairn and Obsidian boxes.
1. Outdoor Element's Firebiner: This is the Swiss Army knife of 'biners. It includes a reloadable fire starter, utility blade, bottle opener, screwdriver tip, and attachment rings for your keys. No need to worry about forgetting the matches.
2. Klymit X Pillow: This 1.95-oz inflatable pillow has four triangular chambers so it cradles your head perfectly in a tent or on a plane.
3. Klymit V Sheet: Add 10 degrees to your sleep system in a cinch with this 5.6-oz sheet. Cairn subscribers get to weigh in on the gear they get—and try new products not yet released to the rest of the world—and that's what makes the V Sheet even sweeter: Cairn user feedback led Klymit to adapt the sheet for use with almost any sleeping pad, as well as add a strap to better hold it in place.
4. Light My Fire Titanium Spork: Never again worry about snapping your spork or melting it. This titanium spork is strong enough to scoop watermelon.
5. Honey Stinger Waffles: If you haven't had a stroopwafel, you're missing out. These high-energy trail snacks make way better s'mores than graham crackers, and they're much harder to pulverize into a fine powder at the bottom of your pack, too.
6. Grand Trunk Abrigo Rain Fly & Shelter (Obsidian box): Can your tarp be configured into a dozen different types of shelters? The Abrigo can. Use the 16 guy-out points on this all-purpose fly to build a front porch for your tent or replace it entirely. At 16 ounces, it's lighter and packs smaller than what you're already bringing with you on the trail.
7. Thermacell Backpacker Mosquito Repeller (Obsidian box): This 4-oz contraption turns your fuel canister into a mosquito repelling machine. It creates a 15-square-foot bubble around your tent so you can enjoy the night sky without getting eaten alive.
8. Eagle Creek Pack It Cubes (Obsidian box): Eagle Creek's ultralight Pack It Cubes keep your stuff compressed and organized whether you're on the trail or at the airport. I like to use these cubes to keep my dirty clothes separated from my clean, dry layers. Those are sacred.
9. Speaqua Barnacle + Speaker (Obsidian box): Having a shock-proof, waterproof, sand-proof speaker can really liven up your campsite. This one weighs just 1.44 oz. Now that's something to dance about.