Editors' Choice 2015: The Best Backpacking Gear of the Year
We dragged hundreds of products around the globe for a year, looking for the best gear. The result: 13 Editor's Choice Award winners for your wish list.
Heading out the door? Read this article on the new Outside+ app available now on iOS devices for members! Download the app.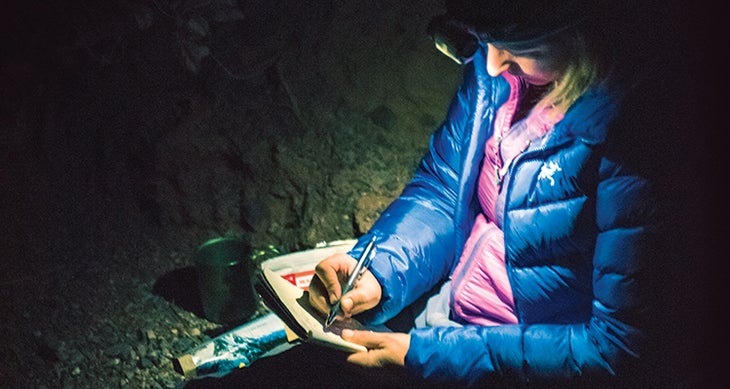 photo: Andrew Bydlon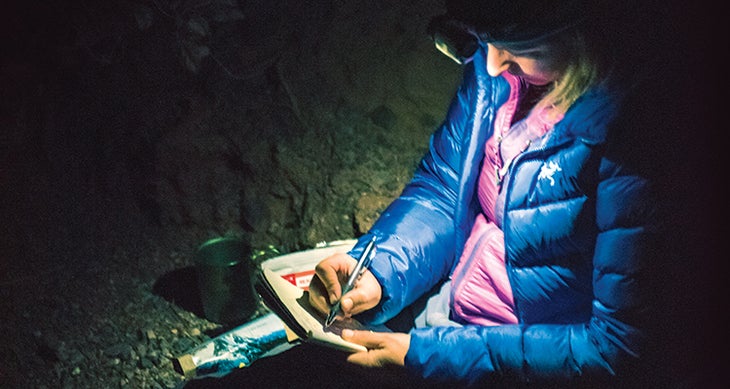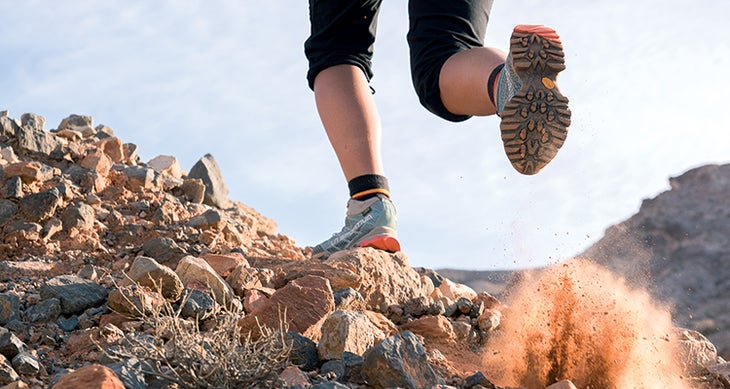 photo: Ben Fullerton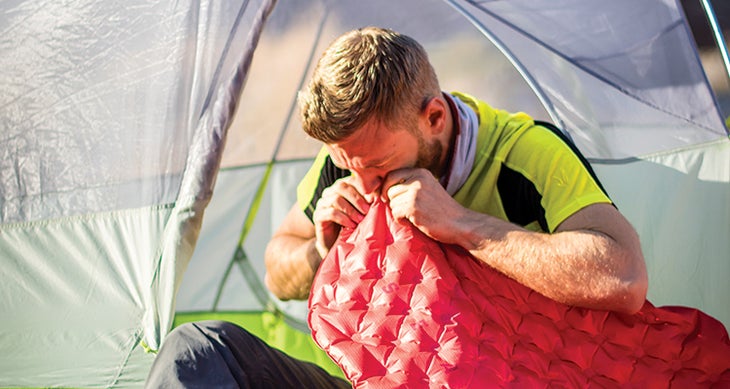 photo: Andrew Bydlon
photo: Andrew Bydlon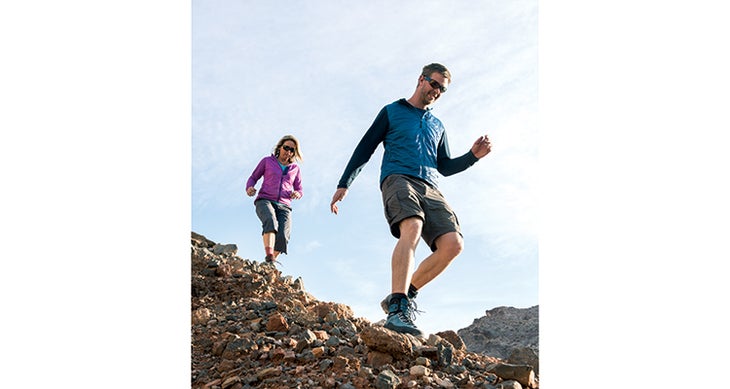 photo: Andrew Bydlon
The Final Round
Eight BACKPACKER staffers circle around a still-warm camp stove as the moon rises over 12,982-foot Temple Crag, in California's John Muir Wilderness. Moonlight reflects off of Second Lake and the cirque's new dusting of snow. Our bellies are full, our muscles sore, and the cones of light from our headlamps illuminate notebooks, spreadsheets full of gear specs, and torn-out pages of catalogs. A titanium flask makes the rounds.
And so the great gear debate begins. We talk through each item on the master list of final contenders for our annual Editors' Choice Awards. After months and months of testing—from New Zealand to Alaska—the anecdotes have piled up like campfire tinder. Some products incite passionate opinions and heated discussions. Others fade under the scrutiny of testers with a combined 85 years on the job.
We perform this ritual each night of our weeklong adventure, culling 50-odd finalists down to the very best. This year, the debates unfold during a mountains-to-desert California road trip—and by the end, we fight, claw, and shout our way to consensus. Believe it: These 13 products are worth coveting.
La Sportiva Synthesis Mid GTX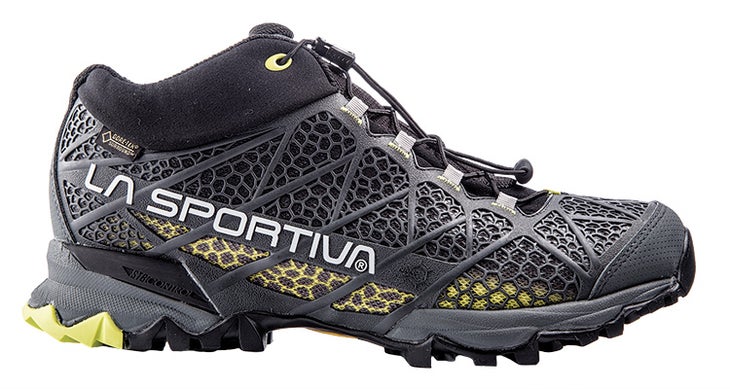 Many boots have waterproof dialed, but when it comes to breathable, we're often looking at our blistered toes and asking, Compared to what? From now on, it's compared to this.
Equipped with Gore-Tex's new Surround technology, the Synthesis vents heat 360 degrees by adding an airy, perforated footbed that sits atop a foam spacer and pushes moisture out side vents with every step. We tested this technology in a few other boots this year and found it works best in the lightweight, meshy Synthesis. Not even our sweatiest-footed tester—who'd been resigned to getting blisters in waterproof shoes—could swamp these things.
How does it hike? The compression-molded EVA midsole offers sufficient support for a standard weekend load over rocky terrain, and a durable PU exoskeleton boosts protection. An aggressively lugged Vibram outsole boosts traction. $180; 1 lb. 5 oz. per pair (w's 37); m's 38-47.5, w's 36-43; sportiva.com
Jetboil MiniMo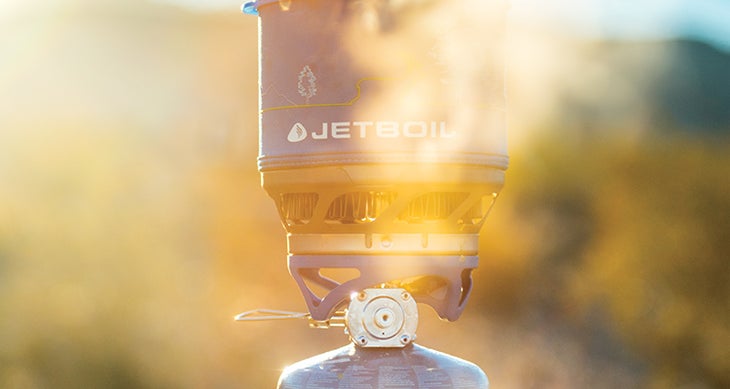 The Jetboil MiniMo upends what we thought we knew about "personal cook systems," the integrated stove/pot design that Jetboil pioneered in 2004. Like its predecessors, the MiniMo has lightning-fast boil times (it averaged 2 minutes and 21 seconds for 20 ounces at room temp in our controlled test) and efficient fuel consumption (expect about 9 liters of boiled water for a 3.5-ounce fuel canister). But, unlike all its predecessors, it can actually simmer: We kept a pot of soup over a low flame for nearly 10 minutes without adjusting the stove or scorching our meal. The trick? A larger regulator and more finely tunable fuel flow allow for unprecedented control, even at high elevations.
And while the simmering is what seduced us, we also like the 1-liter pot's key features: PVC-coated, flip-out metal handles for easier pouring; a stay-put lid with drinking spout and strainer; and an included pot stabilizer and 10-ounce plastic bowl. And if you want more capacity for your elaborately simmered meals, check out the newly redesigned, 1.8-liter Sumo, which uses the same burner. Minor gripes: Simmering worked best in calm, wind-free conditions; canisters larger than 3.5 ounces won't pack inside the pot; and the Piezo ignition, as is common with such sparkers, had trouble starting at altitudes above 8,000 feet. $130
Kestrel Drop D1
Next time we see a forecast for -1°F and windy, we'll know exactly how to dress. That's how cold it got on an early-season Colorado snowshoe trip, and it turns out those mittens mom bought keep us warmer than we expected. Also, our too-big 15°F bag started feeling chilly with lows around 35°F, and that mesh-walled summer tent didn't hold in our body heat at all on a 33°F night.
You could say this level of temperature precision is just for geeks, but we love having the hard data to be able to match the forecast to our personal preferences and gear. It's all because we've been carrying the Drop, a weather logger the size of a Double Stuf Oreo. This nifty gadget, which runs on a watch battery, takes and stores a temperature reading every few minutes (you set the interval), then downloads it to a smartphone app (iPhone only at the moment; Android coming). As soon as we started carrying the Drop, we became addicted to the data, especially overnight lows and daytime highs.
The D1 logs just temp; the D2 ($149) also senses humidity, heat index, and dew point. You can connect via Bluetooth even without cell service, and the app lets you export data to a spreadsheet. Nitpick: The only way to stop logging is to remove the battery (which lasts about four months), so we have lots of data about our closets. $89
Sea to Summit X-Pot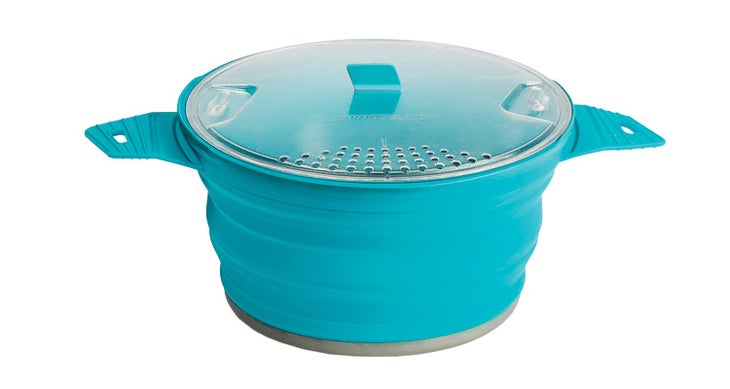 How's this for a magic trick? Turn a 1-inch-tall disk into a 2.8-liter pot with the flick of your wrist. It's easy with the X-Pot, which has silicone walls that fold in on themselves, shrinking the pot down from 4.5 inches tall. The innovation solves the main problem with cookware: Pots are bulky and cumbersome. But shrinking isn't the X-Pot's only talent. We found the flexible walls easy to scrape clean, and the hard-anodized aluminum base shed even a layer of caked-on scrambled brownie. It's a bit heavier than an all-aluminum pot, and you need to take care not to expose the silicone to direct flame (simply avoid the campfire), but those are minor compromises for the ease of packing what's usually our kit's most awkward item. $50
Big Agnes mtnGLO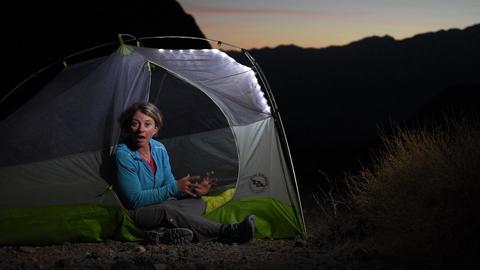 A tent with a built-in disco ball might get more buzz, but only just. With mtnGLO, your tent-bound nights are guaranteed to be a whole lot more fun. It's equal parts party and practical. Stuck in a storm? Play cards and kick back beneath mini LED lights that cast a glow throughout the tent—instead of a partner who keeps shining a headlamp in your eyes. Adding virtually no weight or bulk, mtnGLO integrates strings of tiny LED bulbs into tents' overhead seams to offer soft, consistent light. The system uses a business-card-size switch that holds three AAA batteries (according to Big Agnes, battery life is about 90 hours, depending on tent size). The LEDs are sewn into 14 BA tents, from family basecampers to ultralight models. You can also retrofit the mtnGLO Tent Light Accessory Kit ($40; 3 oz.) to any tent you already have, and, if you're going deluxe, the mtnGLO PowerCase/Loft with Joey T55 ($200) adds a battery pack to charge electronics. Two settings—high and low—cover the range of lighting needs (most testers found full brightness adequate for reading, while dim is perfect for hang-out sessions). And, best of all, it makes every night feel like Christmas Eve. $40
Mountain Hardwear HyperLamina Spark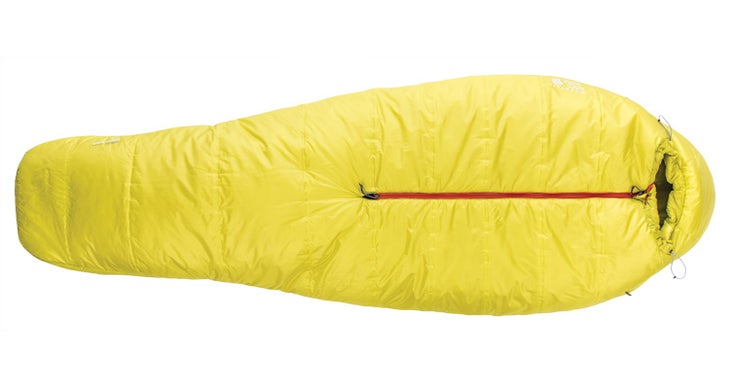 We're a staff full of down snobs (no apologies), but for the first time ever, we found ourselves choosing synthetic over feathers on three-season trips down to 30°F—whether or not there was rain in the forecast.
The Spark changed our minds, first and foremost, by disappearing into our packs. It squishes to 7 by 12 inches in the included compression sack—about the same size of a comparably priced down sack. Mountain Hardwear achieved this by welding its proprietary Thermal.Q insulation (longer fibers loft in curlicue shape, while shorter ones fill the spaces between) directly to the inside of the shell, eliminating redundant and bulky shingling. The resulting bag kept us warm to 35°F without so much as a cold spot (and we used it down to an impressive 20°F while wearing a puffy).
Also, the two-way center zip makes it easy to sit up and do basic tent chores without getting all the way out of your bag. In icy weather, we could unzip from the bottom and stick out our little T-rex arms, or in milder temps we could unzip from the top and wear the bag more like a large, insulated cape. Either way, it beats getting out of your bag all at once. Extra credit: The reduced number of seams makes the interior feel like silk sheets against our skin. And that's something new to be snobby about. $220
NEMO Equipment Sonic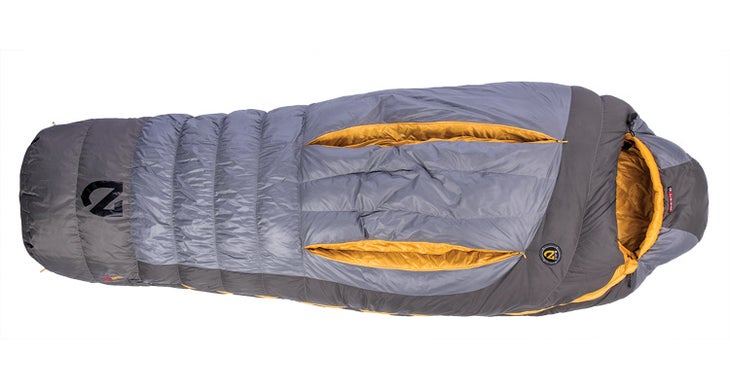 It's rare that a $500 product is a steal, but the features and performance NEMO packed into the Sonic make this bag one of the best values of the year.
Start with top-of-the-line, 850-fill duck down—same warmth as goose down, just cheaper—that ensures toasty comfort down to the 0°F temp rating. A hybrid baffle design trims cost relative to traditional vertical baffles: Since the vertical baffle chambers are only 26 inches instead of the entire length of the bag, they don't require pricey, internal mesh-wall construction to prevent down migration within the baffle. Also, the vertical alignment keeps the insulation over your core (it can't migrate from side to side) where you need it most.The horizontal baffles through the legs have stretch stitching for extra mobility—enough for one tester to change inside the fully zipped bag on a freezer-burn morning in Wyoming's Wind River Range.
In warmer temps, unzip the two longs gills on top of the bag to vent core heat; it's a big improvement on the cold toes we get by opening the footbox on conventional bags. Even with all this stuff, the Sonic is still at the lightweight end of its class. Only downside: The hood's bungee cord hangs on your face if you pull it all the way tight. $499.95
Sea to Summit Comfort Plus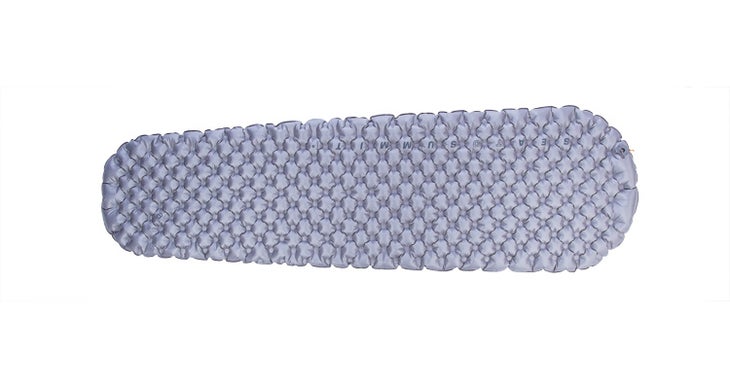 We tested this mattress from the lowest valley in the United States to the highest peaks in Nepal, and the feedback always came back the same: This is the most comfortable night's sleep we've had on a pad this packable. Combine that with a unique design that uses two separate air chambers—giving you 1.25 inches of insurance against a leak—and you get our new favorite pad. Pump the bottom half to max capacity to lift you off any roots or rocks, and then fine-tune the top half to your preferred level of firmness. Five hundred forty-eight individual air cells provide structure and better support than traditional horizontal or vertical chambers—even for restless sleepers. One tester deliberately inflated just one side (she had the insulated version), and despite sleeping on uneven, frozen terrain, she was still warm and comfy at 16,000 feet in Nepal. Sleep cold? The insulated model amps R-value from 1.5 to 5 for $30 and 4.5 ounces more. And all this comfort still compresses to 4 by 7 inches. Bonus: The valves allow fine-tunable inflation and instant deflation. $170
Princeton Tec Sync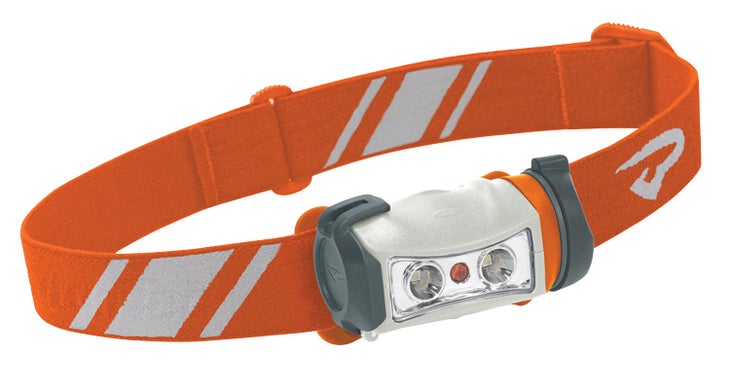 In the last few years, headlamps have been trending toward the super-techy, with rechargeable options, programmable lighting, ambient light sensors, swipe controls, and price tags that will drop your jaw (upwards of $150). Which is exactly why we came to love this basic model. It's as simple and intuitive as it gets, yet still has all the features we want, and it costs only $30. Rather than relying on complex electronics and a 12-page instruction manual, the Sync uses a simple, foolproof dial on the side of the housing, which lets you manually click back and forth through the five modes (red, spot, high flood, low flood, and max bright). According to our tests, it runs for about 70 hours on max bright before becoming too dim to use. In this case, the Sync has all the technology we want—and none we don't.
Outdoor Research Deviator Hoody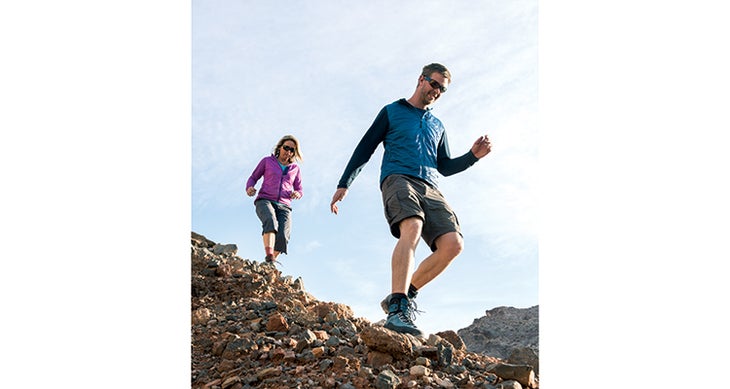 Regardless of the temps or conditions—from chilly 30°F hikes at 11,000 feet in the John Muir Wilderness to cool camp evenings in the 50s in Death Valley to frigid Vermont ski days—the Deviator emerged as the layer everyone wanted to wear, both as a stand-alone and as part of a layering system. In fact, over the course of nearly a week, our gear editor threatened to harm anyone who tried to take it from her. And even after a no-shower week in the backcountry, she wore it on the plane home without eliciting dirty looks or scrunched noses from her neighbors. Perforated Polartec Alpha insulation lines the front of the core and provides a touch of insulation and max breathability during exertion, while a soft, wicking polyester liner and gridded Polartec High Efficiency fleece make the jacket sweatshirt-comfy. The cut is trim but not clingy, and the fabrics are stretchy and thin, so they never limited our movement during class 3 scrambles. The snug-fitting hood slips nicely under a helmet, and the whole thing scrunches down to grapefruit size. Our only gripe: We wish the hand pockets had zippers. But we're willing to overlook that—and accept the price—for a jacket that gets near-constant wear in a huge array of conditions. $185
Osprey Atmos AG/Aura AG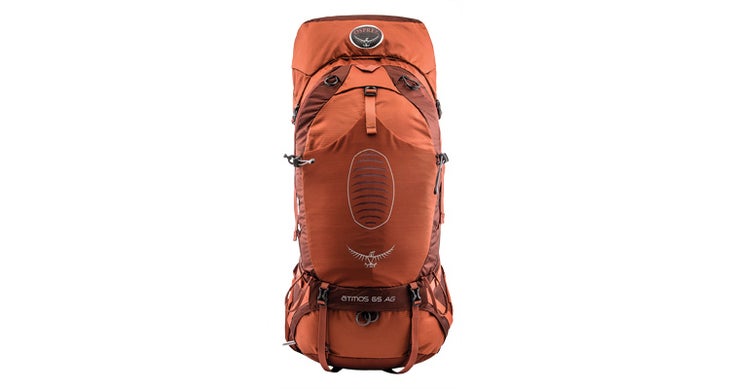 Hauling big loads can be a soul- and spine-crushing experience, but the Osprey Atmos has a radical new AG (anti-gravity) suspension system that throws conventional pack design out the window.
Unlike most big packs, there's no foam padding or plastic framesheet in the backpanel. Instead, nonstretch mesh (with pencil-eraser-size holes) spans a steel perimeter wire throughout the back and continuously through the lumbar and hipbelt. It's that lumbar and hipbelt contact that's key: "It wraps gently but firmly around my hips—like a dance partner's hands—with no gaps or rubbing," one tester says. With complete contact throughout the entire back of your body, you get no pressure points, excellent airflow, and superior load transfer. You also get good adjustability: The torso has 4 inches of play and the hipbelt extends up to 6 inches. Four compression straps (the lower two are V-shaped) connect directly to the frame, allowing you to squeeze down and stabilize smaller loads. Pockets aplenty kept us organized, and we liked the removable toplid (keep it attached for 9 liters of extra space or remove it and use the integrated flap cover, saving 6 ounces). Both the Atmos and Aura (the women's version) come in 50- and 65-liter models. $230
Editors' Choice Gold Awards
Gregory Baltoro/Deva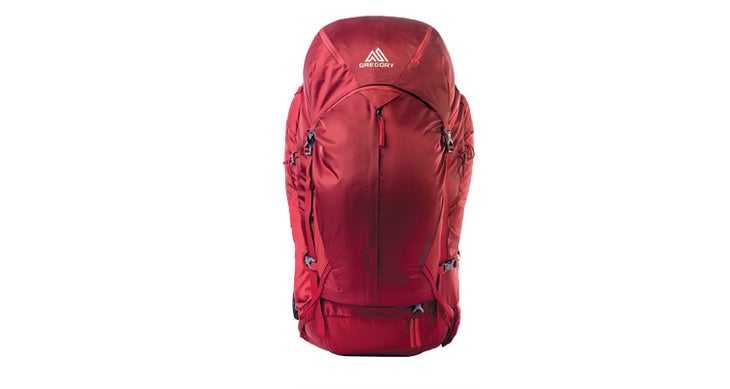 Sometimes we cringe when a company announces a complete overhaul of a product we already love. We've seen some "redesigns" go in the wrong direction. But Gregory managed a tricky feat: preserving the essential DNA of the original, while improving every detail. The Baltoro's organization makes it easy to live out of on weeklong trips, and it has some features we'd like to see on every pack—like a waterproof hipbelt pocket that fits a smartphone and a clever hydration sleeve that converts into a daypack. "No need to think about it, you always have a summit pack with the capacity and comfort for shoulder-season, full-day hikes," says one tester. It's easy to get bottles in and out of the angled water bottle pocket without awkward contortions or enlisting a friend (though bottles can fall out if you bend all the way over; cinch the drawstring to secure them).
Since 2008, we've loved the Baltoro's carry-anything dynamic suspension, which subdues big loads with uncommon comfort. "The well-padded hipbelt wraps wide around my hips," says a tester. "Hiking into the John Muir Wilderness in November, I loaded this guy with 48 pounds of cold-weather gear and group food, and felt good the whole hike in—my hips weren't even sore the next day."
Bottom line: At more than 5 pounds it's a Cadillac, not a Ferrari, but for hikers who want a big-trip, big-comfort pack that'll last for years, the extra ounces are worth it. The Baltoro is available in 65-, 75-, and 85-liter models. Deva, the women's version, comes in 60, 70, and 80. $239
Snow Peak GigaPower Stove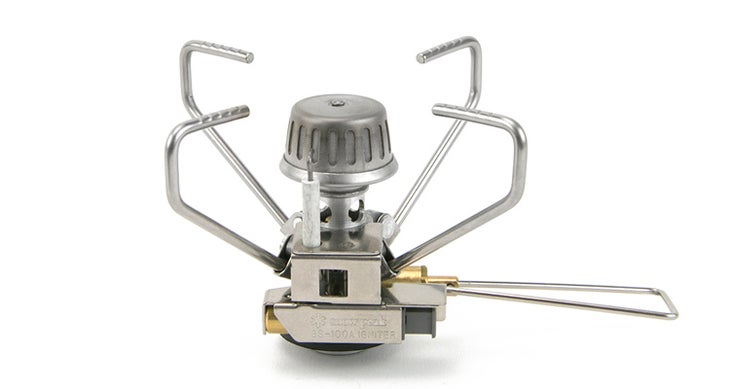 Flashback to 1999: A Japanese company hit the U.S. scene with a number of elegant products, and the tiny, powerful GigaPower Stove became a staff favorite and Editors' Choice Award winner. Today, that stove is still tiny, still powerful, still a staff favorite, and, get this: It costs less than half what it did 15 years ago (adjusted for inflation).
To be sure, there are plenty of higher-priced stoves on the market today that boil a bit faster or thwart wind a bit better, but for hikers on a budget, the GigaPower still nails the performance-to-price ratio. In our controlled tests, it logged boil times of just under 5 minutes (for 1 liter at room temperature). Plus, it's quiet, efficient (62 minutes of burn time for a 3.5-ounce canister), and it has a solid simmer, allowing us to gently cook soups and sauces. Bummer: Performance plummets with frozen canisters. $40