The 11 Best New Tents of 2017
Whatever type of shelter you're looking for, these backpacking tents have you covered.
Heading out the door? Read this article on the new Outside+ app available now on iOS devices for members! Download the app.
The best tents of 2017 featured a little something for everyone. Designers got creative this year, churning out new designs for a solo palace, single/double-wall hybrids, shelters that size up to fit groups, and crazy-light two-person models. After hundreds of nights in the field, we picked the best new tents of the year, so you can sleep soundly.
Best 1 Person Tent
As larger models have gotten lighter, many manufacturers have stopped focusing on solo shelters. But for dedicated minimalists, they're still out there.
Sierra Designs High Route 1FL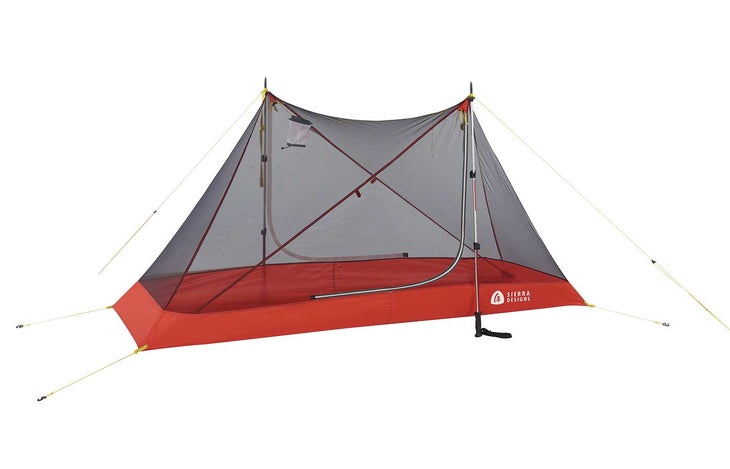 Our take The High Route bucks the ultralight solo-shelter trend in favor of maximizing living space. A roomy, 18.8-square-foot floor provides ample room to sprawl inside this trekking-pole tent (it'll fit two people in a pinch). Near-vertical walls up the livability by adding volume around the head and shoulders—where hikers tend to need it most—and a 43-inch peak height means our taller testers (6 feet plus) could sit up straight. The fly protects two 8.6-square-foot vestibules, and the two-door design allowed our tester to exit without climbing over his gear or negotiating his way around a trekking pole that blocks the door (a common nuisance in this type of shelter). Reality check: Even pitched with trekking poles (tent poles are sold separately), the tent isn't for gram counters.
The details The extra ounces aren't just about space; the 30-denier nylon floor offers bang-around durability you don't find in ultralights. Despite its upright stance, the angular shape cuts through wind: The High Route merely fluttered during three days of 35-mph gusts in the western Sierras. The fly-first pitch requires some practice, but it also allows for a floorless fastpack without the tent body (saving 14 ounces). When weather permits, pitch the tent body alone for an easy-up bug shelter.
Trail cred "With solo tents, you usually have to climb over your gear and your cooking area to get out. The High Route requires no such gymnastics," said a tester after a 17-night tour of California's Sierra.
$300; 2 lbs, 5 oz. Buy Sierra Designs High Route 1FL
Best 2 Person Tents
For most backpackers, it's the sweet spot: Just enough room for you, your friend, and your gear. Meet this year's crop of 2 person tents.
Cotopaxi Inti 2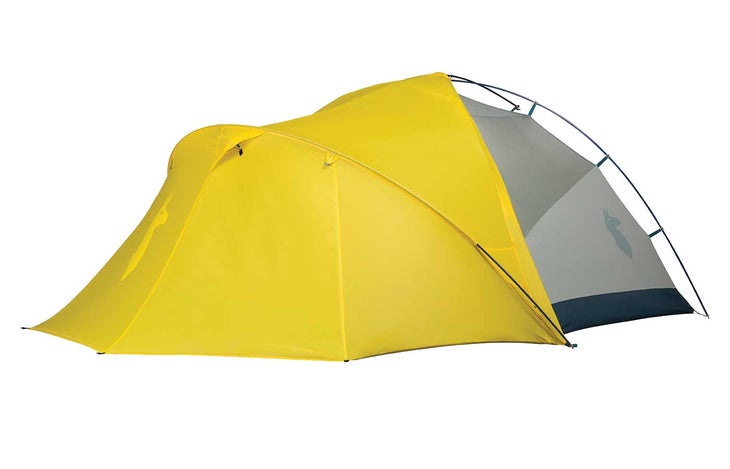 Our take This chameleon-like shelter changes configurations, letting it expand or contract to fit different size groups. The two-person standalone tent with 31.8 square feet of interior space and a tall, 43-inch peak height is the core of the system. Two doors and average-size vestibules (6 square feet each) make for easy exits and storage in two-person mode. Need more space? Attach the single-wall, doorless Alcove ($130; 2 lbs. 8 oz.) via floor snaps and toggles, adding enough square footage to sleep two more without squeezing. Testers praised the interior space, but noted the Alcove attaches over one door, making for negotiated entries and an overwhelmed vestibule. Need less space? Fastpack the Alcove for a minimalist option that pitches with a trekking pole and shelters one or two.
The details The Inti is built to last with tough 40-denier nylon floors. The 20-denier nylon fly finds a balance between low weight and durability (many tents now use 10-denier fabrics). Ding: While the tent repelled rainy weather in the Olympics, the single 21-by-5-inch vent at the head of the tent didn't provide enough airflow for two people in humid conditions.
Trail Cred "It's like the multitool of tents with an option for every occasion," says one tester. "We used the tent for camp and hauled the Alcove to the beach as a makeshift sun shelter."
$300; 4 lbs, 9 oz. Buy Cotopaxi Inti 2
REI Co-op Quarter Dome 2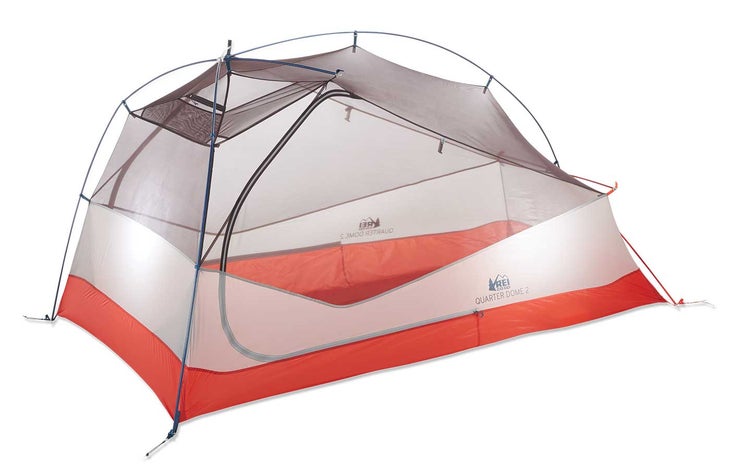 Our take What's the Holy Grail of backpacking tents? It's a shelter that's spacious, strong, and (relatively) affordable, and that's the Quarter Dome 2. To achieve it, REI kept the conventional features we loved in the original (freestanding, double wall) and set about to give it more volume. The secret is in the new poles: They've all been slightly lengthened and pre-bent to prop the walls out, increasing space around the head by 28 percent and around the shoulders by 14 percent—without making the tent any taller. Good news: These changes only increased the weight by 4 ounces and the price by $50.
The details Color-coded poles correspond to both the tent clips and the metal grommets, making quick work of setup—one tester pitched it by herself on the first try in less than three minutes. Ditch the body for a fastpack option that saves a pound. Two massive vestibules (10.8 square feet each) hold oodles of gear and an internal zipper allows easy access to the fly vent. With it open, our duo didn't see a drop of condensation during a 350F night outside Chattanooga. When they needed airflow circulation, testers rolled up the 15-denier nylon fly at the foot.
Trail cred "The extra storage space was key when we found ourselves housing a lost dog in one vestibule alongside a backpack and hiking boots," says a contributing editor.
$350; 3 lbs, 5 oz. Buy REI Co-op Quarter Dome 2 
MSR Access 2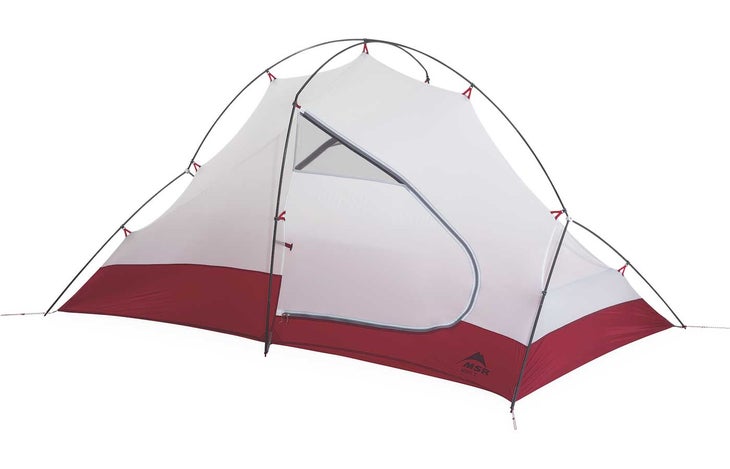 Our take Backpackers looking to get out earlier in the spring (and stay out later in the fall) need a shelter that stands up to ornery storms. This one delivers while remaining light enough to justify its use on summer outings, too. Composite poles and lightweight fabrics (20-denier nylon on the fly and canopy) cut the overall weight. After a two-day spring storm hammered our testers with 25-mph winds and 3 inches of snow in Alaska's Chugach Range, they declared the double-wall strong enough for typical storms. (They added a few extra guylines, but said they wouldn't feel comfortable in truly high winds.) In wet weather, a long brow pole keeps the drip line well away from the interior, even when the fly door is open. Ding: There are no Velcro tabs to attach the fly to the tent poles, which led to flapping in 25-mph wind.
The details A 29-square-foot floor is average for a two-person tent; two doors and vestibules (8.75 square feet each) are a storage dream. Single vents over the doors led to moderate condensation on a still and clear 18°F night, but it immediately disappeared once the wind picked up.
Trail cred "The Access bridges that gap between bombproof mountaineering and three-season camping," says a longtime Alaska-based tester.
$600; 3 lbs, 10 oz. Buy MSR Access 2
Kelty Horizon 2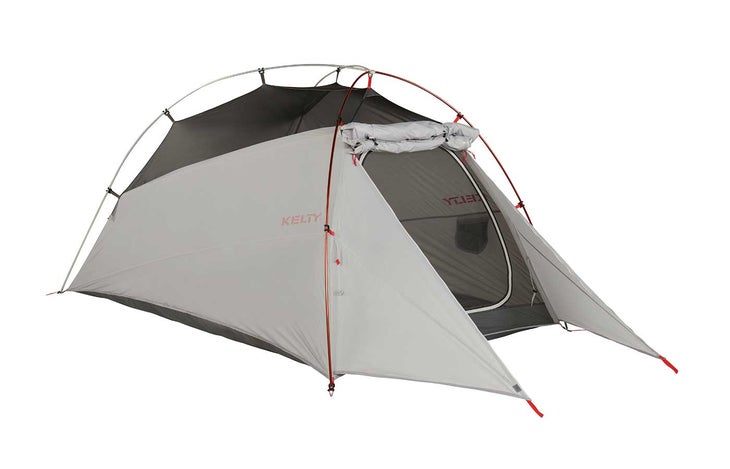 Our take This affordable shelter strikes the right balance between weight, protection, and cost for intermediate backpackers looking to level up. To achieve the mix, the Horizon 2 uses a hybrid, double/single-wall construction: The 40-denier nylon fly is sewn into the tent above the door. This saves weight, and, combined with an all-in-one hubbed pole design, makes for a quick and easy setup. A pair of standard, 20-inch sleeping pads fit fine, width-wise, but the 28-square-foot floor space is at the low end of average. Those of us taller than 6 feet reported feeling cramped by the 84-inch length. The Horizon 2 handles light rain and breeze better than many similarly priced options, but it's not the shelter for wicked weather: Testers reported the tent felt insecure in 20-mph winds during a rough night at Chapel Pond Pass in the Adirondacks. It gets stuffy inside on rainy nights with the door closed; our crew had to roll up the door to expose the sidewall mesh to manage condensation.
The details A single front door allows easy access to the 9-square-foot vestibule, but the space fills quickly. The door props open with trekking poles to make an awning.
Trail cred "I really like how easily it packs down—just smash the whole thing in its 12-by-15-inch sack at once. That integrated fly system simplifies the whole process," said our tester after a dozen nights in the Adirondacks.
$240; 3 lbs, 10 oz. Buy Kelty Horizon 2
Slingfin WindSaber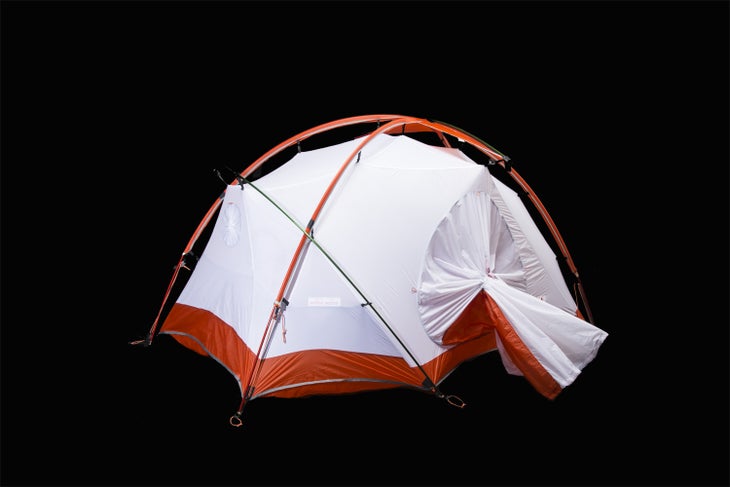 Our take At less than 5 pounds, this four-season double-wall is a windproof fortress that weighs a fraction as much as comparable two-person shelters.
The details Condensation stays under control thanks to a small tunnel at the head of the tent. This fabric tube draws in cooler air from the vestibule. Use the drawcord to seal it shut on dry nights.
Strength "It's like a tent skeleton," says one Colorado tester of Slingfin's WebTruss system. This framework of fabric sleeves cradles the tent poles and spreads wind loads over a larger area. The result? A super-strong structure. But if you don't need all that stability, leave the WebTruss at home, use the included twist clips to connect the canopy to the polls, and save 5 ounces.
Livability The 40-inch ceiling is better than most tents in its class, although the 28-square-foot floor is snug for two. A pair of 5-square-foot vestibules offers limited storage space, but the tunnel entrance adds to the total. Similar to an elephant's trunk, this 5-cubic-foot nylon tube pulls double duty as a zipperless door and a third storage area. "Not only does this cut out failure points, but fewer zippers make it a lot quieter," our Colorado tester says.
Trail cred A 30-denier nylon fly and 15-denier nylon body kept testers happy in blowing snow in Colorado's Roosevelt National Forest. True to its name, the WindSaber handled 60-mph gales with ease. "The gusts were so strong that they started to pull the stakes out of the ground, but the tent handled it like a spring breeze," one tester says.
$750; 4 lbs, 12 oz. Buy Slingfin WindSaber
NEMO Spike 2P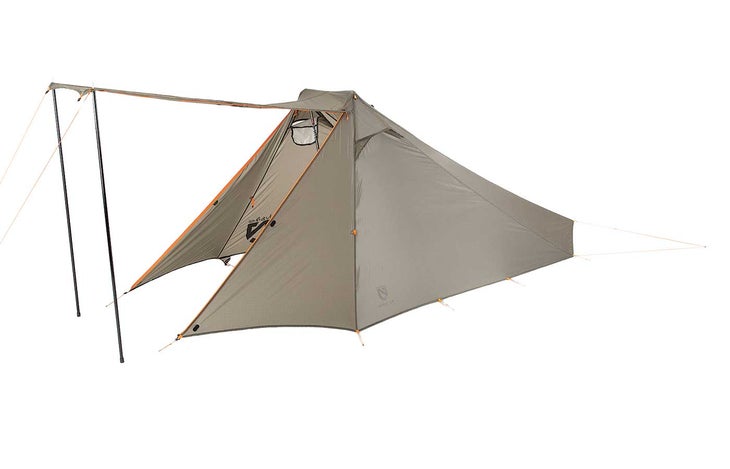 Our take If you want to carry less than a pound each for a two-person tent, you have to ditch the floor. Like other floorless shelters, this one lacks bug protection, and you'll want to be careful to pitch it away from pooling water. Unlike others, it solves one of our common complaints about going floorless: rain and snow splashing or blowing under the sides. Built-in skirts, up to 18 inches tall, around the perimeter prevent moisture from sneaking in and the 30-denier silnylon walls shrugged off rain and 20-mph winds without issue. A pair of trekking poles holds up the two 47-inch peak corners, while an optional second set can be used to prop up the vestibule door that doubles as an awning. The 41-square-foot interior is plenty big for two campers and their gear.
The details Six stake-out points make the Spike's setup similar to a tarp's, although testers reported a learning curve to find the proper angles with the guylines. Two vents help with airflow, but the shelter gathered some condensation when pitched on a snowfield during a chilly (high 30s) evening. Tip: Pop that awning up with trekking poles for ventilation or views.
Trail cred "This tent went through a lot with me: sharp rocks, a shower of glacial silt, and a High Wind Advisory with sustained winds in the 30s and gusts around 55 mph," says our Alaska tester. "It still looks as good as new."
$300; 1 lbs, 10 oz. Buy Nemo Spike 2P
Mountainsmith Bear Creek 2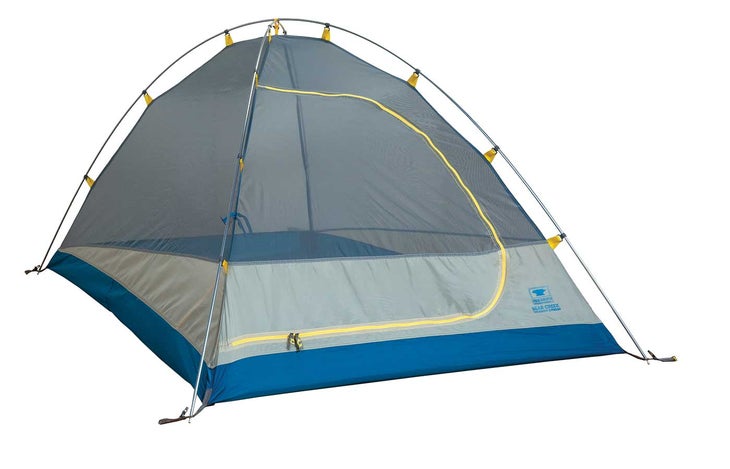 Our take Backpackers who prefer to save dollars instead of ounces will love the Bear Creek. Fortunately, heavier in this case also means roomier and burlier. This two-person shelter with an above-average 30.5-square-foot floor can withstand abuse, thanks to the 68-denier polyester used throughout. The real compromise for the low price? The tent can handle moderate rain and wind, but even fully guyed out, the two-pole structure isn't stout enough for the full brunt of bad weather.
The details There's an absurd amount of headroom (48 inches), even for our 6'2" tester. He and his wife (5'5") found the living in this two-person tent to be easy, and they slept well even when their 50-pound dog joined them inside. The tent has only one door, but since it's at the head of the tent neither person needs to crawl over the other to exit. Bummer: The tiny vestibule (5 square feet) feels disproportionately small compared to the spacious living quarters; store boots out there, but the rest of your gear either has to come inside or stay out in the weather.
Trail cred "Rocks, roots, branches: The Northeast is brutal on tent floors and this one doesn't even have a scuff," said our tester after eight nights in the Adirondacks.
$140; 4 lbs, 3 oz. Buy Mountainsmith Bear Creek 2
The Best 3 Person Tents
Backpacking as a trio? Find a tent that won't cramp your style (or your sleep). These roomy tents fit your gear, and help keep it organized.
Cotopaxi Techo 3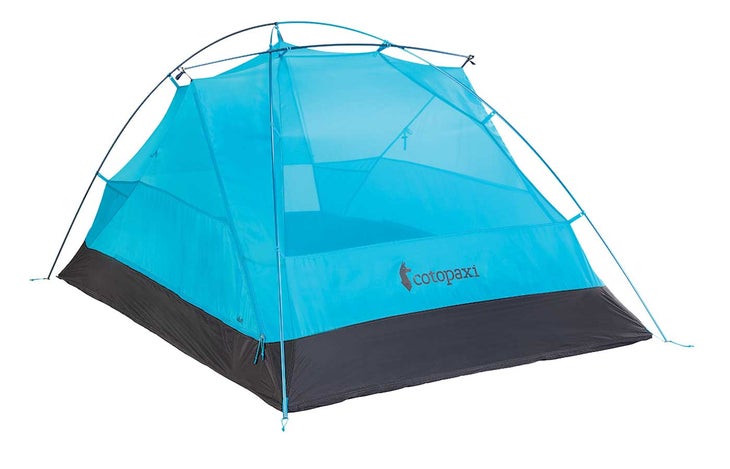 Our take It can be hard for groups to keep everything in its place in cavernous tents, but organization lovers rested easy in the Techo thanks to a whole bunch of storage options. Four interior mesh pockets, a gear loft, and an optional clear-plastic tablet sleeve ($9) positioned for movie watching ensure there's a spot for all your toys. All those pockets line the guts of a stable tent that withstood thunderstorms with 30-mph winds, while a pair of pre-teens lounged around watching movies on an iPad. Two 10.5-square-foot vestibules provide more storage. The burly materials and extra storage add to the overall weight, but if you're packing in an iPad, we suspect you don't mind. On fast-and-light trips, leave the canopy at home and fastpack the fly and footprint for 4 lbs. 1 oz.
The details Mesh walls made for little condensation in rainy and humid North Carolina conditions, even with three people on board. The polyester fly held a taut pitch, and the 70-denier nylon floor proved so durable that our tester left his groundsheet at home. The 42.5-square-foot floor is close quarters for three adults, but the near-vertical walls make for ample elbowroom.
Trail cred "I'm an AT thru-hike ultralight snob of a backpacker, and I still chose to pack in the Techo for family trips since I knew the gear sleeves were a hit with the kids. Happy kids equals happy camping!" said our tester after at trip to Virginia's Grayson Highlands State Park.
$280; 5 lbs, 8 oz. Buy Cotopaxi Techo 3
Marmot Tungsten UL 3P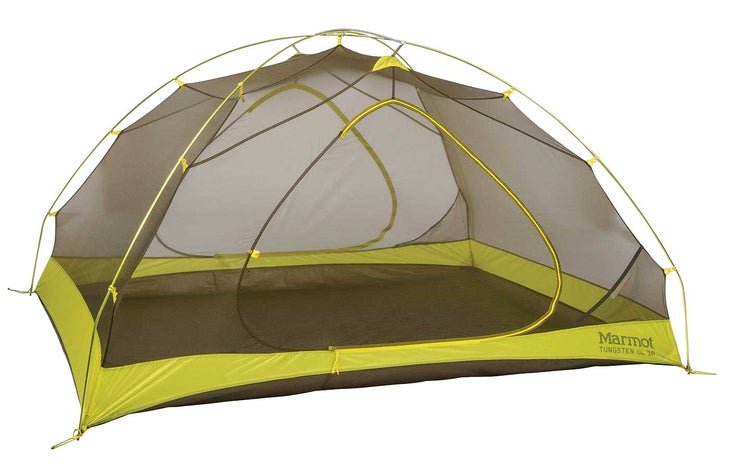 Our take Not even a cyclone could budge this three-person Marmot fortress. Our Canadian testers weathered 50-mph wind gusts and almost 3 inches of overnight rain on Nova Scotia's Cape Chignecto when a storm from Hurricane Matthew blew through their campsite. Setup is simple and a 20-denier polyester fly kept the pitch taut in the high winds, even when soaked (polyester doesn't stretch when wet like nylon does, but it's more expensive). Note: During the volatile storm, hard rain bounced off the ground and rebounded up underneath the fly, throwing some moisture onto the tent's mesh walls.
The details The 41.5-square-foot floor is snug for three people (it's a mansion for two), but was still adequate for our trio plus a small dog. Testers felt the near-vertical walls and 90-inch length easily compensated for the modest square footage, and the 46-inch ceiling is higher than others in this category. A vertical seam above the door creates sidewall tension, making it easy to unzip the door with one hand. Ding: Two vestibules (10.6 and 7.8 square feet) are on the small side for a trio's gear.
Trail cred "This tent withstood a storm that downed a dozen spruce trees and caused the river to rise more than 2 feet," says our Canadian tester. "It's trustworthy."
$389; 4 lbs, 1 oz. Buy Marmot Tungsten UL 3P
The Best Family Tents
Sometimes, you want to bring the whole family. Make sure you have enough room for you, your kids, your friends, your dog, and the rest of your trail family with a tent that works as well in the backcountry as it does in the frontcountry.
Therm-a-Rest Tranquility 6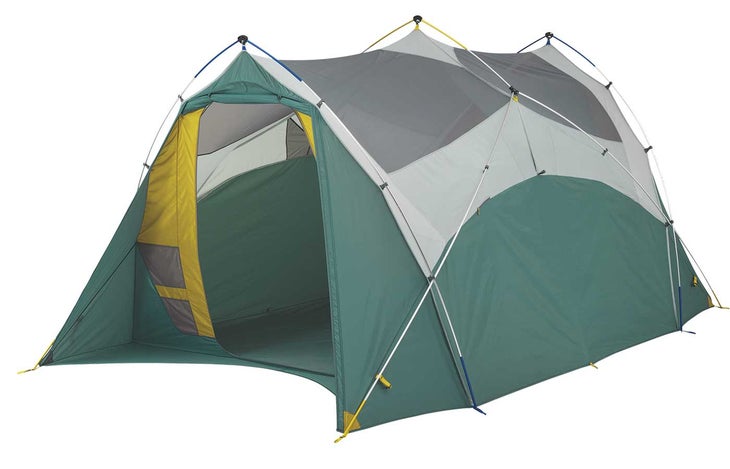 Our take Families who want frontcountry comfort for staging backcountry adventures will appreciate the thoughtful features that make this six-person Therm-a-Rest palace so user-friendly. Giant mesh doors (67 inches tall; one on each end) open up to two 16-square-foot vestibules that are built into the tent canopy for a good transition between the outdoors and the tent interior. Which is to say, livability is extraordinary. Each vestibule features four mesh pockets, two corner shoe mats, and multiple hooks to hang wet clothing, making this behemoth good for kids. Extreme organization continues inside with 16 interior pockets and 25 tabs for hanging gear. Two zippered ports on the tent and fly walls allow for pass-through cords to solar panels. Bonus: A straightforward pitch meant one tester was able to pitch the tent alone—rare in this category. The stuffsack has packstraps, which are handy for hauling the massive shelter.
The details With a 66-square-foot floor, there's legit room for six. Polyester (68-denier in the fly; 150-denier in the floor) create a durable shelter that stayed taut even after 2 inches of snow fell on our testers during a fall trip in Colorado. Ding: The 74-inch peak height is comparable to other basecamp shelters, but taller testers struggled with the sloped ceilings. For bonus living space, nab yourself the Arrowspace Shelter (sold separately; 8 lbs.; $300). This freestanding A-frame attaches to either end for an additional 75 to 95 square feet of adjustable, floorless space to stash extra gear, wait out a storm, or stay in the shade.
Trail cred "We were hoping for fall sunshine but got snow and 20-mph winds instead," said a tester after a chilly weekend in Crested Butte. "The pitch stood strong. We never had to tighten or resecure it."
$600; 17 lbs, 15 oz. Buy Therm-a-Rest Tranquility 6
Tent Testing Data
Testers: 31
Nights out: 247
Miles hiked: 1,029
Strongest wind: 55 mph (Cape Chignecto, Canada)
Longest night: 14 hours (Chugach National Forest, AK)
Wettest spell: 4 days (Prince Edward Island, Canada)
Highest camp: 11,500 ft. (Wind River Range, WY)
Tent Buying Tips
Bring your stuff: Climb in and spread out. Put as many people inside as you intend to in the field. See how the space works.
Stay focused: Figure out your priorities for access, features, weight, and price before you get to the store. Then stick to them.