Gear Review: Backpacking 3-weight Fly Rods
Hit the trail, and the streams, with these backpacker-friendly, 3-weight fly rods.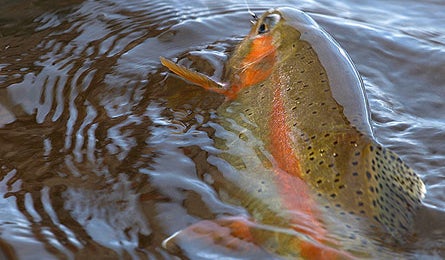 A rainbow trout on the Roaring Fork River.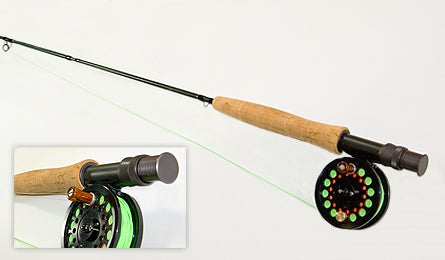 TFO Lefty Kreh Professional 7′ 6" rod & 1 reel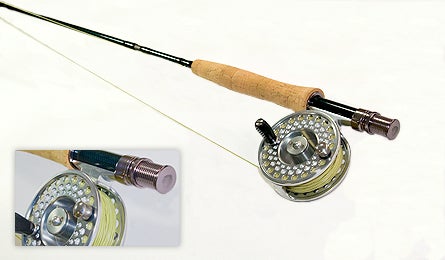 Orvis Frequent Flyer 8′ 6" Rod & Orvis Battenkill Mid-Arbor II Reel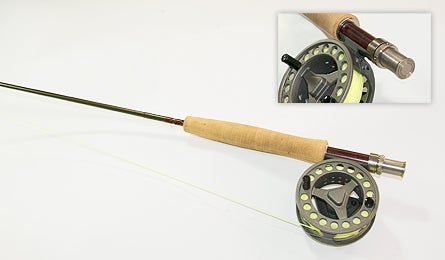 Sage Vantage 7′ 0" rod & 1830 reel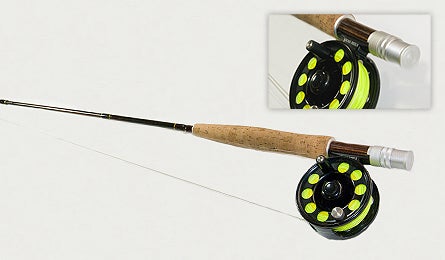 Ross Essence FC 8′ 6″ rod & Airius reel
In a twist of fate, I was born with a fly rod jutting out of my hand. Quite unfortunate for my dear mother, but fortuitous for me. I grew up fishing on the mighty Deschutes in Oregon and while working for Backpacker Magazine, I put my experience to good use, testing fly fishing gear best suited for your next overnight. I focused on 3-weight fly fishing rods because of their ability to make short casts accurately, handle light tackle, and pack down into a tight little package. Also, you can get great quality at a respectable price with 3-weights. Here, the cream-of-the-testing crop, with setups ranging from super light to best all-around caster.
All setups weighed on BP scales with rod, reel, line, and backing.
READ ON FOR THE SETUPS


Temple Fork Outfitters (TFO) Lefty Kreh Professional 7′ 6″ Rod (4 pieces)

TFO 1 reel

Rating: 3.00 out of 5
TFO Lefty Kreh Professional paired with the TFO 1 reel is light and affordable. At 7.3 oz. it can be carried on long trips and packs down to 22.5 inches long. TFO, the least expensive set-up tested, $269.90.* The TFO 1 reel has a reliably simple click-pawl drag system, which uses a triangle shaped "pawl" to keep tension against a gear on the spool (hence the "clicking" sound). Light and easy to maintain, it packs down small but does lack the performance of other drag systems. The reel itself is tiny; 2.75 inches in diameter and 1-inch wide. 

More: Get gear reviews straight from readers like you with Gear 360.

The rod is very capable with dry flies and tight casts using light leader. Casting weighted flies is difficult, and forget about roll casting in the wind (rolling the line over in front of you without making a back-cast). I was casting a weighted set-up in strong winds and was amazed at the amount of patience I had to exercise to make a good drift. The rod does not have enough backbone to push heavy tackle through the wind, so take this rod when you know you will be fishing light tackle, such as dry flies. 


BOTTOM LINE: Perfect set-up for trips when you have limited space and weight is an issue. Casting dry-flies is a dream, but put it away with heavy winds and heavy flies.
*This setup does not come with a rod tube, line, or backing.
Rod: $149.95

Reel: $119.95

Weight: 7.3 oz.

www.templeforkflyrods.com
NEXT UP: ORVIS FREQUENT FLYER


Orvis Frequent Flyer 8′ 6" Rod (7 pieces)

Orvis Battenkill Mid-Arbor II Reel

Rating: 3.75 out of 5
Orvis Frequent Flyer rod and Battenkill Mid-Arbor II reel blends the best of affordability, packability, and performance. The entire set-up costs $345 for rod, tube, reel, line, and backing. Weighing in at 9.5 oz., it packs down very small (the seven pieces are each 14.5" long, while the tube is 16"), and performs comparably to the more expensive Orvis Hydros model. The Battenkill reel has a sturdy, center line disc drag (the disks rub together causing friction to slow down a fish's run) with glass composite surfaces to provide leader protection and feel. 

Do not fear throwing weighted streamers or casting in the wind either, as this rod has backbone. The Frequent Flyer does not sacrifice feel, offering a soft rod tip for landing wily trout and making delicate presentations. It can be fished on almost any stretch of water and in all weather conditions, no matter what tackle you are throwing.
During my testing I decided to completely immerse myself in the 3-weight rod experience. I did not fish with any other types of rods for over a month, even in situations where it was completely unreasonable to throw a 3 weight. What I learned: it is no fun to throw the wrong rod for the conditions. For this reason, I would always bring the Frequent Flyer even when I was testing a different set-up for the day. This was because it made acceptable casts in almost every condition I experienced.
BOTTOM LINE: Pack this set-up hiking in areas you know will have high mountain lakes requiring longer casts, but this rod really shines when throwing dry flies on rivers and streams. Because it is so small and light, it is convenient to take anywhere, even on international flights!
*This set-up comes with rod, reel, rod tube, line and backing when purchased as a package deal for $345.
Rod: $198.00

Reel: $129.00

Package: $345.00

Weight: 9.5 oz.

www.orvis.com
NEXT UP: SAGE VANTAGE

Sage Vantage 7′ 0" (4 pieces)

Sage1830 reel

Rating: 3.25 out of 5
This combo from Sage does not skimp on performance for an affordable set-up; $389 for rod, tube, and reel. The 1830 reel has complex disk drag components, important for those anglers going after larger fish. Unfortunately, the drag system adds weight to the set up. A lighter option is the Click series reel from Sage. This reel drastically reduces weight by 3 oz., but has a steep price tag. The rod casts in windy conditions and handles longer casts, while packing down to 21 inches. It is the shortest rod that I tested but I found that it was one of the most capable. While floating the Colorado River, this rod was making long delicate presentations to feeding brown trout during a blue-winged, olive-bodied mayfly hatch. I was able to land the only fish on a slow, early spring day. When the moment arose, this rod was up to the task. 


BOTTOM LINE: Pack this rod for conditions ranging from lakes and ponds to rivers and streams. This set-up is ready for the challenges posed by bigger fish and tight casts.
*This set-up does not come with line or backing, but includes the rod tube.
Rod: $250.00

Reel: $139.00

Package: $389.00

Total Weight: 9.1 oz.

www.sageflyfish.com
NEXT UP: ROSS ESSENCE FC

Ross Essence FC 8′ 6″ (4 pieces)

Ross Airius Reel

Rating: 3.5 out of 5
A good all-around rod. Essence FC has a slow action, harkening to bamboo rods of the past. The soft tip makes delicate presentations easy and protects light tippet. Conversely, the soft tip slows down hook sets and makes long mends (line adjustments made to keep the fly still on the water) and windy casts more difficult. The soft tip is very useful when setting the hook on large fish as it will bend enough to keep pressure off the tippet (end of the leader). 

The set-up is lightweight, 9.3 oz., but has enough backbone and feel to keep most anglers happy.
The Airius reel is has a multi-level disc-drag system. Two disks rub against each other creating friction and slowing a fishes run smoothly, giving excellent handling during a fight. During testing, most of the tackle I used consisted of small flies, midges, but later in the spring Stonefly nymphs appear in most Colorado streams. Fish love them for their large protein source, but anglers love them for their large size. Unfortunately the big stones are unwieldy. That did not matter to the Essence FC, throwing large nymphs without much problem and landing hungry spring rainbow trout after long runs. 


Bottom Line: Reasonably priced for rod, reel, and tube, this set-up is affordable and at 25.5 in., gives you the ability to pack it on long trips. Rest assured you will be ready for most fishing situations encountered in the high country.
*This set-up comes with rod, reel, and rod tube but does not include line or backing.
Rod: $169.00

Reel: $190.00

Package: $359.00

Weight: 9.3 oz.

www.rossreels.com