The Future of Americas Wilderness
Experts are hopeful for wilderness expansion in the future, but there are some concerns.
Heading out the door? Read this article on the new Outside+ app available now on iOS devices for members! Download the app.
Image by Backpacker Editors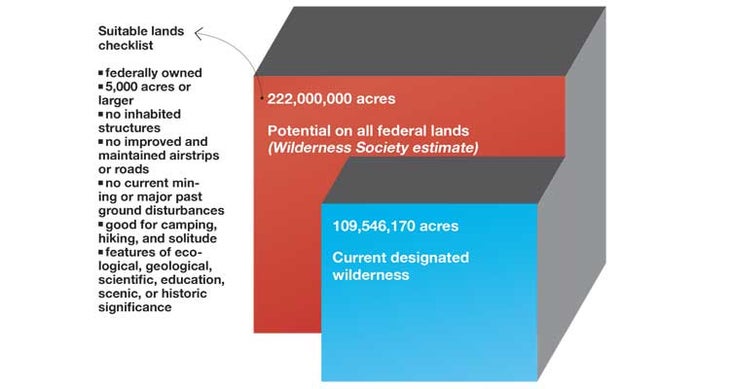 Image by Backpacker Editors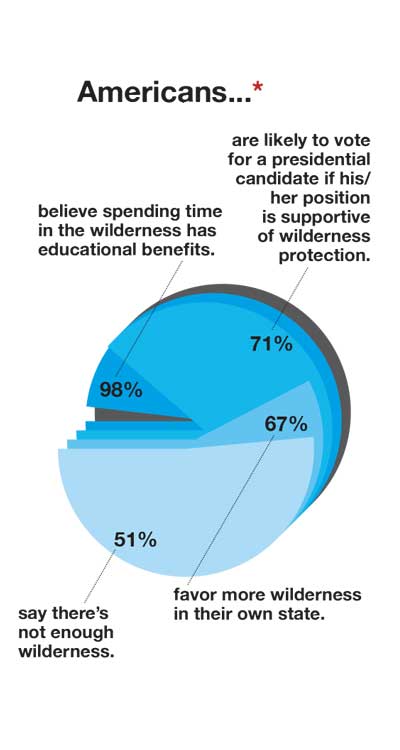 Image by Backpacker Editors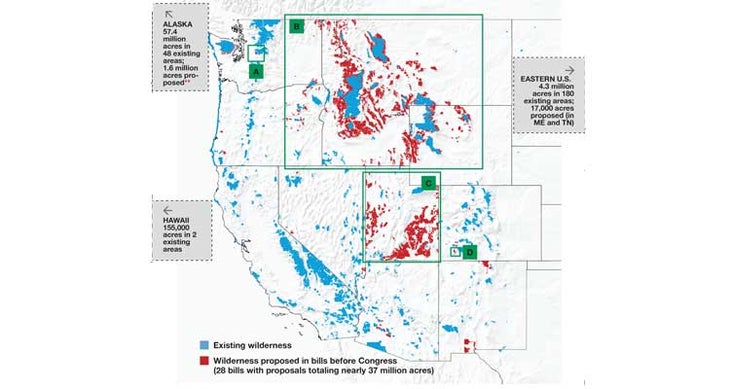 Image by Backpacker Editors
The Future
We asked experts what's in store for the next 50 years. There's a lot to be hopeful about—and some reasons for concern. Here's the outlook on creating new wildernesses, and stewarding the old ones.
110 million acres—and growing
"America will always be designating more wilderness areas," says Doug Scott, chair of the National Wilderness Stewardship Alliance. "Eventually, the system will hold double the land it does now." Paul Spitler, director of campaigns for The Wilderness Society, agrees: "Demand is as strong as it's ever been," he says. "We might have seen the peak in the pace of wilderness designation [see "past"], but by no means are we near the end. There's much more wilderness-caliber land [see "possible"] that's deserving of protection—and has strong support."
Past
Wilderness Designation Trends, 1964-2014
1980: Alaska National Interest Lands Conservation Act adds 56 million acres.
2014: Sleeping Bear Dunes Wilderness, MI, added
2009-2013: Congressional gridlock; no designations
Possible
Potential Wilderness-Caliber Lands
Suitable lands checklist:
■ Federally owned
■ 5,000 acres or larger
■ No inhabited structures
■ No improved and maintained airstrips or roads
■ No current mining or major past ground disturbances
■ Good for camping, hiking, and solitude
■ Features of ecological, geological, scientific, education, scenic, or historic significance
Survey Says
Americans…*
51% – say there's not enough wilderness.
67% – favor more wilderness in their own state.
71% – are likely to vote for a presidential candidate if his/ her position is supportive of wilderness protection.
98% – believe spending time in the wilderness has educational benefits.
*refer to the pie chart image above.
*from a variety of national surveys conducted by the USDA, Pew Charitable Trusts, Hart Research, and Zogby, 1999-
2013
Exlusive Company
Official wilderness status offers the strictest federal land protection (national parks and other preserves may contain wildernesses, but on their own they don't provide such strong defense), but it's very hard to get. That's how Congress designed the rules in 1964, when it gave itself sole power to designate new areas. Jay Turner, a wilderness historian, says that the tough induction process is actually a gift. "It's always been really hard to get Congress to do anything," he explains. "You have to engage lots of folks at both the local and national levels. That has made w wilderness an enduring political effort defined by strong citizen engagement." Even better: Once an area becomes wilderness, it's "harder than hell to get an acre out," Doug Scott, a leading activist, says (it's only ever happened to correct uncontroversial boundary mistakes). Here's how and where our next wilderness areas will join.
Where
Where Wild West: This part of the country is the hotbed of potential new wildernesses.
ALASKA: 57.4 million acres in 48 existing areas; 1.6 million acres proposed
HAWAII: 155,000 acres in 2 existing areas
EASTERN U.S.: 4.3 million acres in 180 existing areas; 17,000 acres proposed (in ME and TN)
On Deck
A few wilderness bills of note**
**The large-acreage bills are extreme long shots; watch for the more pragmatic proposals to move forward, perhaps even
this session.
To see HOW we can create new wilderness in 5 easy steps, Click Here.