Searching for Peace on the West Bank's Abraham Path
The World Bank has invested $2 million in creating a long path in the West Bank. Can hiking help where politics have failed?
Heading out the door? Read this article on the new Outside+ app available now on iOS devices for members! Download the app.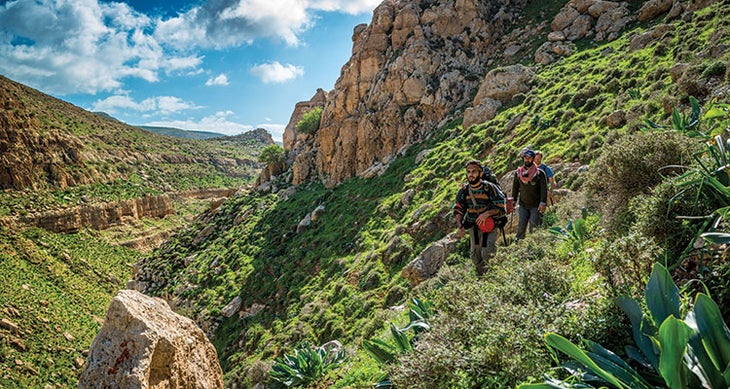 Guide Nedal Sawalmeh (center) leads a hike in Wadi Auja in spring.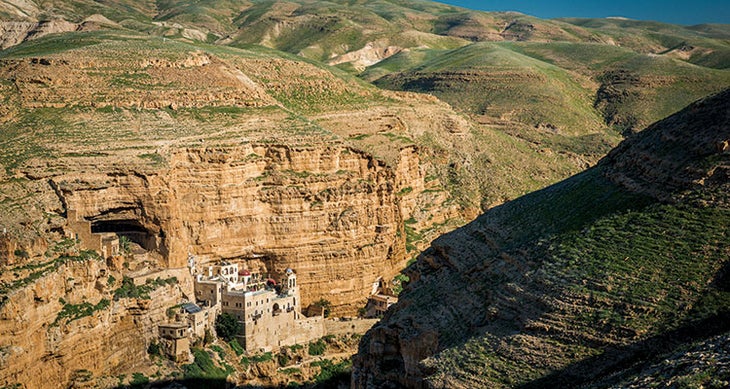 St. George's Monastery nestles in Wadi Qelt, near Jericho. Photo by Frits Meyst/API
A stream in Wadi Qelt; ancient aqueducts brought water form here to Jericho. Photo by David Landis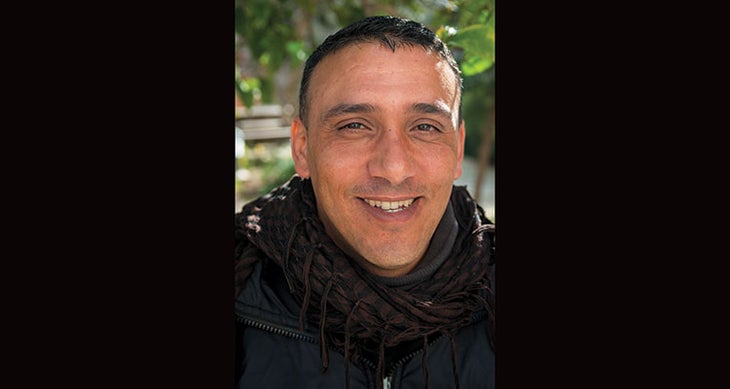 Mohammed Atari grew up in the northern West Bank, where his grandfather taught him about local plants and animals.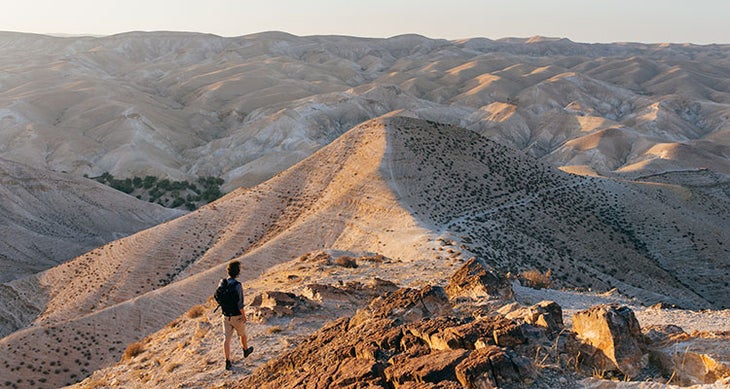 The hike from Nebi Musa to St. George's Monastery crosses desert terrain above Wado Qelt. Photo by Jonas Opperskalski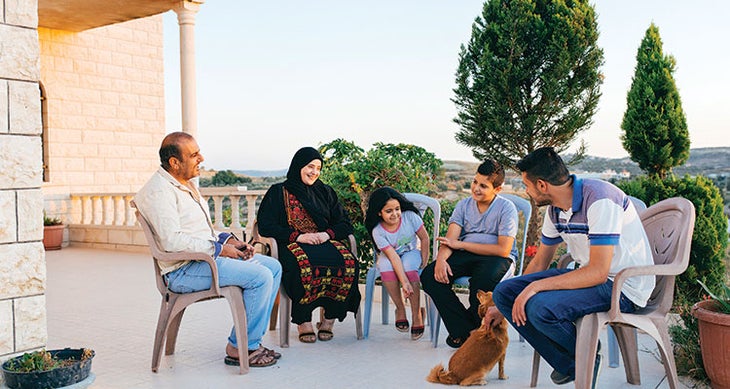 The Mardawis often sit on their porch on warm evenings. Photo by Jonas Opperskalski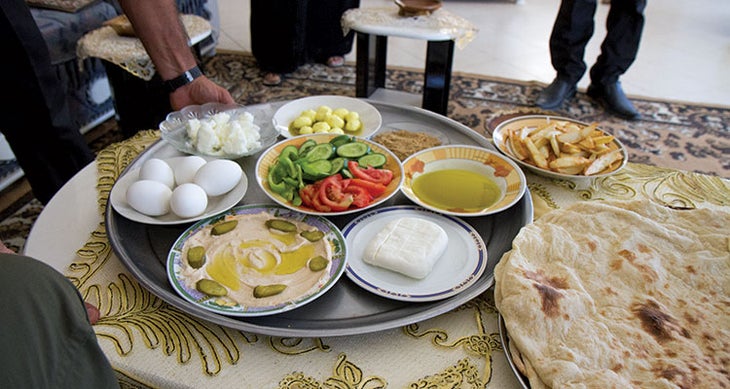 Homestays along the Abraham Path include delicious local food, like this traditional Palestinian breakfast. Photo by David Landis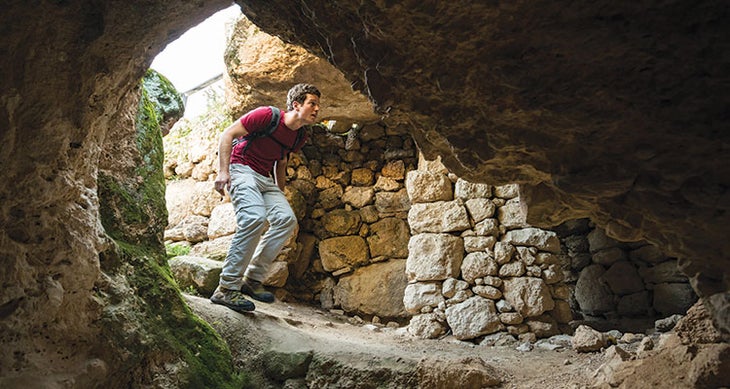 Matt Harms explores the Shepherds' Fields near Bethlehem, a site where some believe angels announced the birth of Jesus to shepherds. Photo by Frits Meyst/API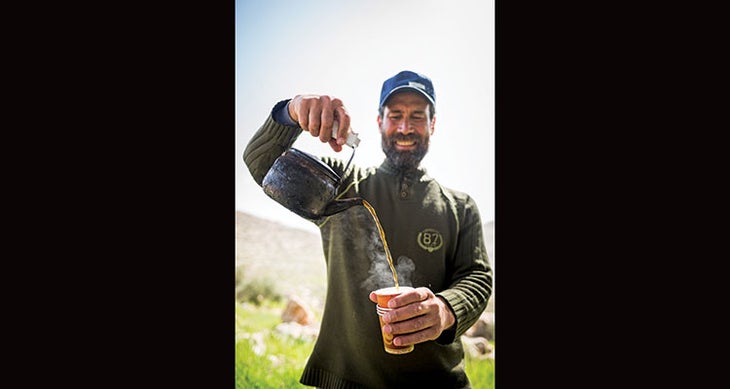 Guide Nedal Sawalmeh pours trailside tea. Photo by Frits Meyst/API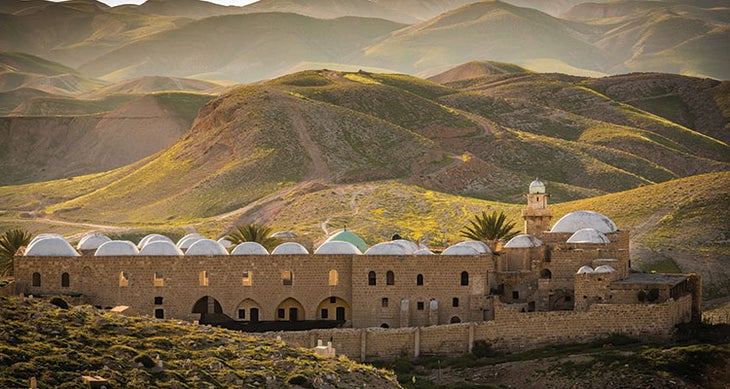 Nebi Musa, where Muslims believe Moses is buried, is on the historic route from Jerusalem to Jericho. Photo by Frits Meyst/API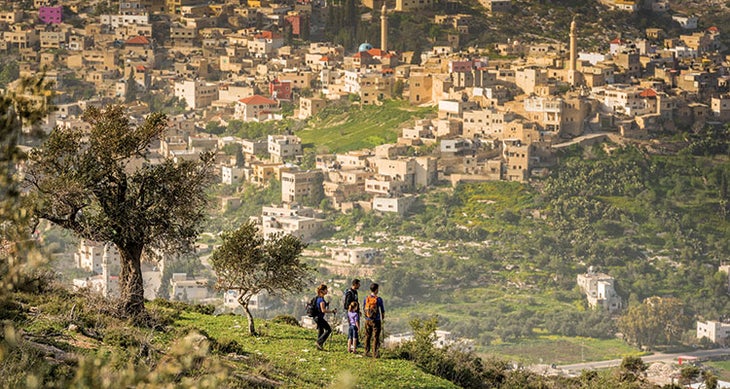 Hikers on Mt. Hureish, on the trail section form Sanur to Sebastia. Photo by Frits Meyst/API
Trail markers offer navigational comfort all over the world. Blazes, cairns, a swipe of color on a rock—all unmistakable reassurance that you're on the right track. But on my first day hiking in the West Bank, I learn these universal trail signs are not so universal after all. 
Mohammed Atari, my guide for the day, pauses amid rolling hills speckled with olive trees to explain that the absence of route markers was not for lack of trying. In an effort to foster a hiking culture for both locals and visitors, he had painted blazes on trailside rocks in recent years. A community service, he presumed. But this alarmed some Palestinians, who misinterpreted the marks as evidence that Jewish settlers planned to take the land. Much of the West Bank, a Delaware-size tract near central Israel along the Jordanian border, is set aside for Palestinians, but settlers regularly encroach, which brings spasms of protest and violence. And a painted rock can be the perfect trigger. "People say 'What is this? Oh, there's another one. What is this?'" Atari says. And even when the meaning is known, problems arise. Elsewhere in the West Bank, Jewish settlers have chipped Palestinian blazes from rocks or painted over them with their own blazes, which are typically marked with vertical lines.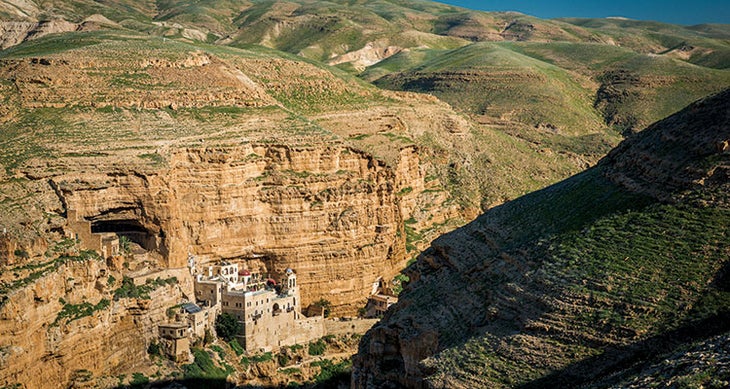 "What about marking trails with cairns?" I ask Atari, thinking of all the small rock piles that have guided me elsewhere. But that won't work either. Cairns are often used here to mark boundaries of a farmer's field; rocks stacked along a trail could be misconstrued as a land grab. So we'll hike 12 miles to Sebastia—a hilltop town where John the Baptist is said to have been imprisoned and beheaded—much like travelers did 2,000 years ago, without trail signs.
Atari, 37, has black hair trimmed short on the sides, and a few days of whiskers on his cheeks, now shielded from the sun by a wide-brimmed straw hat. He grew up in Zububa, the northernmost village in the West Bank, and studied archaeology at An-Najah National University in the West Bank city of Nablus. He imagined a future of foreign travel, but the degree brought no job prospects. Instead, he worked as a construction laborer in Israel and in the West Bank, until the recent rise of a hiking culture created a new opportunity.
He has guided trekkers here for the past five years, both to introduce Palestinians to the natural world that surrounds them and to bring foreigners into a place long associated with conflict—and to hopefully break down the cultural barriers that have created a place where trails can't be marked. The path itself carries the message. The route we're following over these hilltops is part of the Abraham Path, a new and absurdly ambitious trail tracing the journeys of Abraham across the Middle East. The path, when finished, will link regional trails and ancient travel routes for more than 3,000 miles in 10 countries, from Turkey to Saudi Arabia. In a region riven by mistrust, anger, and fear, reverence for Abraham, who is honored by Christians, Jews, and Muslims alike, is a rare patch of common ground.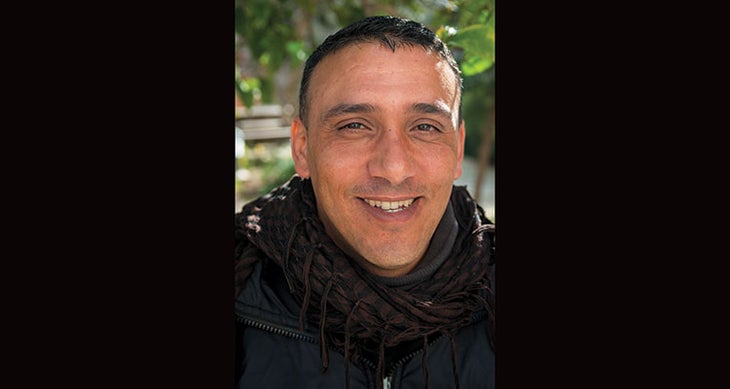 As a Bedouin trader who traveled great distances, Abraham would have constantly met people from different cultures and relied on them for help. According to the biblical book of Genesis, he returned the favor. When three travelers appeared at Abraham's tent, in the heat of the day, he bowed low before them and invited them to rest in the shade of an oak tree. He brought water for them to wash their feet. His wife, Sarah, baked bread, and a servant killed and prepared a calf. "We say that Abraham is the father of hospitality," Atari says.
In the village of Sanur, we climb up a narrow side street and Atari pauses next to the high wall of an ancient fortress. As he tells me and my girlfriend (also named Sarah) stories of the town's occupation under the Roman, Byzantine, Ottoman, and British empires, an old man greets us with a plate piled with chilled chunks of yellow cactus fruit. He'd seen us from his home, across the street, and with the morning already warm, he figured we'd need a refreshment. I bite into a piece and sweet juice dribbles down my chin. "We say that this is God's perfect gift to us," he says, "and all natural!" He asks if we'd like to see his fig trees.
In his backyard, we sample the sugary fruit, and I wonder: Could it really be this simple? A hiking path that unites people amid one of the world's most intractable disputes? It sounds preposterous, and any casual observer of history or the current news would scoff at the notion. But if change can come, is it too farfetched to imagine that hikers and hosts will deliver it through moments of understanding and kindness to counter suspicion and fear?
For decades, the Israeli-Palestinian conflict has been marked by ever-simmering tensions that frequently boil over. During the Second Intifada—the Palestinian uprising against Israeli occupation from 2000 to 2005—Israel started building a wall around the West Bank, deemed necessary to keep Palestinian suicide bombers out of Israeli cities. But the wall and travel restrictions also make it much harder for Palestinians to enter Israel for work, medical care, and leisure. And with less interaction, suspicion and distrust grows. "With the wall and the separation," Atari says, "this new generation of Israelis and Palestinians has one idea in mind: There are enemies behind the line."
And on the West Bank side of the line, tensions run high. The land is divided into three strictly regulated jurisdictions. Most Jewish settlements, for instance, are largely off limits to Palestinians. Large red signs outside many Palestinian towns warn Israeli citizens that entry is forbidden, and could be "dangerous to your lives." Checkpoints manned by Israeli soldiers control travel between the areas. In some places, however, the borders between territories aren't well marked, which has an unintended benefit for hikers.
"It's the only place you can walk in the West Bank without checkpoints," says George Rishmawi, the director of Masar Ibrahim al Khalil (Arabic for "Abraham Path in Palestine"), a local partner of the regional initiative, which has scouted and mapped 1,200 miles of trail in Israel, the West Bank, Jordan, and the Sinai Peninsula.
The 185-mile section through the West Bank is the most fully developed part of the Abraham Path, and by the summer after my visit, Rishmawi's group would have nearly half of it signed with blazes, using the GR marking system of white over red, widely used in Europe (despite the local challenges, trail advocates consider the markers vital). Rishmawi sees the path here as a means to help Palestinians embrace their history, appreciate the land, and escape the psychological confines of life in the West Bank, even if just for an afternoon. "The worst crisis you can ever have is an identity crisis," he says. "The Masar Ibrahim helps people know who they are."
Outdoor recreation has ballooned in popularity around the West Bank in recent years, and scores of Palestinians now turn out for regular dayhikes, both with guides and on their own. Others meet up for mountain biking and rock climbing. Of the 6,000 people who walked on the Abraham Path in the West Bank in 2015, just over half were Palestinian. Twenty-five percent were expats, mostly living in Jerusalem, Bethlehem, and Ramallah, and another 20 percent were foreigners.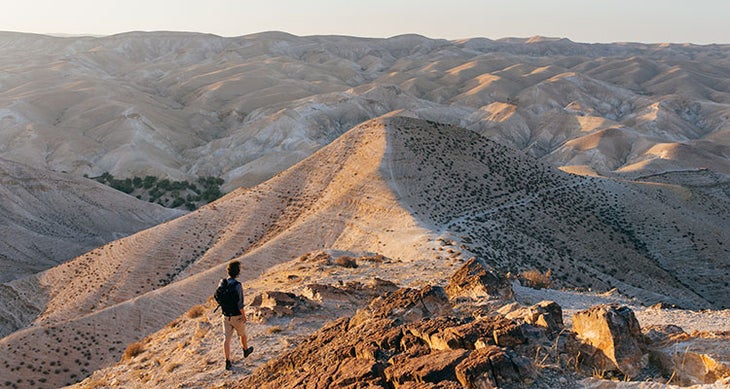 Connecting locals with the outside world has economic as well as cultural effects. Most visitors to the West Bank travel only to East Jerusalem and Bethlehem. They often arrive by tour bus, see the popular religious sites, and return to Israel the same day, which limits the cash infusion. Of two million foreign tourists who visited the West Bank in 2013, fewer than a third stayed overnight.
The path winds north-south down the middle of the West Bank, passing through 34 communities, many of them seldom visited by tourists. This drives more money into these areas with a network of homestays and guesthouses. That potential for economic development—in particular job creation for women and young people—attracted the World Bank. The institution normally supports enormous infrastructure projects like highways and dams, not walking trails. But it awarded the Abraham Path Initiative a $2.3 million grant in 2014 to scout and map the trail with GPS waypoints, promote the trail both inside and outside the West Bank, and launch a guide-training program at Bethlehem University. Efforts are ongoing: Students meet for three days each month to study everything from wilderness first aid and map reading to the history of the Holy Land and the fundamentals of running a tour business. Last year's class had 22 students, which included three women.
The grant also funds homestay training, which teaches families the basics of opening their homes to foreign travelers. Hospitality has been sacred here since the time of Abraham, the thinking goes, and today's version should be first rate: Learn some conversational phrases in English; offer hot water and a towel for washing up after a day's hike; put a bottle of water beside the bed. "None of our partners have been tourists before," Rishmawi says, "so how do you know what the standards are and how to meet tourists' expectations? It only comes through experience."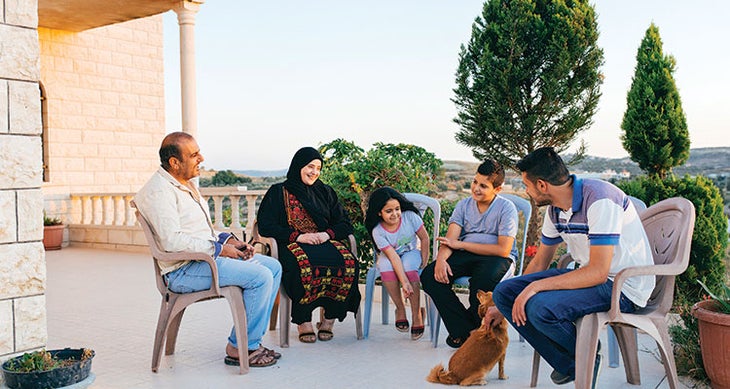 The Mardawis, the first homestay family I meet, clearly have experience. When we arrive at their house in Araba in the northern West Bank, the evening before our hike with Mohammed Atari, a puppy is chasing a small goat around the front yard. Ayat and her husband, Mustafa, welcome us from the front porch. In the living room, we sit on plush couches and drink thick, sweet coffee tinged with cardamom. One by one, their six children filter in, until the room is crowded with conversation and laughter. The scene doesn't match the perception I imagine many outsiders have. "First-time visitors are very surprised," says Ayat. "They were thinking that we're just fighting and using guns. One man from France needed to show his wife on Skype that he was happy and fine."
"The neighbors find it quite strange that we have so many foreigners coming to visit," says Zeena, their 21-year-old daughter. In the previous 18 months, they had hosted 280 hikers overnight, for which they charge $30 for dinner, lodging, and breakfast. A German woman liked the Mardawis so much she stayed eight days. It's easy to see why. As I sit chatting with the Mardawis, I imagine a family like them welcoming travelers a thousand years ago, and the Abraham Path as a tool of change doesn't seem so far-fetched.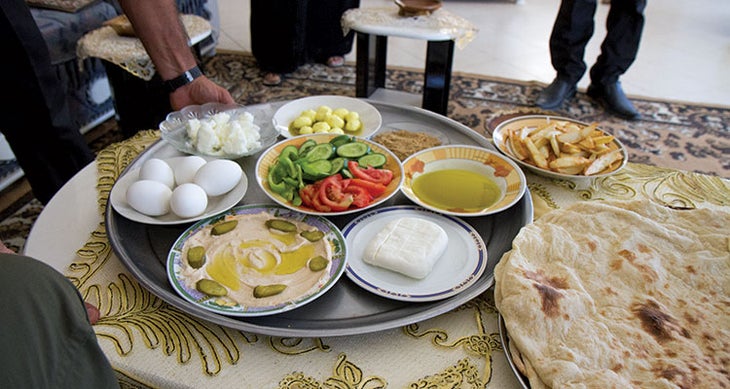 The Mardawis's large stone house, which Mustafa built over eight years, sits on a hill overlooking fields of olive trees. A light wind rises, as it does most days at dusk, and I gaze at the western sky, smeared pink and peach. The evening call to prayer sounds from a mosque in the valley, and the muezzin's singing floats across the hills.
Ayat calls us to the dinner table, where we're presented with a spread to rival an American Thanksgiving. Cucumber salad with parsley; a specialty dish of rice, chicken, almonds, and yogurt called mansaf; lamb patties with potatoes and tomatoes; smoked eggplant; hummus; fresh pita; turkey meatballs; and small sour grapes tossed with garlic and olive oil, pressed from their trees outside.
After dinner, we lounge on the porch, as the family does most evenings, and the breeze steals away the day's heat. Darkness settles, the sky awash in stars.
* * *
It's not all hummus and happy hiking. The conflict is real, of course, and it can intrude on the Abraham Path dream at any time. The day after our hike with Atari, we had planned to walk through Wadi Auja, a rugged section of canyons, but a flash of violence changed our plans. Two nights earlier, in the village of Duma, Jewish settlers tossed a firebomb into a Palestinian home. The blaze killed a toddler. The attack ratcheted tensions across the West Bank, and the Israeli security forces increased their presence, with more checkpoints and patrols.
Our guide for the Wadi Auja hike, a Palestinian named Nedal Sawalmeh, lives in the northern West Bank. (Guides like Atari often accompany hikers for the duration of their treks, but we wanted different perspectives as we explored the area.) Traveling south to meet us, however, Sawalmeh was turned around at the first checkpoint. We wouldn't be going to Wadi Auja without a guide: While violence against hikers in the West Bank is rare, and no foreign hikers have been targeted, this wouldn't be a good day to be mistaken for a settler.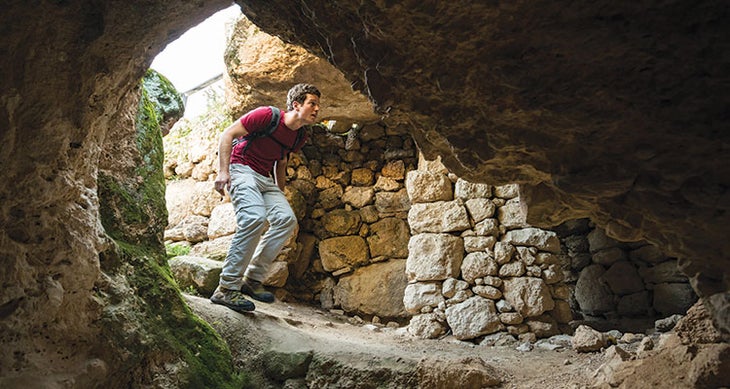 Though Israel has a well-developed hiking culture, the Abraham Path in the West Bank doesn't see many Israeli visitors. They're forbidden by the Israeli military from entering areas under Palestinian control, which accounts for about half of the Abraham Path in the West Bank. But mistrust runs so deep that it's unlikely Israelis would hike on Palestinian land—or be welcomed—even without the prohibition. So the two groups who could benefit most from sharing time on a trail together aren't really able to.
It's all a visceral reminder that reality trumps idealism—in the West Bank and throughout the region. The Abraham Path Initiative, which oversees trail development from an apartment in East Jerusalem, doesn't publish a hard-copy guidebook, which allows the staff to constantly add information online—or pull it—based on current events. They don't offer maps of the Sinai, for instance, and encourage hikers to only travel with local guides for their safety. The path runs the entire length of Syria, which hikers won't be exploring any time soon. And as unrest in southern Turkey increased last year, fueled by fighting in Syria, they removed maps for hiking there.
So we do as everyone here learns to do in this fluid environment: change plans. We decide to hike into Bethlehem, one of several Holy Land sites the trail passes through.
We're hiking with Matt Harms, an American who works for the Abraham Path Initiative. A hiker and cyclist, he attended Goshen College, a Mennonite school in Indiana, followed by four years in Bosnia, where he worked on religious tolerance and reconciliation issues. He is tall and lean, with a tangle of curly brown hair. Around the West Bank, he's often mistaken for an Israeli, which can be uncomfortable. But he moves easily through the area, already conversational in Arabic after nine months. He's hiked the length of the West Bank and large chunks of the Abraham Path elsewhere.
After sandwiches at Harms's favorite falafel shop on the outskirts of Bethlehem, we set out for the city center. We wind along a sun-baked wadi (ravine), up terraced fields and through olive groves, and onto a trash-strewn paved road. Not far from here is Shepherd's Field, said to be the spot where angels announced Jesus' birth. The main streets are well traveled with buses and vans shuttling tourists around the holy sites. On side streets, we pass a dozen workshops where craftsmen carve nativity scenes and religious statues from olive wood.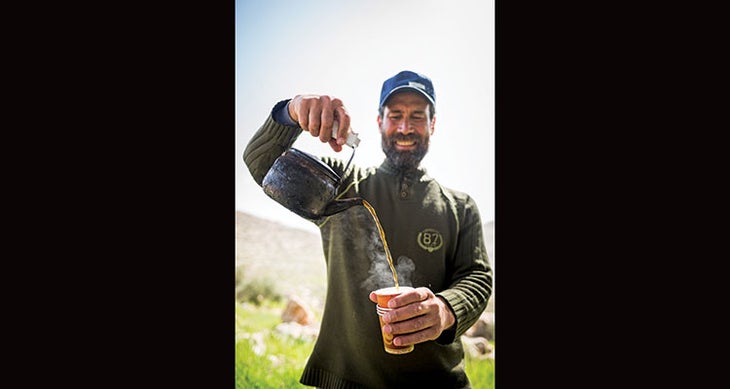 Through Bethlehem the path is marked with ceramic tiles that show a broad oak tree, the symbol of Abraham's hospitality. The tiles are fixed to light poles and buildings; we pass a few that have been smashed. Trail marker vandalism aside, the tiles are too far apart to be of much practical use. Spotting the small plaques amid the urban clutter and graffiti makes for a fun game, but this path twists and turns so often that without Harms and his GPS, we'd be lost.
In the town center we wander into the coolness of the Church of the Nativity, rich with paintings and mosaics and elaborate chandeliers. In a small alcove on the lower level, a metal star on the marble floor marks the location of the manger where Jesus is said to have been born. We resume hiking and soon, both the religious significance of this town and the region's potential for strife fade away. Now we are the main focus, a curiosity for locals. The sun is high and searing. A man and his young son pull up beside us in a beat-up white Toyota Corolla. "Hi!" he says, and flashes us a wide smile. He seems tickled to have encountered foreigners with backpacks wandering his neighborhood. "The sun is very hot today," he says. "Do you want some help?" We tell him we're just out for a walk, to which he responds with a giggle, and drives off.
Children gather around us next, and we soon have a half-dozen hiking partners as we zigzag through the neighborhoods. They all want to work on their English, and they teach me a nifty Arabic phrase, Dunya ealaa alnnar, which means the world is on fire. It fits the day's forecast.
We finish our hike a few miles from downtown Bethlehem at the Artas Spring, which has flowed through here since Roman times. I squat and dump cool water over my head. Our young hiking partners splash in the narrow stone trench, and a local boy somehow coaxes his skinny brown horse down the stairs for a bath. The boy pitches buckets of water on the animal, as though dousing flames, and the horse's flanks ripple and shine in the afternoon sun.
* * *
Like a receding tide, tensions here can retreat as quickly as they rise, even if currents always roil beneath the surface. By the next morning, Israeli security forces have eased their squeeze on the area and Nedal Sawalmeh, the guide who was supposed to meet us the day before, can make the journey south.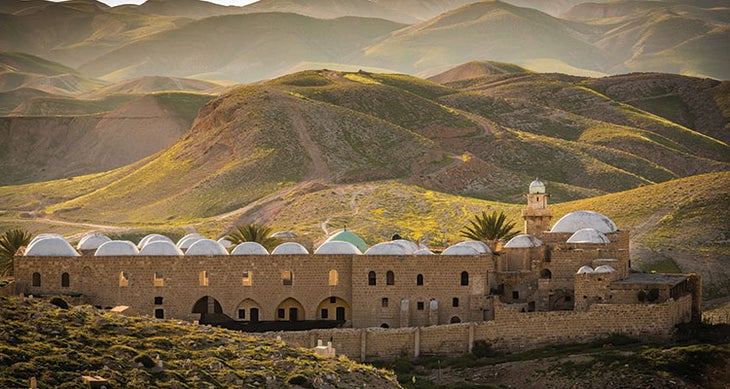 Harms, Sarah, and I have a far easier trip, a quick drive from Jerusalem to Jericho, one of the oldest cities in the world. We pick up Sawalmeh at the bus station and start our 12-mile hike in the barren desert hills far outside of town, at a mosque compound called Nebi Musa, where Muslims believe Moses is buried. From here we'll trek to a 4th-century monastery built into a cliffside, then back to Jericho along a canyon that for centuries attracted hermits who lived in small caves in the rock walls. Jericho sits 800 feet below sea level, which promises extra-hot hiking today. By noon the temperature will creep to 117°F.
Sawalmeh is snazzily dressed with an off-white straw fedora and a white scarf wrapped casually around his neck. A narrow face and close-trimmed black beard frame striking gray eyes and a gentle smile. In 1948, his parents were relocated from Jaffa, on the Israeli coast, to a refugee camp north of Nablus, where Sawalmeh was born and where he still lives today. He is 47, with eight children, who range from 22 years down to three, and he rattles through their accomplishments: his eldest son's new nursing job in a Jerusalem hospital, his eldest daughter's imminent graduation with a degree in English literature.
As a young boy, Sawalmeh explored the hills around his home, hiking and camping in caves with his friends. Years later, during the Second Intifada, three of those friends joined the fighting and were killed in an Israeli airstrike. That sort of loss might drive some to militancy, but their deaths furthered Sawalmeh's resolve to find a different course. In 2004, he took 25 Palestinian children on a trip to Spain with Peace Now, a group that advocates a two-state solution as a path to peace. After that, he started guiding hikers. "Walking together creates a common understanding," he says. For instance, he tells me, for several years he has guided a group of Norwegians on hiking trips through the West Bank. They are Protestants, strong in their faith, but eager to learn about his religion and perspective, and to share their experiences with those at home. "This is a way of bringing people together," he says, "as a first step."
After a silence, I turn to see Sawalmeh walking slowly, about 100 yards behind. He stops, and wobbles. Now about 6 miles into the hike, we pause in a slice of shade and he sips cold water to revive himself. "Since 2007, I have been hiking, and never have I been like this," he says. The cause is clear: "I don't hike in the summer." Most sensible people don't; but this is the time we had for an overseas trip, and Sawalmeh wasn't about to turn down a $150 guiding fee during the lean summer months. Unlike most other Palestinian guides, who work second jobs, Sawalmeh earns most of his money from guiding.
The broiling walk and the desolate terrain do bring a clearer image of what it must have been like trekking through here thousands of years ago, reliant on the kindness of strangers. With Sawalmeh refreshed, we walk a few hundred yards on an asphalt road, which had been the original Roman road from Jerusalem to Jericho, and along which the Good Samaritan of biblical legend helped the traveler who'd been set upon by robbers. From here we catch our first glimpse of Wadi Qelt, a deep canyon filled with greenery in spring. "They say this is the valley mentioned in Psalm 23," Sawalmeh says.
Yea, though I walk through the valley of the shadow of death, I will fear no evil. Perhaps the author had found himself out here on a similar summer day, praying for relief from the desert's hell fire.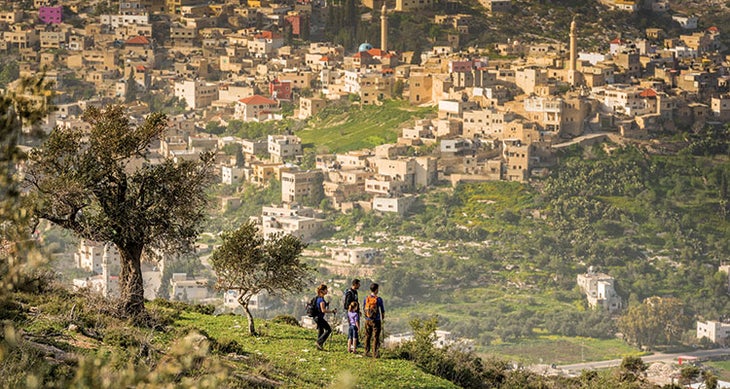 We drop down along switchbacks and now we can see St. George's Monastery, built impossibly into the canyon's far side. The sprawling, six-story stone structure—with terraces, domes, and an enormous belfry—is big enough to house dozens, but just 15 Greek Orthodox monks live there now. Above the main buildings, the cliff face is pockmarked with small caves, accessed by rickety ladders and scaffolds, with ropes and buckets by which monks can haul up supplies during days or weeks of extended meditation.
The gate leading up to the monastery is locked, so we sit, disappointed, in the shade, but in time a monk with a long beard and black cossack hurries down the path. He smiles broadly and apologizes. They had all been up late praying, and they slept in. Inside we drink coffee and water provided for visitors, and Sawalmeh chats and laughs with two of the monks.
It's hard to reconcile this friendly banter between Muslim and Christian with the firebombs and tear gas that have come before and will surely come again. I'm reminded of something William Ury, an anthropologist and peace negotiator who founded the Abraham Path, told me: He sees the path as a 1,000-year plan. It may outlive many of the countries through which it now winds, just as it now carries hikers over the remains of once-dominant civilizations and empires.
But even when not taking this ultralong view, and even when considering the region's overwhelming problems, people like Sawalmeh, with his devotion to changing hearts, offer cause for real hope.
"God gave us an important gift—our minds—so we have options," Sawalmeh tells me as we leave the monastery and continue our hike through the canyon, toward Jericho. "If you are just watching the two sides, this is not fair. You have to be the third side, to do something for peace. Even if it is just a small step, it is a step on the way."
Brian Mockenhaupt wrote about hunting for treasure in the New Mexico wilderness in May 2014. It still hasn't been found.