Rip & Go: Crow Pass Trail – Chugach State Park, AK
Cross the west edge of the Chugach for glaciers, bears, and wildflowers.
Heading out the door? Read this article on the new Outside+ app available now on iOS devices for members! Download the app.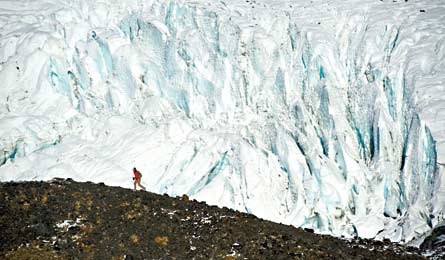 Raven Glacier near Crow Pass (Hage Photo)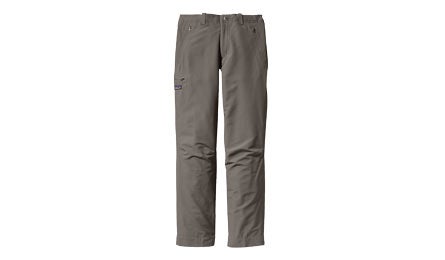 Patagonia Simple Guide Pants (Courtesy Photo)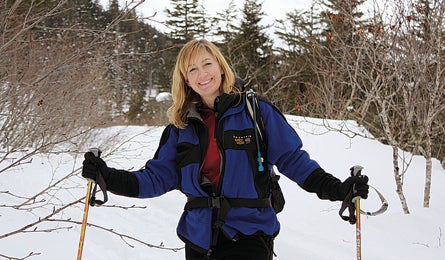 Reader Expert Gina Spangler (Courtesy Photo)
Reader Expert Laura Kruger (Courtesy Photo)
Do it
Gold drew prospectors here at the turn of the 20th century. Now it's the easy-access trailheads and instant big-mountain views. This point-to-point trek follows the Crow Pass Trail for 22.6 miles as it cuts across the Chugach Mountains, passing glaciers, meadows speckled with bluebells and larkspur, and prime Dall sheep, moose, bear, and wolf habitat. "There's never a dull moment on this trail," says Gina Spangler (next page). Drop a car at Eagle River Nature Center before driving to the Crow Creek trailhead (1). Begin with a steady ascent north past thick, low-lying alder and views of the Crow Mine's rusty ruins. The climb steepens at mile one (2), gaining 700 feet in .4 mile before descending north to a plaque (3) dedicated to Harry Ingle Staser, owner of the Monarch Mine from 1926-1940. Next, skirt turquoise Crystal Lake, pass an A-frame Forest Service cabin, and crest 3,883-foot Crow Pass (4), marked by big-screen views of Raven Glacier to the east. Finish the first day by descending wildflower fields (with Jacob's ladder and alpine forget-me-nots in June and July) into the lush Raven Creek valley; camp at sites (5) tucked into the willows.
Day two starts with a shallow crossing of Raven Creek (6), followed by a two-mile descent to a wooden bridge over Raven Gorge (7), a waterfall-carved chasm. Look out for moose, bear, and caribou grazing in trailside willows. "There's enough foot-traffic here that they aren't spooked by hikers like they are in more remote areas," says Spangler. At mile 9.9 (8), the Eagle Glacier hangs above the valley as the trail rounds southeast, dropping sharply toward the hike's crux—a wet, sometimes difficult crossing of the glacier-fed Eagle River (9) (cairns mark the easiest route across the knee- to thigh-deep water). From here, cross a gushing stream on logs at mile 12.3 (10), then two more footbridges at miles 14.5 (11) and 17 (12). Follow a stretch of the Iditarod Trail (yes, that Iditarod) before ending at the Eagle River Nature Center (13).
Trip Planner
Shuttle

From Anchorage, drive 12 miles north on AK 1 to the Eagle River Loop exit. Turn right on Eagle River Rd. in 2.5 miles. Go 10.9 miles to the Eagle River Nature Center.
Trailhead

Drive south on AK 1 to Girdwood. Turn left on Alyeska Hwy. Bear left at Crow Creek Hwy. in 1.9 miles. Bear right at junction in five miles. Park in .9 mile.
Map

USGS: Anchorage A-6, Anchorage A-7 ($8 each, store.usgs.gov)


Gear Up

Alaska Mountaineering & Hiking; (907) 272-1811; alaskamountaineering.com
Contact

(907) 269-8400; dnr.alaska.gov/parks/units/chugach
Trip ID393658

Key Skills
Key Gear: Softshell Pants

For Alaska's unholy combo of rough terrain and harsh elements, you need something Carhartt-tough yet light and quick-drying. Enter Patagonia's Simple Guide Pants ($99; patagonia.com). The double-weave poly-spandex stands up to lashings by waist-high thickets and light rain, while shedding wind and drying quickly after thigh-deep creek crossings. A gusseted crotch and articulated knees allows for high-stepping over rocky passes without yanking cuffs out of your ankle gaiters. For added protection, pair them with Outdoor Research's Flex-Tex Gaiters ($35; outdoorresearch.com).
See This: Raven and Eagle Glaciers

Glaciers cover 70 square miles of Chugach State Park, and you'll have front-row views of two of them—Raven and Eagle—at miles 3.6 and 9.9, respectively. "If you detour about half a mile off-trail for closer views of Raven Glacier, you'll see colors ranging from black to royal blue to pure white," says Forest Service Program Manager Carl Skustad. "Look for an ashy gray layer­—it formed after the 2009 eruption of Mt. Redoubt." No glacier experience? Stay off the ice.
Locals Know

"The terrain is not always the trickiest part of hiking in Alaska," says Laura Kruger, operations manager for the Eagle River Nature Center. Many of the trails that crisscross the state's backcountry are point-to-point hikes, which require a shuttle car to complete—and the Crow Pass Trail is no exception. Hikers must drive 70 miles (roughly three hours) from the shuttle drop-off at the Eagle River Nature Center to reach the Crow Creek trailhead. If you can't rally two cars to complete the shuttle, there's no need to bag your plans. Leave a car in Girdwood proper, seven miles from the trailhead, and call a cab from the nature center's pay phone for a pick-up. Expect to pay at least $160. Or, if your schedule is flexible, simply turn back and cover that heavenly terrain again. (907) 222-2222; akyellowcab.com


The Menu
On The Menu
Breakfast 1

Breakfast at the Bake Shop in Girdwood

Lunches 1 & 2

Peanut butter and honey flour tortilla roll-ups

Dinner 1

Faux Crow Cranberry Rice

Breakfast 2

Chugach Oats and Honey

Snacks

Trail Mix, granola bars


Prairie Pesto

A fresh pasta dinner
4 ounces spaghetti noodles

1/2 cup mushrooms

2 tablespoons olive oil

1/4 teaspoon garlic powder

2 tablespoons dried basil

1/4 cup grated Parmesan cheese
Cook spaghetti in boiling water, then drain. (Water is scarce; set aside for tea.) Stir in olive oil and all remaining ingredients. Mix well and eat.
Chugach Oats and Honey

A hot, hearty, tasty, gooey breakfast
1¾ cup water

1 cup quick oats

¼ cup almonds, sliced

3 teaspoons honey

1 pinch cinnamon

1 pinch salt
Combine water, oats, salt in a small pot; cook per instructions. Combine almonds, honey, cinnamon in a bowl. Add cooked oatmeal to bowl; stir thoroughly. Serves 2.

The Grocery List (Aisle # in Nearest Store Below)
[ ] dried cranberries (produce)

[ ] dried mushrooms (produce)

[ ] trail mix (1)

[ ] granola bars (1)

[ ] quick oats (3)

[ ] 1 pouch chicken (3)

[ ] dried onion (3)

[ ] sliced almonds (3)

[ ] dried parsley (3)

[ ] jar peanut butter (4)

[ ] jar honey (4)

[ ] package flour tortillas (4)

[ ] instant rice (4)

[ ] chicken bouillon (4)
Pack Salt, cinnamon, garlic powder
Pit Stop

Swing by Girdwood's Bake Shop before hitting the trail. Order the Summer of '76 Special (pancakes, eggs, bacon) and a sweet roll smothered in an almond-lemon glaze. Alyeska Building Unit C, Olympic Circle, Girdwood, AK; (907) 783-2831
Nearest Grocery Store

Crow Creek Mercantile

147 Hightower St.

Girdwood, AK

(907) 783-3900