These 6 Delectable Desserts Are the Perfect End to a Day of Hiking
These easy-to-prepare camping desserts are well worth the extra ounces in your pack.
Heading out the door? Read this article on the new Outside+ app available now on iOS devices for members! Download the app.
If you're a backpacker who likes to go light, we're willing to bet that you take one of two strategies when it comes to dessert. Option one: Ditch it. It's unnecessary weight, an indulgence that you can leave at home and not miss it. Option two: Everything is dessert. Your food bag is full of candy, from Skittles to Snickers, and your average snack break would make a dentist cringe.
Personally, we're fans of the middle: While too much sugar gives us taste fatigue, there's nothing like enjoying a sweet treat in camp to lift morale, bring you closer with your hiking buddies, and celebrate a successful day on the trail. Candy or chocolate bars might satisfy your sugar craving, but these six recipes are your ticket to a truly memorable evening.
Backcountry Tiramisu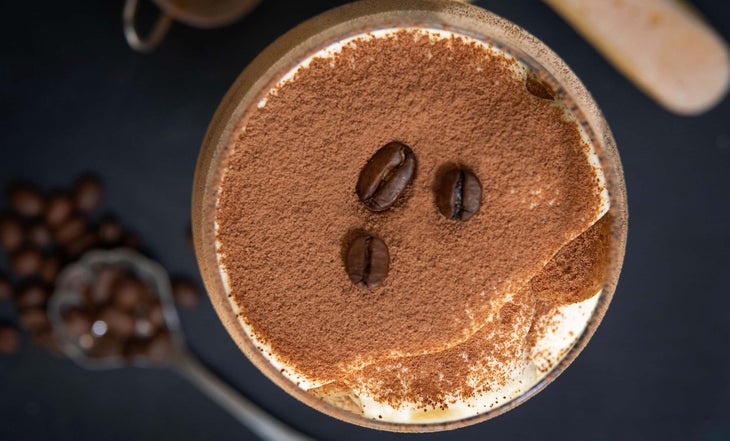 This camping-friendly take on a classic Italian confection is so good, you'll probably dream about it. Makes 3 servings
Ingredients
1/3 cup water
2 teaspoons instant espresso powder
2 tablespoons Kahlua
1 3.4-ounce packet instant white chocolate pudding
2/3 cup powdered milk
16 ladyfingers
Dark chocolate
Cocoa powder and coffee beans for garnish (optional)
At home: Pack all ingredients separately.
In camp: Heat water to a boil, then mix in espresso and Kahlua. Rehydrate milk according to the package, then use it to make pudding according to package directions. Place six ladyfingers in the bottom of a pot; drizzle with half the espresso mixture, then spread half the pudding over it. Repeat to form a second layer. Sprinkle with cocoa powder and use a pocketknife to shave thin strips of chocolate on top and serve. (Alternatively, garnish with a couple of whole coffee beans.) Spoon onto plates, or eat it straight from the pot.
—Backpacker Editors
Campfire Blueberry Cobbler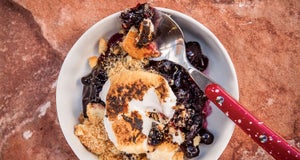 Roasted marshmallows aren't just for s'mores. Use them to top this delicious, easy berry treat. Makes 2 servings. 
Ingredients
2 Tbsp sugar
1 Tbsp cornstarch
Pinch of salt
½ cup dried blueberries
8 crushed vanilla wafers
6 marshmallows
At home: Combine sugar, cornstarch, and salt in a small zip-top bag. Pack berries, crushed wafers, and marshmallows separately in bags or containers.
In camp: Place blueberries in a small pot with ¾ cup water, bring to a boil, and simmer until plump and soft, adding small amounts of water as needed. When the berries are fully reconstituted (about six minutes), there should still be some liquid in the pot. Remove from heat, add sugar mixture, and stir quickly to incorporate and minimize lumps. Cook over a medium-low flame, stirring constantly until mixture bubbles and thickens (about 90 seconds). Meanwhile, have your campmate toast the marshmallows until golden-brown. Portion berries into two bowls, cover each with three marshmallows, then top with wafer crumbs.
—Jennifer Bowen
Jelly Doughboys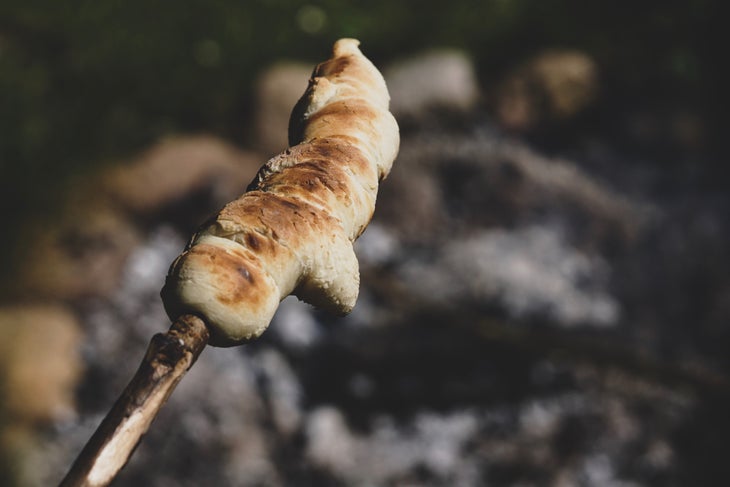 Kick your donut craving with this fire-roasted dessert (or breakfast) that's great to cook with kids. Makes 6 servings.
Ingredients
2 cups flour
1/3 cup powdered milk
3 tsp baking powder
1 tsp salt
Assorted jelly packets, honey, or Nutella
At home: Pack all dry ingredients in zip-top bag.
In camp: Build a fire and let it burn down to coals. In a bowl, combine dry mixture and just enough water to form a tacky dough. Press about a half cup of dough around a clean, 3-foot-long, thumb-thick stick. (It helps to roll the dough into a log first.) Roast as you would a marshmallow, aiming for a golden brown color on all sides. Thump the outside with your finger; it's done when it sounds hollow. Remove from stick, stuff the hollow interior with toppings, and serve.
—Elisabeth Kwak-Hefferan
No-Cook Banana Split Sundae
Craving ice cream? This take on a frozen classic is the next best thing. Makes 2 servings. 
Ingredients
2 4-oz. pudding cups, one chocolate, one vanilla (or make from instant powder to save weight)
Handful of freeze-dried bananas or banana chips
2 tsp peanut topping (in the baking aisle)
1 tsp rainbow or chocolate sprinkles
2 chocolate wafers
2 cherry jelly beans (swipe 'em from a snack pack of Jelly Bellys)
At home: Pack the pudding cups in a zip-top bag to prevent spills. Pack other ingredients separately.
In camp: Divide pudding between two bowls, with flavors side by side like scoops of ice cream, and surround with bananas. Crush cookies over pudding and add remaining toppings. Finish with a jelly bean.
—Jennifer Bowen
Apple Pie on a Stick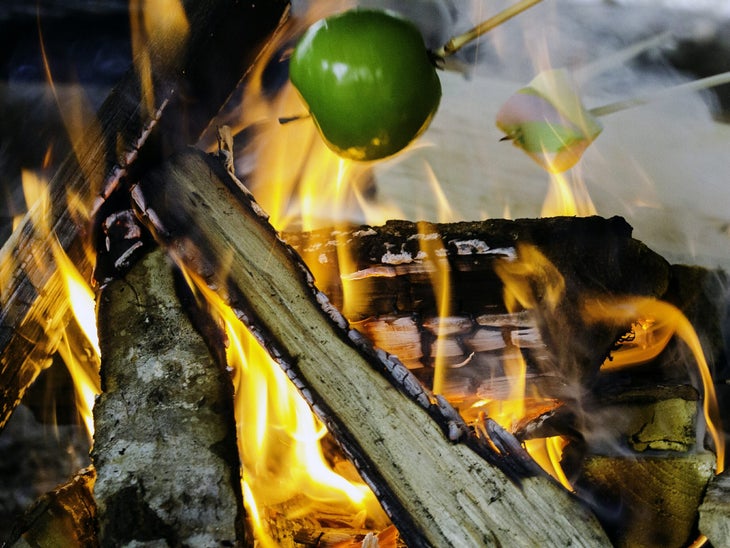 This fun-to-prepare dish is reminiscent of your favorite family pie recipe, but ready to eat in just minutes. Makes 1 serving. 
Ingredients
1 Jonathan or Rome apple
1 cup granulated sugar
1 tablespoon cinnamon
½ cup granola (optional)

At home: Combine sugar and cinnamon in a zip-top bag. Pack other ingredients separately.
In camp: Build a campfire and let it burn down to coals. Push a stick or dowel through the apple top until the apple is secure on the stick. Place the apple two or three inches above the hot coals, and turn the apple to roast evenly. As the apple cooks, the skin will brown and the juice will drip out. When the skin is loose, remove the apple from the fire (but leave it on the stick). Carefully peel the hot skin off. Roll the apple in the sugar-cinnamon mixture, then roast it some more over the coals, letting the mixture warm until it forms a glaze. Remove the apple from the heat, and if you want, roll it in the granola for a crust. Let it cool, then bite in!
—Alex Geller
No-Mess Bourbon Bread Pudding
This decadent treat is a welcome change from typical backcountry desserts, and requires almost no clean-up. Makes 2 servings. 
Ingredients
4 slices whole-grain sandwich bread
3 Tbsp melted butter
¼ cup raisins
Big pinch nutmeg
½ tsp cinnamon
¼ tsp salt
1/3 cup sugar
2 Tbsp powdered eggs
1.5 oz. powdered whole milk
2 Tbsp bourbon (optional)
At home: Cube bread in 1-inch chunks, toss with melted butter, and add to a zip-top bag with raisins, spices, salt, and sugar. Pack eggs, milk, and bourbon separately.
In camp: Fill a medium-size pot halfway with water and bring to a boil. Meanwhile, add milk powder to 1 cup treated water in a sealable, boilable container or freezer bag (we like PackIt Gourmet's Boilable Bags) and shake well to blend. Add bourbon and egg powder to milk and continue to mix until well blended, then stir in bread mixture. Mixture should be very thick and moist but not runny. If it seems a little dry, just add a little more water a spoonful at a time. Seal bag, submerge in boiling water for five minutes on each side or until pudding texture is springy.
—Backpacker Editors