Five Peaks Loop, Adirondack High Peaks, NY
Uphill Lean-to is the perfect basecamp to nab a collection of Adirondack High Peaks, including Mt. Marcy, the state's crown jewel.
Heading out the door? Read this article on the new Outside+ app available now on iOS devices for members! Download the app.
The three-sided log shelter is pretty unremarkable on first glance, blending into the surrounding thicket of spruce in the Adirondack High Peaks. I haven't been back here in close to 10 years, since my very first backpacking trip as a teenager; despite the unassuming first impression, that cherished memory makes the lean-to feel like coming home. But more importantly, it's the ultimate basecamp for a slew of Adirondack 46er Peaks—at least five, though we'll only tag four on this trip. One is already done: Cliff Mountain, which feels scarcely higher or less forested than this lean-to.
But tomorrow morning we'll head up Mt. Marcy, the state's tallest peak with its slabby rocky pyramid poking above krummholz, as well as Mts. Gray and Skylight, with glowing views stretching into Vermont. I was a neophyte the last time I made the trek from Uphill Lean-to to the top of New York State via its quiet southern side. Tomorrow, with a decade's worth of hiking conditioning and know-how, I'll scramble up it at sunrise for a circle of peaks.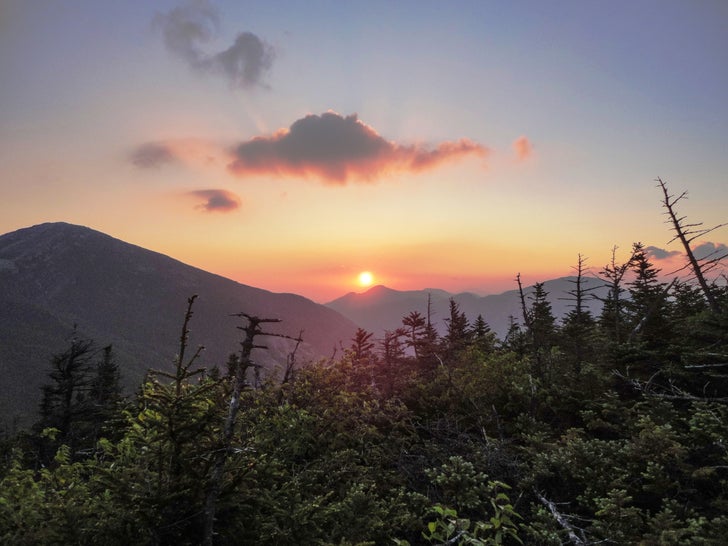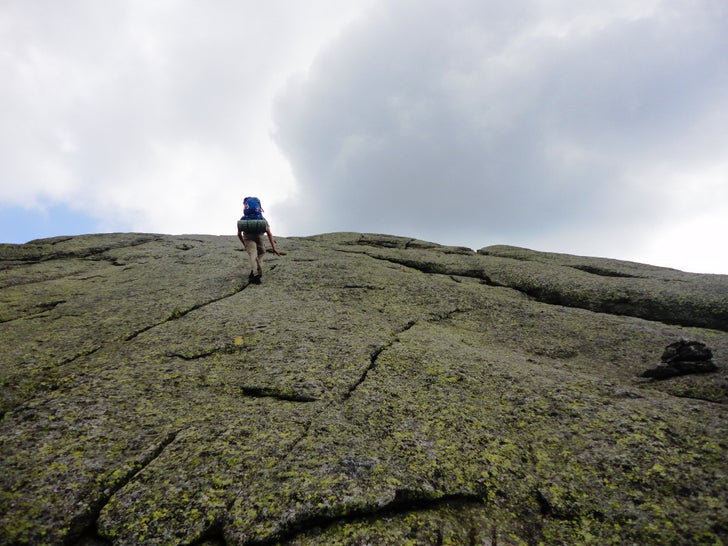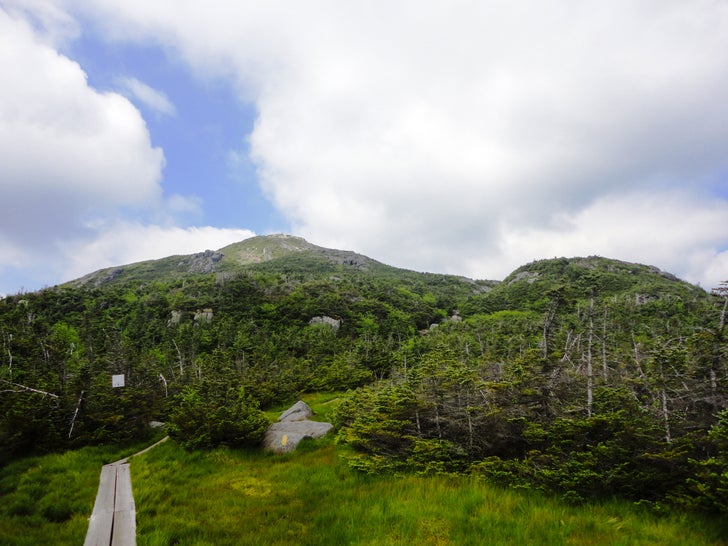 Turn-By-Turn
Follow Van Hoevenberg Trail from Heart Lake to the former Marcy Dam at mile 2.6. 

At the intersection east of the dam, take the trail south toward Avalanche Pass. 

At mile 3.75, near some lean-tos, turn left and head east, climbing to a crest at Lake Arnold before descending to Uphill Leanto at mile 7.5. Drop you gear here in the 8-person first-come-first-served shelter. 

Follow a herd path up and down forested Cliff Mountain (3,960 feet), returning to camp for the night at mile 9.8. 

The next morning, take the trail back toward Lake Arnold, turning right at mile 10.3 to follow Feldspar Brook east. 

Reach the Four Corners at mile 11.8 and turn south, summiting Mt. Skylight for sunrise at mile 12.25. 

Return to the Four Corners and, if desired, tack on Gray Peak (4,840 feet) by backtracking just past Lake Tear of the Clouds and following a herd path to the summit at mile 13.5. 

Return to the Four Corners (mile 14.3) and head north, breaking treeline and climbing rock slabs to the summit of Mt. Marcy (5,344 feet) at mile 15.1. 

Take the Van Hoevenberg Trail north off the summit and follow it all the way back to the trailhead at mile 22.6. 
Trip Planner
Permit none Contact Lake Placid GPX Five Peaks Loop
Trip Stats
Difficulty 4/5
Overall 4.5/5
Duration 2 days