Rip & Go: Grandview Loop – Grand Canyon, South Rim
Descend to the Ditch's primitive core on a three-day loop.
Heading out the door? Read this article on the new Outside+ app available now on iOS devices for members! Download the app.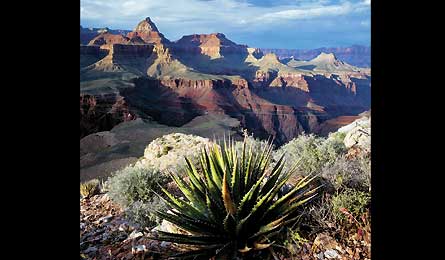 View of Zoroaster Temple from Horseshoe Mesa (Ed Callaert)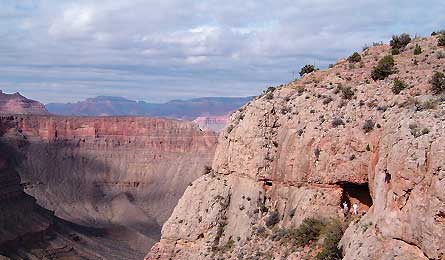 Cave of the Domes (Michael Quinn/NPS Photo)
Do It Take this steep path to a rare, 11.9-mile inner-canyon loop hike, sublime views from Horseshoe Mesa, and a peek into the Canyon's mining past. Hike September to June to avoid the searing heat; in winter, pack lightweight crampons—ice can make the upper trail treacherous. From Grandview Point (1), pack a gallon of water per person and descend gravel switchbacks on the Grandview Trail. At mile 1.1, rest your knees at Coconino Saddle (2), a shady overlook above an east-facing gully. Continue down past daisies and vibrant-red desert paintbrushes (May), then emerge onto wide-open Horseshoe Mesa, which reaches two long arms west and north (3). Here, you'll encounter Pete Berry's Last Chance Mine, a shady nook with copper-mining-era pickaxes rusting in place. Head east past the ruined cookhouse (4) at mile 2.8, and take the East Horseshoe Mesa Trail toward Hance Creek. Descend steeply off the mesa with views of the Canyon's clay-red slopes dotted with juniper and sagebrush.
At mile 3.5, fill reservoirs at Miner's Spring (5), a perennial oasis with a small pool and fresh drip, and camp near Hance Creek. Next morning, take the Tonto Trail (6) heading northwest to begin a relatively level, 4.7-mile loop around Horseshoe Mesa. At mile 7.3, reach the junction with a use trail (7) looking south into the mesa's thousand-foot-high walls layered in heather, russet, and slate blue. From here, take your pick: Continue northwest on the Tonto Trail to Cottonwood Creek and camp near the spring at mile 9.4, or head south to ascend the easy route up Horseshoe Mesa and camp in a designated site (8). The latter option shaves 1,200 feet off the next day's climbing and clears the way for a 1.5-mile (one-way) hike over razor-edge cliffs to catch the sunset on Horseshoe Mesa's westernmost tip. The 300-degree view of sunset-streaked Zoroaster Temple will redefine your sense of grandeur. Next morning, link up with the Grandview Trail and begin the long, 2,600-foot ascent up to Grandview Point.

Trip Planner

The Way From the South Rim entrance, drive 12 miles east along Desert View Dr. to Grandview Point.

Permit $10 plus $5/person per night. Reserve four months ahead. Download permit request form (nps.gov/grca/planyourvisit/upload/permit-request.pdf) and fax to (928) 638-2125.

Gear up Canyon Village Marketplace, South Rim. (928) 638-2262

Maps USGS quads Cape Royal and Grandview Point ($8, store.usgs.gov)


APP Plus

Navigate easily with GPS Trails for your smartphone. backpacker.com/iphone or /android



Key Skill

Heat-aware hiking
The killer combination of dry heat, relentless sun, infrequent water sources, and steep terrain makes dehydration and heat-related illness all too common in the Grand. Here's how to stay safe:
Water You'll need to carry a gallon of water per person per day. MSR Dromedary bags come in four sizes, the nylon outer resists punctures, and the cap screws on tight to prevent accidental leakage—even under pressure. A hard rubber collar around the opening makes it easy to hold while filling. Attach the Hydration Kit ($20) hose to the reservoir to keep water at hand and encourage constant sipping. $35; 6.9 oz. (for the four-liter); msrcorp.com
Back up Pack two hard-sided one-liter bottles and store them inside your pack to keep water cooler.

Timing Start early (6 a.m.) and rest frequently. Avoid hiking between 10 a.m. and 3 p.m., the hottest part of the day.
Danger Feeling flushed? The early stages of heat-related illness include cramps, fatigue, and muscle pain. Apply cool water to the neck, armpits, and inner thighs (where the carotid, brachial, and femoral arteries approach the skin's surface), and fan to facilitate evaporative cooling.
See This

Cave of the Domes

An estimated 1,000 caves pock the Grand Canyon's Redwall, but only one is open to recreational use. Spend a cool afternoon in Cave of the Domes, accessed via the precipitous Trail-of-the-Caves Trail, near the ruined cookhouse at mile 2.8. Crawl inside, and explore the cave's many rooms, rough walls, stone pillars, and 10-plus-foot-high, domed ceilings with inscriptions dating back more than 100 years. If you plan to explore the cave, carry a headlamp, backup flashlight, and extra batteries. Some spelunkers unspool rope to avoid becoming lost. inside.
Locals Know

Pete Berry's Last Chance copper mine thrived at the turn of the 20th century. In 1893, Berry constructed the Grandview Trail—loosely following an old Native American route—to get supplies in and ore out, with heavily laden mules traveling the steep path daily. Hikers still use the cobblestone paths and original log "cribs" that support the steep cliffside switchbacks, all of which Berry and his workers built by hand. When mining became unprofitable, Berry built the two-story Grandview Hotel, and mules carried visitors instead of ore. Around the mine ruins, find chips of blue ore that Native Americans used to make dye.
On The Menu

Breakfast 1

On the road

Lunch 1

Hoagies from Canyon Village

Dinner 1

Switchback Salad

Breakfast 2 and 3

Granola with dried blueberries

Lunch 2

Bagels with peanut butter and honey

Dinner 2

Canyon Couscous

Snacks

Trail mix

Switchback Salad

A protein-rich, no-cook meal
Bag of baby spinach

15 ounces cannellini beans

6-ounce pouch tuna

1 cucumber, diced

2 tomatoes, diced

1 small lemon for juice

Small bunch parsley, chopped

2 tablespoons olive oil
Combine first five ingredients in a bowl. Mix olive oil and lemon juice, and pour over salad. Serve with dinner rolls.
Canyon No-Cook Couscous

Nutritious, delicious, and easy
1 box couscous

1 tablespoon olive oil

1 1/4 cup water

1/2 cup craisins

1/2 cup sunflower seeds

1 packet salad dressing

1 7-ounce pouch chicken
Day before: Combine couscous, water, and olive oil in a zip-top bag and let sit overnight.
Night of: Stir in remaining ingredients and spoon into pitas.
The Grocery List – (Aisle #) In nearest store below
hoagies (deli)

baby spinach (produce)

1 cucumber (produce)

2 small tomatoes (produce)

parsley (produce)

lemon (produce)

bagels (1)

pitas (1)

dinner rolls (1)

sunflower seeds (1)

cannellini beans (2)

1 box couscous (2)

granola (2)

dried milk (2)

6 oz. pouch tuna (3)

7 oz. pouch chicken (3)

peanut butter (5)

honey (5)

salad dressing (5)

dried blueberries (6)

craisins (6)

trail mix (6)

Pack Olive oil