5 Reasons to Hike the Annapurna Circuit Trek (17-Day Itinerary)
Nepal's Annapurna Circuit doesn't offer lavish huts, extreme solitude, or sumptuous cuisine. So why is it still number one? Let us count the reasons.
Heading out the door? Read this article on the new Outside+ app available now on iOS devices for members! Download the app.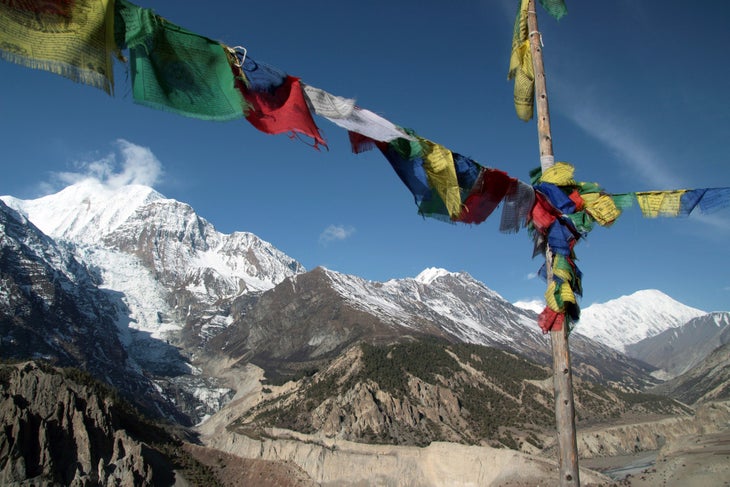 Raving about the wonders of the Annapurna Circuit trek is like saying the Grateful Dead is your new favorite band. People roll their eyes at your lack of imagination. The central Nepal trek is so well-known that it's almost cliché. Travelers have been praising the 128-mile route, which circles Nepal's heaven-high Annapurna range, as the holy grail of trekking since it was first opened to foreigners in the early 1980s. Sure, there are treks that are more rugged or more remote, huts that are more luxe, pilgrimage sites that are more holy, wildlife that's more exotic, and even scenery–sacrilege!–that's more beautiful.
But could another trail step up and swipe Annapurna's crown? Nope. After hiking the circuit myself in the fall of 2008, with my wife Emily on our honeymoon, I must join the chorus of Annapurna groupies. Four decades after it opened, the circuit is as captivating as ever. Here are five reasons why Annapurna should be your next major trek (and a detailed guide to help you plan your trip).
1. The Annapurna Circuit Gets Better Every Day
For instant gratification, go to New Zealand. You'll be able to snap photos of the postcard-perfect mountains from the trailhead. But compared to such instant-access treks (the bon-bons of the hiking world), the Annapurna Circuit is a full 12-course meal
It starts with jungle, a monkey-and-banana-tree tangle that's a total shock even if you've been forewarned. When we entered the jungle sweat poured off us like rain as we climbed through terraced rice fields carved out of greenery. Two days later (where were the mountains?) we walked through a canyon so narrow and deep that direct sunshine only penetrated at noon. A day after that, we were in pines so tall and dense, I thought of Oregon.
Finally, slowly, the high Himalaya emerged in sneak peeks and tantalizing vistas. And then the big magic: On our 10th day, we approached 17,768-foot Thorung La, the highest point of the circuit. Suddenly there was nothing but mountains. We were alone in a choppy sea of 20,000-foot peaks. Spindrift snow unfurled off four of the world's 10 highest summits, which loomed around us, their fluted walls reflecting the sun's rays so brightly that they burn ridgeline silhouettes into our retinas. When Annapurna III and Gangapurna came into view, I had the same feeling in my chest that I had the first time I peered into the Grand Canyon: a light, wide-eyed inhale of surprise. Sounds and smells faded; my vision sharpened. I could see every minute feature on those corrugated ice-and-rock walls. I was just a pair of eyes, floating amid the peaks like a helium balloon.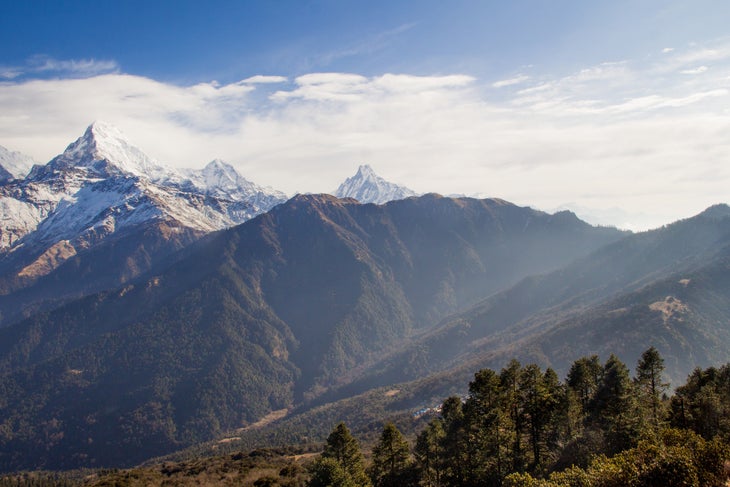 2. The Annapurna Circuit Is a World Party
Want to hike into the middle of nowhere? Into a place so remote that you'll go days without seeing other people? Sweden's Sarek National Park is for you. Skip the Annapurna Circuit.
More than 40,000 trekkers travel to Annapurna each year, and when Emily and I stepped into the dank, hot jungle for our first full day of trekking—a humid 12.5-mile climb from Bhulebhule to Jagot—it seemed like all 40,000 had arrived at the same time. We leapfrogged with a somber German couple as the trail climbed through small stone-and-thatch villages. Then we passed a large French group traveling with guides and porters. Then a pair of young Swiss hikers. Then some elderly Belgians. Then a lone Israeli. Then a train of 50 donkeys hauling supplies—cooking oil, Coke, kerosene.
I wasn't accustomed to rush-hour traffic in the wilderness, and at first the number of other trekkers annoyed me. But it only took a few days on the trail to realize that hiking around Annapurna is like joining an exclusive club. In Jagat, we drank tea with Ori, an Israeli who had hiked the circuit seven times. He told us that the people he meets—both from Nepal and everywhere else—were one of the reason he kept coming back. We sat with Ori and Ryuske, a Japanese trekker, and taught each other how to cuss in three languages. Then for the next week we greeted each other every time we crossed paths. And so it went with the Belgians, who regaled us with stories of their military duty in Kashmir in the 1940s; the Swedes, who were keen to show off their well-designed cutlery and packs; and the young British couple, taking a gap year, who were instant friends and will send us postcards from India. Even the Germans made nice over garlic soup at Thorung Phedi.
By the time we ascended 10,460-foot Poon Hill to watch sunrise on the last day of the circuit, sharing the moment seemed totally appropriate. We stood in awe with more than 100 others, but it didn't feel like a crowd. They were fellow pilgrims, many of them friends.
3. The Annapurna Circuit Has the Best Food
Okay, traditional Nepalese dal bhat—a simple meal of rice and lentil soup—can't compete with the wild mushroom polenta, fondue, and coq au vin that's served in mountain huts on the Tour Du Mont Blanc, or the paella—fresh from the sea—you'll feast on during a multisport vacation in Spain's Valencia region. By comparison, the Annapurna Circuit's main fare is more glue than gourmet. Hikers who crave the familiar can find macaroni, dumplings, and even pizza in Annapurna, but eating dal bhat is like ingesting part of Nepal, as if it contains more than protein, carbs, and spices. Plus, it's crazy cheap (all you can eat for about $1.50) and plentiful.
A year after our trip, Emily and I still order dal bhat at local Indian restaurants just to relive memories the taste evokes. In the tiny outpost of 13,185-foot Yak Kharka, a week into our trek, we joined five porters at the Yak Hotel for dinner. We ate in a cold room built entirely of stone, sitting around a square table placed over hot coals to keep our feet warm with heavy yak-hair blankets draped across our legs to trap the heat. Emily and I used our hands like the Nepalese, and they laughed as we repeatedly dropped chunks of food into our laps. Over seconds and thirds, the porters spoke in halting English about the imminent crossing of Thorung La pass. The locals, all guys in their late teens and early 20s wearing sweats, were disarmingly apprehensive about the pass. For some, it would be their first time so high.
Over glasses of raksi, a sake-like booze made from fermented millet, the porters taught us a card game called Nepali Kings, in which four peasant boys marry beautiful women and become rich kings–or comically fail, depending on how the cards fall. We laughed and played over and over by yak-butter lamplight until a perfect hand let all the boys be kings.
4. It's Always Surprising
After climbing stone steps for three hours through a tangled rhododendron forest on our way to Ghorepani, we arrived in a three-house village with a small snack stand. The stand had a sign that says "Sale Yak Cheese" next to a faded poster of Avril Lavigne. The cheese salesman looked like the Nepalese version of a midwestern farmer, complete with battered ball cap and an Ohio State Buckeyes T-shirt. Just then a Frenchman with flowers in his long, curly hair arrived in the village, causing nearby porters to snicker and point. Other treks have their memorable moments, of course. Italy's Alta Via 1 delivers plenty: You'll drink espresso after a delightful sage gnocchi while gazing at the knifey Dolomites, and that's wonderful, but that's exactly what the guidebook promises. You can never imagine what Annapurna has in store, no matter how much research and planning you do (yes, even reading this). When I came across a goat eating marijuana plants outside of a Buddhist temple in Upper Pisang and a monk laughed and mimicked smoking a joint, that was a surprise. That's the Annapurna Circuit.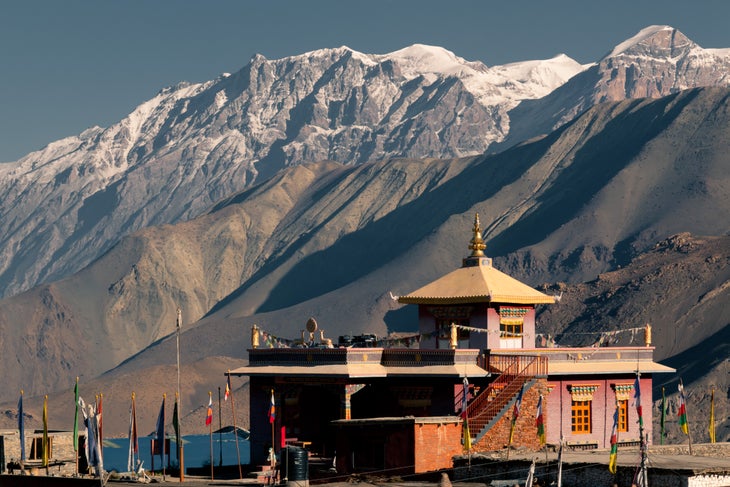 5. It's a Living Trail
If it's history you want, tour the castles along England's Pennine Way or the ruins of Machu Picchu. Unlike most treks, the circuit follows an ancient trade route that still functions as a trade route. It's used to transport everything from salt to piglets, and the villages—with the exception of the teahouses—function much as they have for a millennium.
Exhibit A: Muktinath, where we arrived after descending 5,628 feet (in one afternoon!) from Thorung La. The town, whose name means "Lord's Salvation," is sacred to both Buddhists and Hindus. Pilgrims from distant villages in Nepal and India were gathered in a temple complex where water shoots from 108 springs and a natural gas flame burns on top of water in one of the temples. Hindus believe that Muktinath is the only place on earth where the five elements (earth, wind, fire, water, and sky) exist in their distinct forms. Hundreds of worshipers bathed in the fountains, rang bells, anointed each other's foreheads, or simply looked on reverently. No one seemed to mind the Western trekkers firing away with digital cameras. In fact, an enterprising local had set up a bindi stand where we could get our foreheads decorated for about $2. A donation got us included in the daily prayers.
But things will change, as they have elsewhere. Locals want more development, naturally, and roads are slowly creeping up both the Marsyangdi and Kali Gandaki Valleys. Already, a network of dirt roads connect Beni with Muktinath 65 miles away. On the eastern Marsyangdi side of the range, frequent landslides make road-building difficult, but engineers are still trying. So believe the hype, but don't wait. This trek can't be matched and, like the Grateful Dead, it can't last. If it was the winter of 1995 and you knew Jerry only had six months left to live, wouldn't you dig deep to catch a show?
Planning Your Trip to the Annapurna Circuit
Getting There
Fly into Kathmandu's Tribhuvan International Airport and spend at least a day or two in the city sightseeing, getting your trekking permit, and shopping for supplies. Book a Kathmandu hotel in advance and confirm that it offers a free shuttle from the airport. The best for trekkers is Kathmandu Guest House ($40-$120 per night).
When to Go
Monsoon season in Nepal is June through September. That's when most of the rain falls and when rock and mudslides are most likely to occur. The spring, between mid-March and mid-April, is when the rhododendron forests bloom, but the weather is still wet this time of year and the leeches are a nuisance at lower elevations. The best time to do the Annapurna Circuit is October, thanks to reliably pleasant weather (80°F and humid at 2,000 feet; 20°F and dry at 17,000 feet) and clear skies.
Maps and Books
The best trail guide is Annapurna Trekking Map and Complete Guide, by Partha S. Banerjee (Milestone Guidebooks, $10). It can be found at every bookstore in Kathmandu. Use Trails Illustrated map Annapurna #3003 (natgeomaps.com, $17) and Nepal (Lonely Planet, $25) for pre-trip planning.
What Does This Trip Cost?
Not including airfare or rental car, but including the cost of visa to enter Nepal and trekker permit:
If you do the trek on your own, without an organized tour operator, it will cost between $700 and $1,000 per person.
If you use a local tour operator, expect to pay between $1,200 and $3,000.
If you go with a U.S.-based operator, it will run you between $1,500 and $4,000.
Note: Check what each tour operator offers, as the price varies depending on what the package includes. Cheapest is not always best.
Getting a Trekker Permit
Every trekker needs a permit ($20) but no reservations are necessary. Just pick one up in Kathmandu at the Annapurna Conservation Area Project office on Tridevi Marg (open 8 a.m. to 5 p.m. daily).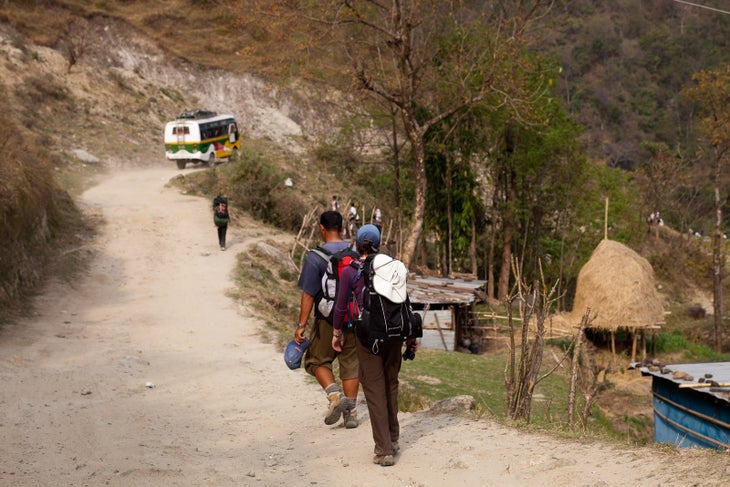 Where the Trail Begins
The trek starts in Besisahar (catch a bus at Kathmandu's Gongabu Bus Park, they leave regularly) and ends in Pokhara (return on a Greenline Tours bus.
Preventing Altitude Sickness
It's important for anyone planning on attempting the Annapurna Circuit treks, or other high-altitude treks like Everest Base Camp, to know how to reduce and cope with the symptoms of altitude sickness. Before you go, learn the best ways to beat altitude sickness and stay healthy overall at high elevation. Here are the most important tips to keep in mind.
Give yourself time to acclimate to the elevation. Gradual height gain spread out over a number of days is key.
Take rest days.
Symptoms including headaches, insomnia, and nausea usually wear off in a day or two.
Drink plenty of water and avoid alcohol.
Eat a lot. Trekking burns a lot of calories.
Keep your pace slow.
If you do have headaches, ordinary painkillers, along with rest and hydration, should take care of it.
If your symptoms fail to improve or worsen, descend.
Where to Stay
Annapurna's teahouses beat the huts on other classic treks for convenience, cost, and local color. Teahouses charge about $25 per day for a room and meals, and they're never more than three hours apart, making is easy to keep a flexible itinerary. Here are five tips for staying in teahouses:
Choose a teahouse before 3 p.m. to beat large guided groups to the nicest places.
Choose a smaller one for better meal service.
Take a shower immediately after arriving (most hot water is solar heated).
Order breakfast before going to bed to speed your morning departure.
Bring a padlock for your room and a ground pad for the beds, which may be foam, straw, or just blankets.
What Do Guides and Porters Cost?
Guides and porters are not expensive. You can find a porter that charges as little as $18 a day and a guide will cost about $25 a day. Be sure to factor in tips. If you're satisfied with their service, it's customary to tip guides about $10 a day (per person) and porters about $5 a day. The general rule of thumb is about 10% of your trekking cost.
Do I Need Vaccinations for This Trip?
Nepal features dense jungle, as well as high elevation. The Centers for Disease Control and World Health Organization both recommend the following vaccines for Nepal: typhoid, hepatitis A, hepatitis B, rabies, Japanese encephalitis, and influenza.
Annapurna Circuit vs. Annapurna Base Camp Trek
There is another trek you can take through the Annapurna Range. The biggest difference between these two trails is elevation. The Annapurna Base Camp Trek reaches a maximum elevation of 13,780 feet. The Annapurna Circuit Trek travels to over 17,770 feet. Hikers must consider their level of fitness for that 4,000-foot difference in altitude. If you're concerned about your age, health, or level of experience, you may want to choose the ABC trek. Hikers who prefer the Circuit trek say it has more options for day hikes and side trips. Others say that the ABC trek is a better choice as the weather is getting warmer (around April) because hikers gain altitude faster on the ABC trail and can beat the heat more easily than on the Circuit trek.
Trekking the Annapurna in 17 Days
| | | | |
| --- | --- | --- | --- |
| | | | |
| Day 1: Begin at Besisahar and hike 4 miles to Bhulebhule. | Day 2: Hike 6 miles to Bahundanda and then 6.5 to Jagat. | Day 3: Hike up 11 miles to Dharapani. Look for Dana Khola waterfall  | Day 4: Hike 10.2 easy miles to Chame.  |
| Day 5: Hike 10 miles to Pisang | Day 6: Choose between the rugged 10-mile or easier 9+-mile route to Manang. | Days 7&8: Rest in Manang to acclimatize (or do optional day hikes). | Day 9: From Manang, climb 5.6 miles to Yak Kharka, then five miles to Thorung Phedi.  |
| Day 10: Descend 5,628 feet to Muktinath. | Day 11: Drop to Kagbeni. Then trek 11.3 miles downstream to Tukuche. | Day 12: Hike an easy 11 miles to Ghasa. | Day 13: Get an early start for an 11.4-mile hike to Tatopani. |
| Day 14: Big push! From Tatopani hike 10 miles (up 5,150 ft.) to Ghorepani. | Day 15: Start early to ascend 10,460-foot Poon Hill. | Day 16: Descend 10 miles to 3,510-foot Naya Pul. | Day 17: You're done! Get a bus or taxi to Pokhara.  |
My Detailed 17-Day Annapurna Circuit Itinerary
Here is my suggested schedule to help you enjoy the views and culture of the Annapurna Circuit trek. Consult the map below to find numbered trek segments.
Day 1
From the trailhead at Besisahar, hike north four rocky miles to Bhulebhule and the guesthouses.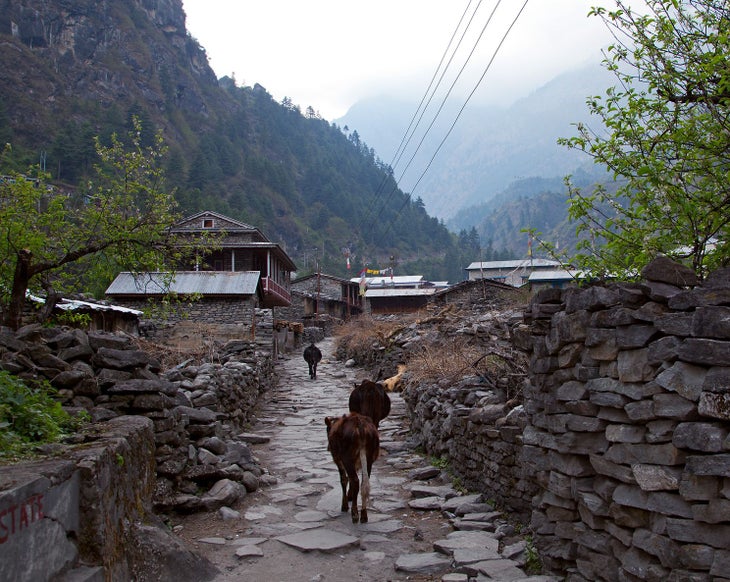 Days 2 & 3
The next day, continue north six miles to Bahundanda (a perfect lunch stop) and then 6.5 rolling miles to Jagat. From there, hike 11 miles (and 2,000 feet) up to often-foggy 6,265-foot Dharapani, where the first teahouse on the right, Tashi Dalek, has a balcony view of the thundering Dana Khola waterfall.
Day 4
The fourth day covers 10.2 easy miles to Chame and views of the Lamjung Himal and 26,040-foot Annapurna II.
Days 5 & 6
From here, head 10 miles to Pisang, where ambitious hikers can take the lesser-traveled "high route" to Manang. It's a rugged, two-day, 10-mile alternative to the standard one-day, 9.4-mile route, and worth it to break from the pack for a day.
Days 7 & 8
In Manang (11,610 feet), stay a rest day to acclimatize (and eat well at its surprisingly good bakeries). Hike three hours round-trip to turquoise Gangapurna Lake on your rest day. From Manang, there's an optional expert-only traverse to Lake Tilicho ( and 16,800-foot Meso Kanto pass. The detour is a shortcut to Jomsom, but most trekkers (the author included) choose the easier, classic route over Thorung La.
Days 9 & 10
From Manang, climb 5.6 miles to 13,185-foot Yak Kharka, then five miles to Thorung Phedi (14,530 feet). Sleep there before ascending 17,768-foot Thorung La on day 10. Descend 5,628 feet to Muktinath and stay at Hotel Bob Marley, which is as funky as it sounds.
Days 11 & 12
The next day, drop to Kagbeni in the Kali Gandaki Valley. Trek 11.3 miles downstream to Tukuche (passing an ATM in Jomsom!). Stay next in Ghasa (an easy 11 miles).
Day 13
Get a dawn start for the 11.4-mile hike to Tatopani, where early arrivals get rooms in Dualagiri Lodge, famous for its yak steaks and nearby hot springs.
Days 14-17
Gear up for your last big push: From Tatopani, it's a grueling 5,150-foot climb over 10 miles to Ghorepani. The next morning, start hiking at 5 a.m. to ascend 10,460-foot Poon Hill and watch sunrise over the whole Annapurna range. Final day: Descend 10 miles to 3,510-foot Naya Pul and get a bus or taxi to Pokhara.
Got an Extra Week?
Turn north in Birethanti for a 53-mile round-trip trek into Annapurna Sanctuary, where you'll enter a glacial basin surrounded by eleven beautiful 20,000-foot peaks.
For more about Shannon Davis' honeymoon trek on the Annapurna Circuit, read this conversation he had with Backpacker's Northwest Editor, Ted Alvarez.