Phoenix: Black Mesa Loop
This popular 8.9-mile lasso loop crosses mesa and cacti country near Weavers Needle, whose shadow allegedly leads treasure seekers to a lost gold stash.
Heading out the door? Read this article on the new Outside+ app available now on iOS devices for members! Download the app.
Mapped by Steffan Fay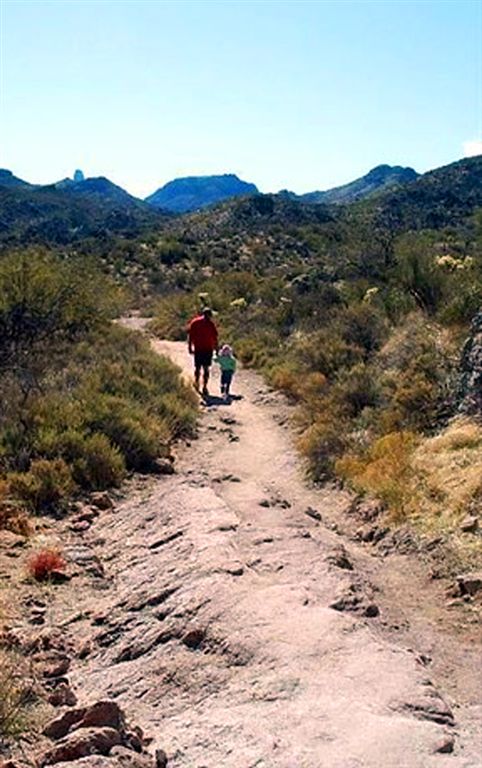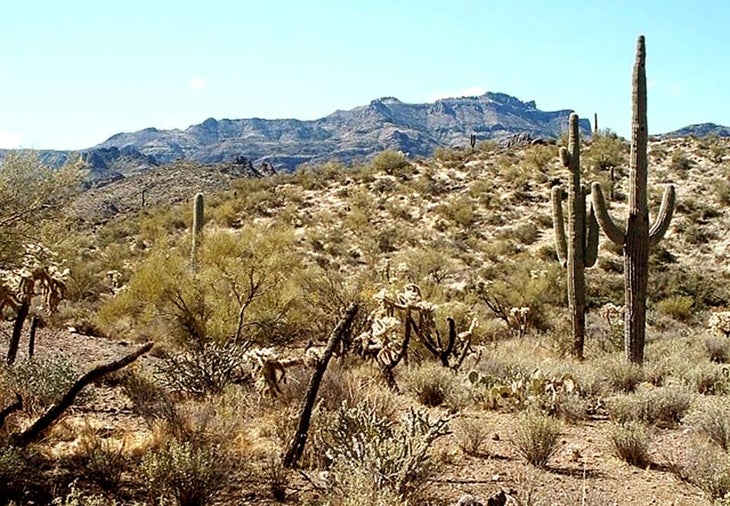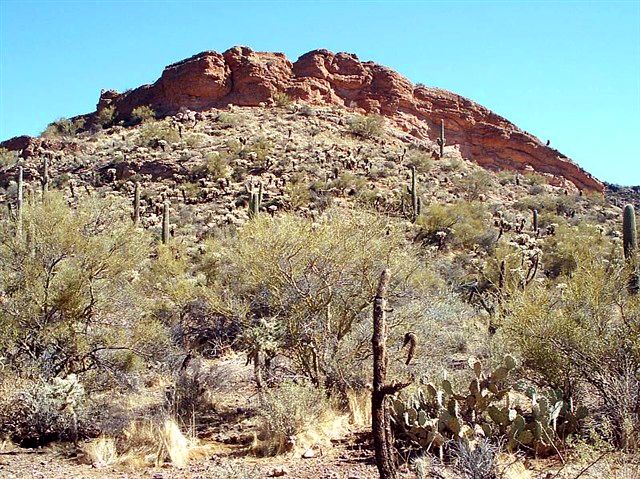 Trail Facts
Waypoints
BML001
Location: 33.4802398681641, -111.442901611328
From First Water trailhead, head SE on Dutchmans Trail 104, a well-worn dirt road
BML002
Location: 33.4773788452148, -111.439697265625
Turn L @ marked Y onto Second Water Trail 236. In .8 mi., cross First Water Creek (usually dry); head N
BML003
Location: 33.4858207702637, -111.42749786377
Turn R @ T onto Black Mesa Trail 241. Leave Garden Valley, an expansive plain ringed by flat-topped mesas; head SE for moderate ascent of Black Mesa
BML004
Location: 33.4747200012207, -111.413299560547
Continue SE along saddle; dense jumping cholla plants outline the trail
BML005
Location: 33.4683990478516, -111.403617858887
Trail snakes NE, then SE. Steep descent to Boulder Basin in .5 mi.
BML006
Location: 33.4611396789551, -111.394500732422
Pass through Boulder Basin, a seasonal streambed where several canyons meet. Weavers Needle, a 1,000-ft. rock pinnacle, creates a striking SE backdrop. (Legend has it that the hidden Lost Dutchman gold mine lies somewhere in the Needle's shadow. Good luck!) In 400 ft., turn R @ T onto Dutchmans Trail
BML007
Location: 33.4601402282715, -111.394798278809
Bear R @ Y. Ahead, multiple trails intersect path; stay on Dutchmans Trail
BML008
Location: 33.4574012756348, -111.402397155762
Cross wash, then begin ascent of Parker Pass
BML009
Location: 33.4553527832031, -111.410484313965
Head NW through landscapes peppered with prickly pear and stunted palo verde; O'Grady Canyon enters on L
BML010
Location: 33.4662933349609, -111.42896270752
Continue NW along First Water Creek (seasonal flows)
BML011
Location: 33.474796295166, -111.436836242676
Trail briefly curves W, then N to WPT 2; turn L @ T to reach trailhead
Starting the loop
Location: 33.4776268005371, -111.439338684082
©Steffan Fay
A Distant Mesa
Location: 33.4854049682617, -111.426132202148
©Steffan Fay
Desert Landscape
Location: 33.4790954589844, -111.435516357422
©Steffan Fay