The Best Hikes For Kids: Southwest
Explore the desert with your little ones.
Heading out the door? Read this article on the new Outside+ app available now on iOS devices for members! Download the app.
Toddlers
Dunefield, White Sands National Monument, NM
It makes sense, right? White Sands is literally a 275-square-mile sandbox. Nab a permit for one of the 10 backcountry sites, then walk a mile into the dunefield to set up for the night (pack in water). Your tot will enjoy scooting in the white gypsum sand, while you probably won't mind the view of the 8,000-foot San Andres Mountains.
Trailhead Backcountry Camping Loop (32.810069, -106.264234) Permit Required ($3/person) Season March to November Contact 
Little Kids
Weaver's Needle, Superstition Wilderness, AZ
For the past century, people have combed the Superstitions for the Lost Dutchman's Gold Mine, and all have come up empty—meaning it's still out there for your little one to find. Some folks say the fortune is buried in the shadow of 4,553-foot Weaver's Needle, so go there on a 6-mile out-and-back treasure hunt.
Hike north on the Peralta Canyon Trail (#102), cresting the Fremont Saddle near mile 2.5. From there, follow the social path northeast to camp below the Needle, and keep your eyes peeled for the glitter of gold.
Trailhead Peralta (33.397540, -111.348077) Permit None Season October to June Contact 
Big Kids
Little Death Hollow, Grand Staircase-Escalante National Monument, UT
Whether you're looking for entry-level canyoneering for your kid or yourself, this will do the trick. Despite its name, Little Death Hollow is neither technical nor scary: It's 7 miles of typically dry, sinuous sandstone adorned with easy-to-spy petroglyphs. In spots, it's so narrow that you can touch both walls at the same time.
Tackle it on an 18-mile loop: Descend into its belly and follow the slot on day one. Pop into Horse Canyon near mile 8.5, and find a campsite in a cottonwood grove a mile north. Next morning, turn east into the next canyon and follow Wolverine Creek back to the road, just a half mile north from your car.
Trailhead Little Death Hollow (37.784024, -111.180372) Permit Required (free); self-register at the trailhead Season Year-round; don't go if rain is in the forecast Contact 
Honorable Mention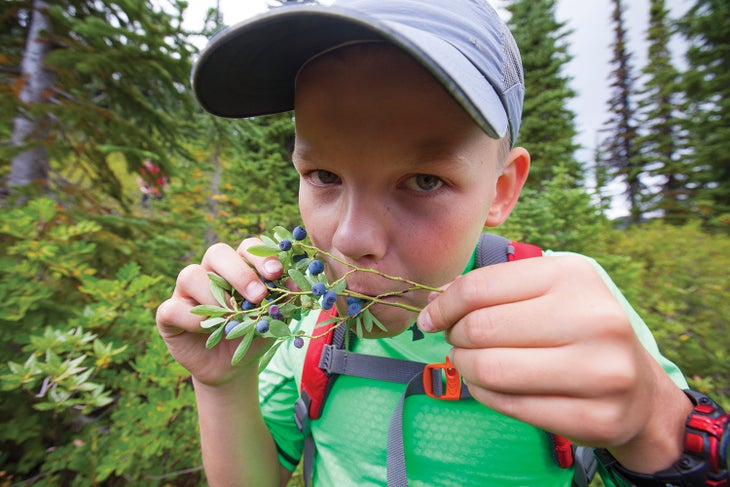 The 3.1-miler to berry-filled Illal Meadows off the Coquihalla Highway in British Columbia promises to be a crowd-pleaser.