The Best Hikes For Kids: Southeast
Visit forests and rivers on these incredible hikes.
Heading out the door? Read this article on the new Outside+ app available now on iOS devices for members! Download the app.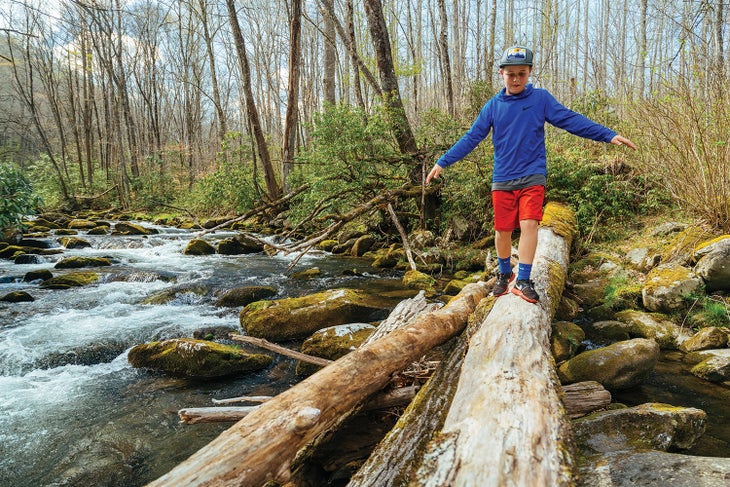 Toddlers
Little Manatee River, Little Manatee River State Park, FL
Step up your I Spy game on this flat, 6.5-mile loop that all but guarantees glimpses of softshell turtles, red-bellied and pileated woodpeckers, alligators, and manatees. Take the Florida Trail 2.5 miles through alternating woods and marshlands to camp in a grove of oak and longleaf pine ($5/person; reservation required).
Trailhead Florida (27.675295, -82.348846) Permit None Season Year-round Contact 
Little Kids
Ocracoke Island, Cape Hatteras National Seashore, NC
Try selling your kiddo on the maritime woods, dunes, and salt marshes that overlook the Pamlico Sound on the .8-mile Hammock Hills Trail, but keep this tidbit in your back pocket for emergency use: The nefarious Blackbeard sailed these waters.
Pitch a tent at the quiet National Park campground across the street ($28/night), and save this next piece of the story for when you're roasting s'mores: Local legend claims that you can still see the pirate's head bobbing in the surf.
Trailhead Hammock Hills (35.125481, -75.923832) Ferry Free Permit None Season Year-round Contact 
Big Kids
Overmountain Shelter, Pisgah National Forest, TN/NC
Who knows? This could be the trip that turns your little one into an end-to-end thru-hiker. Hop on the Appalachian Trail off US 19 in Tennessee and roller-coaster over Hump and Little Hump Mountains, grassy balds with big views across the Roan Highlands, to Yellow Mountain Gap near mile 4.5. From there, a quick jaunt south (into a new state!) lands you at a giant, two-story barn that sleeps 30 (first-come, first-serve). The ensuing game of manhunt proposes to be ridiculously fun, especially if your kid can convince the other thru-hikers to join in. And we bet mom and dad won't mind the vista south down the Roaring Creek Valley from the bedroom window.
Trailhead Appalachian US 19E (36.177421, -82.011800) Permit None Season April to November Contact