The Best Hikes For Kids: Northwest
Revel in high, snowy peaks and deserted coastlines on these youngster-friendly treks.
Heading out the door? Read this article on the new Outside+ app available now on iOS devices for members! Download the app.
Toddlers
Oregon Dunes, Oregon Dunes National Recreation Area, OR
Most people will flock to the Olympic Peninsula in search of easy-access beach hikes. Let them. New parents should venture south to the quieter Oregon coast, where the 2-mile Tahkenitch Dunes Trail leads through stands of conifer and shore pine to prime seaside real estate.
Set up your tent above the high-tide line near where the Tahkenitch Creek spills into the Pacific and enjoy surfy solitude. The sand alone is plenty entertaining for the youngest tykes, and older ones can climb driftwood beams or explore starfish-filled tide pools.
Trailhead Tahkenitch Creek (43.812965, -124.154343) Permit None Season May to October Contact 
Little Kids
Sawtooth Berry Fields, Indian Heaven Wilderness, WA
This hike is berry cool, we promise. (And yes, you can use our dad jokes with your kids.) Less than a mile into this overnight adventure into the Sawtooth Berry Fields, huckleberry bushes ripe for picking in summertime begin to line the trail. Let your kids fill up for a midhike snack, and be sure to harvest enough for dessert and pancakes the following morning (each person may haul a gallon per day).
Keep going 6 miles on the Cultus Creek and Pacific Crest Trails to camp at Blue Lake, where you can cast a line for trout to complete a DIY meal.
Trailhead Cultus Creek (46.047665, -121.755311) Permit None Season May to October Contact 
Big Kids
Four Lakes Loop, Trinity Alps Wilderness, CA
With nonstop swimming for the kids and nonstop vistas for the adults, this 17-mile lake-to-lake epic has only two challenges: 1) deciding how long to basecamp in Siligo Meadows and 2) determining when to summit 8,162-foot Siligo Peak, which will make you look like a hero when the kids realize the views-to-effort ratio.
Take the Long Canyon Trail 6 miles to Siligo Meadows, which nestles beneath folds of granite. From there, check off the 5-mile loop connecting Deer, Summit, Diamond, and Luella Lakes, summiting Siligo en route.
Trailhead Long Canyon (40.923136, -122.812622) Permit Required (free) Season June to October Contact 
Honorable Mention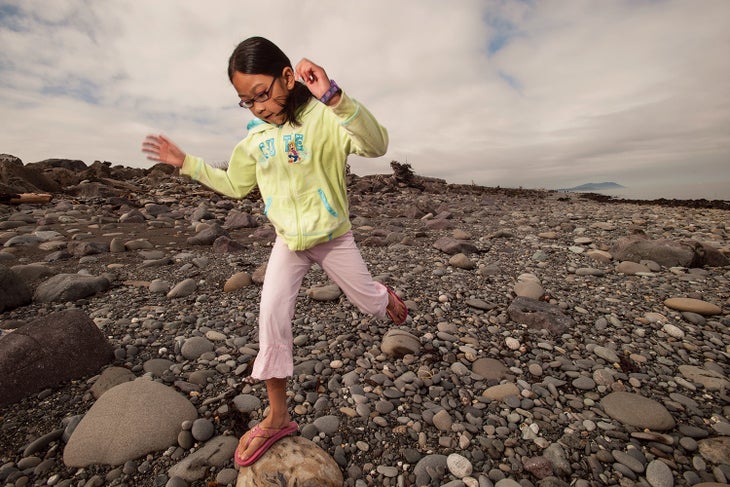 It's just 1.4 miles to Third Beach in Olympic National Park. Go in spring for solitude—and the whale migration.