The Best Hikes For Kids: Mountain West
Introduce your little ones to the Rockies on these incredible treks.
Heading out the door? Read this article on the new Outside+ app available now on iOS devices for members! Download the app.
Toddlers
North Twin Lakes, Medicine Bow National Forest, WY
You could throw a dart at a map of the Snowy Range and end up with a quiet alpine lake that's less than a few miles from the nearest trailhead and totally vacant. That's good news for any backpacker, but particularly those carrying a kid.
A good bet: Take the Sheep Lake Trail, which "climbs" 200 or so feet in 1.5 miles to the North Twin Lakes. Like it here? Throw down. Still feeling squirrelly? Keep going. There are dozens of named and unnamed pools on either side of the trail, which wraps north around the Snowies and stays above 10,000 feet. And don't forget your rod; the fishing here is renowned.
Trailhead Brooklyn Lake Permit None Season May to October Contact 
Little Kids
Mohawk Lake, Arapaho National Forest, CO
Mini prospectors, mini trainiacs, and mini hikers are in luck, because this 2.6-mile out-and-back has it all. (Plus a seldom-used alternative trailhead that knocks off a mile each way. Score!) You and your brood can duck into abandoned logging cabins and tiptoe along the tracks of an old ore trolley en route to twin Mohawk and Lower Mohawk Lakes.
The trick is to start midway up the Spruce Creek Trail (instead of the popular trailhead down lower off CO 9). From there, link up with the Mohawk Lakes Trail and take it to camp on the west side of Mohawk, the higher of the two tarns.
Trailhead Mohawk Lake (39.421531, -106.074023) Permit None Season June to September Contact 
Big Kids
The Beaten Path, Absaroka-Beartooth Wilderness, MT
Got children who want to hike like adults? There may be no better introduction to life-list trekking than the 26-mile Beaten Path. It's got everything you want from your own bucket-listers (mainly never-ending Northern Rockies scenery), and there's no right way to do it. So let your kid plan it out because big mountains, lakes, waterfalls, and even wildlife are guaranteed, no matter where she deems worthy of pit-stopping.
Do it southbound, and encourage nights at Rainbow Lake (mile 8) if fishing is on the docket and Skull Lake (mile 17.8) for its primo meadow campsites.
Trailhead East Rosebud (45.193024, -109.640937) Permit None Season June to October Contact 
Honorable Mention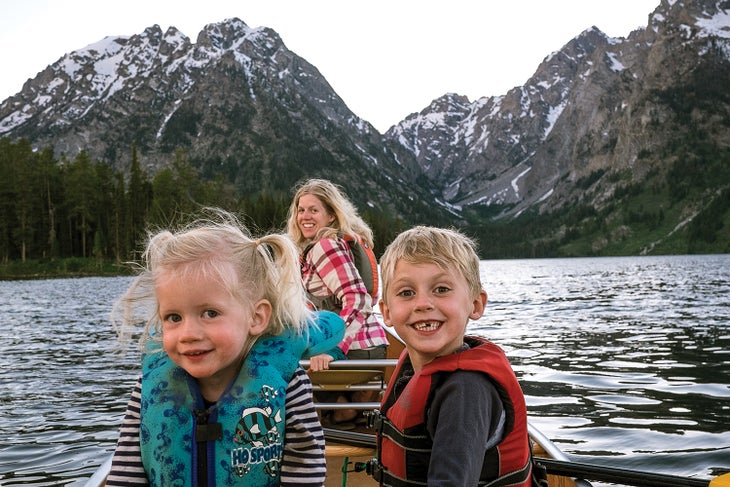 If you can manage kids and a canoe 1.5 miles (canoe wheels highly recommended), then a sweet paddle trip awaits at Leigh Lake in Grand Teton National Park. Snag one of the five boat-in campsites (starting at $25).