Catskill State Park, NY: Overlook Mountain Trail
Discover 19th century hotel ruins and 360-degree views of the Hudson Valley and Catskills on this 4.5-mile out-and-back to Overlook Mountain.
Heading out the door? Read this article on the new Outside+ app available now on iOS devices for members! Download the app.
The Overlook Mountain Trail climbs for nearly two miles before hikers get a visual break from shady deciduous forest. The effort pays off and then some.
At mile 2, ruins of the Overlook Mountain House afford the first chance to go off-trail and investigate. Trees grow out of old rooms and fountains. A spiral staircase sits unsupported, leading to nowhere but better views of the structure and surrounding woodland. Rotting bath tubs are filled with dirt and covered with moss.
Continuing uphill another half mile, a skyscraping fire tower lets the brave who climb it see for hundreds of miles in every direction. To the east, the Hudson River seems like a skinny creek in the middle of green slopes. The wide waters of Ashokan Reservoir dominate the scenery to the south. Catskill Mountains wrap around the landscape to the west and the north.
Hike only a short distance further to the trail's scenic overlook, the summit of Overlook Mountain (3,140 feet). Rocky outcroppings allow for mid-walk picnics and a sprawling Hudson Valley panorama. Look down closely at the overlook's giant slabs. Visitors to the summit have etched their names or initials—some as early as 1857.
When finished, retrace the route to the trailhead.
-Mapped by MacKenzie Ryan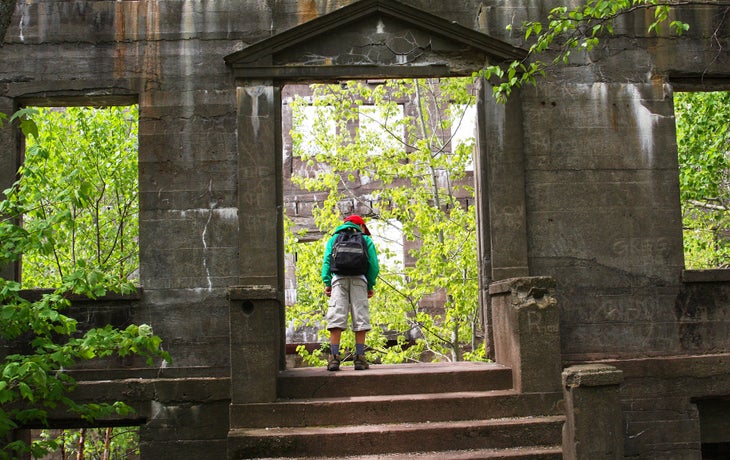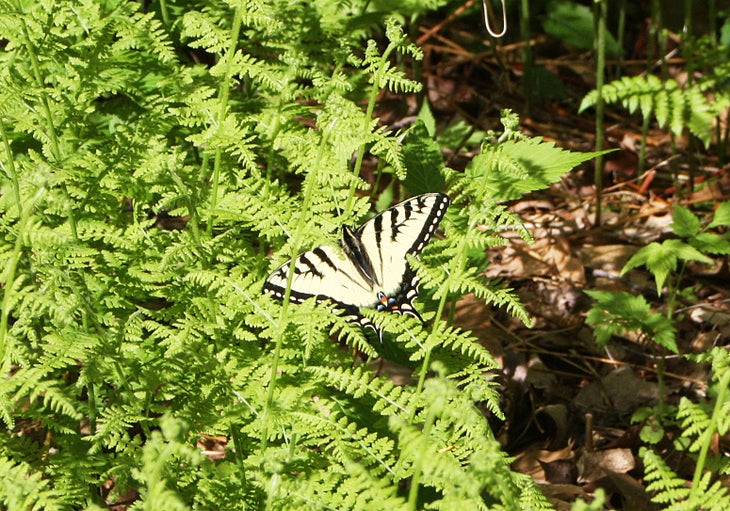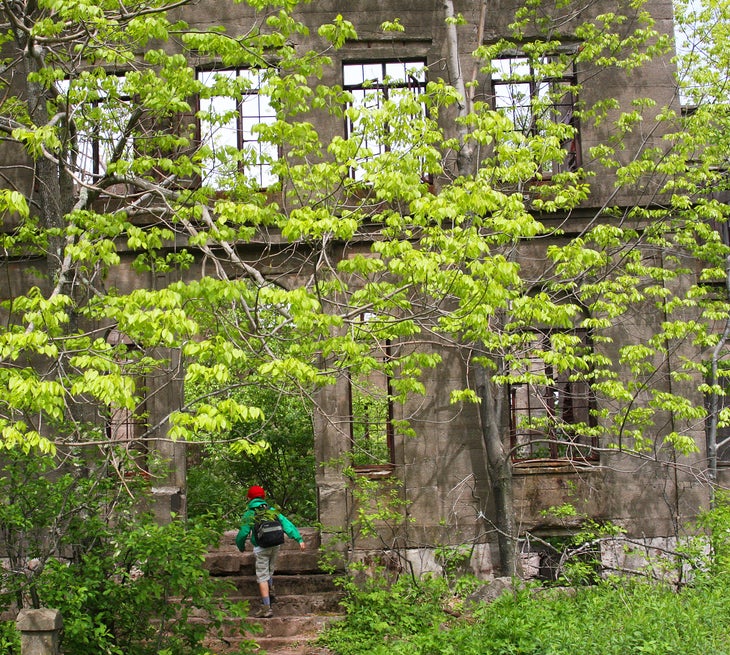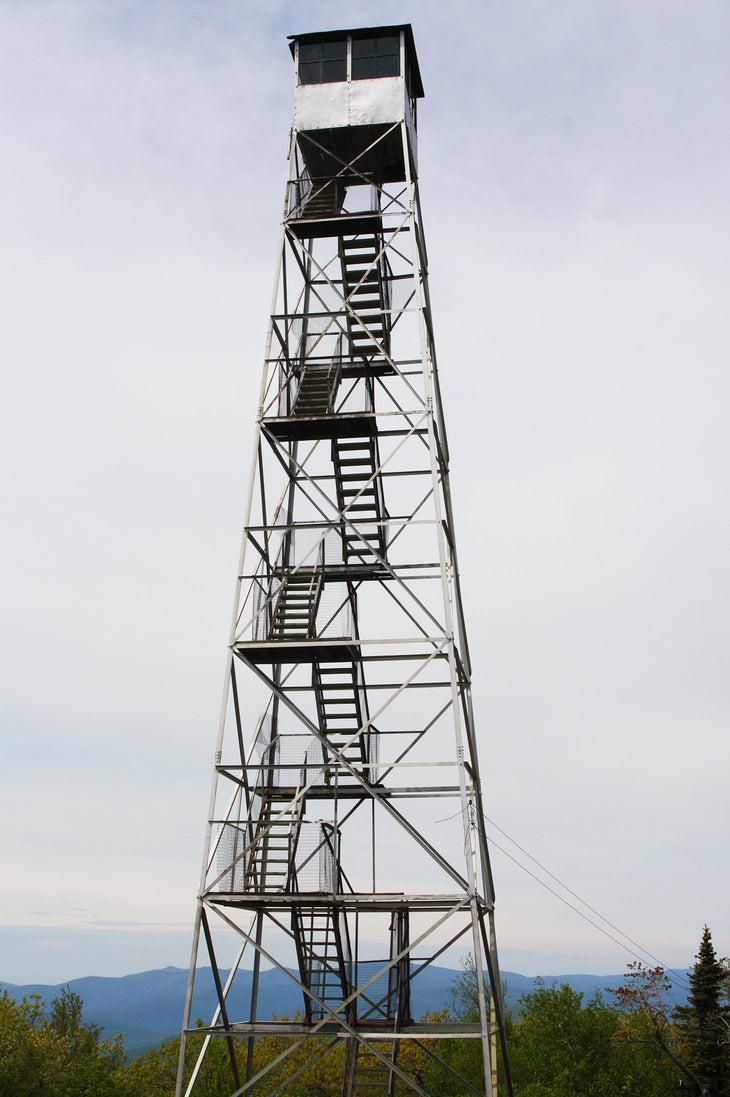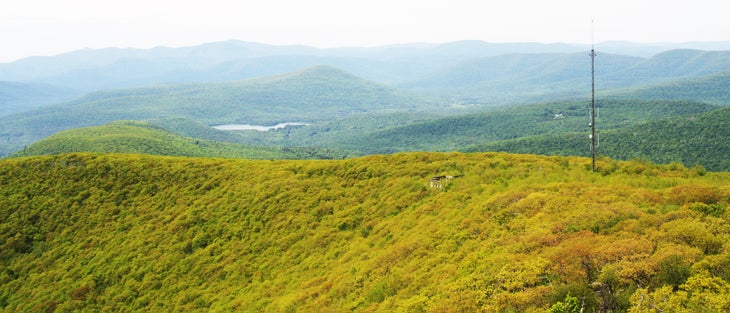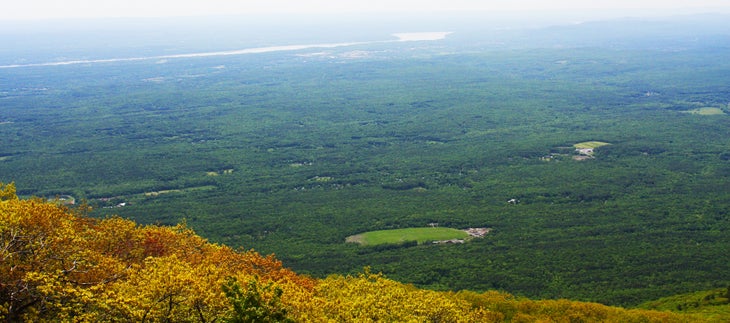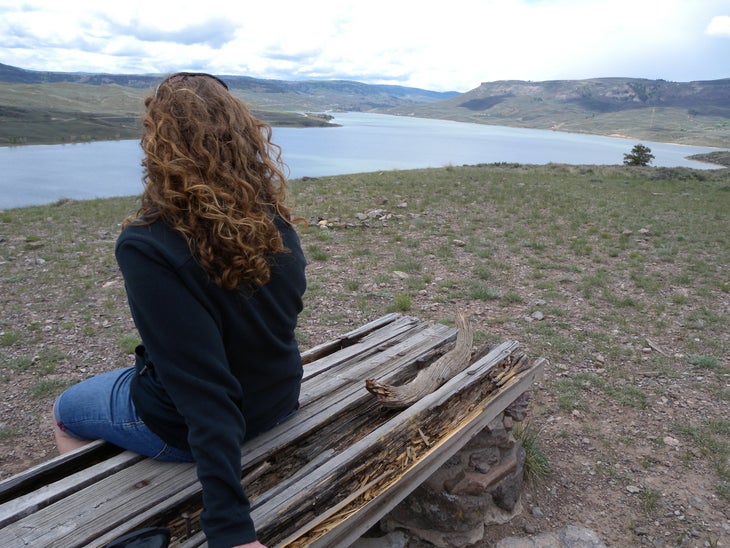 Trail Facts
Waypoints
OVE001
Location: 42.071138, -74.122524
From the Overlook Mountain Trailhead, begin hiking up a wide, crushed gravel doubletrack.
OVE002
Location: 42.072314, -74.117064
Pass natural spring on the left side of the trail.
OVE003
Location: 42.073866, -74.114679
Go straight @ junction with spur trail on left. A sign designates camping is prohibited within 150 feet of water or trail.
OVE004
Location: 42.080032, -74.107973
Bear L @ Y-junction. Access road goes off the right. The trail winds left and keeps climbing.
OVE005
Location: 42.084275, -74.100178
Reach ruins of the Overlook Mountain House. Retrace steps back to path when finished exploring. The trail continues around the ruins to the left.
OVE006
Location: 42.084914, -74.098851
Bear R @ Y-junction heading toward Overlook Mountain.
OVE007
Location: 42.085054, -74.092719
Bear L @ Y-junction with cabin.
OVE008
Location: 42.085048, -74.093353
Climb to 360-degree views on top of the fire tower. When finished, retrace steps back to cabin and continue straight to the scenic overlook.
OVE009
Location: 42.084612, -74.091439
Reach a scenic overlook with views of the Catskills, Ashokan Reservoir, and the Hudson River. When finished retrace the route back to the trailhead.
Overlook Mountain House
Location: 42.084377, -74.099886
Butterfly
Location: 42.076072, -74.110486
More Ruins
Location: 42.084747, -74.099924
Fire Tower
Location: 42.085121, -74.09313
Westward view of Catskills
Location: 42.085078, -74.093345
Looking North from the Tower
Location: 42.08506, -74.09332
Ashokan Reservoir
Location: 42.08504, -74.09331
Hudson River
Location: 42.085014, -74.093318
Scenic Overlook
Location: 42.08462, -74.091389