Best 100 Miles: Teton Crest Trail, Grand Teton NP, WY
These 9 miles of mountain madness, from Paintbrush Divide to Hurricane Pass, are among the best 100 miles of trail in the whole national park system.
Heading out the door? Read this article on the new Outside+ app available now on iOS devices for members! Download the app.
The Tetons from the North Fork of Cascade Canyon, Wyoming. Photo by Jeff Diener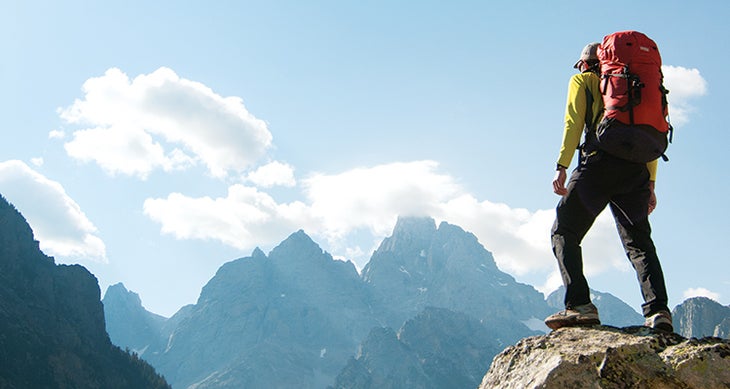 9 Miles / Mountain Madness
Think the view of the mighty Tetons is impressive from the park road? Wait 'til you see them from the backcountry: The Teton Crest Trail runs through the scraggy alpine zone west of the summits, dishing out vistas that somehow make 12,325-foot Teewinot, 12,804-foot Middle Teton, 12,928-foot Mt. Owen, and 13,700-foot Grand Teton look even bigger. That's especially true for this 9-mile section of the 39-mile trail, which tracks through the heart of the range.
After trekking up Paintbrush Canyon (no slouch in the scenery department, either), you'll get your first slap-in-the-face views of the Grand from 10,720-foot Paintbrush Divide. Mt. Owen and Teewinot explode into view as you link up with the Teton Crest Trail and drop 1,000 feet over a mile to Lake Solitude (see page 112), a wildflower heaven in summer. The peaks stay front and center as you wind south through the evergreen forests of North Fork Cascade Canyon and up the switchbacks in South Fork Cascade Canyon to Schoolroom Glacier, a remnant ice field next to a teal-colored lake. Press on to 10,338-foot Hurricane Pass, where the vistas reach their climax. In all honesty, you haven't really seen the full glory of the Tetons 'til you see them from here.
Trailhead 43.788255, -110.7368792
Total hike 32.6 miles (loop via Cascade Canyon Trail)
Camping Allowed in the North Fork Cascade and South Fork Cascade Camping Zones; request permits starting in January ($35; recreation.gov) or try for a walk-in permit ($25).
Infonps.gov/grte
See the other best miles