How To: Tape a Sprained Ankle, Closed Basket Style
Learn how to tape a sprained ankle with this step-by-step guide.
Heading out the door? Read this article on the new Outside+ app available now on iOS devices for members! Download the app.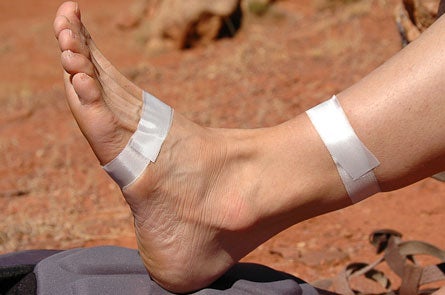 1) If possible reduce swelling for the first 24 hours using RICE (Rest, Ice, Compression bandages, and Elevation of the limb). Then wrap two 'anchor loops' smoothly but loosely around the forefoot and lower leg using 1 to 1.5-inch cloth adhesive tape.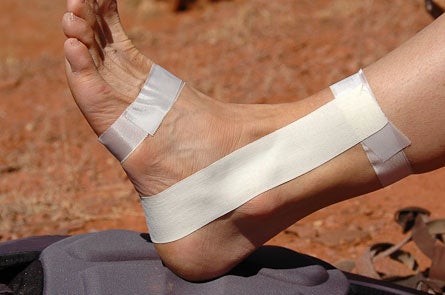 2) Wrap a 'stirrup' loop from the anchor loop to anchor loop, beginning under the heel.  During all taping, keep the ankle bent forward and the toes pulled up.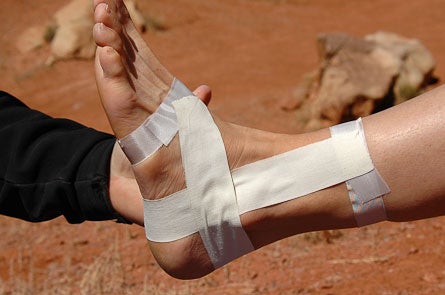 3) Then wrap a 'horseshoe' loop around the back of the heel, molding it smoothly until both ends adhere to the forward anchor loop. Wrap your tape snugly, but not tight enough to restrict circulation, or bind the foot uncomfortably when standing.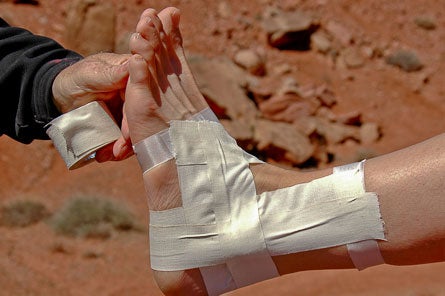 4) Alternate stirrup and spur/horseshoe tape loops two more times, so there are three of each in a 'weave' overlap. Always pull from the inside to the outside of the foot in to keep tape over the outer ankle snug, but not enough to restrict circulation.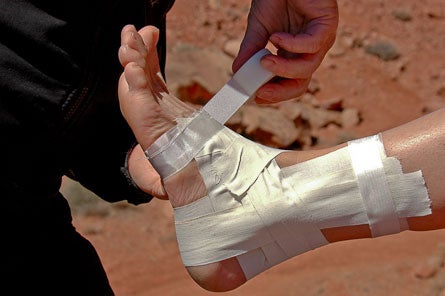 5) Repeat the anchor loops at top and bottom.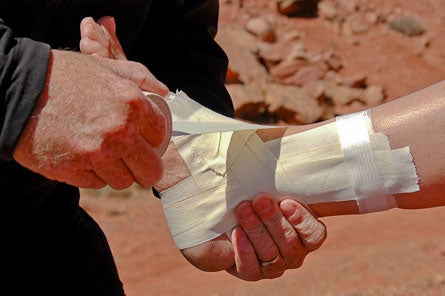 6) Then wrap two 'heel locks' around each side of the heel bone. Start by wrapping from above the inner ankle bone, forward over the arch, then down around the heel and back to the same side.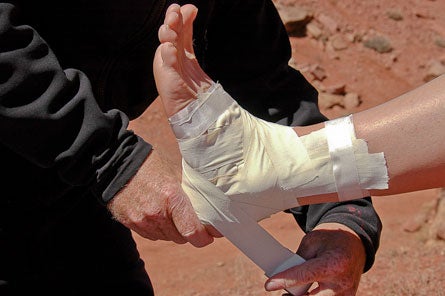 7) The idea is to restrict the heel bone from side to side motion. Video makes this technique clearer. Google 'closed basketweave ankle taping' to watch several variations of heel lock wrapping.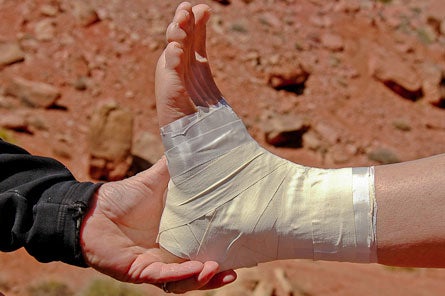 8) Finish by cutting off any excess tape ends outside the anchor strips. Then 'close' any tape gaps in the upper leg and forefoot using separate, overlapping bands of tape wrapped loosely around the whole limb.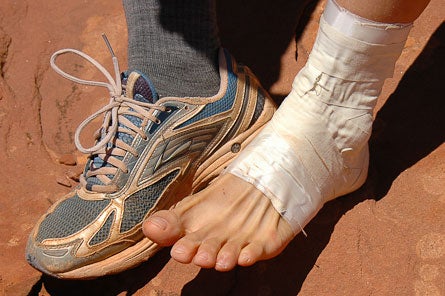 9) When finished, the closed basketweave tape job fits well inside socks and shoes, unlike bulky Ace bandages or sport wrap.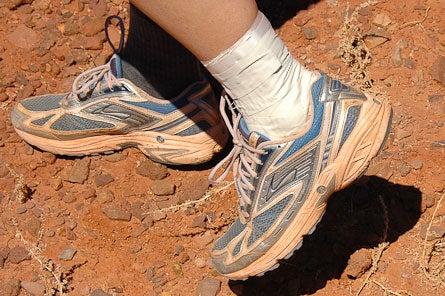 10) If the foot is swollen, the tape wrap can substitute as a toeless sock to maintain room in shoes or boots while hiking out.
Photos by Jennifer Howe / howephoto.us
Learn to handle common medical problems with Backpacker Magazine's Online course on 'Wilderness First Aid'. Join Today!