How to Dehydrate Anything
Dehydrating your own backpacking food opens up a world of gourmet possibilities for fueling up on the trail. Here's how to make your favorite foods backcountry-friendly with advice from Good To-Go founder Jennifer Scism.
Photo: Getty Images/iStockphoto
Heading out the door? Read this article on the new Outside+ app available now on iOS devices for members! Download the app.
Whether you're packing snacks for a dayhike or DIY-ing all your own food for a thru-hike, dehydrating at home is a great way to customize your menu, meet your taste and dietary needs, and exercise your culinary creativity. Plus, removing the water from foods not only makes them lighter and more packable, but they will last longer and be more resilient when stuffed in a backpack.
Dehydrating at home may sound intimidating, but it's a lot easier than people realize. Most of the time, all it takes is a store-bought dehydrator (at BACKPACKER, we love this one from Nesco) or your oven, if the temperature goes down to 200 degrees and you prop the door open, and a little creativity.
Jennifer Scism is the head chef and co-founder of Good To-Go, which she established in an effort to bring delicious and healthy meals into the backcountry. Her advice for beginner dehydrators? "Think of an idea, put it on a tray, and see what happens."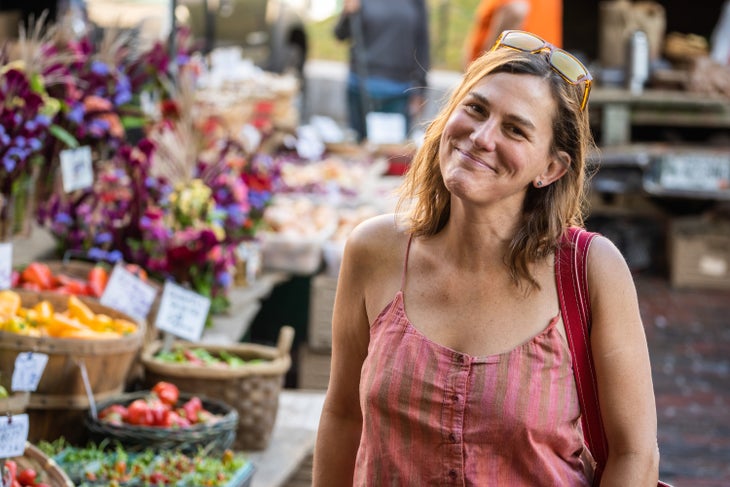 For Scism, cooking up a great dehydrated meal starts with a simple question: Will this dry out well? "Will sushi dry well? No, that's disgusting," she says. But most other meals will.
Once you have an idea, cook the meal as you normally would, then try dehydrating the whole thing. "It won't work," says Scism, since different foods dehydrate differently when subjected to the same temperature. But the process will allow you to analyze the recipe by looking at each individual ingredient. Notice the components that didn't work, and then try dehydrating them individually or finding replacement ingredients. By repeating and refining this process, you'll eventually reach a method that works.
In addition to experimentation, a baseline knowledge of how to dehydrate different types of foods is key to whipping up and successfully drying out your favorite recipes. Use these rules of thumb as you experiment in the kitchen.
Vegetables and Fruits
One of the big questions to ask when dehydrating veggies is whether they should start fresh or frozen. According to Scism, freezing vegetables breaks down the cellular structure in a way similar to cooking. For soups or stews, dehydrating carrots, for example, that were previously frozen will result in a soft texture, similar to regular cooked carrots. On the other hand, fresh carrots will feel more firm and fresh once rehydrated, making them better for snacking. Before choosing and dehydrating your ingredients, consider what texture you're going for in the end. For a favorite of Scism's, try dehydrating mashed potatoes, which turn flaky are a quick and tasty dish on their own or a good binding agent in other meals.
Fruits are some of the more popular items to dehydrate and make for great snacks because they usually don't need rehydration—just eat them as-is. Scism particularly likes pineapples and mangos, mostly for their non-rubbery texture. Our apologies to avocado fans, though—high-fat foods like this don't dehydrate well and they go bad fast.
When you're dehydrating fruits or veggies, slice them thin and against the grain to help with quick dehydration. Don't cut them too thin, though: Items will shrink once they're dehydrated.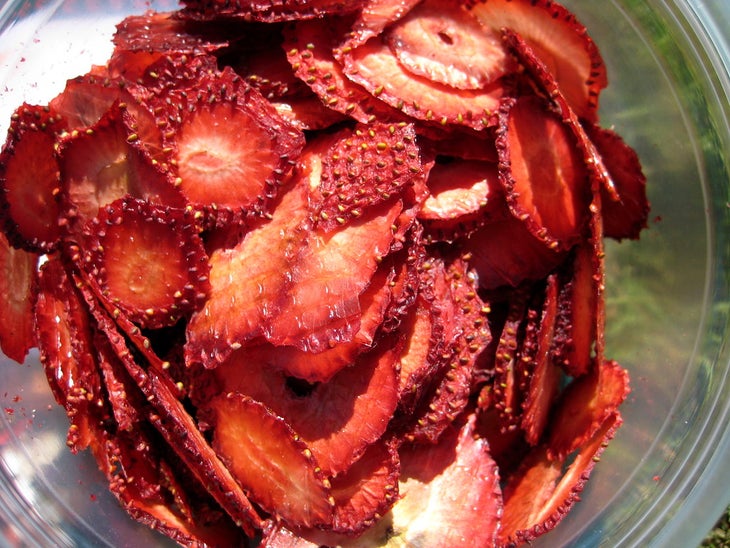 Different foods require different dehydrating temperatures and times. In particular, sugar and fats increase the drying time. Even the humidity of the air where you live can impact the time required to fully dehydrate foods. Most fruits and vegetables can be dehydrated at temperatures between 110 and 120°. Check on them regularly over the course of a few hours—drying times are highly variable, but fruits and vegetables can take anywhere from 4 to upwards of 12 hours. You'll know they're done when there's no visible moisture or water pockets, which can be a home for bacteria.
Once you've decided your food is done, remove it from the dehydrator or oven and store it quickly after cooling, before any moisture from the atmosphere can work its way back into the food. Package dehydrated foods in zip-top bags. Dehydrated and stored correctly, fruits and veggies can last years.
Sauces and Dips
Items like pasta sauce can be effectively dehydrated by spreading them in a thin layer on a baking sheet. Scism cautions against foods with a higher fat content, such as meat-heavy sauces, which can go rancid quickly, especially if you don't find the right temperature (which varies depending on the meat and fat content). Dehydrating temperatures depend on what's in the sauce. Meaty sauces require a higher temperature (see below) than vegetable-based ones—base the temperature on what the sauce is primarily made of. Sauces tend to dry faster than fruits and vegetables—start with a baseline of around 4 to 8 hours, checking frequently. When it's done, the sauce should appear firm and crispy, like it could be crumbled into a powder.
To rehydrate sauces, add hot water slowly, mix, cover, wait a few minutes. Don't check too often or you'll let heat escape. It's safest to add water in small increments rather than risk overhydrating and creating a sauce that's too watery. Scism says knowing exactly how much water to add and how long to wait is largely trial and error.
Try dehydrating yogurt at a low temperature (115 to 135°) for a fresh camp breakfast, ingredient in creative dinner recipes, or unique trail snack. Spread thinly on a lined tray and dry for at least 6 hours until a crispy bark is formed. Crush the bark into a powder to rehydrate later, or enjoy as-is. 
Experimenting with recipes, dehydrate time, and various foods is the best way to perfect your sauces and dips.
Meats
Ground meats dehydrate the best, Scism says, and can be pre-cooked to remove any safety risks associated with uncooked meats. While they can get crumbly and even turn into a powder, making them useless on their own, adding ground meats to stews and other meals works well. Uncooked cuts of meat—like the kind dehydrated into jerky—are delicious snacks, but need to be dehydrated at a high enough temperature to kill any bacteria and make them safe to eat—generally 165 to 170 degrees. 
Lean meats dehydrate best—fatty cuts tend to spoil more quickly. Cut the meat into ¼-inch thick strips and be sure to remove any fat before dehydrating. Marinating meats before dehydrating can also make them dry quicker. Ground meat will feel hard when it's done dehydrating, and jerky should feel dry and leathery.
Regardless of your objective or goals in dehydrating, Scism stresses that experimenting with different foods, meals, ideas, and techniques until you find something that works always leads to the best results.