5 Ways to Stop Bears From Eating Your Food in Camp
Heading out the door? Read this article on the new Outside+ app available now on iOS devices for members! Download the app.
Food is precious to backpackers. When we're hiking, we're thinking about the milkshake and plate of nachos waiting for us at the end of the trail. When we're not hiking, we're snacking, wishing we were snacking, or firing up the camp stove. Food is invaluable, and that means that keeping it out of the hands—or paws—of hungry critters should be a top priority. Not only is losing food bad for the hiker, but it's bad for wildlife, too: Human food can cause harm to wild animals who are more used to eating berries than Snickers bars, and can make them reliant on hikers bringing food into their environment. Depending on where you are, this can even lead to increased human-bear conflict over time—the ultimate lose-lose situation.
How you store your food in camp overnight is crucial to protecting it from bears and other scavengers. Animal-proof food storage options for backpackers are abundant, and picking the right method for you can be overwhelming. Here's how to choose, and make sure your trail mix gets eaten by you and you alone.
Bear Bag
Hanging food from a tree is a time-honored tradition amongst backpackers, and can be effective at keeping your provisions safe, but some hikers consider it an outdated method. If you're on a budget and hike primarily in forested areas, bear bagging might be right for you. All you need is some rope and a sack (this setup tends to be lighter than others on this list), plus a well-placed tree with sturdy branches from which to hang your loot. Bear bagging is great for a big group, as you can hang lots of food at once without worrying about canister space (see below).
In the desert, alpine, or other zones where tall trees aren't abundant, bear bagging is ineffective. Plus, some smart bears in areas with heavy hiker traffic have wised up to the bear bag trick and can fell even the sturdiest hang. For this reason, some national parks such as Yosemite don't allow bear bagging, but require hikers to carry canisters or use bear boxes. If you do plan to bear bag, make sure your technique is foolproof.
Bear Canister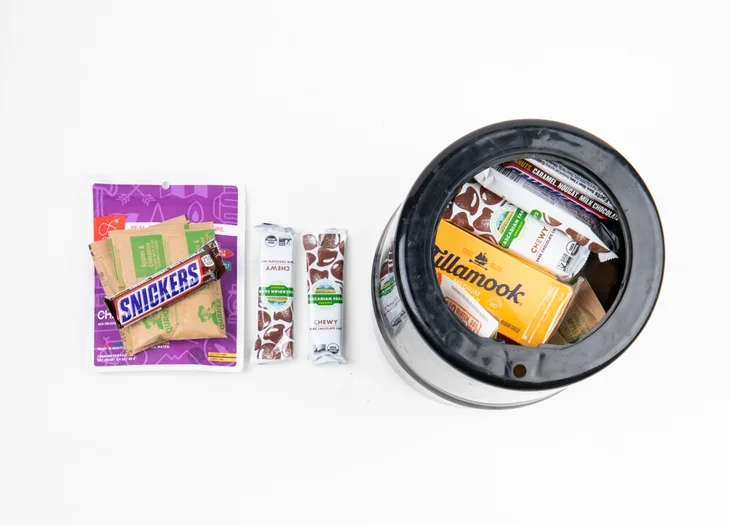 These hard-sided containers keep your food under the security of bear-proof fasteners like a screw lid or other locking mechanism. They're fuss-free: Just load your canister with the goods at home, carry the full canister in your pack, and stash it away from camp when it's time to hit the hay. Unlike bear bags, canisters are almost guaranteed to keep your food out of the mouths of animals. Despite the convenience, there are some drawbacks to this type of food storage. Canisters are bulkier and heavier than bear bags, and the hard-sided containers can fit awkwardly inside a pack. They come in a variety of sizes and shapes, so make sure you pick a canister that works with the rest of your gear. They're also more expensive than the simple supplies needed to hang your food, and the limited capacity of a canister can be tricky when hiking with big groups or when you have to carry a lot of food at once.
Still, bear canisters are your best bet for ensuring your food stays safe overnight, especially in areas heavily populated by bears. Some national parks and wilderness areas require backpackers to store their food in canisters. Many retailers and outfitters rent them so you don't have to shell out for just one trip.
Bear-Proof Sack
Bear-resistant storage bags such as the Ursack combine the convenience of a bear canister with the packability of a bear bag. These soft-sided sacks are made from tough materials meant to deter curious paws and claws. When used with an odor-proof bag inside, they're very effective, though some hikers have reported punctures in highly-trafficked camping areas where savvy bears are present. Fabric instead of a hard-sided canister means that this storage method takes up less space in your pack when it's empty, and it's lighter and easier to pack. You'll have to shell out a few extra bucks for this packability, but Ursacks are fairly comparable in price to most canisters. (Downside: Bear-proof sacks aren't allowed in some camping areas where canisters are required.
Bear Box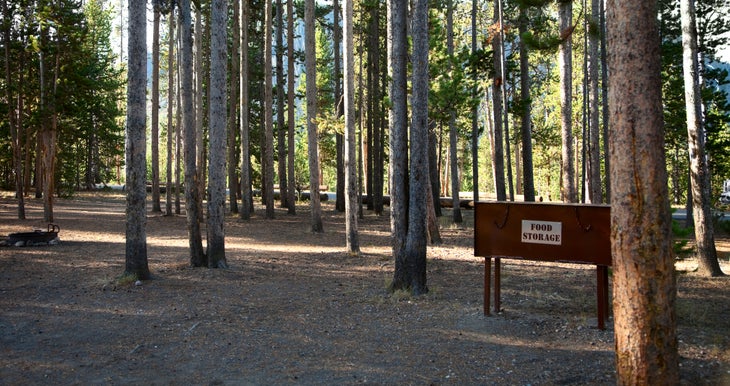 If you've car camped in a place like Yellowstone or Yosemite, you've probably noticed these large permanent fixtures in some campsites. These lockable metal boxes are installed in places where both bears and humans frequent—primarily frontcountry campgrounds, but occasional backcountry sites, too. If a bear box is available to you, use it. It's the most effective way to keep your food safe, and to keep yourself safe from hungry animals. As long as you latch the box properly, this method couldn't be easier.
Your Car
This one comes with some big caveats. In frontcountry settings, storing food in your car is sometimes OK (it's like a massive bear canister, right?) But in some areas, bears have even figured out how to open car doors and help themselves to what's inside, generally wrecking the automobile in the process. Check with rangers about the regulations where you're camping, and again: if there's a bear box available, use it.