Haul Any Load With These 6 Hiking Boots
When it comes to hiking in rough terrain with heavy packs, nothing beats the stability of our top six stalwart backpacking boots.
Heading out the door? Read this article on the new Outside+ app available now on iOS devices for members! Download the app.
Outside+ members get access to this and every other gear review we publish.
How We Tested the Boots
Boots are some of the trickiest pieces of gear to test. Because every hiker's feet are unique, picking the best models is a more subjective task than with other products. That's why each boot we test lands on at least two different sets of feet. Our team of 75 testers has sampled more than 90 new pairs of shoes and boots in the last year, and we added in 10 additional older boot models that fit the burly niche. That was our starting point for this test. Once the feedback started rolling in, it came time to cull the herd. All of the boots in this test needed to be able to handle pack loads of at least 40 pounds, and we struck anything that couldn't take that weight from the list. We also looked at durability, waterproofing, and comfort to narrow our final selections (many that didn't make the cut wet out, had stitches come loose, or just plain hurt) until we had a list of roughly 12 of the highest-performing backpacking boots available. Then, with a special eye toward "burliness," which we're defining as the ability to carry heavy loads in difficult terrain without falling apart after a handful of seasons, we went into the field one more time for some final notes. The result is this list of the top options. —Ryan Wichelns, Footwear Category Manager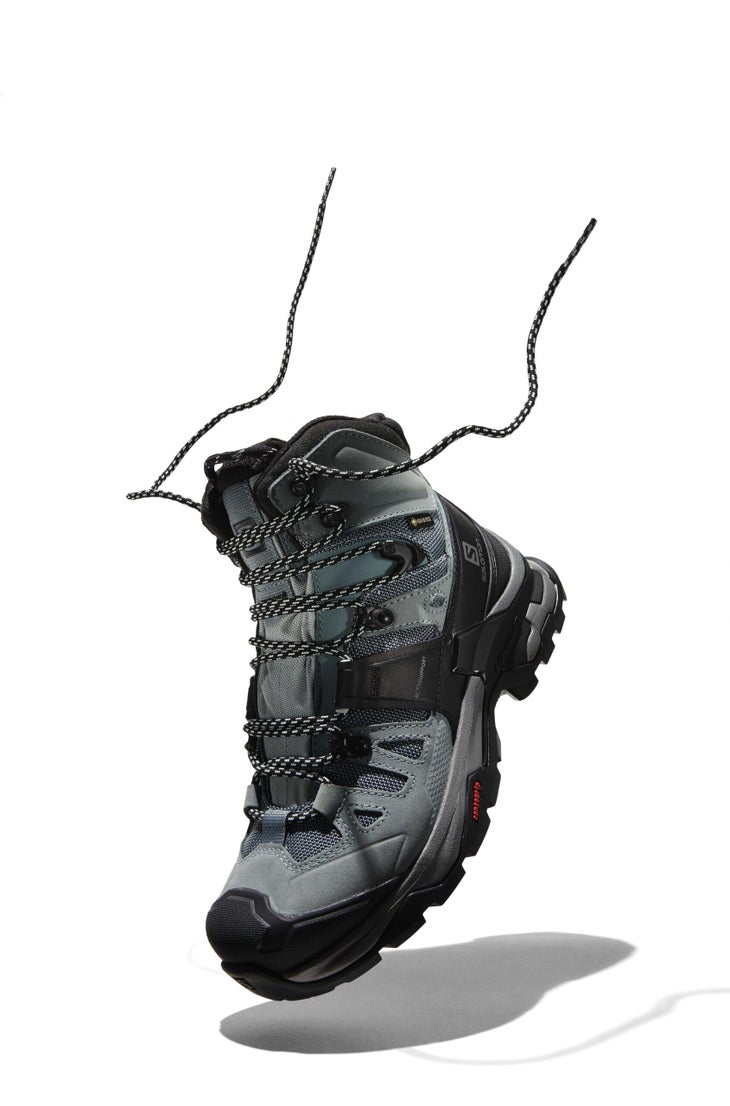 Most Comfortable: Salomon Quest 4 Gore-Tex
Overall: 4.6/5
$230; 2 lbs. 12 oz. Buy Now
Comfort: 4.9
A supportive boot that's ready to go right out of the box, as our tester deemed the Quest 4, is hard to come by. It was more comfortable than anything else we tested thanks to a mesh lining with beefy foam padding (some of which, along the Achilles, is even more plush than the rest of the cuff) and a pliable nubuck-and-nylon upper. The design was soft on testers' feet, preventing hot spots and discomfort normally associated with a break-in period. One high- arched tester praised the way the lacing is set up: Rather than evenly spaced laces down the boot, a gap over the top of the midfoot helps alleviate a common pressure point. Our tester logged multiple 12-mile days in the Quest 4 without complaint, and reports that the boot remained breathable during a midsummer, 80°F hike on California's Point Reyes (it has a Gore-Tex membrane).
Support: 4.5
An EVA midsole and the layered upper (multiple overlaid panels of nubuck and nylon provide support on crucial spots around the ankle, but single layers elsewhere keep the boot from feeling too rigid), mean that despite its cushy feel, the Quest 4 still handled the 40-pound load we hauled in California's China Camp State Park without issue. The boot lacks a shank, which limits its stiffness on steeper trails but encourages a natural stride.
Traction: 4.5
Aggressive, 3-millimeter-deep lugs on the Quest 4's Contagrip outsole provide reliable bite on muddy trails. Certain pinch points on the tread had a tendency to pick up small stones on rocky terrain in the Adirondacks, though we appreciated the rubber's stickiness on slabby summits.
Durability: 4.6
The nubuck and coarse nylon that make up the boot's upper feel nearly bulletproof, but all the overlapping materials create a lot of seams. One of those seams experienced some unraveling over a couple months of use, but it didn't impact the waterproofing or the performance of the boot overall.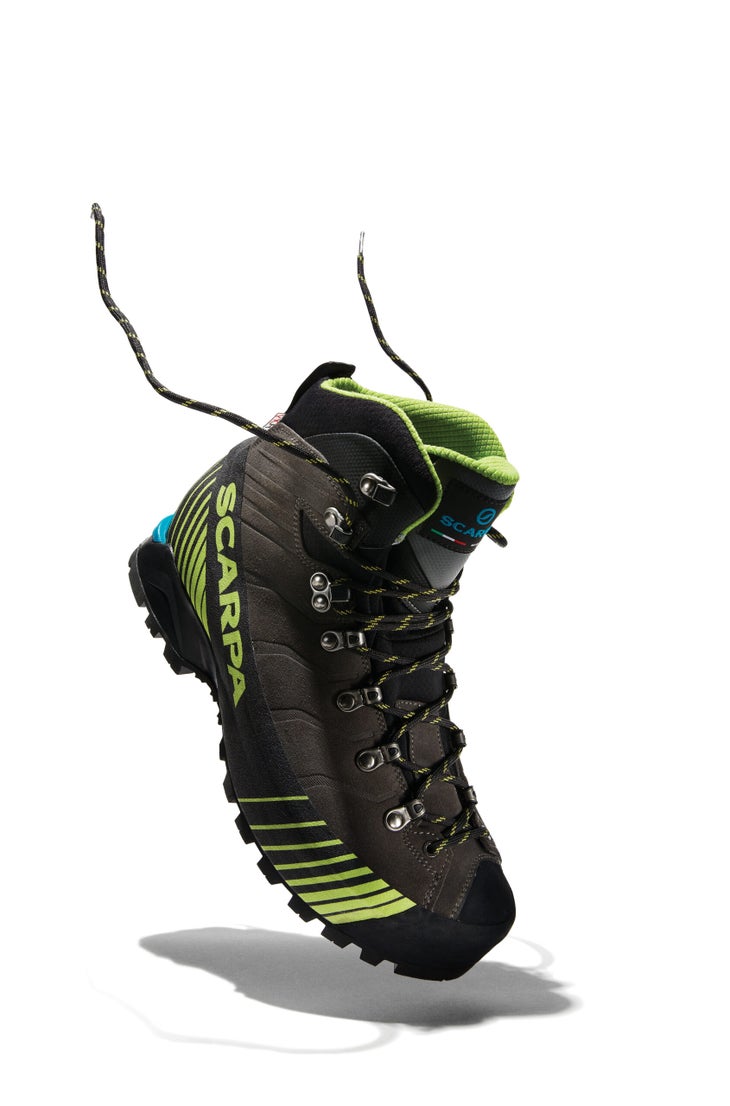 Best Support: SCARPA Ribelle HD
Overall: 4.5/5
$359; 3 lbs Buy Now
Comfort: 3.9
The Ribelle HD blurs the line between a hiking shoe and a light mountaineering boot. Thankfully, its comfort has the DNA of the former. We enjoyed the snug fit, and the heel cup and lacing did a good job of preventing toe bang on long descents. A rockered sole that designers borrowed from SCARPA's trail running shoes helped mitigate board-stiff mountaineering boot fatigue. Though on longer hikes, like a 12-miler in Washington's Olympic National Park, the boot's rigidity (which shortened our stride slightly) led to some discomfort toward the end of the day. The Ribelle HD's HDry membrane kept our feet dry during hikes along the Lower Big Quilcene River, but our toes became clammy when temps hit the mid-70s. Ding: The Ribelle HD is expensive.
Support: 5.0
This is the burliest boot in the test. The Ribelle HD's stiff suede upper tapers tight around the ankle, and paired with a PU/TPU midsole to make short work of hauling a 50-pound pack over off-camber PNW trails. In steep terrain, a narrow toe and polypropylene midsole board let the boot's mountaineering chops shine (it has a heel welt and rigid construction to take semi-automatic crampons). On long summer backpacking trips that traversed snow and ice in Olympic, the Ribelle HD kept us comfortable and stable.
Traction: 4.3
Designers chose Vibram's Precision Tech Roll outsole, which pairs flat lugs at the toe for scrambling with larger, deeper lugs further back on the foot to handle mud. Wet rocks were no problem, and neither was slippery sidehilling on Washington's Upper Dungeness Trail: "The ground had given way, washing the trail that had been meandering along the high bank down into the river, leaving a lot of mud, trees, and slick boulders in its wake. The Ribelle HD's stiff sole and grippy tread helped me confidently traverse the washout," one tester says.
Durability: 4.9
This boot's ultradurable suede upper is nearly one piece, eliminating seam issues, and a giant rubber wraparound rand (rubber in front, PU in back) has the crampon-proof durability of a true high-mountain boot: We saw no peeling, cracking, or tears after days wearing crampons. While the outsole at the toe doesn't have the same sharp edging ability after 90 miles of use, other signs of wear are nonexistent.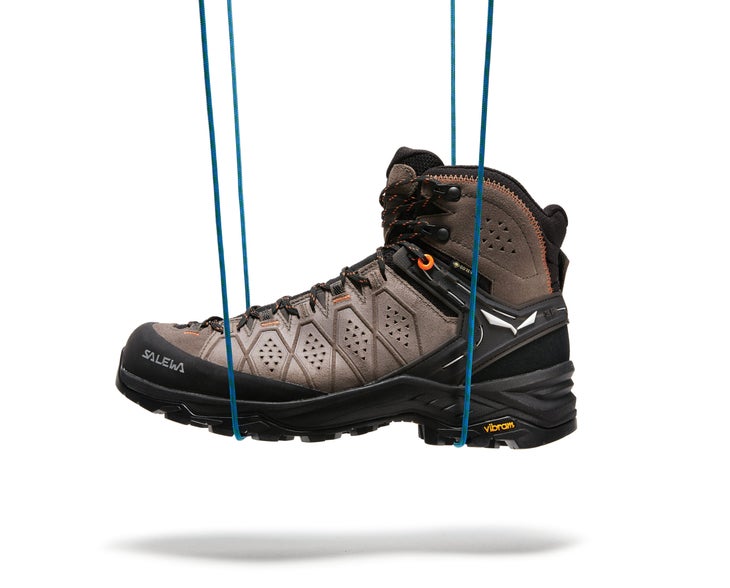 Best Fit: Salewa Alp Trainer 2 Mid GTX
Overall: 4.4/5
$200; 2 lbs. 7 oz. Buy Now
Comfort: 4.6
The Alp Trainer 2 is laced like a climbing shoe—all the way down to the toe—a design which combines with Salewa's 3F system (nonadjustable metal cables running from the laces to the Achilles and heel) to snug the foot down for hiking with a 40-pound pack. A whopping nine eyelets per side (the most in the test) made it easy for us to fine-tune the fit and boosted scrambling precision, while the 3F system sucked our feet back into the heel cup for stability on exposed, rocky trails in Idaho's Kaniksu National Forest. Our only complaint: The Alp Trainer 2 got a little hot during mid-summer hikes near Sedona, Arizona. It's best-suited for days below 80°F.
Support: 4.0
An EVA midsole felt plush yet fended off foot soreness while we carried a 40-pound pack. The Alp Trainer 2's relatively light cuff meant we sacrificed some stability on variable terrain, like loose sections of the Arizona Trail outside Flagstaff.
Traction: 4.4
Well-spaced triangular lugs through the outsole's midsection worked well on loose pebbles, though we would have appreciated a little more grip in soft, sandy terrain. However, more densely packed lugs in the toe and heel imparted plenty of friction during ascents and descents, and the Vibram Alpine Hiking outsole was sticky enough for everything from Sedona slickrock to slabby granite summits in New Hampshire's White Mountains.
Durability: 4.4
A large rubber rand over the toe kept scree and rock from scuffing the boot, but the soft suede upper did show some cosmetic wear and tear over a season of hiking.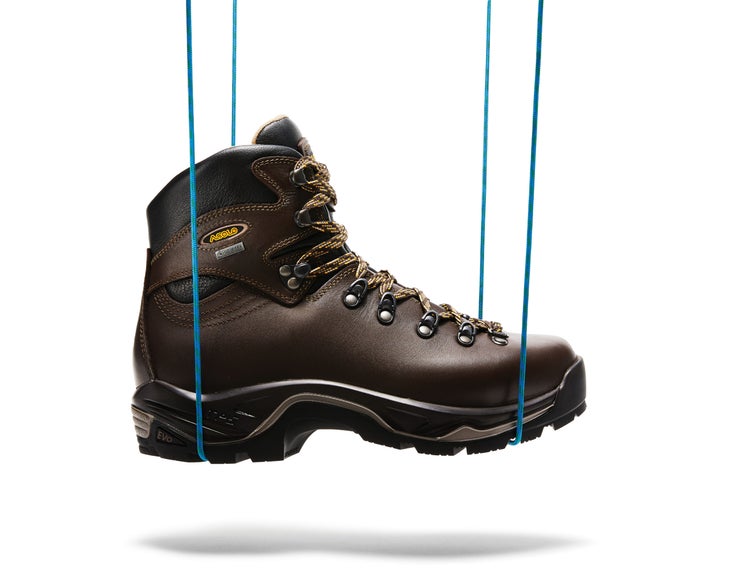 Most Durable: Asolo TPS 520 GV Evo
Overall: 4.4/5
$340; 3 lbs. 11 oz Buy Now
Comfort: 3.9
Full-leather backpacking boots are a staple of outdoor footwear, but they're not known for being perfect right out of the box. The TPS 520 GV Evo doesn't break that cycle, and we found that it needs about two full weekends of hiking to start softening up. However, our testers say it's worth the time and effort: Once it's broken in, this boot fits like a slipper and promotes a natural stride, and it only gets better with time. "I've never had a boot feel more like a custom fit than this after a season of use," one tester says. One drawback to the stiff PU midsole (which contributes support and longevity) is minimal shock absorption, which tired out our heels after a 14-mile day in Washington's Mt. Baker-Snoqualmie National Forest. Also, leather doesn't breathe like nylon and mesh, so the TPS 520 and its Gore-Tex membrane is best on days below 70°F. Bummer: It's a pricey boot.
Support: 4.7
The dual-density PU midsole and tall, stiff ankle made carrying a 45-pound pack in the Adirondacks' High Peaks Wilderness a cinch. A proprietary lasting board kept our feet from feeling the region's notorious rocky trails and added torsional stability as well.
Traction: 4.1
One of our testers has worn the same pair of TPS 520s for six years of backpacking trips (it has been around since 2003), and the boot's Vibram outsole with XS Trek rubber is still holding fast to most terrain. During an ascent of muddy Wolverine Peak outside Anchorage, Alaska, he summited without losing his footing, though he would have appreciated slightly deeper lugs on fine, gravelly trails.
Durability: 5.0
Full-grain leather is hard to beat for longevity. The TPS 520—with its minimal seams, double stitching throughout the entire upper, a tough PU midsole, and beefy metal lace eyelets—is one of the ultraclassics in this category for a reason, and holds up to years of hiking. Our long-term tester's pair isn't without some cosmetic scuffing, but he's never found a loose seam.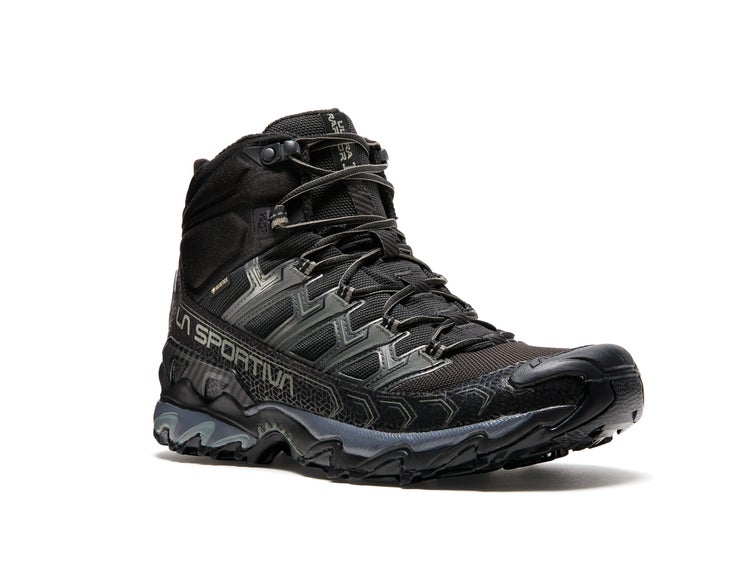 Best Traction: La Sportiva Ultra Raptor II Mid GTX
Overall: 4.3/5
Comfort: 4.7
La Sportiva is synonymous with a narrow last, and its shoes have usually been off-limits for folks with wider feet. No more: The Ultra Raptor II is in the first class of La Sportivas to come in wide sizes. Plus, this boot was one of the lighter models we tested (the upper is mostly mesh), and it was comfy right out of the box. One tester spent 15 miles hiking around Lake Tahoe in the Ultra Raptor II and came away hot spot-free. Additionally, her feet didn't get swampy even on days in the mid-80s (the Ultra Raptor II has a Gore-Tex membrane), making this the most breathable boot in the test.
Support: 3.9
While this boot is supportive enough to meet our 40-pound threshold (a half-length nylon/TPU shank helped us shoulder the load in Tennessee Valley, California), a beefier cuff would have been welcome for days in off-camber terrain. We also would have preferred a little more padding around the ankle for steep descents.
Traction: 4.8
Regardless of the terrain, the Ultra Raptor II's Frixion outsole gripped like claws thanks to its sticky rubber compound and 4.5-millimeter-deep oval lugs. The soft material stuck readily to loose shale, wet granite, and slick leaves, even while one tester was holding back a dog who likes to pull down the trail.
Durability: 3.8
Because the outsole is so soft and sticky, the lugs wore down slightly after a season of use. The upper is made of light mesh and microfiber, so it likely won't last as long as some of the leather options in the test, but hasn't shown any fatal wear so far.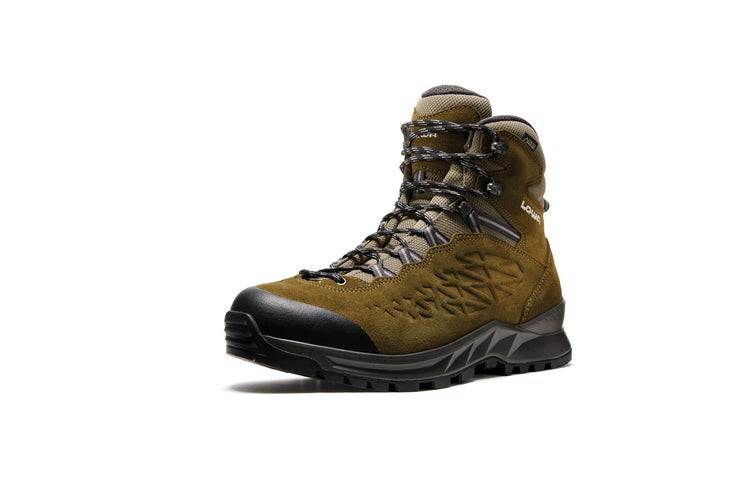 Best Waterproofing: LOWA Explorer GTX Mid
Overall: 4.2/5
$240 | 2 lbs. 8 oz. Buy Now
Comfort: 4.2
The Colorado Trail is notorious for intense summer deluges, and it delivered while we tested the Explorer. Thankfully, over four days of puddles and river crossings, we never had to think about the wet spots on the trail due to this boot's leather-and-fabric upper paired with a Gore-Tex membrane. The Explorer's tongue is also attached to the body of the boot fairly high, which helps seal water out. Tradeoff: All that waterproofing takes a toll on breathability—we wouldn't wear this boot on days over 65°F. Stride-wise, the Explorer glides easily over the trail and has a smooth heel strike.
Support: 3.7
A lightweight PU midsole and a nylon shank keep big loads comfortable. One tester volunteered to carry a friend's backpack for a short time on the Colorado Trail, putting him well over 50 pounds, and he never felt like the boots were unsupportive. (Though he was glad he didn't need to push that weight for more than a couple miles.)
Traction: 4.4
A Vibram Megagrip outsole ensured that when the rain stopped, the Explorer held onto muddy trails and slick rocks without issue. The triangular lug pattern kept us in place even on awkward sidehills outside Red Lodge, Montana, and zones in the toe and heel have siping (just like the little squiggles in lugs on your car tires) to keep more rubber in contact with the surface when you're not edging on rock.
Durability: 4.5
After three months of hiking, a quick wash had the upper looking brand new, according to our tester. Any dings it accumulated were minor, though the material is not quite as tough longterm as full-grain leather.