The Best Rain Jackets for Hiking in Any Kind of Weather
These hardshells seal out weather so you can enjoy your hike in comfort.
Heading out the door? Read this article on the new Outside+ app available now on iOS devices for members! Download the app.
Nothing dampens enthusiasm for a hike quite like getting poured on. Rather than canceling your plans because of rain, though, bring a hardshell waterproof/breathable jacket along and enjoy the adventure. The best rain jackets for hikers will protect you from the elements, breathe well enough to not swamp you out, and increase your comfort factor when the weather turns. 
What to Consider When Purchasing a Waterproof/Breathable Rain Jacket
The level of protection you need from your hardshell will depend on your environment. Hiking in a place where rain and wind are common? Opt for a jacket with three-layer waterproof/breathable material, which offers the highest level of waterproofing. Trekking somewhere that's usually dry? A two- or 2.5-layer shell will do the trick. 
Breathability also matters. A burly, fortress-like hardshell will seal out more precip, but will also cause you to sweat more than a featherweight, more packable—and airier—jacket. Heavier shells are usually more durable, and features such as additional pockets, adjustable hood and cuffs, and vents will add weight as well.
Finally, consider that the jackets below are geared more towards three-season hiking; for winter-worthy shells, thicker materials and specialized features are desirable.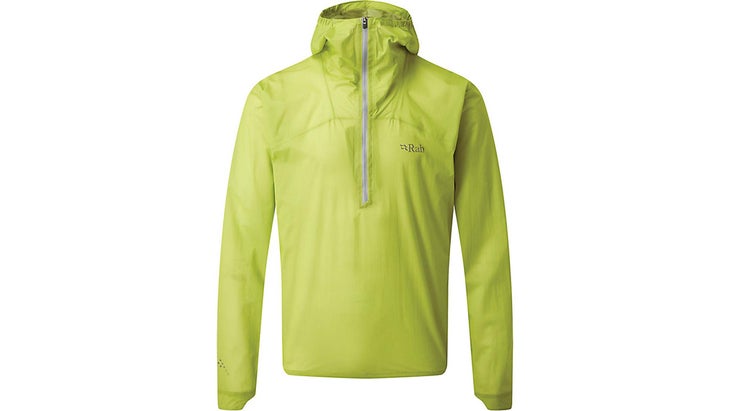 Lightest: Rab Phantom Pull-On
Over the last four or so years, Rab has been on top of the technical fabric world, churning out shell after category-smashing shell. That streak continues with the Phantom, which, as the lightest waterproof/breathable shell on the market, has the weight of a trashbag poncho, the rain protection of a hardshell, and yet somehow the airy feel of a softshell. Oh, and it packs down to the size of a kiwi. The Phantom is made of a 2.5-layer Pertex Shield fabric that designers paired with a minimalist feature package, including elastic cuffs, a tiny wire brim on the elastic hood that shielded us from pelting rain in the Pacific Northwest and 70-mph wind gusts in the Colorado Rockies, and an itty-bitty storage pocket at the chest that fits a gel pack or set of keys. We don't normally love anoraks due to lack of venting, but even without pit zips, we stayed comfy on humid uphills in three seasons thanks to supreme breathability.  Weather protection balances blocking rain and inhibiting sweat—in deluges that lasted more than 90 minutes, we felt some drops sneak through at the shoulder and lower back, but every tester agreed that the weight and functionality in the majority of cases more than offset its uneven performance at the watery extreme.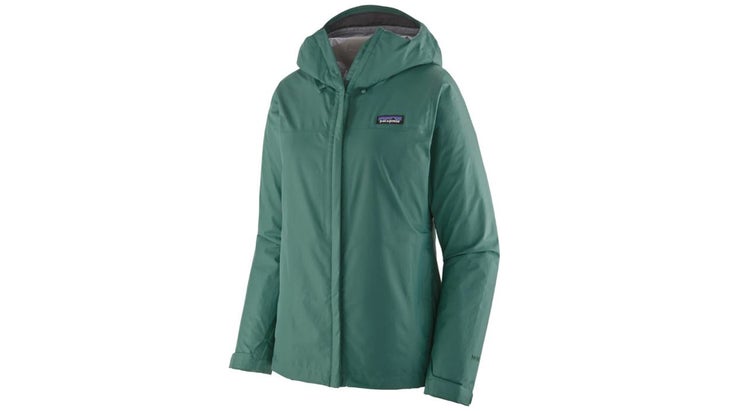 Best Value: Patagonia Torrentshell
Solid protection in even the nastiest weather doesn't always require a new line of credit, as the updated Torrentshell proves. It kept us dry during all-day drizzle in Washington's Alpine Lakes Wilderness, dumping rain in Montana's Pioneer Mountains, and vicious summit winds on Mt. St. Helens. Patagonia's proprietary three-layer fabric keeps the price nice, and you get the eco cred of 100-percent recycled nylon and a partially bio-based PU membrane.The Torrentshell proved plenty durable against miles of bushwhacking and volcanic rock abrasion, thanks to 50-denier nylon. Tradeoff: middle-of-the pack breathability.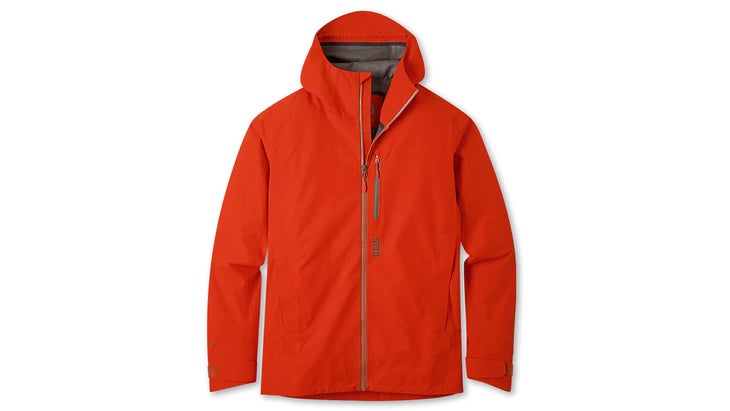 Most Versatile: Stio Ender Paclite Hooded Jacket
Truly versatile shells are surprisingly tough to find. They need to be able to shrug off abuse, vent well, and still have all the zippers, pockets, adjustable hoods, and other features we often take for granted. Nab one that meets all of those criteria at an affordable price, and you've hit the jackpot. There weren't many conditions that could outdo this shell, whether it was snowing, gusting wind, or pounding spring precip. The secret is in the shell's two-layer Gore-Tex Paclite fabric. It had good (though not standard-setting) breathability, which we appreciated when temps dropped into the 30s during a trip to Alberta. When it comes to features, the Ender found a good balance between being full-featured and avoiding being too heavy: We managed to fit gloves and a neck gaiter in one of the hand pockets, and slipped our smartphones into the chest. Cinching the hem around our waists kept out breezes and spindrift, while the hood adjusted via a single cord in the back (only works with low-profile helmets). Bonus: The 75-denier recycled polyester face fabric shrugged off brush on bushwhacks without so much as a scratch.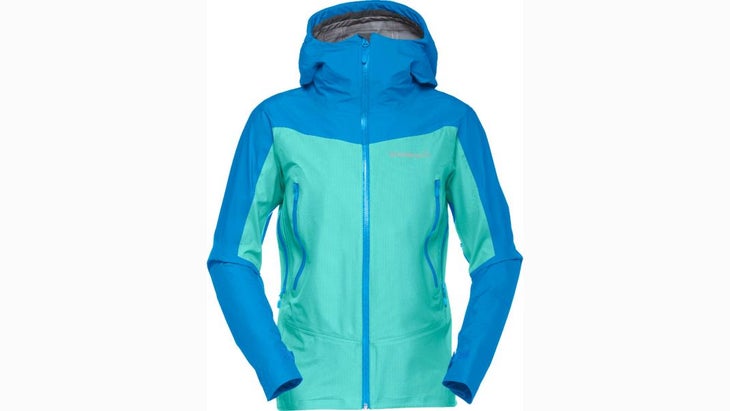 Best Protection: Norrøna Falketind
The devil is in the details—but so is salvation, as this meticulously designed jacket proves. Testers raved about the little things, including asymmetrical cuffs that protected their hands while they picked blueberries in the rain in Alaska's Chugach State Park. The brimmed, helmet-compatible hood deflects drips, and high-placed pockets keep essentials at the ready, even under a pack. More favorites: a soft, Gore-Tex C-Knit backer that feels comfortable on bare skin, pit zips, and a cut that fits over winter-weight layers. The Falketind's three-layer Gore-Tex material delivers impressive breathability: "This shell did a great job letting surplus heat out on a challenging, 2,200-foot climb up Camel's Hump at 55°F," says a Vermont tester. Tradeoff: Designer details come with a designer price tag.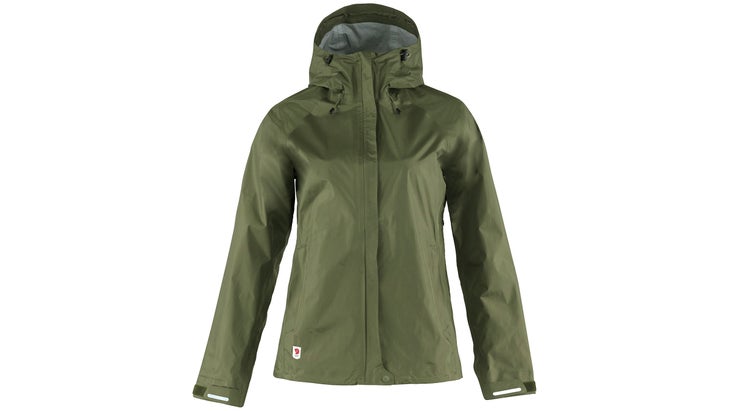 Best Looking: Fjällräven High Coast Hydratic Jacket
There's no such thing as the perfect rainshell. Souped-up protection usually means increased weight and decreased breathability; high breathability begets high prices. Rather than assemble a quiver of shells for every type of weather, we sought a reasonable do-it-all shell at a relatively friendly price. The High Coast Hydratic excels at exactly what a hardshell is supposed to do: It keeps you dry. On hikes near Coeur d'Alene, Idaho, we pushed through rain, sleet, and snow—sometimes in the same day—and the shell proved impermeable to the elements. This shell is also tough: Its 70-denier recycled nylon fabric with a PU coating never ripped when we shouldered through bramble patches. As it weighs just over 11 ounces and packs down to the size of a cantaloupe, that's saying something. So, where does this shell falter? Breathability. The High Coast Hydratic has 2.5-layer construction, in which the PU covering on the exterior provides the waterproofing. This design is less breathable than a traditional membrane (which allows sweat vapor to escape via tiny pores, in addition to sealing water out), and on a steep hike—we gained 1,900 feet in 2 miles—we found that my perspiration condensed on the inside of the jacket, even with temps below freezing. Still, we rate the High Coast Hydratic as a good buy for a backpacker who's looking for a shell that does its job in wet and chilly environments, but won't break the bank.
What a Backpacker Editor Looks for in a Rain Jacket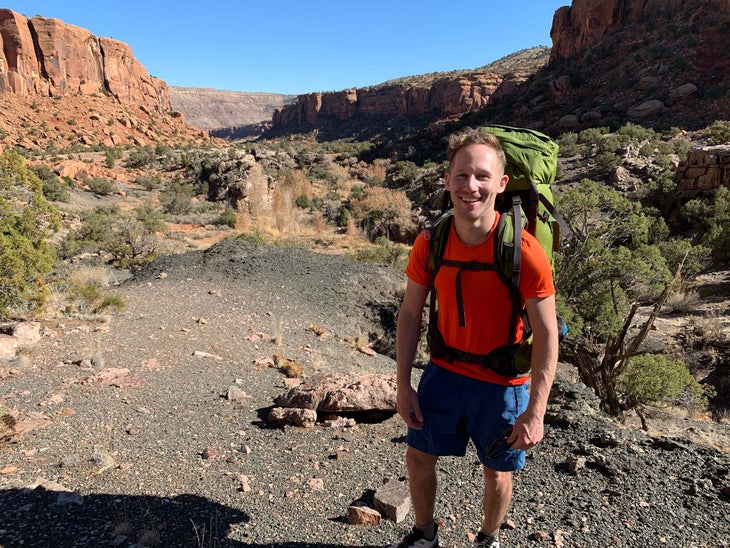 Eli Bernstein, Senior Gear Editor
"As someone who runs hot when I hike, I place breathability above all else. Sometimes that means sacrificing a little bit of protection, but I'm much happier if I get slightly wet in an ultrabreathable hardshell than if I had opted for a heavier model that made me swamp out in minutes."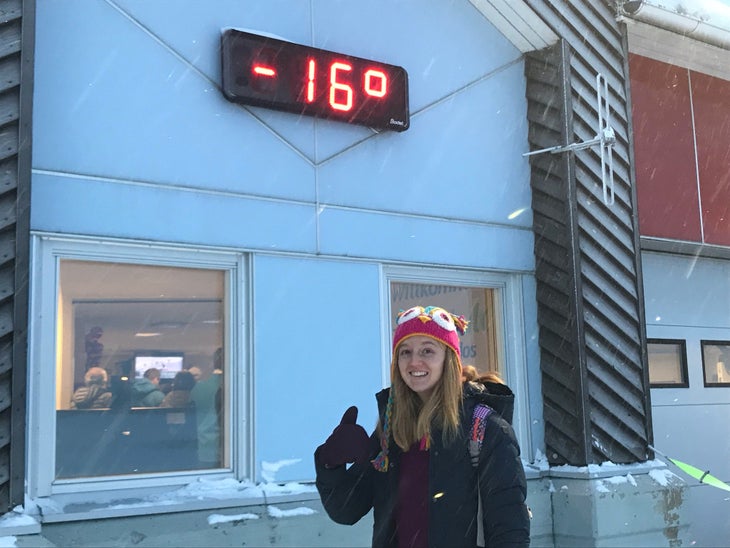 Emma Veidt, Assistant Skills Editor
"When I'm buying a hardshell, I look for durability. If I'm already spending money, I want my jacket to last long enough to be worth the investment. There's nothing worse than splurging on new gear only to ruin it as soon as conditions get rough, so I look for high-denier materials. I also restore my hardshell's DWR to give it a longer lifespan: When the water repellent starts to wear out, your jacket doesn't repel rain; it starts to absorb it."
How to Maintain a Hardshell Rain Jacket
Avoid smoke. Smoke particles adhere to fabric and interfere with DWR. Ditch your shell before breaking out the s'mores. When possible, you should also wear long sleeves under your jacket. Skin oils, sunscreen, and insect repellents can damage membranes and impair breathability. You should also store your shell dry; like your tent, your raingear needs to air out between uses to avoid developing mildew, especially during long-term storage.
If your hardshell starts to wet out—when precipitation remains on the outer layer of the jacket, but doesn't soak through—clean it and refresh the DWR by washing the shell with a product like Nikwax Tech Wash; if it needs to re-up on DWR even after that, use Nikwax TX.Direct. (You should do this once or twice a season if you use your shell a lot). For a small rip or tear, clean the area with an alcohol pad and then patch it with waterproof repair tape. Peeling seams call for Seam Grip, but any larger delaminations, membrane tears, or seam rips call for taking your jacket to a repair shop or contacting the manufacturer.