Zero Impact Challenge
Is it possible to build a backpack that doesn't contribute to global warming? Not yet, but five pioneering companies gave it one helluva try. (Cue standing ovation.)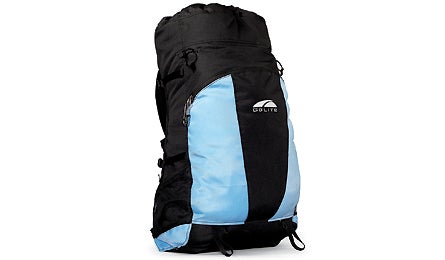 GoLite Jam2rc | Sethhughes.com
JanSport Leandro | Sethhughes.com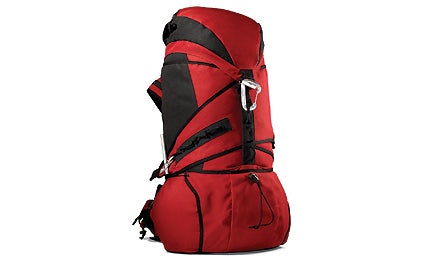 L.L. Bean Straight Jacket | Setthughes.com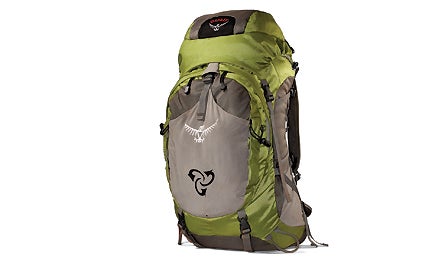 Osprey Atmos 50 | Sethhughes.com
Ten months ago, we issued a challenge to more than 60 pack makers: Create a trail-worthy 3,500-cubic-inch midsize with materials and manufacturing that entail minimal environmental impact. We knew enough about pack design to understand the enormity of the task. But we also knew that creating sustainable gear is a priority for an industry dedicated to the outdoors. Five companies–GoLite, JanSport, L.L. Bean, Mountainsmith, and Osprey–rose to the challenge.
Once the packs hit our offices, we headed out to the Grand Canyon and Colorado's backcountry for field testing. But we also wanted to examine their carbon impact. For that, we turned to our climate-analysis partner, Cooler, a Bay Area outfit whose methodology is backed by three major environmental organizations (see climatecooler.com). Cooler collected reams of data from each company about their energy use–from the materials they use to their manufacturing processes to the amount their executives fly–and provided detailed reports on each pack.*
From the reports, we learned that our contestants have made a huge leap forward, yet there's a long way to go. Manufacturers face two big challenges: 1) a limited supply of low-impact materials tough enough for the trail, and 2) an even shorter supply of independently vetted information on the various "eco-friendly" options out there.
We also discovered that–without such info–it's very difficult to calculate footprints as precisely as we'd all like. As Michel Gelobter, Cooler's top scientist, told us, "We can assess variations in energy consumption between recycled and virgin packs, but we can't tell a Coke from a Pepsi." That's why, for now, you won't see carbon ratings on products reviewed in BACKPACKER.
Here's what we do know: The average footprint of our five packs is about 130 pounds of CO2–compared to 190 pounds for a standard model of the same size. The difference is equal to the amount of CO2 one tree sequesters in a year. And the impact of making every pack sold in the United States with recycled polyester would be a reduction of 20,000 to 30,000 tons of CO2 a year, enough to offset 10,000 roundtrip flights from Boston to Seattle.
Three simple rules also emerged that will undoubtedly influence pack designers–and may change what you look for. They are:
Weight matters. Lighter fabrics–or less of them–means less carbon. GoLite and JanSport embraced this tenet with a vengeance.
Simple is better. As in, reduce buckles and zippers. Trim those, and you get fewer suppliers, lower manufacturing emissions, less waste, and less shipping. GoLite and JanSport aced this one, too.
Recycled materials rule. So do recyclable and biodegradeable ones–all three slash carbon. Four of the packs use polyethylene terephthalate (PET), a polyester that can be recycled two to three times; Bean chose a poly that can be infinitely recycled. And all but GoLite used polylactic acid (PLA, a corn-based plastic) for buckles.
GoLite Jam2rc
In sustainable design and manufacturing, less is definitely more. That philosophy, which already pervades GoLite's line, makes this sub-two-pounder light on your back–and the planet.
All of GoLite's packs are streamlined. But the Jam2rc takes simplicity to a new level by applying the three rules cited above to the company's existing Jam pack. Designers skipped the framesheet and kept the 3,100-cubic-inch packbag clean, yet still managed to include a hydration compartment, two water-bottle pockets, and a large zippered front pouch. Except for the zipper, thread, and backpanel foam, this prototype uses recycled materials. Interestingly, that makes it 7 ounces heavier than the regular Jam, though it also feels more abrasion-resistant. The pack worked best with loads of 20 pounds or less; the minimalist frame and hipbelt favor hikers with hardy shoulders or modest mileage goals. $100 (projected price); 1 lb. 13 oz.; golite.com
JanSport Leandro
With this prototype, JanSport lays the groundwork for entering one new market–renewable outdoor gear–and revisiting another it helped create: all-purpose ultralight packs.
Another poster child for simplicity: This tapered, top-loading packbag has only two deep water-bottle pockets, four stylishly small side-compression straps, two ice-axe loops, and a hydration sleeve. That's it. And although JanSport is not yet ready to launch the Leandro, it's already developing a strategy for reclaiming packs at the end of their useful lives. The materials here are 64% recyclable and 23% biodegradeable, which means the company can take the packs back and repurpose them (it intends to). Testers appreciated the moderately supportive framesheet (made from biodegradeable PLA), the deep side pockets, and the elegance of the Leandro's roll-top closure. The color may be too bright for some, but it makes finding stuff inside easy. $120 (projected price); 1 lb. 13 oz.; jansport.com
L.L. Bean Straight Jacket
Bean hucked convention way out the window and created an innovative zipperless pack that's 100% recyclable and reduces fabric use by 30%.
As the only contender that achieved a cradle-to-cradle design (green-speak for waste-free), Bean deserves special kudos. Designers employed Eco Intelligent Polyester, a fabric made at a "clean" hydro-powered Canadian plant that can be perpetually recycled (unlike PET, which can only be recycled two or three times). They also took rule #2 (reduce unnecessary components) to its logical extreme by eliminating zippers. In their place is a system that uses overlapping fabric wings, carabiners, drawcords, and a roll-top buckle closure to compress and contain the load. Testers liked the multiple access points, but not the multiple steps required to get inside. A top-loading design would solve that without adding zippers–while bringing the pack's weight more in line with the other entries. $199 (projected price); 6 lbs. 10 oz.; llbean.com
Mountainsmith Phoenix
Here's ample evidence that you don't need to sacrifice backcountry comfort or performance to build a big load-hauler that's easy on the planet.
Forget for a moment that each Phoenix diverts 107 plastic bottles from the landfill, and that its simple fabric patterns minimize waste. Ignore the fact that Mountainsmith has performed exhaustive greenhouse gas calculations to evaluate its design and production choices. Instead, consider this: The Phoenix is one of the most comfortable weeklong packs we've carried, green or not. Our editors were literally fighting over it on a recent test trip. It's much bigger (5,675 cubic inches when extended) than the other entries, but the suspension is built to handle it. We carried 60 pounds in comfort, thanks to the jumbo padded hipbelt, which circled our hips like a giant ACE bandage. Did we mention the 100% recycled fabric? It shows no sign of weakness. $289; 5 lbs. 3 oz.; mountainsmith.com
Osprey Atmos 50
One of our favorite midsize packs gets a makeover that has editors asking: If green can feel this good with 30 pounds, why would you carry anything else?
Last year, testers raved about the stability and ventilation of the pre-green version of the 3,000-cubic-inch, top-loading Atmos. This model keeps all of that–and is mostly recycled. After one five-day outing on the Grand Canyon's rugged Escalante Route, testers praised its comfort and load control, and they saw no tradeoffs for the choices Osprey made to increase sustainability. Like Mountainsmith, Osprey opted to deck out its pack with features (a stretchy shove-it pocket, hipbelt pockets, and zippered packbag access), and to do it with the greenest materials available. According to the company, 88.5% of the pack is either recyclable or biodegradable. Osprey is optimistic about the durability of these new materials, but won't release the pack to consumers until it completes further testing. $199 (projected price); 3 lbs. 11 oz.; ospreypacks.com