Top 4 Digital Camcorders
Four packable, trailworthy camcorders that could launch your YouTube career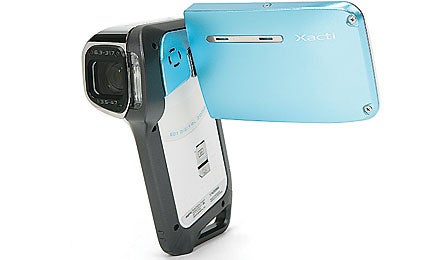 Sanyo Xact VPC-E1, Morgan Miller/De Frisco Studio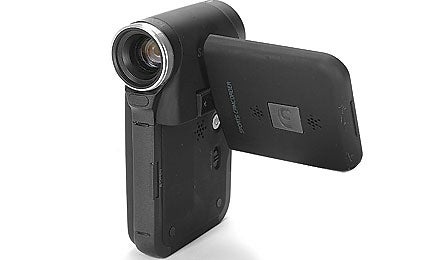 Samsung SC-X300L, Morgan Miller/De Frisco Studio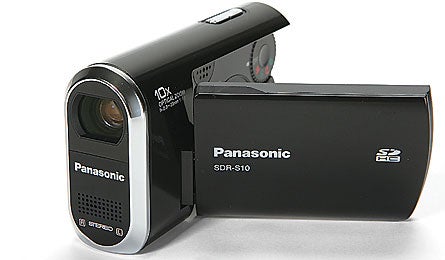 Panasonic SDR-S10, Morgan Miller/De Frisco Studio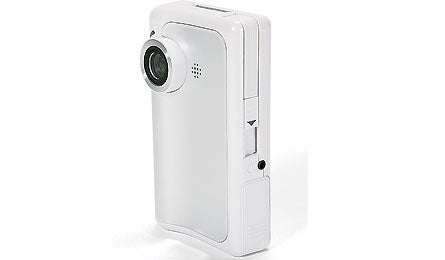 Pure Digital FlipVideo, Morgan Miller/De Frisco Studios
Rating Scale: 5=perfect gear, 1=save your money
HP PhotoSmart R937
[easiest to use]
Overall 4.3
Memory internal and SD
Zoom 3x optical, 4x digital
Battery life* 1,445 photos
Pixels 8MP
Price/weight $300; 7.7 oz.
Initially, we were skeptical of this point-and-shoot; it was the biggest and heaviest of the models we called in for testing. But it quickly rose to the top, thanks to its monster 3.6-inch screen, innovative touch-screen menu, and idiot-proof operation.
Remember when you dumped your ancient color TV for an HD flat screen? That's the difference between the R937's crystal-clear display and other camera screens. There's simply no going back. Colors pop on the bright LCD screen, and it regenerates images almost instantly, letting you compose and edit photos faster. Then there's the customizable slideshow feature, which lets you show off your pics anytime, anywhere.
"This is also the most foolproof camera I've ever seen," said one tester. "If you have any confusion—which I doubt—just tap the help button. It's like having the owner's manual built into the camera."
Landscape lovers will appreciate the panoramic mode, which digitally stitches together five photographs, and the sunset mode, which draws out oranges and reds. Ditch your tripod, too. This camera offers image stabilization for unsteady hands or moving targets. Another bonus: You can tag photos with keywords, so they're already organized when you get home.
Annoying shutter lag is almost nonexistent on the R937 (like the other cameras reviewed here), but its video speed is the slowest at 24 frames per second (compared to 30 fps for the rest). That difference is negligible for most purposes, but you might see more stutter during quick moves and pans.
Downsides: The big LCD sucks power fast. One tester reported that the rechargeable lithium-ion battery died three days into a 5-day CDT backpacking trip, after 85 photos and one short video. (800) 474-6836; hp.com.
Pentax Optio M40
[best deal]
Overall 3.6
Memory internal and SD
Zoom 3x optical, 4x digital Battery life 877 photos
Pixels 8MP
Price/weight $200; 4.8 oz.
"It's only $200, but it's aisles away from chintzy," raved one tester about this 8MP camera. Pentax packs a lot of refined, backpacker-friendly details into the Optio M40, starting with a zoom lens that has an impressive range; it can capture a snow-capped ridgeline on the horizon as sharply as it can zero in on an alpine wildflower from two inches away.
Press the shutter button halfway, and the 2.5-inch LCD is backlit, cutting sunlight glare and the guesswork out of composing subjects. No more wasting battery power with retakes—what you see is what you get. (All of the cameras reviewed here use rechargeable lithium-ion batteries.) Intuitive menus and well-labeled buttons translated into fewer headaches for our testers—the word "easy" popped up everywhere in their field notes.
The M40 also retains some of the features of your old 35mm. To cope with muddled sunsets, underexposed forests, and other challenging light conditions, Pentax equipped this point-and-shoot with manual settings for exposure, white balance, and focal point—options that come in handy for wildlife, flower, and action shots.
Oh, and it's wicked small. The M40's aluminum alloy body is the slimmest (only .7 inches deep) and lightest (a mere 4.8 ounces, including battery) in this test. (800) 877-0155; pentaximaging.com
Olympus Stylus 770SW
[most rugged]
Overall 3.6
Memory internal and XD
Zoom 3x optical, 5x digital
Battery life 1,186 photos
Pixels 7.1MP
Price/weight $380; 5.7 oz.
This slick shooter thrives in conditions that would quickly ruin its hardiest competitors. Rubber gaskets and elastic O-rings safeguard it from torrential rain and snow storms—no protective case required. "I can finally photograph my favorite slot canyon pools," crowed one tester who dunked the 770SW down to 15 feet. (Olympus guarantees it to 33 feet.) During three months of abuse, the 770SW also survived a five-foot fall, a night in the freezer, and the weight of a 190-pound tester standing on it.
The 3x optical zoom punches out tack-sharp images, and it's backed up by a fast focus, image stabilization, and 20-plus preset modes that let you quickly nail the best exposure on snow, at night, and around the campfire. You can also stitch together 10 frames to create a superwide mountain panorama. (A tip from our testers: Shoot guidebook pages in the document mode and save a pound by not carrying the whole book. In the field, zoom in to read fine print; the 2.5-inch monitor actually shows a lot.)
The biggest dent in this digicam's armor: Our crew complained about poor button placement and menus. They also said the owner's manual is essential to learn the laundry list of awkward abbreviations and icons. "I often felt lost inside the menu screen, not knowing how I got there or how I could get back to the same place twice," said a frustrated tester. (888) 553-4448; olympusamerica.com
Fuji FinePix F40fd
[highest quality pictures]
Overall 3.4
Memory internal, SD, and XD
Zoom 3x optical, 6.9x digital
Battery life 1,234 photos
Pixels 8.3MP
Price/weight $250; 6.5 oz.
Not so long ago, photographers needed highly sensitive film to capture motion shots in poor light—imagine wanting a crisp outline of a hiker striding through a dark pine forest. Fuji has accomplished the digital equivalent by developing a more responsive light sensor. The result? You can now snag blur-free images in tough conditions without a tripod.
The quality is superb, too. Testers reported that the F40 collected colors in their truest form. "Blue skies remained blue, instead of being whitewashed," said one. "Turn on the on-board warming filter," said another, "and purples remain authentic, while earth-tones pop rather than getting muddy." The LCD is 2.5 inches wide.
The camera's full auto mode handles most exposure needs, and experts can program the dial to shortcut to two of the 13 picture modes. Cool feature: One setting collects the same photo with and without a flash, so you can take your pick later.
Some testers found the zoom toggle clunky, while others said its location on the shutter button eliminated the need to use two fingers. Play with it in the store and decide yourself. Caution: As with the Pentax, we worry that the pop-out lens could collect fine sand and get locked up.(800) 800-3854; fujifilm.com
*Number of photos taken back-to-back on a fully charged battery.
CRITERIA: For testing, we selected cameras with the following specs: 8 ounces or less, 7MP or greater, 3x optical zoom or greater, less than $400, digital video capable.
Testers: Alan Bauer, Kristin Hostetter, Kim Phillips, Kris Wagner