The North Face Alpine Guide 3
Best gear storage for a tent from the Fall/Winter 2018 Gear Guide.
Brand:

The North Face Gear Reviews

Model: Alpine Guide 3
---
---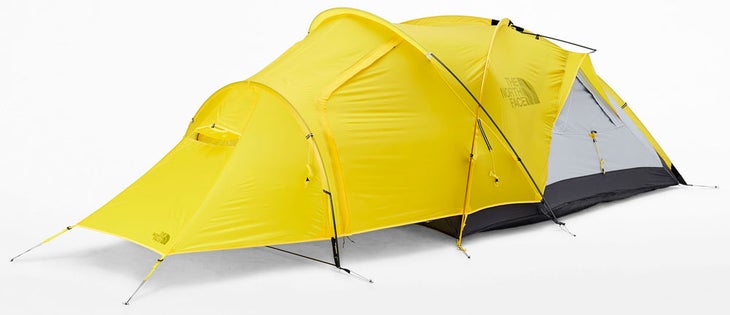 When you're hunkered down in a blizzard, you'll want some extra space. Fortunately, the Alpine Guide's enormous 27.5-square-foot vestibule fits the bill—and then some. "It was big enough for us to store our gear and still have enough space for a separate cooking platform," said one tester after two nights in Alaska's Talkeetna Mountains. But the massive vestibule means something else has to give to keep weight down: The tent's floor is just 38.4 square feet, and to fit three people, the middle sleeper has to lie head-to-foot. Good thing there's an escape hatch in the back.
THE DETAILS
The low profile of this tunnel tent means it sheds wind admirably: "Even without the 10 guylines deployed, it barely shuddered in 30-mph gusts," said one Alaska tester after a trip to Wolverine Glacier. Sad face: A flat roof collects snow and rain. The Alpine Guide's hybrid construction—single wall in back and double wall in front—trims weight, but the tent's ventilation isn't perfect. Condensation collected on the single-wall portion during a 20°F evening in the Chugach, but testers felt the moisture was a reasonable tradeoff for the combo of low weight and large vestibule.
TRAIL CRED
"The pole sleeves made for a simple pitch that goes up with- out exposing the canopy to precip. I set it up by myself—even with numb fingers—in less than five minutes," one tester says.
Weight: 6 lbs. 13 oz.
–

See more Tents and Sleeping Bags for Winter 2018

See the entire Winter Gear Guide

–