The End-of-Summer Gear
Close out the season in style, with sandals, eyewear, a wearable air conditioner (for your dog), and a proper skinny-dipping accessory.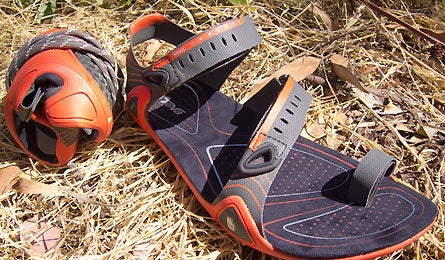 Teva Zich Sandals
Revo Transom Aviators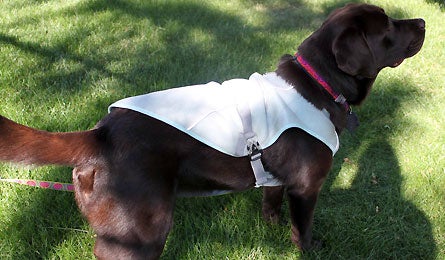 Ruff Wear Swamp Cooler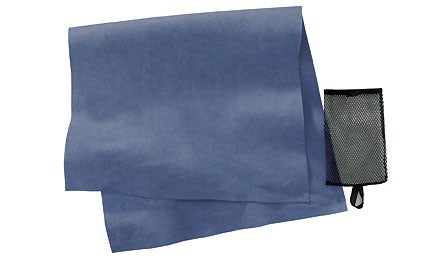 MSR Original PackTowl
[performance minimalist sandals]

Teva Zilch
Proper footwear is a critical component of summer success, and nothing is more apropos for dominating the dog days of August than sandals. Enter the Teva Zilch, a minimalist performance sandal. Simply put, the Zilch is a 1/8" thick composite slab that lashes onto your foot via a pair of straps and a toe loop. Surprisingly, the sandal is significantly more comfortable than its Spartan construction belies. Thoughtful features like a hidden spandex wrap under the toe loop and a soft hand on the underside of the straps make for a pleasurable phalangeal (that's a hip word for toe bones) experience, yet they also provide enough security to confidently run, swim, or hike through most summer conditions.
The footbed has plenty of flex to bend with the natural motion of your foot, as demonstrated by the fact that you can literally roll this sandal up for easy packing. However, there's still enough protection underfoot to keep you safe on most trails or while crossing rocky riverbeds. I sported the Zilchs on a couple of waterfall dayhikes in San Diego county, and they excelled in the amphibious conditions. The patented Spider Rubber sole gripped well on slick or dry rocks, and even though the soles are thin, my feet still felt good after a full day of pounding up and down the trail. Like any minimalist footwear, I wouldn't want to carry too much of a load for fear of straining my ankles, but daypacks and even lightweight overnighters are well within the realm of possibility. In the photo above, the shoe is shown folded up to its packable size on the left.
The Specs: 7.5 oz (size 10), $80, teva.com
[world-class eyewear]

Revo Transom Aviators
Finally, we have sunglasses that are both girlfriend and backpacking approved: the Revo Transom Aviators. Personally I only care about optics and comfort when it comes to shades, but my significant other tends to make snide comments if I socially wear sunglasses that are more suitable for a Total Recall stunt double than a summer day on a sailboat. These aviators, however, excel just as well in brutal backcountry conditions as relaxing on a yacht or playing beach volleyball.
First and most importantly, the optics are insane. Hiking in the Transoms is equivalent to the first time you watched the Red Sox in HD; it almost looks sharper than real life. There's a lot of R&D that went into achieving this, but to avoid getting scientifically long-winded, the combination Revo's polycarbonate Serilium lenses and High Contrast Polarization make backcountry colors and detail pop like no other glasses I've worn. Of course, the fact that our first testing trip was through one of the most beautiful treks in the continental United States didn't hurt (Check out BACKPACKER's recommended itinerary.)
Equally impressive to the optics is the comfort. The uber-lightweight titanium frames practically floated on my face, and I appreciated thoughtful features like spring hinges (which allow the arm to hinge both ways) and nose/stem pads that become tackier as you become sweatier. Additionally, Revo coated the lenses with Element Shed that keeps off oil, sweat, and just about anything else. My pair stayed clean even after we knocked off back-to-back dusty 15+ mile days with temps in the mid-90s, and they still felt just as comfortable at sunset as they did at sunrise. Of course, all of these impressive features come with an equally impressive price tag, so if you're the sort of person who loses sunglasses on a quarterly basis, these probably aren't for you. But if you're looking for a pair that could genuinely improve the quality of your backcountry treks as well as be suitable for your girlfriend's family reunion, look no further.
The Specs: $249, revo.com
[air conditioning for your dog]

Ruff Wear Swamp Cooler
Ever wish you had a shirt that doubled as a portable air conditioning unit? I'll bet your fury, hairy, overheating dog has, and Ruff Wear's Swamp Cooler is just such a beast. The idea is pretty simple: soak the jacket in H2O, strap it on your pup, and the cold water that's in the vest pulls the heat right off of Rufus' core (much like when your body naturally sweats). The vest earns its moniker from alternative AC units that operate in the same fashion, and the tried-and-true technology is just as effective in the office park as it is on Rufus—as long as you keep it well hydrated.
Of course, finding technology that works is only half the battle; you also have to make sure your pup actually enjoys wearing it. Our testing staff was pleased to report that the chocolate lab, Mango (pictured above) was more than happy to wear the Swamp Cooler for long hikes, and not once did she try to rip it off; and Lunchbox the English Bulldog lolled around the tennis court without any extra effort. Additional features like a simple attachment system with oversized clips and machine washable material both contributed to an overall thumbs up from the two-legged half of our testing duo. With six different sizes available, you should be able to find a specific fit for your dog (the size medium miraculously fit both 65-pound, leggy Mango and 50-pound, big-headed, Lunchbox). One caveat: The Swamp Cooler does not work well with dog packs, so either Fido carries all the spare grub, or he stays cool and comfortable.
The Specs: $50, XXS-XL, ruffwear.com
[fast-drying towel and coverup]

The MSR PackTowl
I can appreciate how you might throw a pack towel on the chopping block when you're looking to cut weight, but doing so could be one of the more egregious errors of your backcountry career. The MSR PackTowl has been a staple of my summer sessions ever since I learned it was significantly more uncomfortable to drip dry than wipe down after skinny dipping in a glacial lake; even if the sun is out, that water is so cold that it makes George Costanza look like he only frequents hot tubs. Additionally, the larger PackTowl sizes can quickly provide some semblance of decorum, should another hiker stumble upon your purportedly top-secret swimming spot.
Etiquette and anatomical gaffes aside, this towel adds a level of wilderness comfort that is a welcome addition to long and hot summer epics. In addition to its softness that only gets better with time (my PackTowl is six years old and feels marvelous), it can actually absorb up to 10 times its weight in water, which means one relatively lightweight towel can cover some serious ground. The material also dries absurdly fast; I'll typically just dry off, use the built in clip to attach it to my pack, and it will be good to go before we stop for our next break.
The Specs: $8-$23, S-XL, cascadedesigns.com