Table of Contents: May Maps Issue 2010
Destinations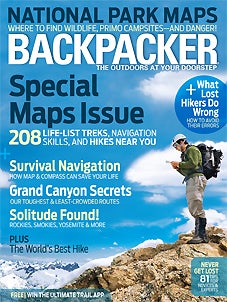 Life List Trips

Grand Canyon

Learn where solitude reigns–and why. Plus: Tackle the hardest Big Ditch route we've ever published.
Swiss Alps

Devour the world's best scenery, chocolate, and cheese on the Via Alpina.
Colorado Trail

Bag a peak every day (and a view every step) on the country's highest-elevation path.
Ultimate Weekends

Climb Rainier or paddle the Everglades? Fastpack the Long Trail or savor Lost Coast sunsets? With 18 sweet trips to choose from–complete with tracklogs and detailed maps–your perfect adventure awaits.
New Trips Near You

Find a fresh trail fast: Our army of reader-scouts mapped 59 local hikes from South Carolina to Northern California. See their favorites, then learn how to download the tracklogs and waypoints.
SKILLS
Navigate Like a Pro

Get started with our basic map-and-compass primer. Then graduate to advanced skills for negotiating whiteouts, peaks, deserts, forests, and lakes. Plus: Our testers pick the best compasses, GPS units, and map tools.
PEOPLE
The Future of Maps

Four cutting-edge cartographers–from Google's explorer-in-residence to Tom Harrison himself– help us chart the course of the next revolution in wilderness mapping.
FEATURES
Utterly, Hopelessly, Truly LOST

Not lawyer-approved: We blindfolded navigation novice Jim Thornton and dropped him by bushplane in the middle of Idaho's Frank Church-River of No Return Wilderness. Then it started snowing. Would you survive?
My Island, My Map

In the future, hikers will find it shocking that there was a time when backpackers used maps–but didn't make them. Bruce Barcott investigates today's tracking, geotagging, and custom-publishing tools, and creates the multifaceted, multimedia map of the future.
The Map Vault

Go inside the USGS's central repository in Denver, where's you'll discover the secrets of a map lover's paradise.