Stay Warm In Winter
Winter warmth is easy with these tips from arctic explorers, cold-weather experts, and army docs.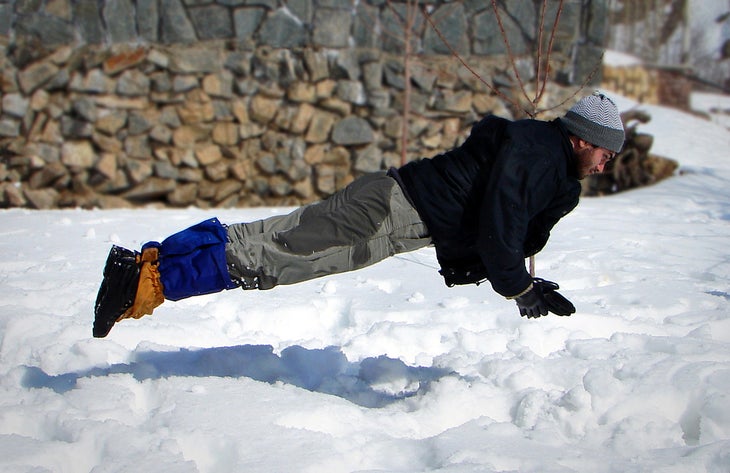 Sleep naked in your summer bag on a chilly night," one friend advised. "Bathe in a bathtub of ice," urged another. "Smoke cigarettes," recommended a third. Everyone had advice on how I should toughen up in the weeks before a winter expedition to Siberia's Lake Baikal. But none of these schemes worked. I went numb in the ice bath and coughed through two packs of smokes, and still slept cold in Siberia.
When I returned, I researched ways to stay warm on my next expedition. I talked to a slew of cold-weather experts, focusing on methods for building my body's resistance to low temperatures. Some suggested Zenlike techniques, while others offered more nuts-and-bolts advice. Here are a few tricks to try before your next winter outing.
Think Warm
Your first step toward warmer days in the frigid backcountry is to minimize your fear of the cold, says Gordon Giesbrecht, Ph.D., who operates the Laboratory for Exercise and Environmental Medicine at the University of Manitoba. "If you're worried about being cold, then naturally you'll be cold," he says. Starting a few weeks before your trip, tell yourself several times a day how strong and confident you are about enduring frigid temperatures. Sounds corny, but some famous explorers swear by this technique.
In his book, Relieve Tension The Autogenic Way, Hannes Lindemann, Ph.D., explains that the only way he survived two trips across the Atlantic–one in a dugout canoe, the other in a folding boat–was by training his brain to stay focused and heal his body. German explorer Till Gottbrath used Dr. Lindemann's techniques to battle frostbite in his fingers during his 370-mile ski traverse of the Greenland icecap. "I focused hard on my fingers in my left hand and was able to direct blood where I needed it," recalls Gottbrath. Months before he began the trip, he also repeated the mantra, "We are strong, we shall make it, bearing east." Gottbrath credits mental strength with getting the team through nasty whiteouts and bitter cold.
Strip Down
John Castellani, Ph.D., a physiologist for the Army Research Institute of Environmental Medicine, says that the soldiers he helps train in Alaska's -40F temps usually opt to carry more ammunition rather than an extra layer of clothing. By training with less clothing, their bodies learn to adapt, a technique he says winter backpackers can use.
Dr. Giesbrecht agrees. "Purposely make yourself cold. The more [safe] cold exposure the better." Instead of driving around in a heated car, turn off the blowers. Or, walk to the corner store with one less layer than you're used to wearing. Why this works: When you hike in the cold, your body restricts blood flow to your hands and feet. By training yourself to endure cold weather around town, you're teaching your body to keep blood flowing to your extremities. You'll feel changes in your circulation patterns in a matter of weeks.
Mountaineer Reinhold Messner, first to summit all the world's 14 tallest peaks, often took cold showers to beef up for his high-altitude climbs. Break yourself in by showering at your normal comfortable temperature and then slowly turn the knob to add colder water. After 2 weeks of showering at colder and colder temps, you'll feel your body start to adjust. Just don't go as far as to bathe in ice; exposing your skin to near-freezing water can damage your blood vessels and cause frostbite.
When exposing yourself to cold, avoid permanent damage by paying attention to your body's warning signs. Moderate discomfort encourages your body to adapt; but if you feel pain and numbness, layer up, drink hot fluids, and get moving.
Fatten Up
Before big climbs, mountaineer R. J. Secor puts on weight like a grizzly before hibernation. "I always get fat. I know I'm going to need extra reserves." Before a 3-week expedition to Denali, Secor gains at least 10 pounds, but then loses 8 to 10 pounds on the trip. Doctors confirm that putting on a few pounds can help you endure the freezing weather without reducing your fitness level.
For shorter winter trips, instead of gaining weight, simply revise your trail menu to increase your caloric intake. Dr. Giesbrecht says that if you anticipate heavy loads and 8- to 12-hour days of winter hiking, snowshoeing, or skiing, start upping your calories the week before you leave. An average person eats 1,500 to 2,000 calories per day, but can burn up to 7,000 calories on a hiking trip in low temperatures. Since the caloric value of fat is almost double that of carbohydrates, Dr. Giesbrecht recommends that you "add copious amounts of butter to all your normal meals." High-protein, high-fat foods like peanut butter, Snickers bars, and dairy products will also pack a calorie punch.