Sleeping Bag Buying Guide
In this guide, gear editor Kristin Hostetter shows you how to pick the right sleeping bag for any outing.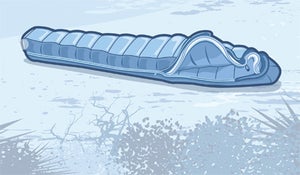 Sleeping Bag Types
Bags fall into three basic categories: summer, three-season, and winter.

Summer
Summer bags are suitable for temperatures of about 30°F and higher. They're lightweight (because less insulation means less weight), and they pack down tiny (often as small as a cantaloupe). Summer bags often have full-length zippers, which allow you to zip them almost completely open for ventilation (or to use as a quilt) when the night gets really steamy. Most summer bags are simple sacks without too many bells and whistles. You won't have much need for a hood or a draft collar (see below for descriptions of features) on hot July nights, for instance, so why spend the money on things you don't need?
Three-Season
Ideal for temperatures of about 20°F and above, these bags are best suited for spring and fall trips, as well as summers in the high mountains when temps can dip below freezing at night. Good three-season bags have added features to combat colder temperatures like cinch-able hoods, draft collars, and zipper draft tubes (see below for descriptions of features).
Winter
These puffy cocoons, good for about 20°F and below, have all the features of a three- season bag (cinch-able hoods, draft collars, zipper draft tubes), but are beefed up with more insulation. Winter bags are always bulky to pack, so you'll want to buy a good compression stuff sack to help you tame it.
Temperature Ratings
All sleeping bags have temperature ratings, which indicate the minimum temperature that the bag is designed to handle. Temperature ratings should be taken with a grain of salt however, because as of now, there is no standard, universal method for determining ratings. This means that manufacturers are free to make their own claims about their bags' warmth. In most cases, these claims are realistic, but in some cases, temperature ratings are optimistic.
A new standardized rating system has been widely adopted in Europe, called EN 13537. Some U.S. bag makers have also adopted the system (and others are planning to). The system assigns bags a series of ratings:
Upper limit = the highest air temperature at which the average man can sleep comfortably.
Comfort = the lowest air temperature at which the average woman can sleep comfortably.
Lower limit = the lowest air temp at which the average man can sleep comfortably.
The ratings are established after a set of standardized tests using a heat-sensored mannequin.
Until a universal temperature standard is adopted, your best bet is to use temperature ratings on the hangtag as a starting point and then use your gut to guide you. If you know you're a cold sleeper and a bag looks too thin for you, go with a plumper one.
Insulation Type
One of the first decisions you'll be faced with is this: down or synthetic? Here, the differences and pros and cons of both:
Down
Down is the lightest, most efficient insulation you can get. It's also the most compressible (a big plus for backpackers carrying big loads), and it retains its loft (and therefore insulating power) longer than synthetics. Down is generally more expensive than synthetic, but it also depends on the fill-power, which is a way of rating the quality of down. Fill-power ratings range from about 600 to 900. The figure refers to the number of cubic inches one ounce of down consumes in a beaker. And since the warmest down is the loftiest down, the higher the number the warmer you're going to be.
Synthetic
There are many different types of synthetic insulation, but it's generally a fluffy polyester material that doesn't absorb water, making it a smart choice for any camper who might be faced with wet conditions. Although synthetic bags are typically bulkier and heavier, they are much less expensive.
Selecting the Right Sleeping Bag Shell Fabric
This really only comes down to one decision: do you need a waterproof bag or not?
Only answer "yes" if you truly do need that level of protection: if you frequently camp without a tent, for instance, or you live in the Northwest where wet conditions are prevalent. If you decide you need a shell, you'll pay for it (up to $100 more).
A waterproof bag must be shelled in waterproof/breathable fabric (much like that of your rain jacket). If the fabric doesn't breathe, although you'd keep out the rain, you'd soon be sleeping in a puddle of your own sweat. Waterproof bags also need to be seam-taped, so water doesn't migrate inside through the stitch holes.
Bag Shapes
Bags come in several cuts and each shape is designed to appeal to a different type of camper.
Mummy
A tapered cut through the legs and feet give mummy bags maximum thermal efficiency. A bag's primary job is to contain the heat your body generates and when interior space is smaller, the bag is more efficient. Although most mummies have plenty of room through the shoulders and torso, restless sleepers and broader campers may be more comfortable in an alternative cut. Another benefit of mummy bags: because they use less materials and insulation, they're lighter-weight and smaller to pack.
Rectangular
With no taper at all through the legs, rectangular bags are not as thermally efficient, and are best suited for backyard campouts and basement sleepovers.
Semi-rectangular
A happy medium between mummy and rectangular shapes, semi-rectangular bags are a good choice for campers who can't cope with the confinement of a mummy bag but need more warmth than a rectangular bag has to offer. They're bulkier and heavier than mummies, but give you a bit more thrashing room.
Sizing Your Sack
It's a sleeping bag, not shrink-wrap. Here's how to make sure your bag fits perfectly to ensure that you get the best night's sleep.
Try before you buy. Crawl into as many bags as you can, wearing appropriate layers, to get an overall idea of the way each brand and type fits.
Integrate the sleeping pad. If a bag has a sleeping pad sleeve or straps, rig it that way in the store, because a pad will reduce the bag's interior volume, ultimately affecting its fit.
Check the closures. Zip it up, down, and up again. If a zipper snags now, it will in the field. Cinch the hood and draft collar down. Check for a comfortable fit, a snug seal around your head, no scratchy Velcro rubbing against your cheek, and ease of exit.
Roll around. If you're a cold sleeper or cold-weather camper, opt for a more snug fit. If you're a thrasher or side sleeper, make sure you're able to comfortably rotate your body.
Sleeping Bag Terminology
The shell contains and protects the insulation, blocks wind, and repels moisture.
A hood is key for keeping warm in cool temps. Look for easy-to-reach cinch cords and Velcro that closes on itself so it doesn't scratch.
The tube or flap of insulation at the neck opening—called the draft collar—traps heat and prevents drafts; it's especially important on bags rated to 20°F or lower.
Some bags have a yoke, rather than a draft collar, which is an insulated, U-shaped tube that hangs freely around the neck to block drafts.
Look for a shaped footbox with sidewalls so your feet have wiggle room and won't press into the insulation to cause cold spots.
The insulation or fill is the lifeblood of any bag. The loftier the fill, the warmer the bag.
Look for a smooth-running zipper with stiffened backing fabric that prevents snagging. Some bags have a centered zipper, which shaves weight and allows you to sit up and perform camp chores.
The insulated draft tube (or sometimes, pair of tubes) lies behind the zipper to block air from seeping through the coils.
Interior chambers called baffles in down bags keep insulation from shifting and bunching up.
Pad sleeves or straps on the bottom of the bag prevent it from sliding off your sleeping pad.
Often found on bags with shorter zippers, foot vents maximize ventilation.
Washing Your Sleeping Bag
Follow these tips to keep your investment lofting high.
Read the label or seek advice on the company's website. If those directions contradict any of our tips below, follow the manufacturer's guidelines.
Batten down the hatches. Close all zippers and fasteners, then turn the bag inside out, so body oils on the interior will wash off.
Use the right soap. For down, go with a cleaning product that won't strip essential oils from the feathers, such as Nikwax Down Wash or ReviveX Down Cleaner. For synthetics, try Granger's Extreme Cleaner Plus (which also works on down).
Wash it. Hand-wash in a tub, or use a front-loader; the agitator in a top-loader can tear baffles. Always opt for the gentle cycle with cold water. After one complete cycle, run an extra rinse or two to remove the soap.
Remove carefully. Support the bag from underneath to keep waterlogged insulation from ripping out stitches. Hang it lengthwise on a laundry line until most of the water weight is gone.
Dry it. Place the damp bag in a large commercial dryer. Dry on low heat, and check frequently. Remove down bags every 30 minutes to de-clump the feathers. Back home, leave your bag unstuffed for a few days. And when you do store it, be sure to use a large cotton sack or pillowcase, not the little nylon stuff sack you use while on a trip.