Rain Shells
From $500 to under $150, Backpacker has found the best rain shells for blowing snow or driving rain.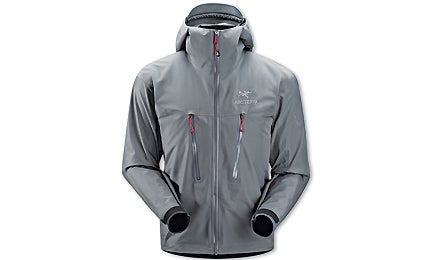 Arc'Teryx Alpha LT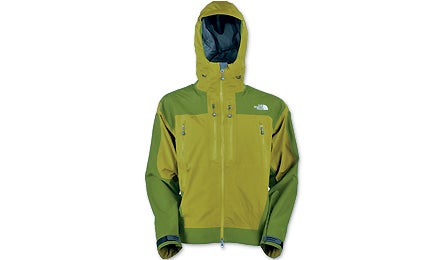 The North Face Modulus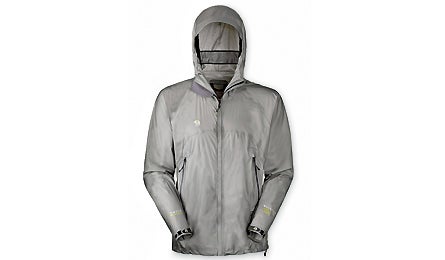 Mountain Hardwear Quark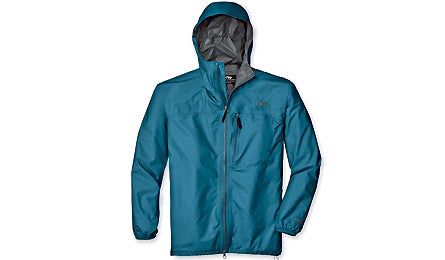 Outdoor Research Zealot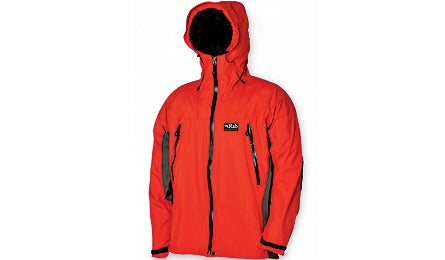 Rab Latok Alpine Jacket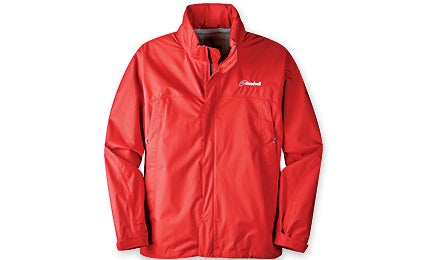 Cloudveil Zorro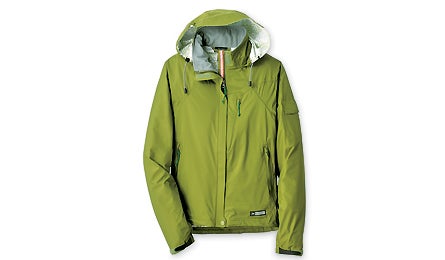 REI Ultral Light
Today's spectrum of jackets is as wide as the canyon in which we tested them. You can fork over a car payment for the most tricked-out jacket imaginable, or find a functional shell that costs less than an SUV fill-up. After half a year of testing through winter whiteouts and spring storms, we've narrowed a field of 18 down to the seven best for any adventure and budget.
STATE OF THE ART ($300–500)




Mountain Master

ARC'TERYX Alpha LT

Start drooling: This is the Maserati of rain shells. The Alpha LT is made from Gore-Tex Pro Shell, a souped-up version of Gore-Tex that's more durable, more breathable, and more lightweight than the standard stuff. The weight savings comes from the inner lining, which is woven instead of knitted. That means less thread, a suppler fabric, less likelihood of abrasion, and a narrower seam tape (thus increasing the jacket's breathable surface area). These tiny differences add up in the field.
"The LT was super-weatherproof, but also amazingly breathable," said one tester who wore the jacket for 24 days in blowing snow and rain on Mt. McKinley. "In all that time, my shirt never felt damp." It proved plenty durable there, too, taking nearly a month of abuse against fixed ropes, rock, and heavy packs. The LT also kicked butt during heavy spring rain on a 15-day outing in southern Utah and on numerous Southwest climbing trips. Testers raved about the hood's adjustability; it snugs up with a single pull and fits over a climbing helmet. Pit zips and two exterior chest pockets are easy to manipulate with gloved hands. The shorter cut accommodates a climbing harness, but left our tallest testers a bit exposed. $499; men's S – XXL, women's XS – XL; 12 oz. (men's M) (800) 985-6681; arcteryx.com.

Most Durable

The North Face Modulus

You could stash the Modulus in your daypack, wear it on a weeklong Cascades trek, or live in it on your way up McKinley. Also made of Gore-Tex Pro Shell, with waterproof zippers and welded seams, this shell is exquisitely made – and good looking. The main differences between this and the Alpha LT are weight and durability. With 70-denier reinforcements on the shoulders, arms, and sides, the Modulus is burlier (maybe a 15-year lifespan versus 10), but also 8 ounces heavier. "I tried hard to beat this jacket up – even rolling around on rock – but it still looks new," raved one tester. It also stood up to months of snowstorms and pummeling rain. Testers said the wide, stiff brim on the articulated hood kept their heads and necks completely dry, and we liked the foot-long pit zips. We also liked the luxurious amenities: five pockets, a fleece collar and chin guard, a rollaway hood, and stretch fabric panels in the elbows and back for freedom of movement. $499; S–XL; 20 oz. (men's M) (800) 447-2333; thenorthface.com.
MIDRANGE ($150–300)

Top Summer Shell

Mountain Hardwear Quark

"It's like wearing a cloud," said one tester of this featherweight jacket, which is ideal for minimalist, warm-weather backpacking. It's 50 percent lighter on average (and more packable) than the other jackets we tested, because there's no outer shell fabric. The proprietary waterproof/breathable membrane is simply laminated to a layer of nylon tricot mesh (a mosquito-netting-type material typically used as an inner lining) to form the shell's exterior. That's why the Quark comes in one color – silver. That's also why it breathed well enough during downpours in 80°F heat that we didn't soak in our own sweat – a real accomplishment.
Of course, we were nervous about durability. Mountain Hardwear warns wearers to use restraint: "The Quark is intended to withstand eight hours of rain on-trail," a spokesperson told us, "but not extended bushwhacking." Still, we thrashed it on a two-week summer off-trail desert trek in Utah's Grand Staircase-Escalante National Monument without any rips or snags, so it's not too fragile. With welded exterior seams, the jacket is very supple, and while it looks like it's inside out, it has standard features such as pit zips, storm flap, handwarmer pockets, and a simple hood. Climbers liked the fabric's four-way stretch and slender fit, but most of the crew wished the Quark had a bit more layering room. $200; men's S–XXL, women's XS–XL; 10 oz. (men's L) (800) 953-8375; mountainhardwear.com.

Ultralight Favorite

Outdoor Research Zealot (m)

Stuffing down to the size of a softball, the Zealot is 7 ounces lighter on average than all our tested jackets except the Quark. To shave weight, it sacrifices niceties like pit zips, hand pockets, and adjustable wrist cuffs, but not its weather protection or durability. Its Gore-Tex Paclite shell proved plenty waterproof in heavy rain, snow, and icy blasts at 11,000 feet on Doyle Saddle in Arizona's Kachina Peaks Wilderness. The sculpted hood has a single-pull drawcord in back, and a wide, stiff brim to protect the face. Fit is roomy enough for layering over a puffy jacket, and a dropped hemline covers your butt. Our only complaint: The Zealot got a bit clammy with hard hiking during warm rainstorms. $199; men's only S – XL; 7.7 oz. (L) (800) 421-2421; orgear.com.

Most Breathable

Rab Latok Alpine Jacket

The Latok, made from eVent, is the first waterproof shell we've tried that's so breathable it doesn't need pit zips. "I swear I could feel my body heat moving through the fabric," said one tester who used the Latok on summer trips in the Sierra. He and other testers had also worn Gore-Tex Pro Shell jackets under similar conditions. The consensus? The Latok takes the prize, in both the heat of the Grand Canyon and the snowy backcountry of Glacier National Park.
The ergonomic design of the wire-brimmed hood kept water off our faces without impairing range of vision, and it easily accommodates a helmet. The Latok also earns kudos for its pocket design: two generous zippered pockets sit comfortably above a pack hipbelt, and two interior pockets offer secure storage for sunglasses and keys. In five months of testing, we didn't notice any loss of breathability or significant durability issues. $275; men's S – XXL; women's 8 – 16; 16 oz. (women's L) rab.uk.com.
SHOESTRING (< $150)

Killer Value

Cloudveil Zorro

Our value-conscious students raved about this sweet deal. The Zorro has all the features of a jacket costing $175 or more: pit zips, adjustable cuffs, and a beefy front storm flap. On spring and winter hikes in the Kanab Creek Wilderness and Grand Staircase-Escalante, the Zorro repelled heavy rain, wet snow, and 40-mph winds. "It also breathed well during some hard, rainy climbs," said one tester, who wore it in 20-to-70°F conditions.
Rock climbers who wore this jacket in Joes Valley, UT, found that the 50-denier ripstop shell with reinforced shoulder and elbow patches proved immune to scrapes and scuffs. Fit is loose for layering, and the tail is long enough to keep your butt dry. Testers liked the hood's single-cinch pull, but wished it had a stiffer brim to keep water from dripping into their faces. So why is it so cheap? The Zorro's proprietary fabric isn't as breathable, durable, or heavily marketed as top-of-the-line waterproof materials. $135; men's S – XXL, women's XS – XL; 14 oz. (men's M) (888) 763-5969; cloudveil.com.

Most Versatile

REI Ultra Light

"The stretchiness of the fabric gives it the feel of a soft shell," said one tester who wore the Ultra Light while scaling redrock near Sedona. He liked the option of zipping off the hood, stowing it in the fleece-lined collar, and using the jacket as a windbreaker on clear, breezy days. It stuffs into its own liter-sized sack, and has zippered hand pockets, pit zips, a front storm flap, and adjustable wrist cuffs.
The proprietary nylon shell kept testers dry in pounding rain and wet snow on the Grand Canyon's North Rim and on Mount Eldon, and it held up against brush during bushwhacking and bouldering up rock walls. While testers were impressed with this jacket's waterproof qualities, they said the fabric was only moderately breathable during high physical activity. Bonus points: There's an interior iPod pocket with a stormproof portal for earbuds. $129; men's S – XXL, women's S – XL; 15 oz. (men's M) (800) 426-4840; rei.com.